Here's the deal. A lot of people feel sports are one of the last bastions in American culture where homophobia is deeply ingrained and widely accepted. Charles P. Pierce (no relation to Brittany S. Pierce) over at Grantland thinks that people like Ron Brown, Nebraska assistant football coach, shouldn't be fired for their homophobic views and beliefs that discrimination is peachy keen. Pierce says that we shouldn't be firing Brown but explaining to him in a soothing voice that things are a-changing and he should catch up or else be really embarrassed in approx 50 years. If he's not dead by then. He'll probably be dead by then though.
"No action should be taken against Ron Brown…That's not what we should be doing to people in this country. But somebody should take him aside and explain to him that the world is changing around him and that, for everyone's sake, it's time for him to adjust or get out of the way."       -Charles P. Pierce.
Much to my surprise and chagrin, Ron Brown is not a crotchety old white dude. You don't need to remember his name necessarily. Sure, he organized the prayer circle after the Penn State v. Nebraska game. And yes, he spoke out in opposition of a Fairness Ordinance that protects LGBT people from housing and employment discrimination. Plus, he'd be proud of his views getting him fired. I know you only allot a certain amount of room in your brain space for the names of homophobes. I store this information in the same compartment as times I've tripped in public. It's an area I like to call, "things that I don't need to remember but hold onto anyway." Let's consider this guy a figurehead for all homophobic college coaches and put him there.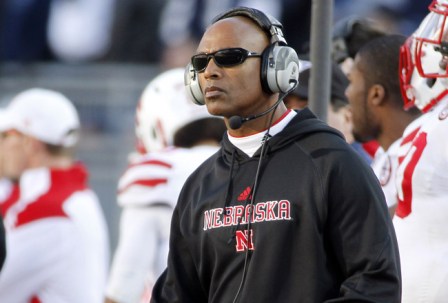 If a coach is willing to admit that they're openly homophobic, why would you not fire them? There's a weird double standard here that it's okay to harbor certain kinds of bigotry. To presume that one can hold these beliefs and not actively discriminate while doing their job is naive and shows a lack of understanding of what it means to be a college athlete. The only people that can hold a candle to how much time you spend with your teammates are your coaches. And your coaches have a direct impact on your life, general well-being, and overall happiness. Being a Division I football player is a job. And just like any other job, if your boss has something against you, you know it, everyone else sees it, it shows in your performance, and it greatly affects your experience.
"I wholeheartedly agree with UNL's Non-Discrimination Policy. As a follower of Jesus Christ, and a UNL employee for twenty-two years, I haven't, nor will I violate this policy…If [a gay player] didn't agree [with homosexuality being a sin], I wouldn't penalize him with playing time or any form of discrimination. I have and will embrace every player I coach, gay or straight, but I won't embrace a legal policy that supports a lifestyle that God calls sin." – Ron Brown
I guess he doesn't realize this makes no sense because Nebraska is a state university. Having this coach on board is a conflict of interests, it's a disservice to the program, and it's unfair to the players that he comes into contact with. Does anyone believe this guy has reached some higher level of functioning where he can completely separate his personal prejudices from the subjective decisions he makes day in and day out when there are three paragraphs about his religious beliefs in the football media guide?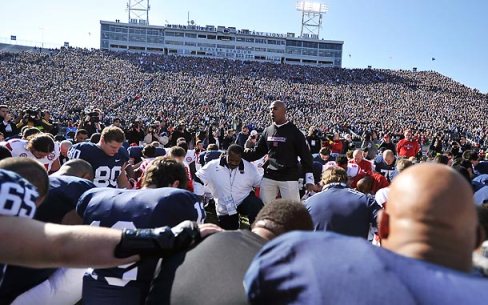 "But the laws in question ban actual discrimination. They do not ban approval of discrimination. They do not ban prayerful support of discrimination. Whatever Brown thinks, and whatever he says, ought not to be touched by any law." -Charles P. Pierce
Division I football players aren't exactly falling out of the closet, but that doesn't keep speculation and suspicion from finding their way into locker rooms. The university's concern should be to protect student-athletes, and keeping someone on staff who would openly pass judgment on players shows what a joke anti-discrimination policies are in the NCAA. In sports, treating a player adversely can be chalked up to almost anything, so it's unclear as ever how to prove "actual discrimination." I guess we should just make those who are openly sexist, racist, and/or homophobic pinkie promise that they won't be discriminatory and call it a day.