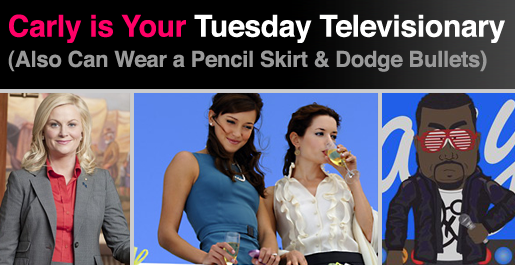 Also — there was some behind the scenes drama with our beloved Dollhouse (which aired a killer episode this week, see below). EW explains it here: the show hasn't been canceled yet but things aren't looking great. You can try complaining to FOX via twitter here. And this is entirely unrelated, but isn't the Obamas' dog just the cutest?
Hey, did you hear — Dana Fairbanks is alive and reunited with Lara the Soup Chef!? Ok, that's not true, but Erin Daniels did guest star on CSI this week and was reunited with Lauren Lee Smith. I did not watch it but you can read all about it here.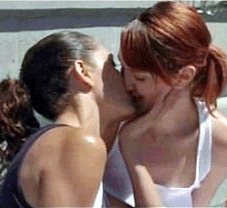 Also go read up a bit on the new Grey Gardens's HBO movie, premiering April 18th. It's getting a lot of buzz and praise so far, and I'm really excited to see it.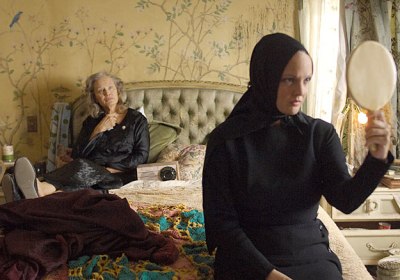 And finally, if you missed Autostraddle fave Lady Gaga on American Idol, here's her performance and some awesome commentary from fourfour. And here's Lady GaGa: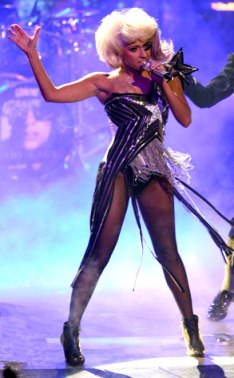 The Carlytron TV Awards for the Week Ending on 4/11/09
The AWESOME Award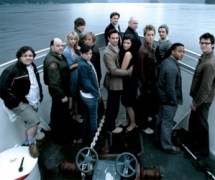 I watched the premiere of Harper's Island this week, and I think the concept behind this show is pretty awesome. It's basically a murder mystery that will span 13 weeks, combining aspects of reality shows, slasher flicks, and serialized dramas like Heroes and Lost. The premise is pretty basic: a bunch of people are on an island together for a wedding, and one by one they get murdered. You have the 13 episodes to figure out who's killing them and why. And — bonus! — someone dies every week. We were treated to two gruesome murders in the pilot, though, and I found the show to be suspenseful and fun. The cool thing with this is that every season can be totally different — new cast, location, plot, etc. The thing that will stay the same is the creepy murdery vibe and whodunnit excitement!
And can I just say, this is a real treat for someone like me. I hate horror movies, what with all the gore and nastiness, but with this I know they can't show that much cause it's network TV — perfect! And it marks the return of total cutie Christopher Gorham to TV, who was on one of my all-time favorite shows Popular (and obvs Ugly Betty), the campiest, craziest show ever. Any other Popular fans out there?
The Why Haven't I Been Watching This? Award
I always forget about South Park. Whenever I watch it, it's hilarious. But, I never watch it. Quite the pickle. This week's episode poked fun at Kanye West, who retaliated with a typical Kanye All-Caps Blog Post. But it looks like the episode caused him to reevaluate a few things, hopefully that will stick. Nice shoutout to Ellen, being the only talk show host to figure out who actually created the Fishsticks Joke (everyone else thought it was Carlos Mencia). This episode was pretty funny, but nowhere near as amazing as the D-Yikes episode, what with all the scissoring and all.
The Huh? Award
I finally got caught up on America's Next Top Model and … why was Clay Aiken on last week? How is he an acting expert? What is going on?
I also still don't understand the appeal of Zac Efron. He hosted SNL and it was decent, surprisingly. I still think he looks like a lesbian though. Musical guest the Yeah Yeah Yeahs were awesome (their new album is fab if you haven't checked it out yet) and I'm happy they brought back Angie Tempura, the blogger who talks smack about celebrities on Weekend Update (though she's kind of a rip off of several Gilda Radner characters, I still like her). Though, sidebar? I totally made a video in college where there was a newscaster named Aruba Tempura, but WHATEVER SNL! The High School Musical 4 sketch was funny too. See!
Also where was Gossip Girl? Come back to meeeee!
The ZZZZZZZ Award

Heroes was a bit of a snoozer this week. I am totally over Hiro and Ando. Please kill off these characters or give them something interesting to do that doesn't take more than 5 episodes to resolve or involve them being the comic relief of the show. Also this week was the total unraveling of Noah Bennett, which was really heartbreaking and intense, cause I really love his character, and am very curious as to what on earth he's going to do to fix things now. Sylar as a shapeshifter is totally fucked up, you guys. Though it's fun to watch the other actors try to portray their characters as Sylar would, when he has shapeshifted into them (did that make any sense?). I'm very excited to find out what's up with this Coyote Sands nonsense next week. I love me some Angela Petrelli flashback episodes! But this episode did set up some awesome stuff that should be happening next week.
The Hot Girl of the Week Award
Sierra on Dollhouse. She wore a cool wig and hot shoes and infiltrated the NSA. While watching this, Robin asked me how it was possible that no one there figured out that she was impersonating another Asian NSA officer, and I explained to her that the show was capitalizing on the stereotype that white people think that all Asian people look alike. I feel like that's something that was done on The L Word, since they handled race so elegantly on that show. Also, in this case, Mr. Dominic had apparently alerted the NSA to her arrival, which might explain how she got around so easily, but does not explain why they were shooting at her. Also she was dressed librarian-style, pencil skirt in all, and still managed to dodge bullets and render several people unconscious. Awesome! I believe I possess a similar talent, but unfortunately do not ever wear pencil skirts. Or any skirts.
The Funniest Thing I Saw All Week
The MUCH ANTICIPATED tennis match between Ramona and Jill on Real Housewives of NYC was everything I could have hoped for and more. Bethenny thought it would be funny to recommend that gross Simon — who's not very good at tennis — fill in as Jill's partner against Ramona and her annoying husband. Watching Jill and Simon "play" "tennis" reminded me of when I used to "play" "tennis" on my high school's team. Also, WTF was up with Kelly showing up and donating a bunch of stuff to be auctioned off at the charity that — just a few weeks ago — she refused to lend her name to. Um, whatever. You have not redeemed yourself.
Also hilarious on the same show was the dis-Countess (tm Bethenny) telling some girl that she'd have to lose weight to be a model. I don't even want to go into it, because the whole thing was just painful. Jezebel has it all here.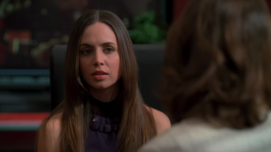 The Dollhouse Award for Dollhouse
Oh man, another awesome Dollhouse episode this week. It was told in reverse and we ran through it several times from each of the actives' POV. I had a hunch all along that Mr. Dominic was up to no good, so it was nice to see that finally come to light. The twist that Victor was being imprinted to be Adelle's ideal man was crazytown. Sierra was totally badass this week, sneaking into the NSA in really hot shoes. Echo is either on her way towards becoming more human or on her way towards becoming another Alpha; either way, she was also awesome this week, somehow convincing Topher to imprint her to help him find the mole, and then kicking the crap out of Mr. Dominic. And while we're on the subject of Topher, I'd like to point out that there was no SHUTUPSHUTUPSHUTUP Award this week, but he's gunning for it in a serious way. I thought he was supposed to be the Xander-type. Xander, though sometimes irritating, was never this obnoxious. Also, I keep forgetting to mention that Amy Acker's Dr. Saunders is really becoming one of my favorite parts of this show, can't wait to see what her deal is.
The Sitcom Roundup
30 Rock: Liz Lemon as Steve Jobs: genius. Kenneth as a serial killer: genius. And OMG Don Pardo as the announcer who had a stroke! Genius!
The Office: A whole hour of The Office this week! Ryan returned, and he was pretty much a douche the entire time. New Boss still hates the crap out of Jim. Andy and Dwight are now BFFs and are both trying to woo the new receptionist. Kevin and Stanley are still totally awesome. Pam is still my favorite. The best thing about the Office this week? The new Michael Scott Paper Company show open at the beginning of the 2nd episode. Let's watch it! Together:
Better off Ted: I feel like no one is talking about this show but it just keeps getting better each week. Ted bonded with Linda's boyfriend, and then Portia had to explain to him that he's not supposed to like the new boyfriend because that means he's over Linda, and duh Ted, don't you know anything about women? And is it just me or does Portia get funnier every week?
Parks and Recreation: Premiered! Finally. It was pretty good. The Office comparisons are obvious and it wasn't entirely LOL-funny but Amy Poehler is hilarious, Rashida Jones is adorable, and I'm definitely going to keep watching. And, I mean, it's not completely identical, right? Love the Indiana sports memorabilia in everyone's offices (Bobby Knight and Larry Bird!) and Leslie's makeshift neck brace (travel neck pillow and duct tape).
Until next time… Tron out!