Trip update! We're having a great time down here in beautiful Buenos Aires.
Monday
We saw a tango show and it was really fun, although the one we went to was super touristy. They even had small vans which go around to the hotels to pick people up and bring them to the show. Shortly after our arrival an older American couple entered the theatre. I leaned over to Carly and whispered, "I bet they're going to sit Grandma and Grandpa with us. They will no doubt talk loudly the entire time." They did and they did. I'm not sure what is more entertaining: Argentinian tango, or a old loud American couple commenting on Argentinian tango. There would be a dramatic lull in the music and a crescendo from the peanut gallery next to us: "Watch their feet!" "I've never seen anything like this." "Boy, I need a hat like that." "More wine, we need more wine!!" "VVvvvino!" (Its pronounced Bee-no) " This music makes me feel like I'm in the mountains."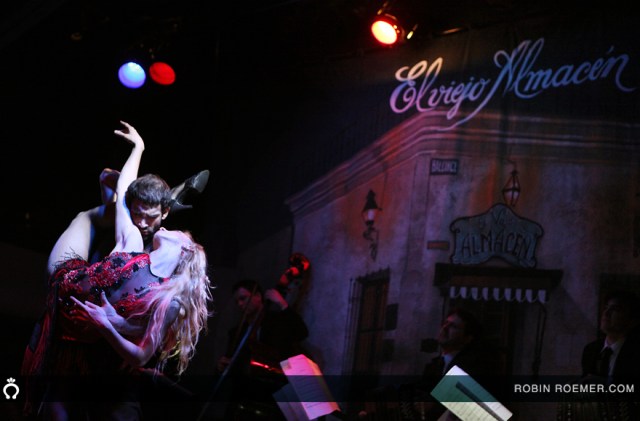 The dancers were fantastic. In between dancing, there were various musical numbers. First a Chilean group came on to serenade us with their wooden flutes. I'm pretty sure these are the same guys who station themselves daily outside of the MTV building in Times Square. Or maybe those dudes on the V train. Also some lady who looked like Cher, which was pretty awesome/terrifying.
I don't mean to be snarky, its just that since both Carlytron and myself have worked in or near Times Square, we know a tourist trap when we see one and we fell in every tourist trap imaginable today. I love this city, but I wish we could have avoided a few of these. Thanks for nothing, Lonely Planet!
The first of our tourist traps occurred in Retiro on Florida Street, which is known for its cheap leather goods. Cheap garments and pushy sales people who follow you around and tell you how high quality everything is. So, a big fat NO on Florida street leather; unless we COMPLETELY missed something, we were not at all impressed.
"Basically we spent the evening with creepy old men hootin' and hollerin' at Robin and looking at me like I had two heads. Not very different from midtown Manhattan!" – Carly
In the evening, we wandered around San Telmo, eventually finding a cute Parilla (or grill) with friendly waitresses where we could relax and eat more steak! Halfway through my first glass of wine, a cat (un gato) — whom Carly affectionately named Julio — hopped up on the chair next to me to take a nap. SO CUTE! I thought it was hilarious and took photos. I mean, seriously, a cat… in a nice restaurant? I actually don't mind the cat. I actually prefer to dine with strange cats at the table next to me, but was quite surprised that no one looked twice at this. Maybe because at the table behind us, a woman was breast feeding her infant.
"This shit would not fly in Times Square. JK!" – Carly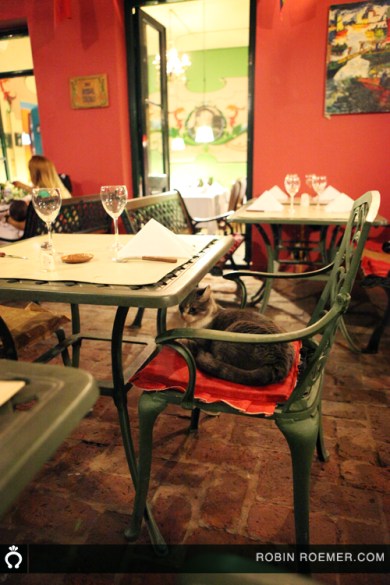 Tuesday
Today it was raining and we spent a lot of our day just relaxing by the pool and shopping. We tried a sushi restaurant down the street which was really expensive and not so good, but we needed something other than steak.
Wednesday
We walked around the Plaza de Mayo and over the Puente de La Mujer (The Bridge of Woman). For dinner, we had Italian and stopped in at a Scandinavian bar called Olsen to have a cocktail. Olsen looks exactly as you'd expect a Scandinavian vodka bar to look, with a big courtyard and awesome modern design. Later that night we went to a gay bar called Sitges to see their drag show. We totally fell in love with this place instantly: as we walked in they were playing "3" by Britney Spears and Carly turned to me and said, "We're home!" We got drunk watching drag queens make fun of tourists in Spanish and could not have asked for a better end to a really awesome day.
People are so nice here. I really am so grateful to be in a city where you can be a dumb tourist and people are okay with it. I've been to places where they are not.
One more thing: I regret the fact that I haven't taken too many photos on this trip. Just a quick snapshot here and there. I've needed a little break from my camera. I'll try to be better with it from now on!