VICTORIA'S SECRET FASHION SHOW: The Victoria's Secret Fashion Show filmed November 19th and will air December 1st. In the meantime we can only guess the plot by looking at the pictures of the hot ladies in their skivvies. This annual crucial entertainment and fashion extravaganza is the only event America's Next Top Model legitimately prepares its contestants for. Let's take a look:
SEX TAPES: On the threesome sex tape involving Miss Trinidad and Tobago 2008 (Anya Ayoung-Chee), her boyfriend/videographer Wyatt Gallery, and another woman originally thought to be Miss Japan 2008 (Hiroko Mima), The Daily Loaf asks: "Why do sex tapes of former beauty queens continue to hit the news? Do pageant winners have a fetish for being photographed and videotaped? Or, do fading celebrities make sex tapes at the same frequency as the rest of us–it's just that audiences actually want to see these professionally beautiful people performing sex acts?" (@dailyloaf)
Also, Pamela Anderson has told her children about her sex tape and in other familial sex tape news and Carrie Prejan's brother says he'd probably watch her sex tape, which she said was the biggest mistake of her life and then they found seven more sex tapes. Dave Navarro enjoys Carmen Electra's sex video.
FEMALE VIAGRA: Isn't it funny that a failed anti-depressant is now potentially the new Female Viagra? (@web md)
WHERE TO DO IT: "30 Places to Have Sex Before You're 30." For many/most of you it's too late, so we'll change it to "300" so we can all participate.  I have 15 more to go but "the zoo" is weird. Also I feel like "golf course as night" is stuff white straight people like. (@thefrisky)
GOSSIP GIRL: Leighton Meester does GQ:
PHOTOS: Cute Photoset Alert: She Asked – Photography by Tommaso Nervegna. (@behance network)
BABELAND: Babeland was on our Sweet cruise last week and they liked it: I know how hard it is being a parent and keeping that sexual spark burning bright. My recommendation? Sex vacation. Seriously, park the kids, pack all your sex toys and get outta town. (@babeland blog)
JIZ LEE: Queer porn star Jiz Lee: "I've pissed on lovers before, but had never done it for the camera. I've ejaculated when there was also pee in my bladder, but never just straight out urinated. Intrigued, I agreed." (@jizlee)
VAMPIRE SEX: Presentations of Violence and Gender in Twilight: It's deeply disturbing to me that the stalking, the death threats, and the constant mentioning of Bella as food is somehow supposed to be romantic. I suppose this is just another product of our rape culture, where we inextricably link sex and violence, and the threat of violence is somehow supposed to be endearing.(@sexgenderbody)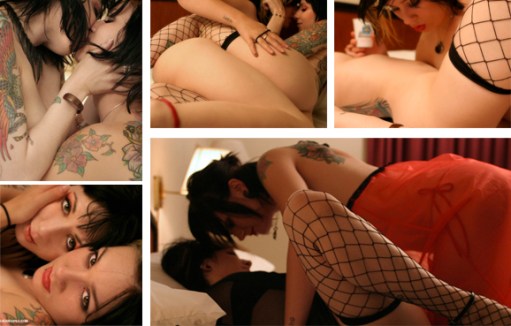 SEX TOYS: Best Sex Toys: Lubes for All (@aag)
MARILYN: For Real? Unpublished Marilyn Monroe Nudie Pics? We have our doubts about these supposedly unused "Playboy Pics," but let's just pretend it really is her. It's refreshing to see Marilyn look a little more Norma Jeane, but still be naked. (@fleshbot)
SEX WORKERS: When Sex Workers Get Outed: Blogger Belle De Jour's coming-out press parade has been an ugly glimpse into how the public responds to well-educated sex workers who act with apparent awareness and agency. (@carnal nation)