Hey Canadians! Time to peek into your neighbours' windows without getting arrested! Remember last May when you filled out a short questionnaire about how you were living/who you were living with/whether you wanted someone to know what you did 92 years from now? Even if you don't, other news agencies remembered and have been brandishing their calculators waiting for the confirmation that Canadian families have evolved beyond the nuclear family of the 1950s.
The statisticians and reporters were indeed correct, as families certainly have changed. Stats Canada released a portion of the 2011 census that examined household makeup and acknowledged "skip-generation families, intact families, simple step families, complex step families, opposite-sex families and same-sex families."
In case you forgot, on July 25, 2005, Canada passed the Civil Marriage Act, making Canada the third country in the world where queers are treated as actual citizens. The first census in the wake of the law (just ten months later in 2006) showed that 7,465 same-sex couples had gotten married in that short period of time, but ten months isn't much to go on in terms of  getting an accurate idea of the real frequency of same-sex marriage in Canada.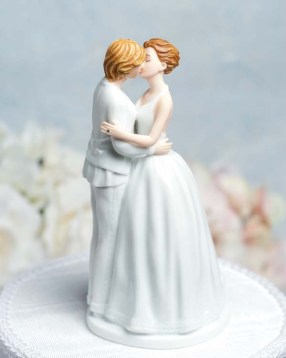 It's been five years since the last census, and queer Canadians have not only had more time to plan and execute their nuptuals, but the world has become a better and more welcoming place for gays in general — so what does that mean for our numbers? Did all of the Gaynadians rush to the altar because we finally could? Did we completely erode the institution of marriage in so doing? Did we conjure that storm that NOM keeps talking about?
As it turns out, some of us got married and some of us didn't! 21,015 same-sex couples proudly showed off their wedding bands, but almost double that amount were content with simply UHauling instead. Either way, more people are coming out of the closet and entering glitter-filled relationships as the number of same-sex couples rose by 42.4%. And even though the census shows that same-sex couples only make up 0.8% of all Canadian couples, remember that the stat ignores bisexuals and queers in opposite-sex relationships, people who aren't dating and those that resisted the urge to merge. While the majority of couples (married or common-law) are gay men, female-female couples still represent 45.5%. Currently, same-sex couples tend to skew younger than opposite-sex couples, but that'll surely change as queer couples have the opportunity to grow older together.
Queer couples are also starting families just like their opposite-sex counterparts, and of the 6,410 same-sex couples with children, 79% are being raised by two mothers. And now that there are more same-sex families raising children in "stable" homes, researchers like Mark Regerenus might finally be able to compare apples to apples instead of making incorrect reports about same-sex families.
And while the census endeavours to count everyone, it's exceedingly difficult to capture all of the nuances of relationship structures. This Friday you can sign up to chat with Statistics Canada sociologist Anne Milan and learn a bit more about the process. In changing from the long form to the short form survey (with an optional National Household Survey instead), a treasure trove of information on Canadians has surely been missed. More consultation is needed for 2016, and hopefully something can be done to get a more accurate snapshot of the way that we live. Until November 16th you have the chance to make suggestions about the issues that matter to you, and hopefully someone will finally be able to write thoughtfully-worded questions about gay couples without accidentally counting same-sex roommates.