If you're anything like me, you purchased The Woman In Me the moment it was released, read the entire thing in one day, and then spent a lot of time thinking about your life and Britney Spears' life and all the ways her life has been a part of your life and how long it took for her to finally be free (wild that I wrote this piece about Britney Spears' conservatorship in 2011!) and that glorious moment at the MTV VMAs when Britney kissed Madonna and basically all the glorious moments of her career and how you hung her photo over your desk in college which you realize in retrospect was very gay. And then you wanted to get all of your friends together and tackle an important topic relevant to our community: the relative homoeroticism of Britney Spears' music videos.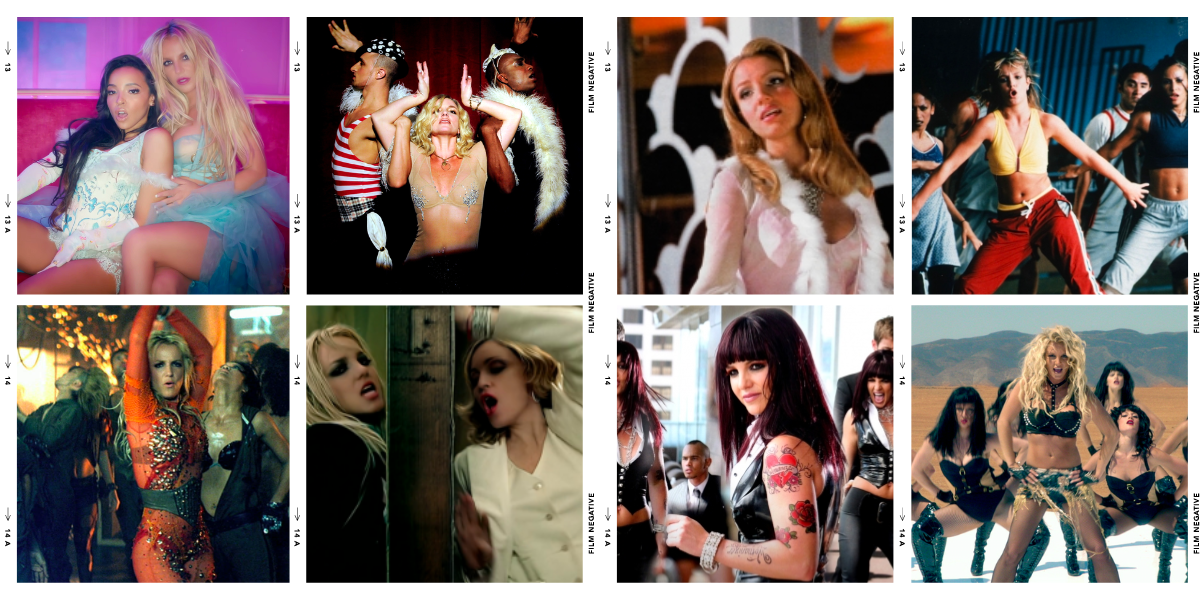 So, please join me, Editor-in-Chief Carmen, Managing Editor Kayla,  A+ Director Nico and For Them Social Media / Comms Lead Motti as we dig into the relative homoeroticism of the Britney Spears Music Video cannon. (thank you to the onyx zone for its thorough collection of music video screenshots!)
---
Britney Spears Music Videos, Ranked By Homoeroticism
Riese: honestly this video could not possibly be saying less about anything
Motti: okay im sorry to say i have never heard this song in my life
Carmen: (i'm glad someone said it)
Nico: Not very homoerotic to me, but WHAT is that lace harness situation she's wearing?
Riese: i think i prefer the britney s pierce music video version sorry
Kayla: I did also rewrite the words to this song for a 9th grade biology project about the different parts of the cell, called I'm A Cell 4 U
Riese: k a y l a
Nico: It's telling me so much about you that this was your go-to.
Motti: she looks like Troye Sivan's drag persona here
16. Lucky (2000)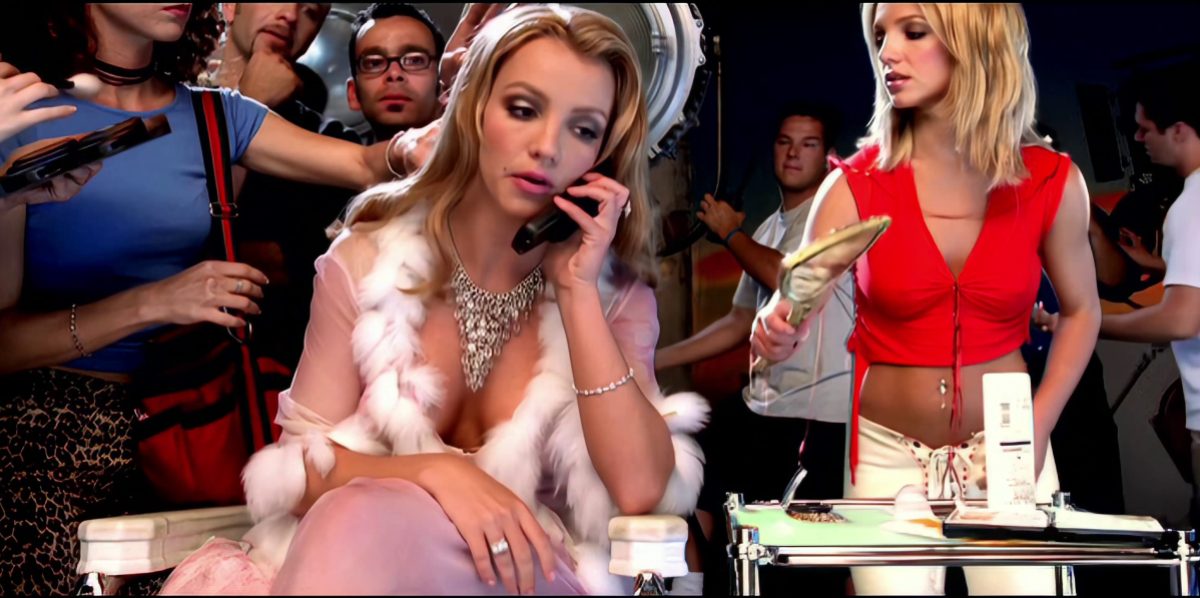 Riese: i hope this is on the "seven husbands of evelyn hugo" soundtrack
Nico: crying silently in bed while your doppelgänger / past / current self sings to you is homoerotic
Carmen: A fun fact about "Lucky" is that the first dyke I ever knew who was roughly my age, as opposed to some far away adult (she was senior my freshman year of high school) used to sing this song to her girlfriend in the parking lot outside of theatre rehearsals. And then we would day dream together about running away to Chicago to be "artists" even though she was three years older than me and I was decidedly not her girlfriend? And also still in the closet? And also didn't even know I was in the closet, because I thought I was straight?
And friends, that is gay.
Nico: I would sing this to Mya my dog sometimes :sob: "She's so lucky, she's a star!"
Riese: everyone did the least for this
Carmen: I simply must rank this higher than I should because it's every drag queen starter pack
Motti: woman + wet = gay
Carmen: hmmmhmm. yes. true.
perhaps even, the most true.
Riese: singing in nature is sort of gay and the passageways between two of the canyons begs a comparison to genitalia
Motti: "not a girl, not yet a woman" = me as fuck
okay so maybe not very homoerotic but what's gayer than a ripped woman on top of a mountain
more points for being an AFAB nonbinary anthem
Nico: There's just something gay about crashing a car into a pool at a pool party. It feels like something Shane or Alice or Jenny would do on The L Word. AND THEN, what was that look Britney shares with that woman leaning in a door frame?
Riese: does sort of feel like a victorias secret angels ad but sped up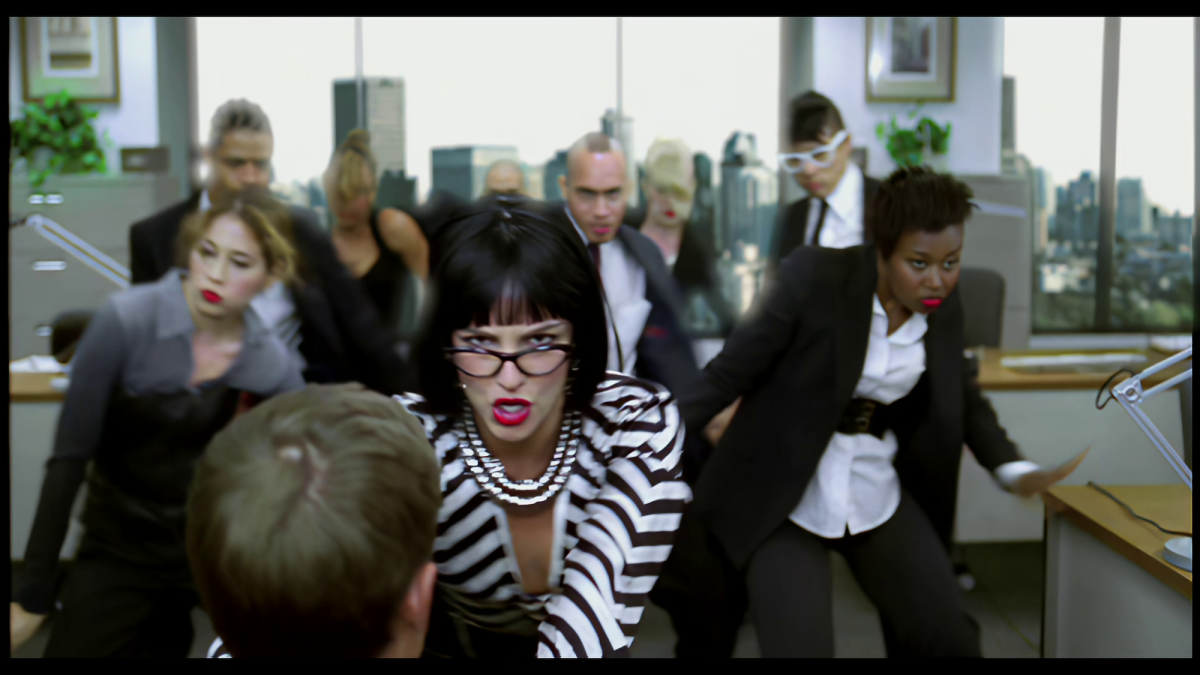 Riese: bisexual bob
Nico: Britney's various characters in this feel like a bisexual girl gang has assembled to take care of the one friend in a toxic relationship with a cishet dude. Not so much homo-eroticism as it is homo-friendship.
Motti: the opening scene gives me flashbacks to Lucy Liu in Charlie's Angels barracuda scene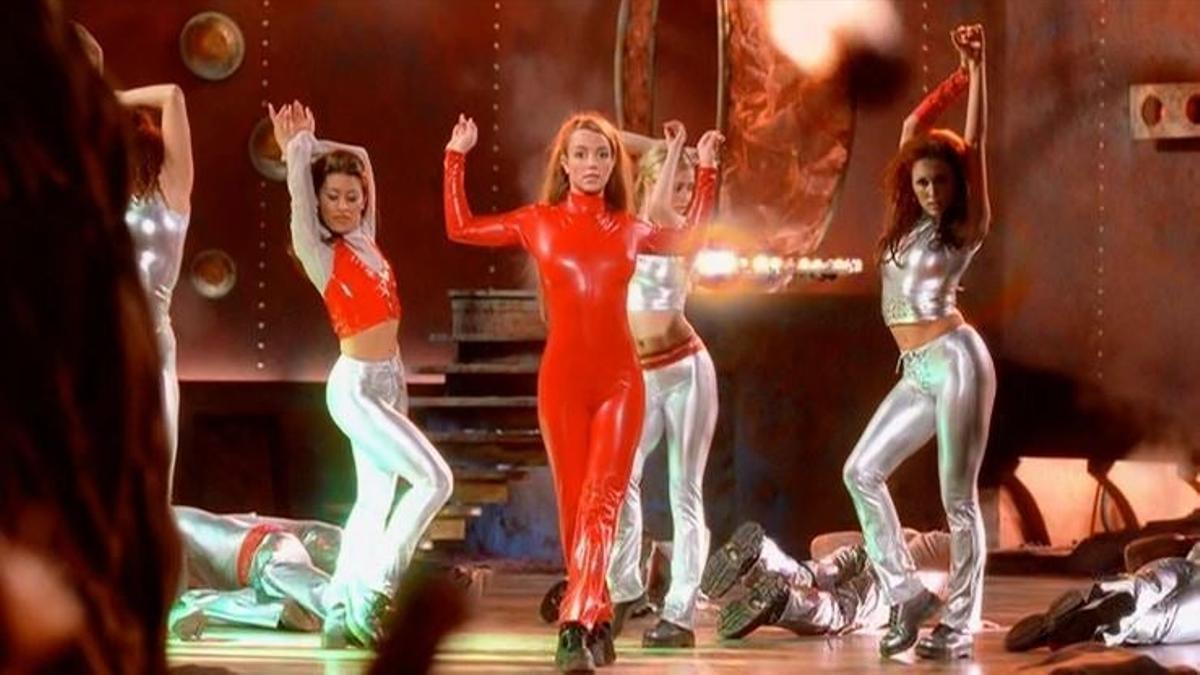 Nico: there is something so, core-ly, intrinsically gay about singing to a guy friend who thinks you have feelings for him that you in fact, do not have those kinds of feelings for him
Kayla: every time this song comes up, I'm legally obligated to share that for a fourth grade science project I rewrote the words to this song to be about the different types of rocks and performed it for my whole class
Nico: AAAAAAHHHHHH
Riese: KAYLA
Kayla: I had a habit of rewriting Britney songs but this was my finest work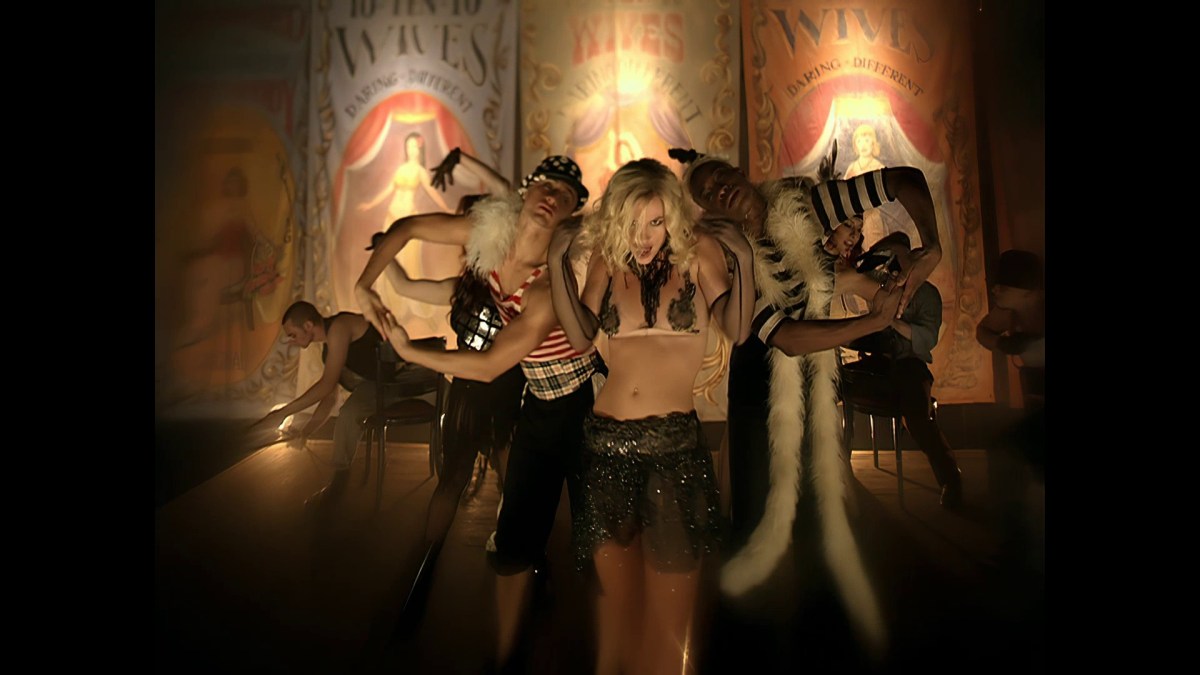 Nico: Giving us a lot of femme top energy here.
Riese: menswear and a whip, dom vibes
Motti: there was more homoeroticism in Hugh Jackman's scenes in the Greatest Showman but I'll give this a 6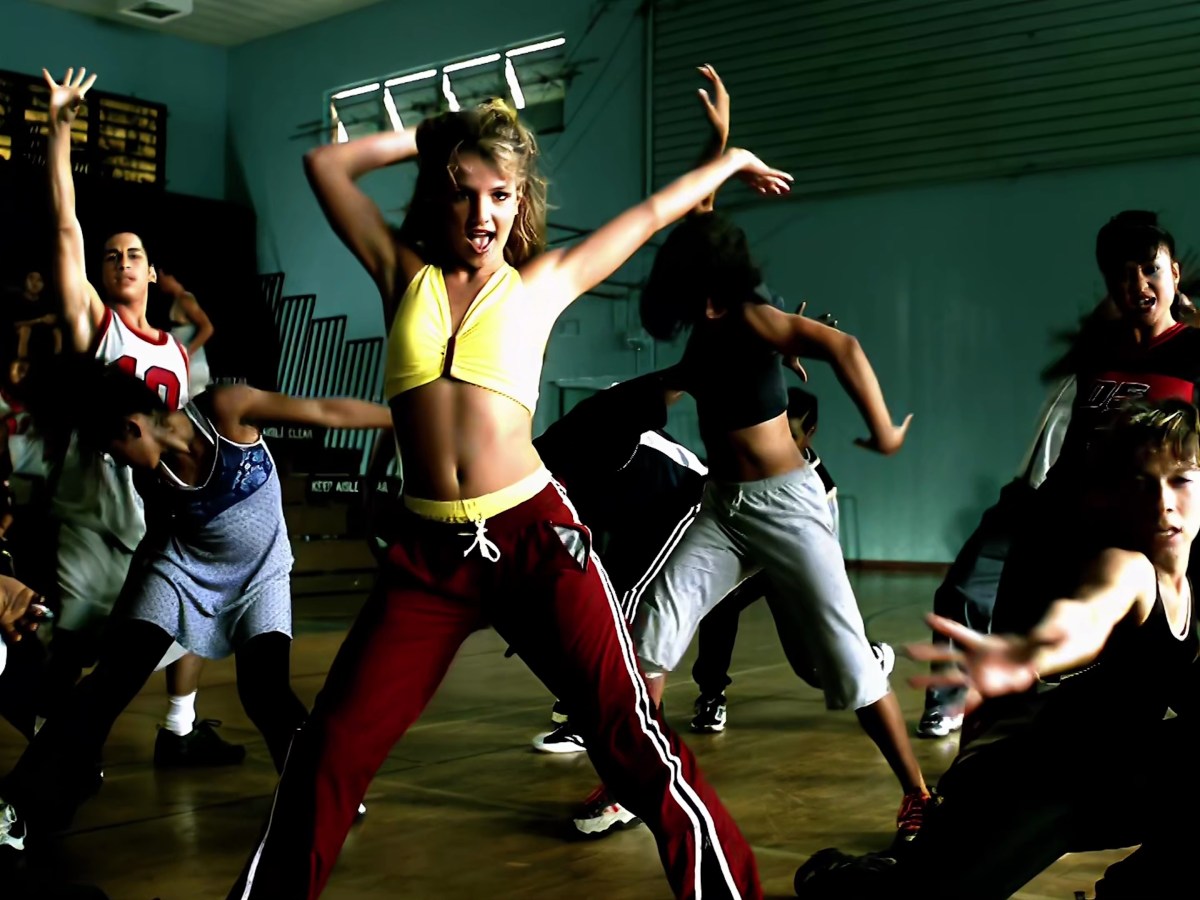 Riese: the schoolgirl scenes are as heteroerotic as they come, but the basketball scenes are gay
Nico: I want those shoes.
Kayla: Can't explain it but I do think my bottom origin story starts here
Nico: wow i really do want to know more tho
Carmen: Some of y'all weren't at the start of your Catholic school experience when this video first dropped, and it shows.
For bonus points, imagine tween Carmen jumping and down on her bed in her cotton candy pink bedroom, all hopped up on hormones and no where yet to put them.
Kayla: Okay points have been made
Motti: as someone who went to catholic school, they all would have gotten written up. wish there were more scenes with teacher-in-a-blazer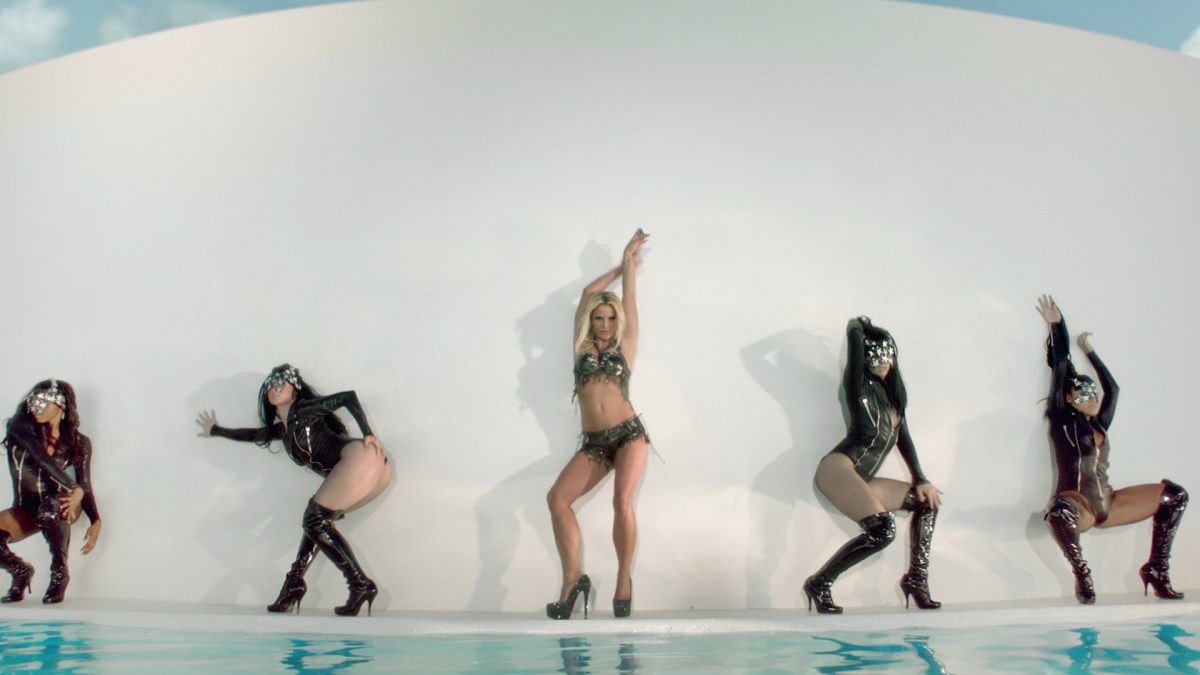 Nico: The combo of dreaming of labor and the anti-body positivity here is not giving me homoeroticism, it's giving me the cringiest cishet vibes. Sorry byeee.
Riese: but she's whipping another girl ! in the desert!
she did say she did say this song was written "in respect to the gays," but i think that she definitely meant gay men here
Nico: she sure did
okay yeah and then this also happens:
Nico: i'll give it queer with a lower-case "q"
Motti: it was the leashes for me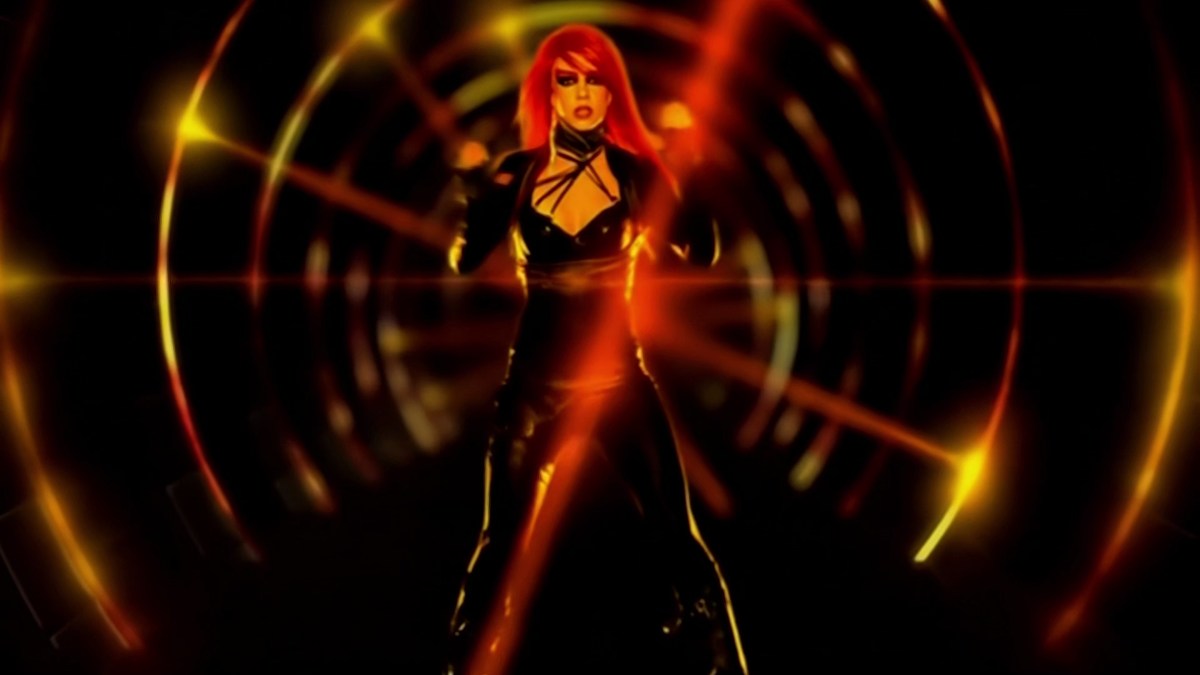 Riese: the leather catsuit with the red hair is giving pansexual, all the men in this video are props
Nico: this video was not created for the heterosexual male gaze that's for sure
Kayla: The men legit look like AI
Carmen: When she wipes her lips while wearing a diamond encrusted body suit. WHEN SHE WIPES HER LIPS.
Motti: timestamp 1:48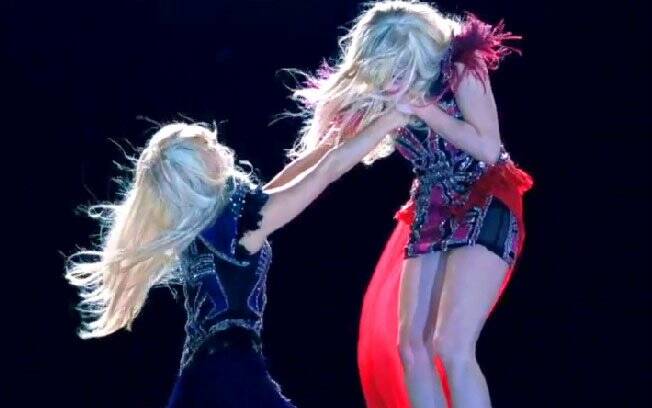 Riese: this is mostly homoerotic for men because all the men in this video are her gay best friends
but also there is a britney vs britney-esque person fight club which is incredibly homoerotic in a different (lesbian) way
Nico: Britney being homoerotic with herself again! I think seeing Bottoms has made that scene even more homoerotic for me.
also you're right that these are all her gay friends
if there wasn't music, the set would just sound like a flurry of grindr pings
Kayla: I've always been into erotic doppelganger vibes and now I'm wondering if Britney videos are the root of this
Nico: There are SO MANY where she is just very into herself, Kayla.
I am similarly wondering if this is a root.
Motti: obsessed with the blue-man-group-ness of this one
Kayla: I've always said the blue man group is homoerotic
Nico: Always?
Motti: for my 15th birthday i took friends into the city to see BMG…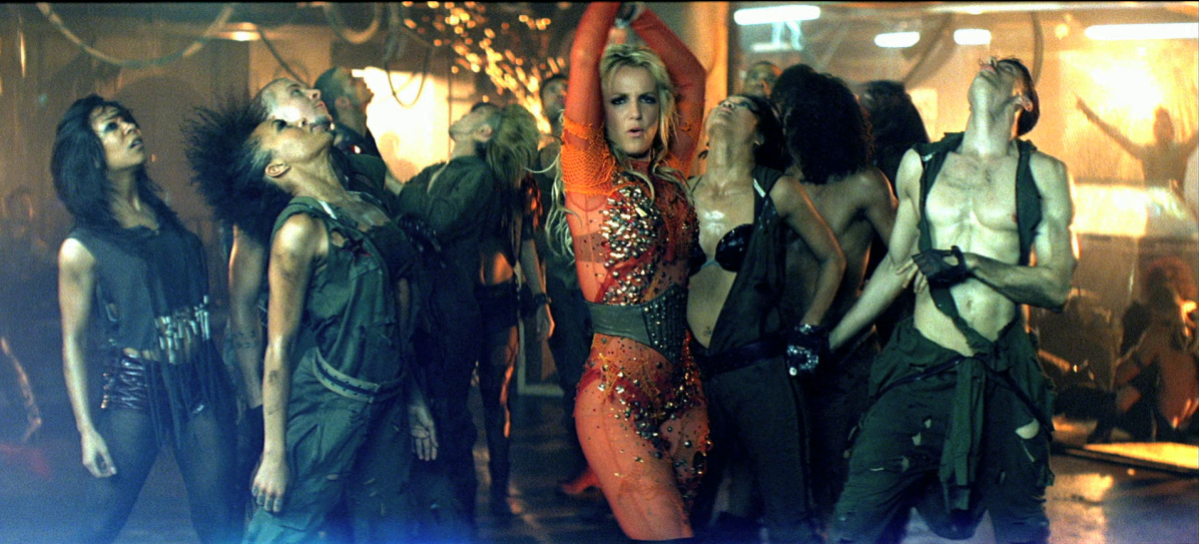 Nico: Every single backup dancer in this reads as queer with their haircuts and their post-apocalyptic costumes. Mad Max aesthetics are hyper homo-erotic. Britney sensuously dancing and writhing with all of these queers in this cyberpunk dystopia is…extremely homoerotic of her.
Riese: yes literally was about to say the same, "britney spears is the only straight person in this video"
underground queer dance party
Nico: There are poppers at this party. There are dental dams at this party. There are pamphlets on abortion rights at this party. There are glory holes at this party. Yes.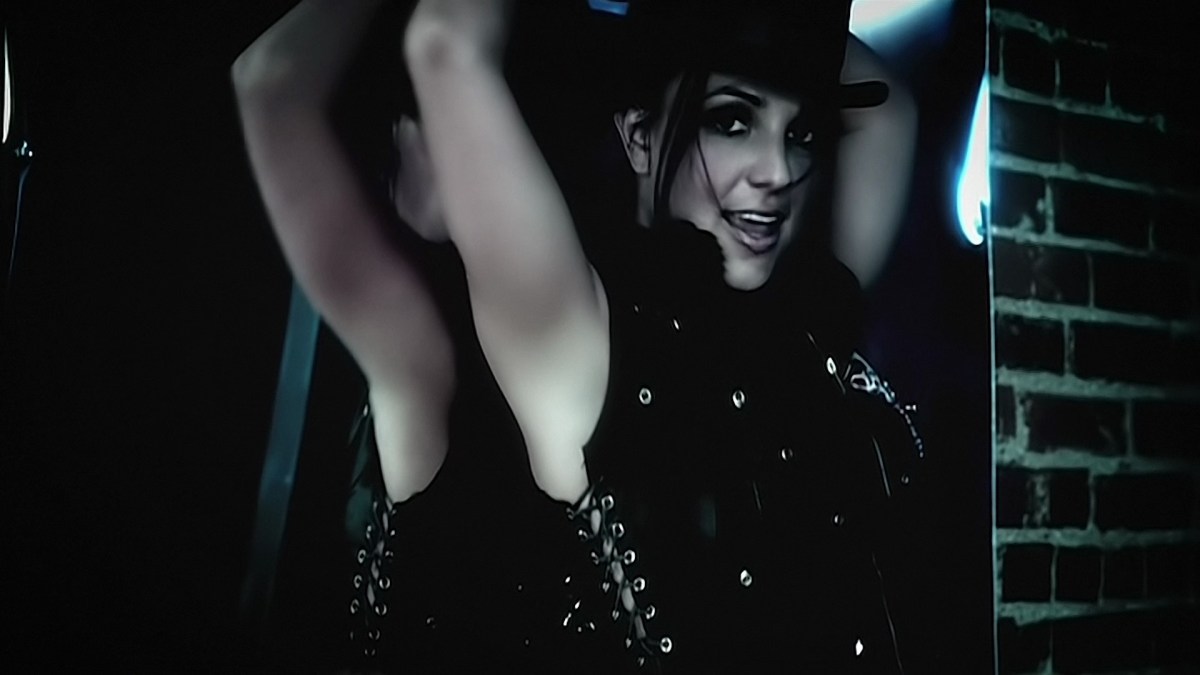 Riese: pole dancing with other dancers
Nico: the way she plays both herself as a patron of the club…and a dancer at the club? britney is very often being homo-erotic with herself but you know what it's allowed. be free.
Carmen: There's no way you get past the "It's Britney.. bitch" needle drop and don't rank it at least a 9 out of 10, on principle.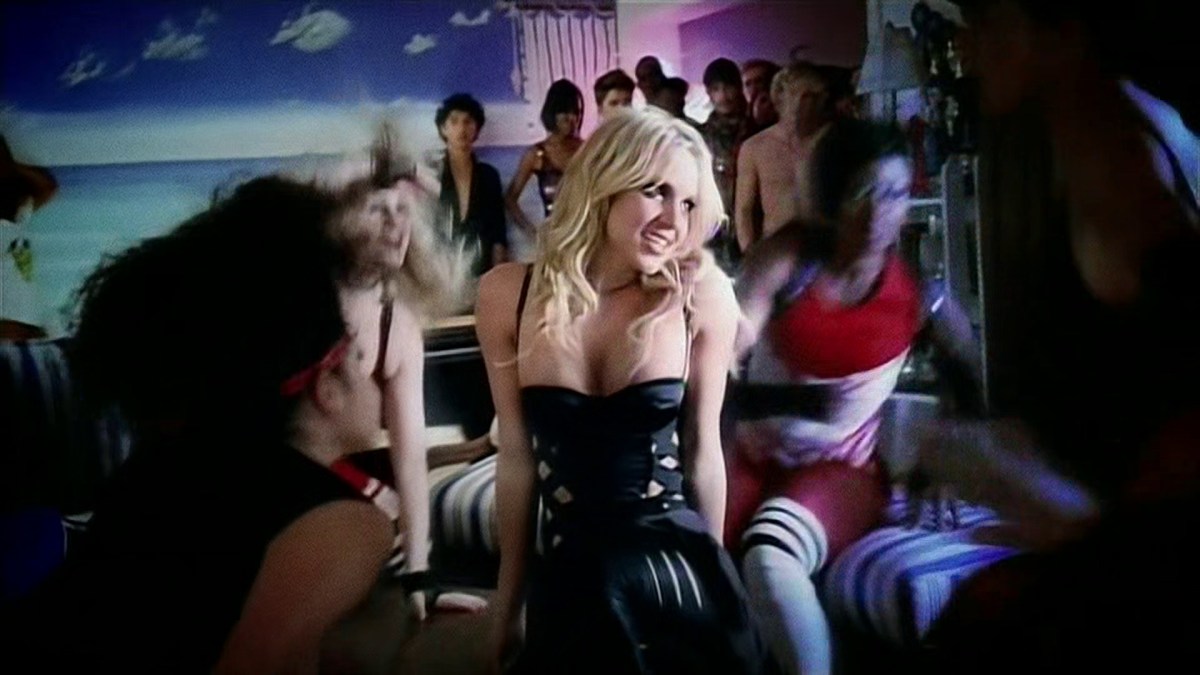 Nico: Did Britney just pick up a pair of panties like she was trying to track down their owner? Homoerotic AF. This entire song is just her singing about how multiple genders want to fuck her and more than implying that Britney is into that in a group sex kind of way, including when it comes to a circle of what are apparently queerleaders gyrating around and onto her?
Riese: ALL OF THE GIRLS AND ALL OF THE BOYS ARE BEGGING TO F U C K ME
Nico: See and that's a nice way to feel.
Good for her.
Carmen: I just went back and re-ranked every other video based on this scale. This is the standard bearer.
Motti: shouldn't have watched during work hours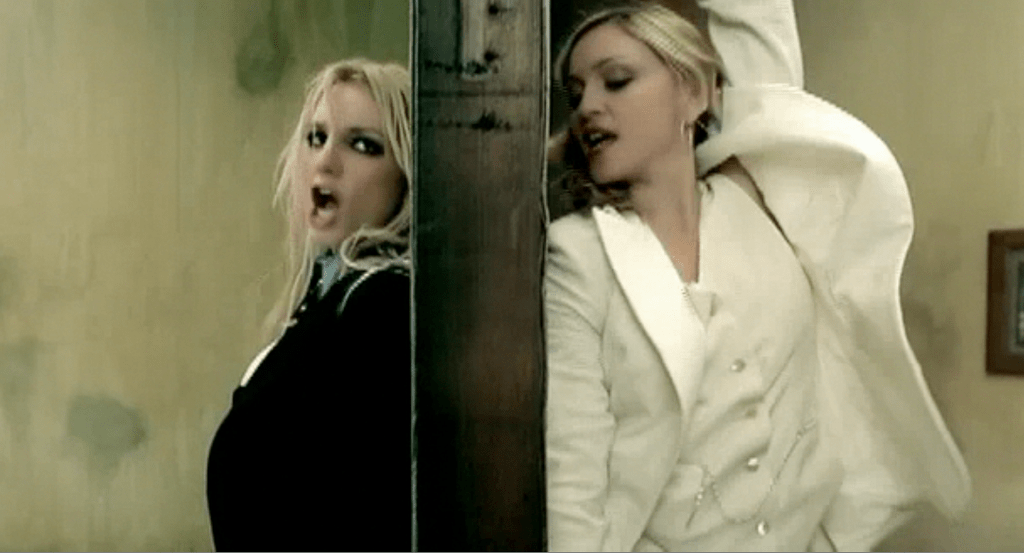 Riese: menswear
yearning through a wall
admittedly the glee version is playing a role in my perspective on this film
Nico: yes to menswear
and a leather/pleather tie??
also Madonna being present
Riese: mommi stuff going on here
Nico: in a white suit. with a cane. she's ridiculously mommi in this
lol
Riese: LOL
Nico: This video has been declared Official Mommi Media
what is this bed frame situation
that took it to a 10
when you put Britney in proximity to a bisexual woman she does match that energy
Kayla: two words: pleather fedora
Motti: i echo Riese's mommi comment
this is the kind of hair whipping that her conservators were profiting off of. she was right to gatekeep it in vegas residency
Riese: the "gatekeeping her hair" story is one of many underrated bombshells revealed in this year's most beloved memoir "the woman in me" by britney spears
Riese: britney spears and tinashe have lesbian sex in this video basically
Kayla: Yes that is lesbian sex
Nico: I always do that shoe toss thing during lesbian sex.
Did she just lick from a plate while on all fours while wearing a spiked dog collar?
Motti: oh..my god.
also lmao the shoe toss "lets get rid of these heels girl and put you in some birkenstocks"