Feature image via Shutterstock
This post has been updated to reflect Kenneth Bostwick's correct gender. His death was originally reported as the death of a trans woman, but people who knew him have spoken out in recent days to let the media know Kenneth was a trans man. We apologize for our mistake.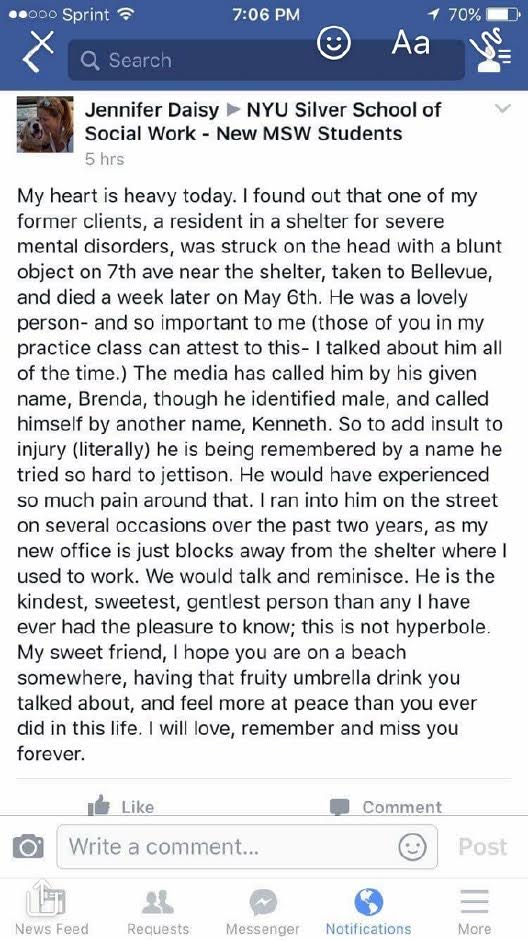 ---
On May 4th, Kenneth Bostick, a Black trans man from Chelsea, Manhattan died from injuries he sustained when he was attacked on April 25th. He is the ninth Black trans person to be murdered in the US this year and the tenth trans person of color. Back on the 25th, Bostick was found unconscious and was taken to Bellevue Hospital where he was treated for head injuries sustained before he died. Bostick was beaten just two days after we reported on the murder of Black trans woman Chay Reed of Miami, Florida.
I have a disgusting sick feeling in my stomach. It's horrifying how easy it is for our society to throw away the lives of Black trans people like Bostick. Mesha Caldwell, JoJo Striker, Keke Collier, Chyna Gibson, Ciara McElveen, Jaquarrius Holland, Alphonza Watson, Chay Reed are Black trans women who were reported murdered already this year.
Some of the reports on his death say Bostick was homeless; housing insecurity is a huge problem for trans people across America and globally. This is especially true of Black trans women and other trans women of color.
We need to take actions so that trans people have a safe place to live. We need to petition women's shelters to let trans women in. We need to act to decriminalize sex work. We need to support trans women while they're alive, including giving them money, and not just mourn them when they die. We need to fight against politicians who support bathroom bills and defund Planned Parenthood and prevent insurance from paying for trans healthcare. We need to actively fight against anti-Blackness.
Here's a list of the trans people that we know have been murdered in the US this year; they're all Black except for Jamie Lee Wounded Arrow, who was Native. Unfortunately, I'll be back in a week or two to add another name to this list.
Mesha Caldwell, 41
Jamie Lee Wounded Arrow, 28
JoJo Striker, 23
Keke Collier, 24
Chyna Gibson, 31
Ciara McElveen, 21
Jaquarrius Holland, 18
Alphonza Watson, 38
Chay Reed, 29
Kenneth Bostick, 59