As a pre-adolescent, I regularly cursed the heavens for damning me to eternal misery by making me flat-chested. It was a ripe source of material for bullies, like Noah at Jewish Day Camp who told me I was a "carpenter's dream, flat as a board and never been nailed." Meanwhile, adult females repeatedly insisted that one day I'd be grateful for my small endowment and I was like, YOU ARE WRONG AND NOBODY UNDERSTANDS MY PAIN. When I finally went through puberty about four years after everybody else, my breasts grew, which was great, and I've totally nailed a ton of things, so I'm no longer a carpenter's dream, but I'm also not exactly a bra manufacturer's dream either.
That being said, the adults were right: I love my breasts now! I think they're the best, and I'm totally happy to be a proud [whatever size I am on any given year/week/life-stage]. However, bra-buying — that shit is tough. When I was on the pill for about six years, my breasts magically grew and for a while I had a solid 34B and could even wear 34Cs sometimes. Let me tell you: life is sweet for 34Bs. Pretty much whatever I wanted came in my size, which was great, because I'm obsessed with underthings and put more care into picking my undershirt than my shirt, if you know what I'm saying.
I am the kind of person you would assume is an A, but lately I've actually found some AAs that fit even better than some of my A-bras. Many people with larger breasts often find that they've been wearing the wrong cup size, and the same can be true of small-breasted people too! Keep an open mind when it comes to your size. You know, experiment.
I come to you today with a medium-sized bounty of what I hope will be very useful information, garnered from my own experiences and those of other small-breasted babes. If you'd rather not wear a bra at all, don't despair; we have a post about that too.
---
Small-Breasted Bra-Buying Basics:
+ Although we have the advantage of fitting into a wide variety of basic pullover, sports-bra-style or flat triangle-cut bras, when it comes to bras that come in cup sizes, finding one for really small breasts can be just as hard as it is to find a fit for really large breasts.  There's just a lot less surface area to deal with, which means every detail of cut and form and shape needs to be exactly right to prevent gaps. Eve's Apple has a great rundown on sizing for small-breasted women if you need help.

+ Several specialty retailers focus entirely on bras for small humans, such as The Little Bra Company, Eve's Apples and Lula Lu Petite Lingerie. Lula Lu goes as small as 30AA and as large as 38AA and is recommended for women under 5'8 with a dress size between 0 and 8.

+ Frequently recommended brands for ladies with A-cups include Gap Body, aerie, Calvin Klein, Asos Boudoir and Natori. Calvin Klein, Asos Boudoir, aerie and Natori all go to as low as a 30A.

+ If you have a wide frame (38+) and very small breasts (AA), finding underwire bras that fit is an extra-extra-special challenge. Little Women, a boutique in the UK, has bras up to 40AA and so does Flatter Me Bras. Amoena sells really comfortable 100% cotton bras and underwire bras in sizes up to 46AA, but if you don't plan on inserting padding or prosthesis into the pockets provided, you should probably order a cup size smaller than you usually do. Later in this post I'll tell you about some hot options for humans rocking a 38A! Also, some of Mey's tips on bra-buying for trans women could be applicable regardless of your gender identity.

+ It can be really difficult to find an underwire bra in a small size that isn't excessively padded or lined. But lining has a silver lining in that it prevents "nipping out" and oftentimes that padding can help fill out a shirt or dress. I used to hate padding but now I think of it as a fashion accessory. 

+ If you are both small-breasted and small-framed, you can occasionally strike it rich in the little girls' section or score with petites. But if you're anything like me (5'10 and broad-shouldered), you'll likely find the straps too small and the cups too close together.

+ These days I'm more into underwire bras with cups because I like the look better under tight shirts, but still prefer bras like this for when I'm dressing in a more masculine style. Lots of small-breasted ladies are huge fans of pullover bras, bandeaus and flat triangle bras — these are especially good if you're truly flat-chested or are going for a more streamlined/masculine silhouette. It's also really easy to find cheap ones!

+ If you find a style you like, buy five of them! It is a truth universally acknowledged that the degree to which you like a certain bra is equal to the likelihood that said bra will get discontinued.
---
If You Wanna Rock Your Curves
If you want an underwire bra that provides the same style of support and shaping that larger sizes offer, I have one primary suggestion: aerie by American Eagle. Especially if you're too tall or wide for petite bras, aerie is your very best friend.
Almost all of aerie's bra styles are available in sizes going as low as 30AA and they also have a wide variety of convertibles/multi-ways — bras that can be adjusted to become racerbacks (or strapless, sometimes)! It's super-hard to find a bra that fits, so it helps if the only one that does fit can serve multiple purposes. I have two aerie Hannah lightly-lined multi-way bras and they're basically all I ever wear. Plus their website is the best.
Here are some fun bras for you. I've also indicated below the smallest size carried in each of these options.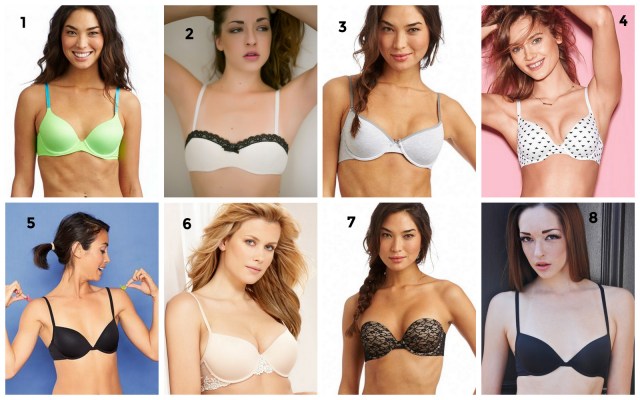 1. Odyssey Blue Sunnie Stretch Lightly Lined Bra (32AA) ($39.95). 2. Josette Demi-Cup Bra ($58) (34AAA). 3. aerie Hannah Multi-Way Lightly Lined Bra ($24.95) (30AA). 4. Wear Everywhere Push-Up Bra ($32) (32AAA). 5. Small Is Beautiful Bra. ($58) (32AA). 6. Wacoal Petite Embrace Lace Push-Up Bra ($52) (32AA). 7. ae Mia Vintage Lace Multi-Way Push Up Bra ($25) (32AA). 8. Lulalu Essential T-Shirt Bra ($46) (34AAA).
---
Underwear Style
Calvin Klein used to sell the cutest triangle bras with a band that looked like the waistband of their underpants back then — like men's underpants, but in a slightly smaller and more gentle font. Alas, like all good things in the world, these no longer exist. Some pricier brands have picked up the torch.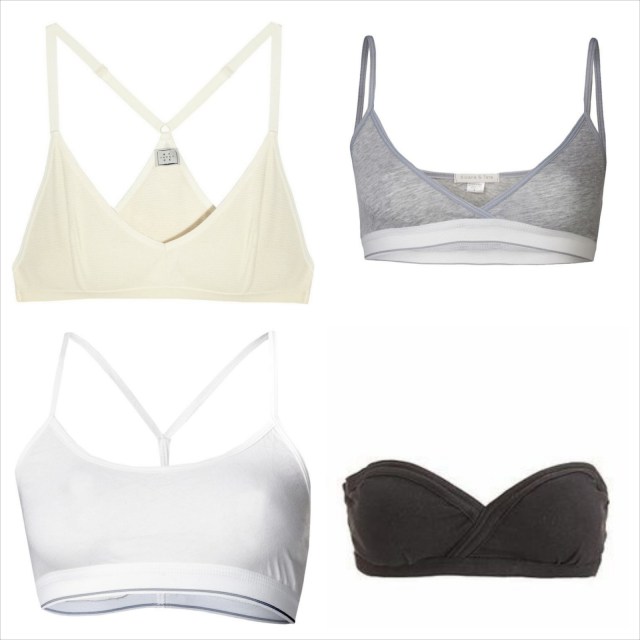 Base Range Racer-Back Waffle-Knit Cotton Soft-Cup Bra ($55). Sloan & Tate 'Buckingham' Bra ($48). Sloan & Tate 'York' Bra ($48). Surplice Sweetheart Cotton Bandeau Bra ($7.99). 

---

Tomboy Style
You don't have to choose between lace/flowers/bows and plain 'ol black sports bras — there are plenty of styles that manage to be fun without being overly feminine. Here are some!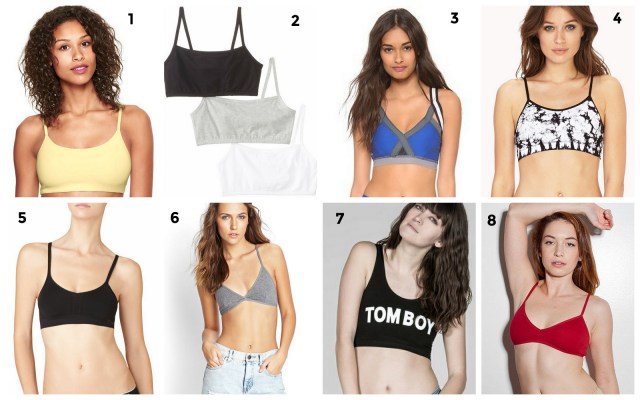 1. Gap Pullover Bra ($17.46). 2. Fruit of the Loom 3-Pack Cotton Pullover Sportsbra ($11). 3. VPL Insertion Bra ($95). 4. Tie-Dye Layering Bra ($5.80).  5. Calvin Klein Concept Seamless Wire-Free Bra ($20). 6. V-Neck Bralette ($3.80). 7. Tomboy Or Bust ($32). 8. Interlock Bra ($10)
---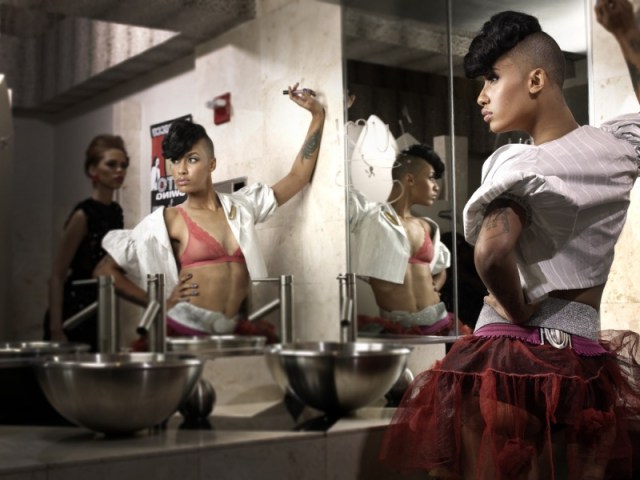 Femme-ish Fun
Here are some options for bras that come in XS-XL rather than bands and cup sizes. Be careful with bralettes and many triangle bras — if you're not just one minimal weight gain away from an A-cup or in the 32-34 range, you could end up with too much space for non-existent boobs.
1.Steve Madden Reversible Bralette ($16.08) 2.Leanne Lace Racerback Bralette ($32). 3.See You Monday Galaxy Bandeau ($12). 4.American Apparel Loral Print Cotton Spandex Jersey Cross-Back Bra ($16). 5.Sweet Floral Lace Bralette ($6.80). 6.Emma Elegance Lace Bralette ($30). 7.Top Secret Hippie Bralette ($54). 8.Aerie Signature Lace Bandeau ($10).
---
Big Band, Small Cup
This one's for all you 38As out there.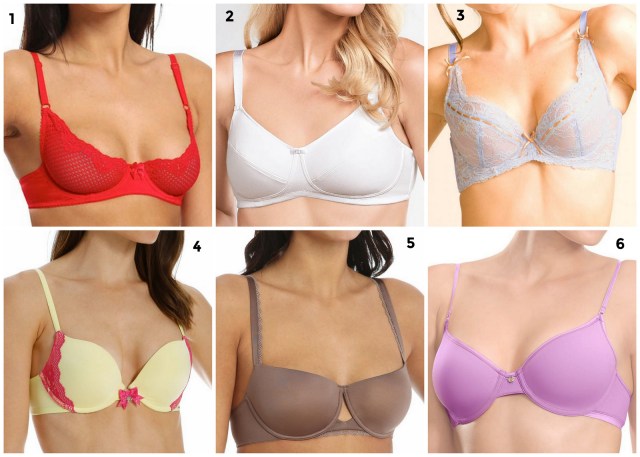 1. Timpa Duet Lace Underwire Demi Bra ($36) (32A-38A). 2. Amoena Ruth Soft Cup Bra ($25) (32AA-44AA). 3. The Little Bra Company Nicole Push-Up Demi Petite Bra with Optional Pads. ($60) (30A-38A). 4. Pretty Polly Lingerie Take The Plunge Lace Embroidery Plunge Push-Up Bra. ($44) (32A-38A). 5. Cosabella Sophia Balconette Bra ($90) (32A-38A). 6. Natori Understated Contour Underwire Bra ($64). (32A-38A).
---
So, my fellow carpenters' dreams, what are your favorite brands?