Welcome back to Autostraddle's book club, where we pick a book and read it together and then talk about it. This month, due to its terrifying relevance and to keep up with the discussion of the Hulu series, we're reading Margaret Atwood's The Handmaid's Tale.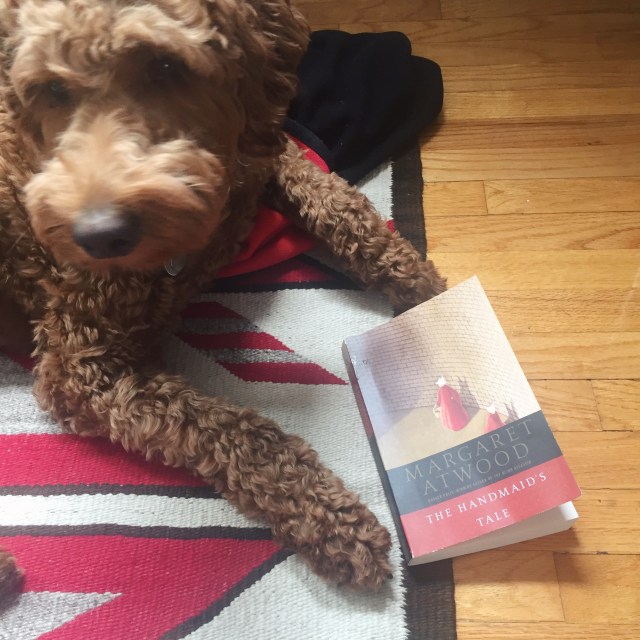 I don't need to tell you that The Handmaid's Tale is everywhere (but the following is your internet reading guide just in case). It's crushingly relevant. It's been at the top of bestseller lists since the election. It acts as a warning to conservative women. If you grew up in a fundamentalist cult, it feels very familiar. People are evoking it at protests and a symbol of resistance in contemporary America, but it's important to remember that it's an extremely marginalizing one. "Patriarchy is the logic of a system."
As literature, The Handmaid's Tale pays attention and investigates power and how it is wielded, while most literature right now prefers to look away from power and toward the self (forgetting that the self cannot escape power). It uses language to subvert and take control of meaning. But it "ignores the historical realities of an American dystopia founded on anti-Black violence." It is only one vision of American catastrophe. Regardless, "Atwood is a buoyant doomsayer." Here she is writing on what her novel means today and on watching her dystopia come to pass. And here she is stating what should be obvious: actions have consequences.
The Handmaid's Tale has been adapted a few times over the years. No one remembers the 1990 movie. The new audiobook features contemporary updates from Atwood, including a warning on trading "liberty" for "safety." Arguably, the most pressing adaptation is not the television show but one "of another text, one that is even closer to my heart: the life that I am living right this second." Finally, in her discussion of the Hulu series, Riese writes: "I don't think we're at risk of becoming Gilead, or that lesbians are at the top of Trump's chopping block, but sometimes a story feels real not because of its facts but because of its emotional truth. It was so close, too real, impossible, familiar, not enough, and everything, all at once."
---
Discussion Questions:
When reading The Handmaid's Tale, approximately how many times did the icy chill of recognition wash over you?
When reading The Handmaid's Tale, approximately how many times did you check Twitter or the internet or the news or your carrier pigeons and discover something you were reading about had started to come to pass?
When reading The Handmaid's Tale, approximately how many times did you have to stop reading The Handmaid's Tale, get up, go and set it gently, carefully, in another room, and take a hot shower, face turned up under the stream, while weeping messily for a future that already seems lost?
Which part(s)?
What line kept getting stuck in your head, if any?
How long did it take before you could finish reading it?
Do you identify The Handmaid's Tale most as feminist dystopia, historical realism, or waking nightmare?
Did reading The Handmaid's Tale make you want to go have sex or masturbate or otherwise claim agency over your own body and sexuality in a way, as countless high school English departments have feared, or make you want to go do whatever the opposite of sex is?
To what degree do you think The Handmaid's Tale can function as a symbol of or shorthand for contemporary reistance (like in the Texas abortion protests)? To what degree does its erasures and marginalizations prevent it from being effective in that way?
Do you think some folks are drawn to it as a symbol because it's old enough to be readily available and probably already read, because it's old enough to make its resonances seem all the more chilling, because it's shallow enough and plausible enough to seem real, because it speaks to emotional truths, because contemporary literature looks more at the self than at the world and this is old enough to look at the world?
The Handmaid's Tale was first published in the 1980s, and — whether or not it is feminist — is arguably rooted in at least some second-wave feminism. Does considering it in that context change your reading of it at all?
Did the framing device of the conference impact your reading of the narrative? Does seeing Offred as a narrator remembering and retelling a story instead of living it live, as we are given to believe for most of the novel, affect her credibility? What about in the context of academic dudes interpreting and translating and mediating her words?
Do you think you'll ever sleep again?