Summer TV is in full swing! Well, not full swing. Mid-swing, I guess. It won't be in full swing until Wynonna Earp comes back in July and I finally understand what the deal is with that potato. I'm sorry I didn't get Boobs Tube posted for you last week. I was traveling back across the country (again) from having traveled across the country (again) and I caught myself a case of whooping cough! (Okay that's a lie but I'm on heckin antibiotics for a bad bacterial infection in my lungs.) But TV carries on! This week Erin watched season two of Queer Eye and thanked god she's gay. Kayla recapped a strong episode of The Bold Type. Valerie recapped the Supergirl season three finale. And all our TV writers weighed in on a Bold Type roundtable.
Everything else that happened this week falls under our Quick Hits category and here it is!
---
Ackley Bridge: 201-203
Channel 4's great series, Ackley Bridge, returned earlier this month, with our lesbian protagonist, Nasreen. Gone is her science teacher and love interest from last season and, after the new season's first episode, so are her plans for an arranged marriage. Nas has her heart set on real love this season — the kind that alluded her parents — but thus far, both her mother and her best friend have had more luck. — Natalie
---
Claws 201-202: "Shook" and "Cracker Casserole"
The ladies of Nail Artisan of Manatee County are back for Season 2 of Claws! Last season ended with Quiet Ann sacrificing her relationship with Arlene to protect Desna and the crew and when the show picks back up, she's still reeling from the break-up. Arlene, on the other hand, is back to playing the field already, as Ann discovers while stalking her Instagram.
Claws' showrunners have promised we'll hear more from Quiet Ann this season, literally, and we get a taste of what we can expect in the second episode. During a really compelling, though quintessentially Claws, abortion storyline — wherein a clueless Virginia refers to MLK as "that guy that's always dreaming" — Ann admits that when she was really young, she got pregnant and was forced to carry to term. Just as Ann started to get attached to her daughter, Sofia, her parents sent the child away and Ann never saw her again.
Of course, I'm interested to see what's in store for Quiet Ann this season, but this talk of Ann wanting to settle down and have a kid has me very worried. — Natalie
---
Queen Sugar 304-305: "No Haven in My Shadow" and "A Little Lower Than Angels"
Hi there! I just want you to know that Nova kissed Remy this week and then I threw my laptop into a pit of fire! I can't believe it!!! REMY!! F*CKING REMY!!! Remy, her sister's ex-boyfriend!! Remy the righteous, judgemental, holier-than-thou, ass (excuse my French! I'm very angry here!) who Charley at least finally had the good sense to cut loose last season. Now he's back and his lips are attached my beloved Nova's lips! There are a lot of reasons why the continuing erasure of Nova's sexuality is maddening and painful, but c'mon! This is just salt in the wound! My friends, I fear we have very dark days ahead.
A bright light in those dark days is Bianca Lawson. Our very own Natalie wanted to make sure you all know that she's now walking around the show looking like this: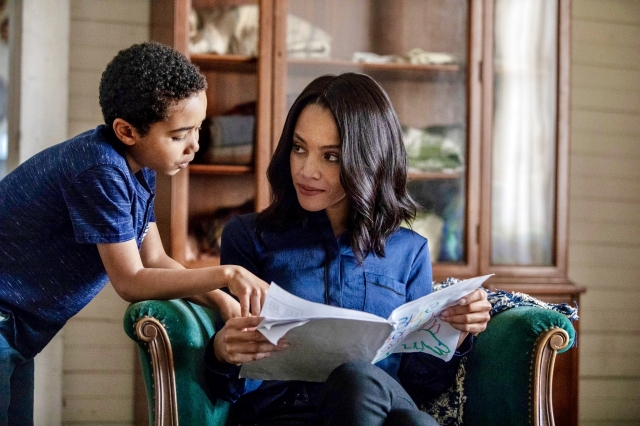 And that alone is a good reason to keep watching. — Carmen
---
Mi Familia Perfecta: Chapters 45 – 53
As I've acknowledged before, Mi Familia Perfecta can be a frustrating show to watch — Megan and Génesis are secondary characters among a sprawling primary cast so their scenes are few and far between — but it's also a show that unambiguously confronts and chastises homophobia and there's still tremendous value in that.
The show gives space for Génesis' mother to express her concerns about her daughter's "confusion" but, ultimately, it only serves to tee up a forceful response from Génesis. She calls out her mother for being accepting of gays, generally, but not her specifically, and assures her that she doesn't need therapy just because she likes women. When Megan is mysteriously dropped from the PR campaign, she calls out the Soccer Club's President for continuing to do business with the firm, despite their obvious homophobia.
Then, when Génesis' brother, Eddie, accuses Megan of taking advantage of his little sister, Megan blithely asks if he thinks she spends all her time walking around converting straight women. Missing her sarcasm, an increasingly agitated Eddie demands Megan leave his sister alone and begs Génesis to realize that she's been brainwashed. Eddie's erratic, while Megan is calm and poised, as she tells him not to take his frustrations about what's happened to him on them.
The catch-22 of Mi Familia Perfecta handling this storyline so well (and the girls having great chemistry) is that you it leaves you wanting so much more…alas. — Natalie