The regular TV season is winding down to make room for Orphan Black and Orange Is the New Black, but we've still got a few more weeks to go with a handful of shows. Next week, Boob(s On Your) Tube will only appear on Friday. (I'm taking a much-needed vacation!)
---
Grey's Anatomy
Thursdays on ABC at 8:00 p.m.
Written by Aja
Picking up where things left off last week, Arizona blurts out that April's pregnant. Hardly a beat later, April bursts into the room and all hell breaks loose, but she gets paged to the ER and that only enrages Jackson more. I know he's the golden boy, beyond blindsided by this, and perhaps in other professions work could be briefly tabled in order to discuss a surprise pregnancy, but the way he acts as if she can just shirk her responsibility to deal with a personal crisis is classic double standard nonsense.
Grey agrees to drinks with Thorpe, which is a big step forward for her, but of course all the Grey-Sloan meddlers meddle as meddlers are wont to do (except imagine the meddling occurring over the course of a 17-hour surgery, so fun). Amelia and Hunt are giddy little lovebirds and decide to celebrate birthday early at his trailer the next night with some lobsters (he gets to cook! lucky him!). I love lighthearted, sassy, I-don't-cook Amelia! She's kind of an asshole, but very charming. Meanwhile, DeLuca doesn't want Pierce to give him special privileges just because they're screwing, which is reasonable, but he's been running a bit too hot and cold lately for it to just be that.
Down in the ER, Arizona tries to explain herself to Kepnar, but it doesn't go well because — as Bailey will explain later — just because Arizona thinks she was doing the right thing doesn't mean she did the right thing. Clearly, breaking all kinds of laws and private confidences is inadvisable, period. Somehow Riggs butts his way into the drama, and can I just say that Riggs has got to be the most annoying new character since Pretty Penny? Crikey. Eventually Kepnar and Jackson's on-hold argument makes its way into the very public halls of the hospital, escalating terribly until Jackson really loses it and says, "Screw this. You wanna play the martyr here, you wanna pretend you're doing this alone — go for it. Knock yourself out. It's your deal, April, you win. I'm out. I'm done."
Here is where the episode really loses me with the dialogue. It's weak, not exactly in character for a noticeable number of key players, and especially here, where someone decided we should scrape the bottom of the stereotype barrel with a narrative that sinks an uncharacteristically livid and mean Jackson into the whole absent black father trope. Especially when Webber decides to have a "be there for your kid, son" heart-to-heart with him. Grey's can do better than this.
Back to Arizona: OMG! Arizona and Callie talk about Sofia! SOFIA LIVES! Guys, I was so worried about that little princesa. Arizona wants reassurance that she's not a monster, and it's a little strange that she's seeking it from her ex-wife, who is like, "Nah, dude. You done FUCKED IT UP," but maybe not that strange. After all, Callie probably knows Arizona better than anyone. If someone was going to coo, "Oh, honey, you meant well. That's what matters," I guess it'd be someone who knows your whole heart. PS. Way to go, Arizona, you just betrayed April's confidence AGAIN. Later on, she ends up talking to Amelia about it. Amelia finally says in cold, hard recovery language what no one else will: What you did was unforgivable. You cannot change it or take it back. It's not up to you. Accept the consequences and wait it out, then maybe, maybe, April can find it in her heart to forgive you. But she might not. There are no cheats, no shortcuts, no outs. This is the grim result of a poor choice. It's a good talk, one I wish more people would have with themselves before making poor choices.
Grey gets all dolled up for her date then chickens out, and when she tries to bail on Thorpe, he's real nice and understanding and offers to take her home. Nothing untoward, just a drive. She resists at first but caves, and they end up eating fast food and having a chat in his car parked on the curb outside of her house. Previews for the next episode show some potentially dark, way not okay shit happening between them, but we'll have to wait and see what happens there.
Kepnar is losing it in the dark in a room, and when Hunt busts in on her — why is this episode so weird? since when is Hunt some sort of surrogate dad figure to Kepnar? — and finds her so upset, he just takes her in an embrace and tells her that the baby is a miracle. She sort of melts in relief and surrender; it's all she wanted to hear. Hunt doesn't like the way Riggs handles the parents of a patient, and they get into a giant screaming match in the halls about Hunt's sister. Spoiler alert: He goes off and has a moody ass bender, which Amelia and her lobsters happen upon on their date night. Seeing him wasted and out of control is way too much for her, so she leaves in a hurry. I was so proud of her and so heartbroken for her at the same time; this almost feels like a greater, more irrevocable betrayal than what Jackson and April are dealing with.
Speaking of those two, Jackson shows up on April's doorstep, presumably to make peace. Again, it escalates quickly, and nastily, and almost veers into emotional-abuse-teetering-on-worse territory when April asserts herself and sets some pretty distinct and matter-of-fact boundaries: "You don't count here. Yes, you're the father when there's a baby, but right now you have no choice in this. It's my body, my baby. You are not my husband, you have no rights here." She steps back, shuts the door, locks it. When Avery hits the other side of it, we start right along with her. I hate where this is going. I'm not April's biggest fan but of course she's right, even if she is endangering both herself and the baby by refusing tests, even if it's pretty abrupt and severe to shut Avery out entirely. I find Avery's sudden and near-constant state of fury to be highly unbelievable, and I think April is wrong to use her religion as a crutch rather than go into a pregnancy informed and with proper medical care and caution, but neither of these things negates her rights. Those are non-negotiable, and that is her choice.
I couldn't even begin to tell you what I hope to see next week because everything seems so bleak across the board! I need a spa date and a glass of champagne, stat.
---
The 100
Thursdays on The CW at 9:00 p.m.
I just want to let you know Karly will be back to recap next week's The 100, and we're going to play it by ear after that.
---
Younger
On a break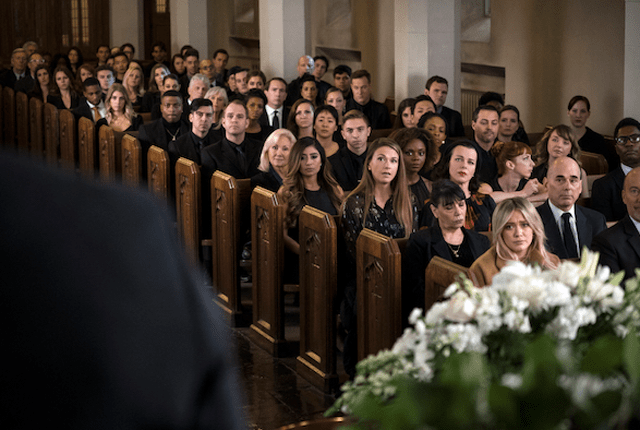 After teasing me so beautifully with information about Maggie's ex and then danging her relationship with Lauren out in front of my life a carrot, Younger really dropped the ball on its queerness in the last half of the season. Which is obviously a notorious Darren Starr move, but I was hoping for more. Maggie hasn't had much to do these last few weeks, besides offering sage advice once or twice an episode when Liza wanders into a room where she's hanging out. Or a funeral. Yes, that's right: Thad died! No complaints there. In the end, Liza's secret stays a secret and she ends up in that Josh/Charles love triangle that's been coming her way for the last season and a half. Next year: MORE MAGGIE.
---
Rosewood
Wednesdays on Fox at 8:00 p.m.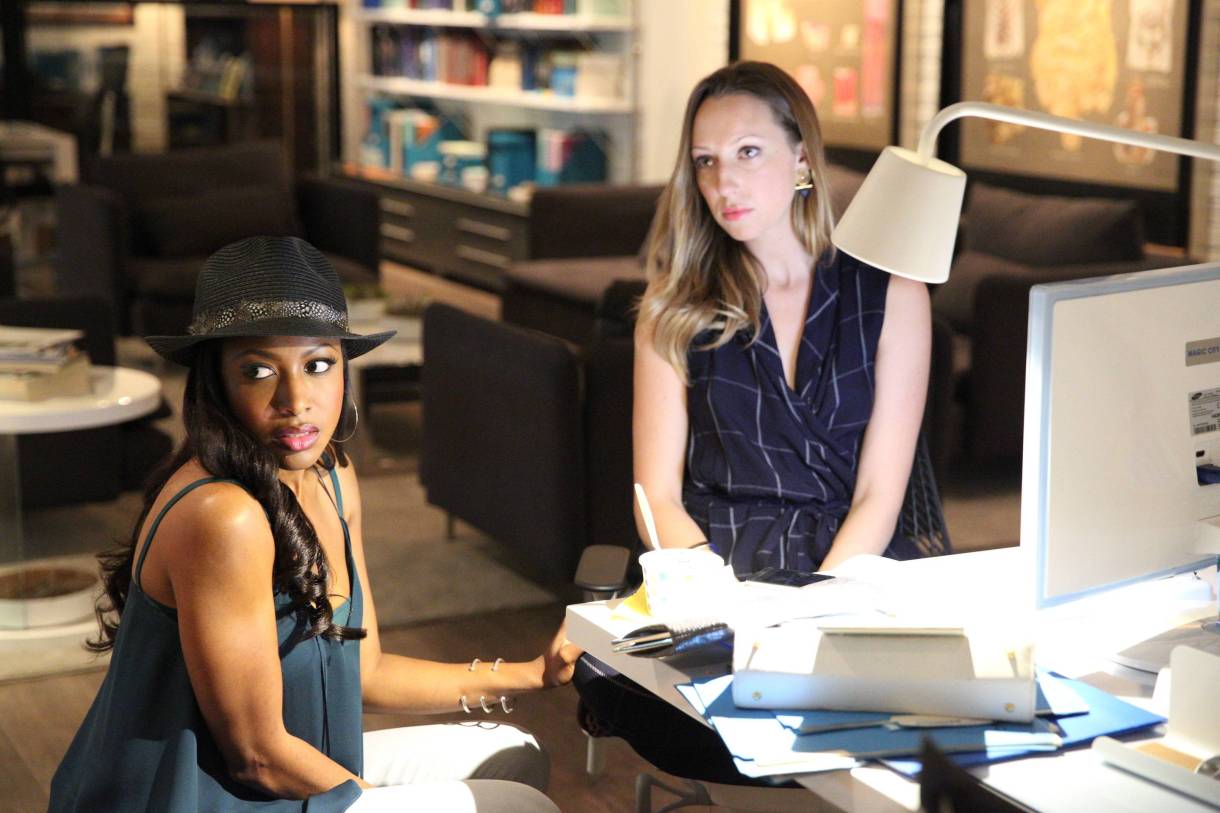 Thanks to the A+ tipster who let me know Pippy escaped confinement in the basement of Rosie's lab, I got all caught up on Rosewood this week, and friends, OITNB's Figueroa and Vee had a little reunion! As you know, Lorraine Toussaint plays Mama Rosewood, but we'd never met TMI's mom before because she disowned TMI two years ago when she fell in love with Pippy and came out. But watching TMI and Pippy ready their wedding invitations with no hope of seeing TMI's parents there is just too much for Mama Rosie. She invites herself to TMI's mom's country club and has a seat at her table with her bridge friends or whatever rich old white lady thing and goes, "Our lesbian daughters are getting lesbian married and you're acting like a child, flinching every time I say the word lesbian; you need to get your homophobic shit together." Basically, anyway. That's basically what she says.
One of the reasons Mama Rosewood is springing to action like this is because she's got some serious guilt about the way she handled Pippy's coming out. She was so against it that Pippy ended up living on the streets for a while. In fact, Mama Rosewood has so much shame about it that she tries to gaslight Pippy when she reminds her of it. She ultimately comes around and confesses that yes, she was horrible, but she wants to finish so much stronger than she began.
TMI's mom, meanwhile, shows up and offers TMI a wad of cash to quit her job, leave Pippy, and travel the world. TMI tells her to stuff her money up her butt.
Later that night, Pippy and TMI smooch right on the mouth, for the first time I can remember.
Good job, show! Stay alive, Pippy and TMI!