Welcome back to your twice-weekly round-up of queer TV! Lady Gaga has arrived on American Horror Story: Hotel, in a premiere episode that squicked out most of our staff; rapper Bre-Z returned to Empire as Freda Gatz; and Riese broke my heart by telling me how much she likes Scream Queens. It's been quite a week!
---
Grandfathered
Tuesdays on Fox at 8:00 p.m.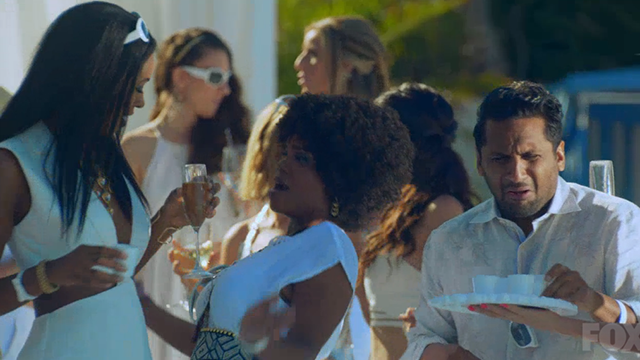 "It's always going to be Annalise," is a thing John Stamos said to his staff this week when he was choosing which of his employees to invite to attend Diddy's White Party with him. Of course, he didn't end up going to Diddy's White Party at all because he had to learn a lesson about how sometimes it's better to spend time with being goofy with your family at the beach than schmoozing with models half your age. It's the same lesson he's going to learn for at least the first 13 episodes of this season (if the show lasts that long), because That's Just The Way It Is with high-concept sitcoms. Annalise, however, does attend Diddy's White Party and she has a real good time. In fact, she makes a murder-suicide pact with Ravi because life peaks inside the party and they don't want to go on living in a world outside of it. (They were okay, though! Annalise just danced with models in John Stamos' place, and drank a lot of champagne.)
---
Scream Queens
Tuesdays on Fox at 9:00 p.m.
You guys. YOU GUYS. Riese really likes Scream Queens. She said it to me three different times this week, and I died a little more inside each time. For me, Scream Queens is so much of what was wrong with the last five seasons of Glee, condensed into five weeks. For starters, because there's no writers room, it's just Murphy, Brad Falchuk, and Ian Brennan each writing their interpretations of the characters on a rotation, and so none of the characters' decisions make much sense because each writer is just picking up where they left off on the last episode they wrote. And in the absence of actual characterization, each of the women becomes a mouthpiece for whatever axe these guys have to grind. (All three of them have serious issues with identity politics, so at least their characters are consistent in lampooning those conversations?)
One of the thing that gets my goat the most about these dudes is how much they seem to hate fans. The final season of Glee, with Sue Sylvester being a satanic manifestation of Kurt and Blaine fans, remember that? I hated it! I thought that storyline was such a wanker move. This week, Falchuck skewer's Taylor Swift and her super fans by having Chanel send her Instagram followers presents, only instead of college scholarships it's like rotten pumpkins literal boxes of blood. And, look, I get that there are plenty of problems with fan culture and with Taylor Swift's entitled white feminism, but at least all those people are doing the brave and vulnerable work of trying to care about something in a world that rewards misanthropic cynicism and snark.
And none of these writers would be where they are in their careers right now if it hadn't been for these young, excited fans (many of whom were gay kids who'd never seen themselves on TV before) watching Glee and buying tickets to their tours and buying merch and participating in online fandom. Ryan Muprhy, especially, would not be where he is. So ridiculing those kinds of folks seems less like looking a gift horse in the mouth and more like punching a gift horse in the face. It's so easy and so cheap.
(I should say, though, that Riese really liked this Taylor Swift thing and laughed a lot and honestly maybe I'm just being too sensitive.)
There was no gay stuff this week. Sam was around a little bit while Chanel and Zayday faced off against each other in a battle for sorority president. Zayday wants to set up a charity haunted house at this place on Shady Lane that apparently used to be inhabited by a(n actual) hag who howled out the windows for her lost babies. She was spotted a couple of weeks after the bathtub baby went missing from Kapa in 1995, stealing milk and whatever, and so they all assume she's the one who raised her. Chanel thinks Zayday will ruin Kapa the way Obama has ruined America, what with giving out free cell phones and all that, and so she is more determined than ever to continue her reign. Sadly for her, Zayday's haunted house is a huge hit because actual dead bodies show up there.
Grace and Pete wander around dressed up like one of our nation's dumbest rom-coms looking for more clues about the bathtub baby. They find them in a women who lives in a trailer far away from campus. Dean Munsch knew about the bathtub baby because she knew about bathtub baby's dead mom, whom she ordered the girls to bury and then banned them from school way back in '95. One of the girls changed her name, one of them was institutionalized, one committed suicide, and one is now a Fox News anchor. Also, the bathtub baby was a girl.
The woman who tells them all this info is later visited by the Red Devil, who menaces her through the windows of her trailer.
I begrudgingly cackle laughed at this line: "Cause of death: stabbed a whole lot all over."
And this one: "You may think I'm a monster tonight, but years from now, when you've lived a boring, painfully uncreative life in a home filled with Pottery Barn sofas and no integrity, you're gonna remember me as I truly am: your guardian angel."
Hashtag Sue Sylvester.
---
Empire
Wednesdays on Fox at 9:00 p.m.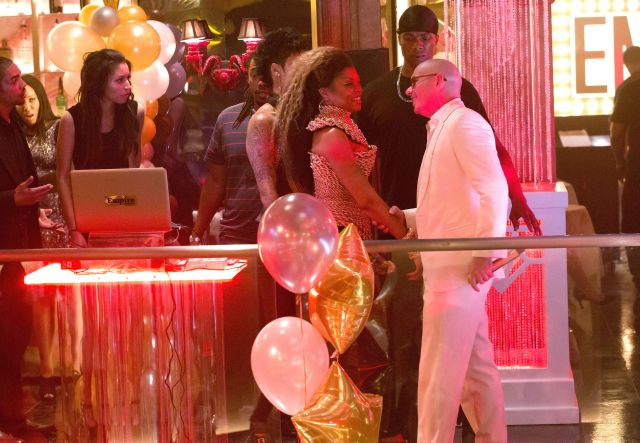 To say that Empire got its groove back this week would be a huge understatement! As predicted, last week's snoozer was all about setting the wheels in motion for several juicy storylines. This week started with Lucious getting out of jail as the district attorney, more determined than ever, gives a press conference vowing to get justice and put him back behind bars. Meanwhile, Lucious, who has been barred from entering Empire as a term of his release, declares that he himself is God and holds his own press conference to reassure his fans that he is back and Empire is going to be stronger than ever.
Hakeem has an appearance on Sway in the Morning where Sway calls out Lyon Dynasty for being a rag tag bunch of former Empire artists. Hakeem brags that they also have his new girl group called Marage Trois and he promises to bring the girls to the show. Lucious also calls in and throws some shade at Hakeem about how stupid he was for leaking his own album. Hakeem fires back by telling Sway that his dad could have stopped him, but he was, you know, in jail. DAMN!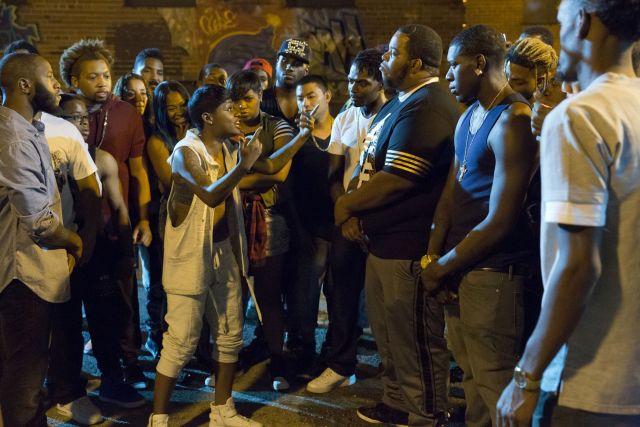 We finally got our first full look at the new butch heartthrob Freda Gatz, daughter of the dearly departed Frank Gatz a.k.a Chris "CB4wp_postsRock. We find her out in the streets in a freestyle battle with some guys where she more than holds her own. When one of them spits a bar making a joke about her father's murder, Freda loses it and almost shoots the guy. Lucious shows up to convince her not to throw her life away and instead use it in her music so he can make her a star. I have a huge question about this relationship because Lucious continues to be extremely homophobic, even while pushing Jamal to run the company. Through a fit of jealousy from Jamal, we learn that Lucious is also totally convinced that Freda is the future of Empire. Freda is very openly butch so could we possibly see a storyline where he tries to make her more femme presenting. It would certainly mirror what the industry has done to "masculine" women rappers for decades.
Lucious "invites" the whole family to dinner — which in Lucious-speak means "demands" — to tell them to shut down Lyon Dynasty and return to Empire. Quite predictably both Cookie and Hakeem refuse. Andre wants to, but Lucious want nothing to do with him. Cookie later encourages him to tell Lucious about his new baby and use that to get back in his good graces. When he does, proud future grandpa Lucious sniffs out his real intentions and still sends him packing.
Boo Boo Kitty and Lucious have a secret meeting where he asks her to be his mole at Lyon Dynasty. She turns around offers her services to Cookie instead by telling her that Lucious is trying to steal al of the Lyon Dynasty music and about the welcome home party that Lucious is throwing for himself. The night of the party, hottie AzMarie boots the DJ out of his own booth and Lyon Dynasty crashes the party with a hot new joint from Hakeem featuring series music producer Timbaland.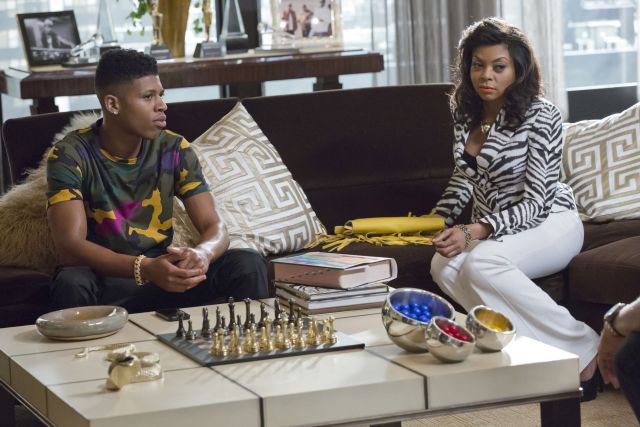 All of this leads up to the premier of Hakeem's Latina music group he announced on Sway in the Morning. Before the girls can perform, Lucious comes in to inform Cookie and Hakeem that he has bought every urban market radio station in the nation, effectively killing any chance that music from Lyon Dynasty will get radio play. Not only that, but he pulled a Beyoncé and stole the lead singer (that Jamal had been sleeping with) from the group. Checkmate, Lucious. But of course you know Cookie will have a move to counter next week. You can count on that.
---
American Horror Story: Hotel
Wednesdays on FX at 10:00 p.m.
I've watched every episode of all four seasons of American Horror Story in bed, alone, hunched over my greasy laptop, which certainly facilitates all the feelings of dread the show can inspire. For Hotel, I was determined to watch perched on a bar stool in my local gay bar, Branded Saloon, where I could clutch a pint glass and the nearest gay boy anytime anything batshit crazy happened. My effort was rewarded from the first shoot of two skinny Sweds checking into the Hotel Cortez, when every single one of us shrieked, "You are SO DEAD,wp_postsand especially when Wes Bentley yanked aside a shower curtain and someone wailed, "Oh god it's terrible, those tiles don't match the rest of the décor at all!"
The new repertory incarnation of AHS is present-day Los Angeles, set mostly in the disorienting claustrophobia of the lavish titular establishment. Everybody and everything looks fucking great. In a nice inversion of ordinary casting, the men are all clones and the women are wonderfully varied. Hmm, I wonder if tall, toned, dark-haired men are Ryan Murphy's type?
Lady Gaga and Matt Bomer polish their boots and tighten their corsets to go cruising at the Hollywood Forever cemetery during a screening of Nosfaratu, taking home a nice clean-cut looking couple for a foursome that ends with a hell of a mess for housekeeping. Let's just say those leather gloves with the metal tips aren't only for kinky sensory play. From Only Lovers Left Alive to True Blood, we've seen plenty of vampire hipster junkie sluts in the past decade. My money says this is more like The World on Blood or Elizabeth Báthory-style: the artery slashing is for the purpose of decadent highs and eternal beauty rather than demonic sustenance. Regardless, you may think twice before you swing again.
Speaking of decadent highs, the kinderwhore junkie look is working way better for Sarah Paulson than the Emmy-plea role of conjoined twins last season. Paulson is a terrific actress who, like La Lange before her, somehow makes scenery chewing seem subtle. In billowing robes and Cleopatra eyes, Dennis O'Hare is divine as Liz Taylor, the front desk clerk who also seems to be trapped in the '90s (come to think of it, this is also Gigi's deal on Scream Queens). It's unclear whether Liz is a trans lady or a good ole fashioned drag queen*, but it certainly seems she has all the time in the world to read Joyce.*
Yes, there is a drill-bit strap-on demon rape of that guy from New Girl. Apparently it's a metaphor for the way addiction takes hold of you and uses you, but I couldn't help but feel like it was more of a metaphor for American Horror Story metaphors themselves: every time we watch we're being fucked by a drill-bit dildo and the more we scream the more he likes it.
I think the thing I liked the most about this premier is that it was full of genuine mystery. Why does the Countess kidnap children and keep them in a secret room playing Tetris and gobbling candy? What is the connection between the seven deadly oh sorry I mean ten commandments serial killer and the Cortez? Are the denizens of the hotel ghosts, or trapped in a time warp? How long will it be before Urban Outfitters is selling neon signs that say, "Pain don't hurt"? When is Angela Basset gonna show up? Will any of this be explained to my satisfaction by season's end? I can't say, but I'll see you at the gay bar next week!
*As always with trans characters or characters coded as trans, we like to hear what our trans editor Mey Rude thinks about it. This is a conversation she and our TV intern Sadie Edwards, also a trans woman, had in Slack:
Sadie: I just watched AHS: Hotel and this season Dennis O'Hare is playing someone who appears to come across as a trans person… or possibly a drag queen? Why is Ryan Murphy allowed to make television?
Mey: Yeah, I think he's supposed to be a drag queen? But it definitely reminded me of the same actor's character from Coven, when he would dance around in a nightgown with those dolls. Both characters definitely are supposed to evoke the "creepy crossdresser" trope.
Sadie: Like, I certainly didn't hate the character and I think it could be interesting. That connotation just gets to me. Ryan Murphy just can't help himself.
Mey: Yeah, Lady Gaga was the only part I liked. I think I could like Liz Taylor, because campy horror is my favorite and it doesn't get more campy horror than a creepy old queen named Liz Taylor. Honestly, I'm just waiting for Lily Rabe to show up.
---
Rosewood
Wednesdays on Fox at 10:00 p.m.
Pippy and TMI spend another week shackled to their work stations in the lab, while Rosewood sleuths around and starts grating on me with his Sherlock-style mansplaining about everything his eyeballs see. It's a thing that kind of bugged me in the pilot episode and also last week, but I thought the writers would tone it down once they saw how it was playing on-screen, and honestly, I'm willing to stick with it when it's Not Another White Guy on broadcast TV.
One of the things that makes procedurals like this work is that both major players — Castle and Beckett, Booth and Brennan, Rizzoli and Isles — bring something to the table, and the bossy know-it-all character has a relatable flaw or is motivated by a relatable thing. An insecurity, a social ineptness, etc. Rosewood's motivation seems to be that he wants to be right as much as possible before he dies. Pippy actually finally says out loud this week that Rosewood is really, truly dying. She's noticed it in his lab results and in his habits. And yeah, he is. He knows that. But whatever! He's still the smartest guy in Miami!
This could be a good show, and it's going to get a chance to prove that because the Empire lead-in is boosting its ratings beyond belief. I wouldn't be watching if it weren't for Pippy and TMI. I hope they get free from the lab sometime. I hope they get to do more than stand around saying medical words.
---
Grey's Anatomy
Thursdays on ABC at 8:00 p.m.
Written by Aja
The theme of this week's episode is Sister Lady Chiefs and I'm into it. Nothing gay happened but Callie was heavily involved in an important plot point about Meredith's contract, specifically her salary, and Bailey declared herself a feminist in no uncertain terms. I think that's important enough to cover, don't you?
​
The whole thing starting during carpool, when Maggie jumped into Grey's car saying her contract for the Chief of General Surgery had come in the mail. They opened it and both had a look at it (meanwhile, Amelia's jumped into the car wearing nothing but a robe with a change of clothes in hand; we discover she doesn't wear panties because she's all about venting the vadge), and Maggie makes a face that Grey immediately questions. Maggie clams up so once they get to the hospital, Grey asks Callie's advice, showing her the contract. Callie makes the face and flat-out tells Grey that she makes way more money than Grey's being offered for the position, but won't give her an exact number. Webber overhears the whole exchange and furrows his ex-chief dad eyebrows. Later, when they're all back at the Grey abode drinking their feels and pretending to eat quinoa and kale salads, Grey, Maggie, Callie and Amelia are all brainstorming courses of action for Grey and/or sipping wine from the bottle or Zola's sippie cups, but Maggie (adorably) sullies the Lean In feminist magic in the room by straight up losing her mind over her ex's upcoming wedding. Boop.
​
Elsewhere, Karev is balancing jaundiced twins with liver failure and only one viable donor with his snooping, harpy girlfriend, who discovered a fertility document showing that Karev fertilized some of Izzy's eggs when they were married. Jo decides this document is the horcrux with which she will at last get Alex to commit to her, or define what's going on between them, or like, I don't know, get married? It totally works because by the end of the episode, Alex is trying to stick a baby in her and she's like, "Teehee, don't be silly, we can't have a baby!" He's able to save just one of the twins after Arizona gives him the ultimate in mentor pep talks, but I think we're seeing him understand the person he's become through the new "I don't hate kids" intern, Andrew (who's like the old Alex in many ways), how Arizona views him, who he feels like now and where kids — and Jo — fit in with this more mature, secure Alex.
​
Jackson's attempts to leave April continue to be highly amusing and sometimes heartbreaking. He's trying to be civil and makes the rookiest rookie mistake; he wants April to find her own place since his name is on the lease and he moved in, but dude, if the other party is being difficult and what you want is real separation, you've got to cut your losses. He doesn't understand why April can't comprehend plain English like "I will book you a hotel room" or boundaries like "I'm changing the locks," but April's read way too many trite needlepoint messages about marriage and/or one too many Nicholas Sparks novels, and could benefit from some alone time with a set of magnets. Ultimately, April comes home to find the locks unchanged but all of Avery's things are gone. He's crashing at a B&B and by that I mean Bailey and Ben's place, which Bailey's not super stoked on, by the way.
​
Circling back to Grey, Richard decides to confront Bailey on Meredith's salary, accusing her of doing Mere dirty and lowballing her but Bailey counters, arguing that Richard coddles her, that she's mentored and taught Grey more than well enough to know she ought to demand what she's worth, and concludes the whole discussion with a firm, "This is what a feminist looks like, sir.wp_postsMeredith was clearly prepared to accept the initial offer in good faith, so it's a damn good thing she got feedback from her peers before signing on the dotted line. When Grey finally marches into Bailey's office, Bailey asks her what number she has in mind, Mere writes one down (a BIG one, judging from both their reactions), and Bailey calmly says she can make it happen. It was both sweet and satisfying to watch Meredith practically skip out of that room, contract in hand, and praise on Bailey's lips. Hooray for the Sister
---
How to Get Away With Murder
Thursdays on ABC at 10:00 p.m.
No homosexuality to report on this week's How to Get Away With Murder, unless you count The Fosters' lesbian mama Sherri Saum playing the owner of a sex club where her boyfriend was murdered. This whole episode is just sex, sex, sex, which makes it even sadder that Eve is stuck in New York, lawyering away, and not lounging around gaily in Annalise's bed. Instead, Wes almost gets into her bed. And also Nate. But no! She has a case to work, and it's about how Sherri Saum caused her boyfriend to have a heart attack! She didn't want to kill him; she just wanted his wife to find out he was having an affair so she would leave him and they could be together. Annalise calls her a "negligent slut" but then gets this guy's wife on the stand and coerces her into confessing that she drugged her husband because she found out he was taking Viagra and she knew that meant he was having an affair.
How does Annalise sleep at night, the wife wants to know. "Alone, and on very expensive sheets" is the answer. Also: Vodka. She tells Sherri Saum to send her a bottle as thanks.
She's still dying, by the way, in the flash forwards. And somehow now Nate is involved.
---
Team TV coverage you may have missed
+ Faking It Episode 216 Recap: Let's Be Lesbians… Again!
+ Law & Order: SVU Adds Its Voice to the "Trans Debatewp_postswith the Confusing, Horribly Depressing "Transgender Bridge"
+ 12 Couples Halloween Costumes For You and Your Taller or Shorter Gal Pal