The thing I keep coming back to in my mind, over and over and over, as I try to comfort myself this week is the memory of what happened in pop culture in the wake of California passing Proposition 8 in 2008. The referendum, which was ratified by a slim majority of California voters, eliminated the right of same-sex couples to get married. It passed seven months after marriage equality had become legal in California, and it was an enormous blow to the gay rights movement. The biggest blow in my lifetime (up until this week), for sure. Because it came at a time when it felt like we were making progress, slowly moving forward, and surviving every major backlash. Everyone was devastated.
But something truly revolutionary happened in the months and first few years after Prop. 8: We saw an explosion of lesbian, gay, and bisexual TV characters that we never could have dreamed of before then. The culture took a huge step back, politically, and TV answered with a dramatic, purposeful push in the opposite direction. And it was TV, ultimately, that shaped America's growing acceptance of gay people. I say this all the time but it always bears repeating: The approval rating for marriage equality in the United States rose in direct proportion with the number of gay characters on TV.
As we saw again and again in this presidential election, most straight white Christian Americans never leave their home towns, which means they never interact with anyone other than straight white Christians, and it becomes a breeding ground for bigotry, intolerance, and echo chamber hate. TV characters expose people to other kinds of people they don't know, and when those characters show up week after week in living rooms across the country, they change perceptions. Kurt Hummel did more for gay marriage than we could ever measure.
Hollywood has become complacent in recent years, and after DOMA was overturned and marriage equality became the law of the land, we saw gay women start dropping exponentially from our screens. GLAAD finally had to put its foot down about it.
The one hope I am holding onto in my deepest heart is that TV will respond to Trump's election with an equal and ferocious backlash of diversity. I am going to keep using my voice to call for it in myriad ways, I promise you that. I've received some good feedback so far as I've started reaching out to writers and showrunners and directors I know. And I'm planning to go to the Television Critics Association press tour in January for the first time and I'll make my voice loud there too.
It's the best promise I have to offer you today. I love y'all an awful lot.
Hey, let's check in with the few queer women who showed up on TV this week, and one who didn't:

---
Jane the Virgin
Mondays on The CW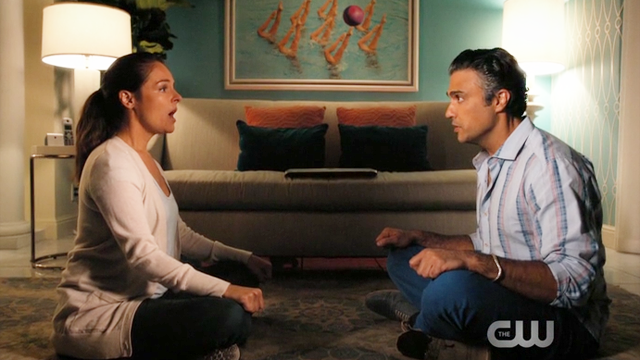 My main quibble with Jane the Virgin, The Best Show On TV Period, is the cycle of Luisa's storyline. She gets put into an absurd and hilarious gay situation, pulls out of it and has a moment of real character development and truth and authenticity, goes away to rehab for like ten episodes, and then comes back to start the cycle over again. And I mean, I know it's tough. She's a guest character who only really has ties to Jane through Rafael. "Chapter Forty-Eight" did a really cool thing with her by locking Rafael and Rogelio into a storyline and then pulling Luisa into that orbit to spend time with Rogelio. He keeps an eye on her because she's thinking about drinking again, and so Rafael can go on a date with the author whose movie Rogelio wants to star in.
Rogelio and Luisa make a great match.
Rogelio, of course, knows all about being an addict because he played a recovering flight attendant in the novela Addicted to Love. He shows the film to Luisa and riiiiight about the time it's getting to the threesome with him and two other women flight attendents, Luisa puts the breaks on. She really wants to talk to a therapist. Well, and lucky for her Rogelio studied under an acting coach which is kind of like being a therapist and so he walks Luisa through these mirroring emotion exercises and she finally does have a breakthrough! She wants to be a good sister to Rafael; she's the only family he has left, after all. And she hates herself for constantly needing him but never being able to give back to him. Rogelio has the solution. He learned it when he was starring in Addicted to Love: You have to put the oxygen mask on yourself before you can put it on anyone else.
This show is full of so many kickass women, but also: Rogelio is one of the best TV characters ever.
So Luisa is off to preventative rehab. I hope we see her again soon.
Best line of the episode: "You'll remember that Luisa recently returned from a submarine with another homicidal maniac."
---
Rosewood
Thursdays on Fox
Nothing gay to report on Rosewood this week, but it was nice to see Pippy and TMI out with a group of women enjoying themselves. They've hardly been chained up in the lab all season! A fun fact is that TMI drinks Fresca.
---
Younger
Wednesdays on TV Land
Maggie hosts Sapphic Shabbat for Malkie and her friends this week to make up for the disastrous mikvah crashing she engaged in last week. She's very excited and she goes all out, brisket and lox crostinis and kosher wine and the whole thing. Unfortunately for her, Malkie's friends are suuuuper lesbians and before dessert they've already decided she should host Sapphic Shabbat every week forever and come to their spiritual retreats with them and go on this vacation and come to this party and attend that gala. Maggie excuses herself to go smoke in the bathroom and they all come barging in while the pregnant lesbian friend is peeing right in front of Maggie, just talking all over each other in that tiny little bathroom, and Maggie nearly chokes to death from the commitment of it all. She breaks it off with Malkie at the end of the episode because she's a lone bird and not really suited to be part of a lesbian flock. Malkie gets it. Her friends are a lot. She and Maggie hug it right out.
It was a fun storyline while it lasted, way more real anything Maggie got to do last season. I feel grateful for it.
Also:
Liza: How many sexual partners have you had?
Maggie: You mean like at once?
---
And one more from Stef: