This week on Bomb Girls, the sunshine is gone and nothing will ever be okay again. That's because this was the last Bomb Girls episode of all time, and I don't want to live on a planet where Bomb Girls is no longer a reality. Writing this recap and realizing it would be my final adieu was almost too much for my emotional stability.
FYI: It is incredibly difficult to write when you are sobbing on your keyboard while simultaneously attempting to sad-eat large quantities of cheese.
The sacrifices I make for you lot, honestly.
Kate and her mom are coming home from their Girls' Day Out, where they likely got their nails done and shopped at Chico's and talked about how Kate's dead dad was evil, only to be bombarded by Kate's bachelorette party. Now, I don't know about you folks, but my mother and boss are the last two people I want in attendance for whatever gay pre-commitment-ceremony bullshit my best friends will inevitably pull off despite my general protests.
Apparently the wartime economy has put a strain on the production of penis-shaped products, because there is no fake genitalia in sight, but there is an awkward tossing game and an umbrella with stuff in it. Bachelorette Party Version Betty seems a little more tame than Bachelorette Party Version Vera, which probably would have involved a stripper disguised as a firefighter and whatever the 1940s equivalent of twerking was, but in Betty's defense, lesbians are really only good at planning doggy meetups and vegan potlucks.
Fun Fact: Betty goes ahead and compares the toss game to basketball. She might as well have compared it to softball, rugby, or roller derby, lesbihonest. Baby girl, don't you ever change your stupidly homosexual ways.
Kate's mother takes her aside to tell her that a detective is starting to ask questions about her deceased father. And this, my friends, is where we know things are about to take a one-way ticket to hell in a handbasket. A handbasket full of lesbian tears, I might add. Remember that time Betty and Kate accidentally murdered Kate's father? Me neither. I had chosen to cast it to the back of my mind in favor of my hardcore investment in everyone's happiness and ability to scissor without interruption. The resurfacing of the detective storyline in the season/series finale can only mean one thing, and that thing is our utter and complete devastation.
Kate takes this moment to look with great concern at Betty, and then scope her tight Germanic ass. Whatever gets you through the stress, babe.
Over at Chez Depression and General Unhappiness, Lorna and Bob are arguing because Lorna doesn't believe in blood drives? Homegirl, it is not the Dark Ages anymore. We're vaccinating for real shit up in here. We are no longer afraid that moles near the breast are signs of consorting with the devil — I think we can handle a friggin' blood drive. Also, Dr. Patel thinks he can end Bob's invalid status, which means Lorna is reaching for the holy water. Happiness? Not in this house.
Cut to a shot of them actually sticking needles in arms and drawing blood. If y'all are like me and typically barf around blood, I can tell you to a) skip the latest episode of My Strange Addiction, and b) probably look somewhere else, like the McSwagger tumblr tag you have open in another window. Lorna is in attendance, talkin' shit on modern medicine, and Sheila feels free to sass her right back.
Betty's talking about Canadian politics or something? I don't know, my only knowledge of Canadian politics is via all my Quebecois separatist cousins so I have no idea what you guys do up there except apparently it involves stifling francophone culture? Whatever, my job is not to provide you with a working knowledge of the political climate in Canada, but to tell you when your favorite lesbian does a thing. So right now Betty's drinking juice and talking about a thing. You're welcome.
Gladys is getting her blood drawn when Bad Accent No Stop happens to be reclined in a suggestive position next to her. I could say something very deep about how this conversation takes place while they are both expelling body fluids, but I don't think this narrative actually deserves that kind of attention. Gladys' Magical Vagina apparently strikes again, because Bad Accent Why How cannot stop with the sultry talk. It's weird. SPIES!
Vera runs into a soldier who is the brother of another soldier she also ran into in the biblical sense. It's awkward, but Vera continues to be the most progressive unashamed queen of everything on the block. Marco overhears and is less than pleased with the mental image of Vera sleeping with whoever she wants, because patriarchy, so y'all know that's gonna boil over soon. Like a pot of spaghetti. Get it? Spaghetti. It's been a long time, pasta jokes. Too long.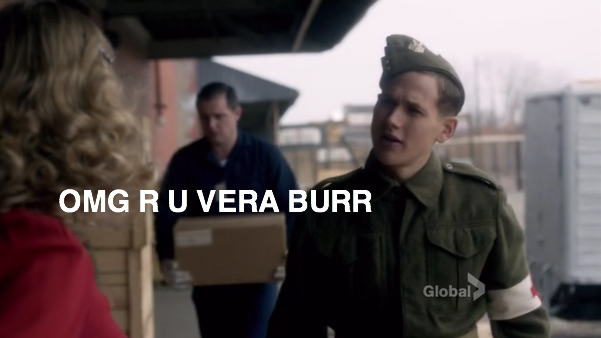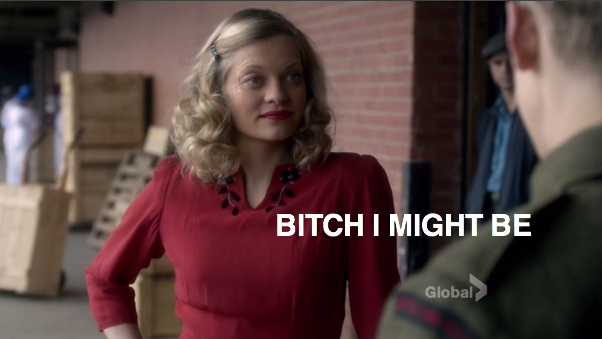 Kate spills to Ivan on the factory floor re: her name, her surprise-alive mother, and some other minute details you might want to make known to the person you are agreeing to spend the rest of your life with. Or, instead of having this awkward conversation, you could gay elope with the one person who already knows everything and still loves you unconditionally. Kanye shrug.
Lorna decides to actually donate blood. Sheila can barely hold in all her "Lorna PLZ"s but somehow she manages. What I love about Sheila is that she literally has no time for anyone's bullcrap. She is sexing Dr. Patel and his perfect hair and furthering her career without concern for anything else, even though everyone around her seems set on sapping the joy and prosperity from life. Sheila does not have the energy to deal with your massive time-sucking and happiness-sucking efforts, she just doesn't.
The detective is interviewing Kate, which means we are barreling one step closer to the ending we all did not want to see coming but could somehow see from a mile away.
Kate handles all of this with her perfect Disney face and her way-too-perfect Disney eyes, but the detective is a little fixated on the fact that they found the body placed under a tarp. Now, I'm no writer or contributing editor, and I certainly don't creative narratives for a freelance living, but maybe someone else found the body and put it under a tarp without reporting it like a homeless person, or passersby, because saying it absolutely had to be Kate is just a litttttttle bit of a reach. And I was an English major, so I understand constructing Everest-like bullshit mountains out of miniscule fact puddles.
Kate comes back down quite shaken up by the interview, and whammo, Betty is in Protective Lesbian Savior Mode. Man, I have been waiting a long-ass season to get back to Betty as Protective Lesbian Savior.
Marco decides the best way to get into Vera's pants is to use slut-shaming. Swing and a miss, buddy. Vera does not have time for any of this as she has to go and run the entire universe.
Bad Accent Hey Stop and Gladys are hanging out in a field, v. romantic, and Bad Accent No Gross gives Gladys a bomb except she doesn't know it and she fools around with it and accidentally sets it off so he covers her body with his body and I just… the fact this pairing will probably get romantic and physical closure and McAndrews will not kind of makes me want to set my hair on fire. SPIES!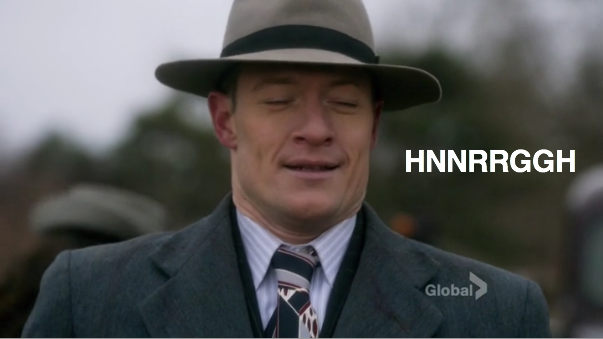 Lorna is doing some hardcore detective work and realizing that Kate is the Marian from that letter about Betty being a full-on lesbian. Lorna's like, holy shit, it's all coming together now! That's why Betty gives her coworkers chestbumps and went through that period where she only wore overalls for a month! That's why she always stares at Kate's ass and tries to touch her hair when she isn't looking! Because GAY!
Kate's at the only bar in all of Toronto, telling Ivan Poopface McGee all the magical truths she's been hiding away all this time. He suggests they run away from everything and start over again. Just to revisit our timelines, haven't they been dating for like three weeks or something? Isn't homeboy continuing to move at the speed of light in regards to this entire relationship thing? Slow your roll, man. She'll still be an emotionally unavailable lesbian tomorrow, too. Um, but she says yes, because baby girl is feeling like she's run out of options.
The Withams are hosting a party for important rich people with bad accents, so obviously Bad Accent Please Enough is in attendance. Why does he purse his lips up so much when he talks? Why?! Anyway, Gladys' Magical Vagina's tractor beam goes off and boy starts insulting the shit out of her in an eerily flirtatious way, which Gladys finds pretty gross. Yep, me too. SPIES!
Lorna is freaking because the cops now have the letter, and she knows shit is bad because the cop is clearly a misogynist who thinks doing work will make all women into lesbians. I mean, he kind of has a point. Have you seen women, especially when they are doing work? They are super gorgeous, hauling heavy stuff around, adjusting their lipstick, picking up stuff, setting their minds to things and getting shit done. It's hard to not be really attracted to them, okay?
Vera is at dinner with the little brother of that guy she kerfluffled, and Marco decides now is a really good time to show up and make her feel shitty about herself. Marco, simmer down. Like a pot of spaghetti.
Lorna is having it out with the cop. You gotta hand it to her — lady is a hardass, but she loves her girls. Unfortunately, the cop is pretty set in the idea that Kate and Betty are guilty and somebody is going to jail for this. PATRIARCHY!
Bad Accent Jesus Christ goes back to Gladys' room to carry her suitcases. Mrs. Witham seems toasted and is all about cock-enabling her daughter, so she waves them off. Then, literally without warning, Bad Accent Go Away grabs Gladys to kiss her and rips the front of her dress. Then he tells her to just straight up take off the dress. What is happening with this narrative and why do I hate it so much? SPIES!
Vera makes the soldier milk and cookies. I want Vera to let me curl up in her bed and eat milk and cookies! Vera dishes him a life lesson about girls and it's cute. Super cute. My love for Vera grows exponentially with each episode, let's be real.
Bad Accent Why How fixes Gladys' dress for her and then shoots a lot of hokey compliments at her. Gladys' Magical Vagina is starting to glow slightly. God fucking damn it, do we have to, guys?
Ivan shows up to take Kate away but so do the cops, and Ivan finds out that Kate actually probably killed her dad. Shit gets real, along with Ivan's asthma. Quick, the asthma cigarettes! Ha ha historical people, you are so silly. What are you even doing?
The detective interviews Kate and Betty and we all know how horribly this is going to end. We already know, and there is nothing we can do, and it's like watching a trainwreck you can't look away from because the amount of tears you are shedding has actually started affect your breathing. And then, they bring out the letter.
Detective: You loved her. She was your obsession. But Daddy stood in your way. You had a grudge, and here's a girl who you knew would do your dirty work.

Betty: What kind of monsters do you think we are?
They both know there's nothing they can do at this point. Meanwhile, Kate's mother is running to Lorna, and Lorna is running to Gladys. And everything about this smacks of hopelessness and pain.
Betty and Kate are put on trial for murder. And alas, it isn't the murder of Jenny Schecter after some time-warping shenanigans, but an actual life-ruining crime.
Gladys pays Betty and Kate's bail. This is why everyone needs an extremely wealthy friend with a thirst to prove herself. Yes, I am challenging your fellow recapper's claims that Gladys is a Gryffindor. Homegirl is too Slytherin to deal with it, and she and Kate can go wear green together.
Gladys: Betty, this is not over.

Betty: Princess, I can't owe you more.
Maybe this isn't good timing, but:
Vera gets a mysterious gift from someone she assumes to be Quincy. Carol is snippy about it, but Vera decides to be nice and make peace with Carol. It's cute.
Kate and Ivan is donezo.
Surprise! The dress is from Marco and that shit is back on like Donkey Kong.
And now it's time for your heart to get properly decimated. Strap it in and prepare it for the ultimate smashing that has been coming since you got invested in this show way back when. Remember the initial tingles you got when Betty would make a face, or when Kate would smile whenever Betty tucked her on the chin? Remember the way your heart started to ache a little harder when you realized that Betty was falling pretty hard for Kate, or how your heart was doing a full-on cramp as soon as you realized it was going to be innately complicated? How about that time a train ran over your heart at the finale of season one, or all those time your heart was smashed by a million hammers and then blown into space this season as Betty never, ever got to be happy with Kate? Nothing, none of it, has prepared you for the final eight minutes of this episode. None of it, none of it at all.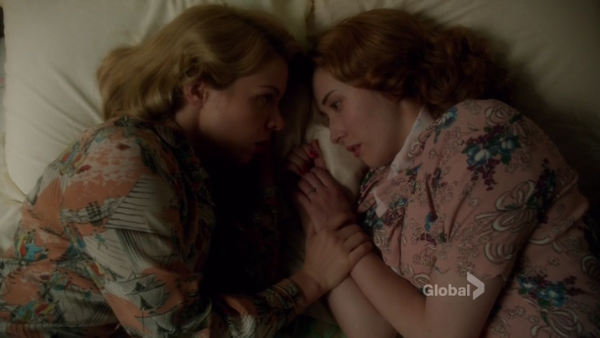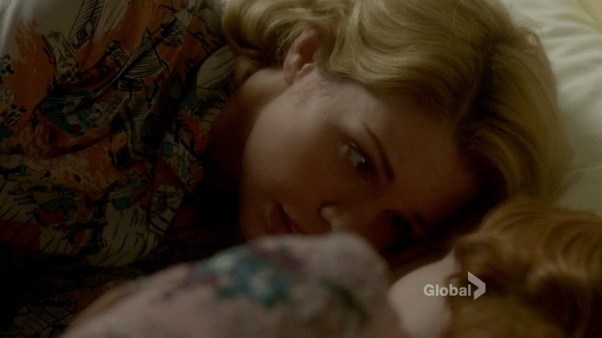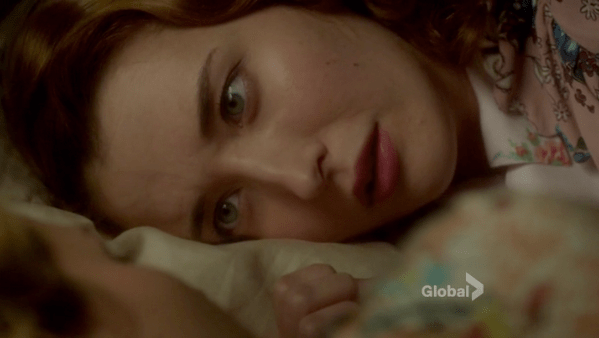 Betty: You wanted to leave and I wouldn't let you. I'm sorry.

Kate: Growing up in that awful caravan, I never thought I'd have a future, but in the last year, I've lived more than I ever dreamt. I found a real home, and met a man who was good to me, and I found a friend, Betty. A real friend, who loved me.
Let me dissect this for a hot second and talk about why this completely destroyed everything I have ever loved or held dear. Betty blames herself. She apologizes to Kate, because she's been thinking this through in a million ways, and the only thing she can imagine is that she herself is to blame for what's happening to them right now. It must be because Betty wouldn't let Kate go. Betty wouldn't let go for a lot of reasons, chief among them that she loved her, and knew she could protect her, and thought that she would be the best person to care for Kate and make sure she was safe. And Betty believes she has failed at that, and because of who Betty is, this is the ultimate failure. Of course, it's not Betty's fault, and Kate wants her to know that, but Kate has a lifetime of internalized trauma and pain associated with getting attached to people, not to mention the huge sin that is associated with the bond between them, sexual or not, so she makes what is really the most honest declaration I think we've heard from Kate. She admits that Betty loves her, and says it's the best thing that's ever happened to her. Even if they both go to jail, even if they never see each other again and they die in prison and everything is ruined, she's told Betty that her love was the best thing she's had in her short and dark life and dearly beloved did I cry. I'm crying while I type this.
Okay. Moving on.
Lorna invites Dr. Patel for dinner and Sheila is pleased with this development. Kate's mother makes her breakfast in bed. These are all good things I want to highlight before I decimate your heart again. Because Betty leaves a letter for Kate. It says "You're safe here now. Love, Betty." and it means exactly what you think it means.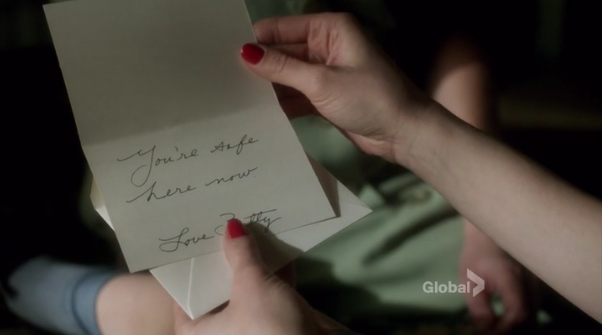 She runs to the office, but it's too late. Betty is confessing to the murder and saying that Kate was not there.
Betty is going to jail for Kate.
Betty is making the ultimate sacrifice for the woman she loves. She's giving up her life so Kate can live free.
I don't even know if I can smile again.
Lorna and Gladys are overlooking at the factory and quoting Winston Churchill but all I can think about is how Betty is going to jail and Kate is never going to be happy without her and there's no good way to end this. Because this, as far as Global sees it, is the end. There's no third season in place, the movie is a distant and barely realized reality, and we aren't going to see where these characters go. Do you know how many queer characters die in the media? Do you know how many end up sad, lonely, unfulfilled, etc. for the sake of drama?
NOT MY GIRLS.
Get involved in the #SaveBombGirls campaign. Let GlobalTV know how you feel about this show, and why it's so damn important it stays on the air. Tweet the actors to let them know they are super loved and super appreciated. Also, write lots of kinky fanfiction to get us through the dry spell, however long it may be. Bombshells, away!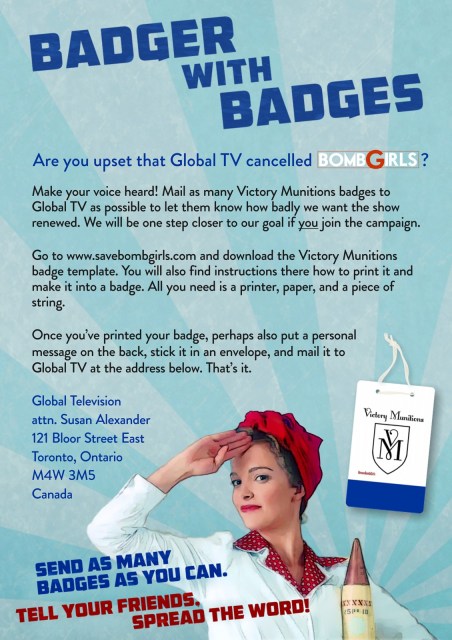 Pages: 1 2See entire article on one page