by carolyn & riese
Books! They are really great. You just won't believe how great they are. You may think that the Internet's great, but that's just peanuts compared to books. Welcome to Lez Liberty Lit, our column about literary shit that's happening that you should probably care about.
The name "Liberty Lit" was inspired by the short-lived literary journal produced by Angela Chase at Liberty High School in 1994.
Header by Rory Midhani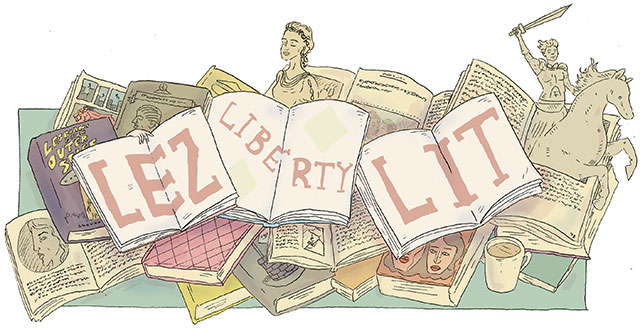 Lit Links
In an interview with the WIP, Christy C. Road, author of the graphic novel Spit and Passion, discusses art and writing, feminism, Latinas in arts and literature and more:
"All the art and music I've done has stemmed from my punk identity and connection to the subculture, so it's safe to call it all punk. There is more to my identity – queer, Latina, jaded, angry, etc. – although the language and topics I focus on are heavily influenced by the music and writing that circulated in my punk rock community. A lot of the writing I'm most influenced by has always been by musicians like Crimpshrine, Blatz, Allergic to Bullshit, Bikini Kill, Rancid, and of course, Green Day, as well as zines like Cometbus, Doris, and Fag School."
Discussions between public libraries and major publishers about e-books are ongoing. Yesterday, Hatchett announced it will make e-books available to public libraries — a groundbreaking step forward.
Wikipedia recently moved female authors from the "American novelists" category to the "American women novelists" subcategory, as the Times discovered. Wikipedia editors are slowly fixing the problem.
The winners of the Pink Triangle Awards have been announced, and include Alison Bechdel, Lysley Tenorio, Rachel Rose and Richard Blanco among others.
Alexandria, Va., is the most well-read state in terms of book-related Amazon purchases.
The Millions has a new index to artistic and literary tumblrs.
A new travelling exhibit, Queer Covers: Lesbian Survival Literature, explores novels between 1939 and 1965 with lesbian story lines.
125 authors listed the works they consider the best. (Elsewhere, some of those works are judged by their covers, by a two year old.)
Malinda Lo wrote about diversity in general and bisexual and trans* characters in particular in YA literature, why "LGBT" is problematic because it erases distinctions, and more.
At the Rumpus, Cynthia Cruz writes about the experience of reading.
At the LA Review of Books, Lisa L. Moore wrote about learning to be a lesbian writer in a feminist bookstore:
"Feminist bookstores have made a distinctive contribution to American poetry because of this elevation. Feminist bookstores created an audience and market for poetry, a meeting place for poets and readers, and a public sphere in which poetry had an important bardic function. Feminist bookstores brought a new public to poetry both as readers and writers, a life-giving function that, little-understood and therefore little-noticed, continues to shape both mainstream and feminist poetry worlds today."
Queer Party has a list of queer theory books to check out, including works by Mimi Marinucci, Judith Butler, Roderick A. Ferguson, Lori Horvitz, Kate Bornstein, S. Bear Bergman and more.
The Teatro Grand Splendid in Buenos Aires, Argentina, is probably the most beautiful bookstore ever.
This gallery of handwritten manuscripts of classic books contains work by Lewis Carroll, F. Scott Fitzgerald, Virginia Woolf and more.
Sistahs on the Shelf reviewed It's Complicated: Maxi's Place #2, a romance e-short by "Literary Stud"; Hush Now, a historical romance by L.A.Green; and the other by amir.
At the Lesbrary, Danika reviewed The Inscrutable Mr. Elizabeth by Marlene Leach. Kristi reviewed Mountain Rescue by Sky Croft.
At Lambda Literary, Antonio Gonzalez Cerna reviewed Beautiful Music for Ugly Children by Kristin Cronn-Mills. Sassafras Lowrey reviewed The End of San Francisco, a long-awaited memoir from Mattilda Bernstein Sycamore. Arielle Yarwood reviewed A Wild Surmise by Eloise Klein Healy. Anna Furtado reviewed The Princess Affair by Nell Stark. Paul Florez listed David Sedaris' greatest hits. Plus, a discussion with Tom Léger, Julie Blair, Red Durkin and Riley MacLeod from Topside Press on trying to be a publisher with broad appeal while speaking to the queer community.
Don't forget to check out all the awesome book-related things we published recently: Ali interviewed Amber Dawn about her memoir, How Poetry Saved My Life, and went to Brooklyn Zine Fest. Cheryl Morgan wrote about trans* characters in sci-fi novels.
Events To Watch Out For:
May 2, San Francisco: Lambda finalists Judy Grahn, Ryka Aoki, Kevin Killian, Janet Hardy, Malinda Lo, Kathryn L. Pringle, Cyd Nova, Elliott DeLine, Mattilda B. Sycamore and Brenna Munro will be reading at the San Francisco Public Library's Latino/Hispanic Meeting Room A&B (100 Larkin St.), 5:30 p.m.
May 10, Denver: Lambda finalists Jerry Wheeler, Matt Kailey, Dan Stone, Sean Eads and Dylan Edwards will be reading at the Belmar Public Library (555 S. Allison Parkway), 6:30 p.m.
May 13, New York: Sarah Schulman and Barbara Browning discuss "What is the Queer Novel?" at the Housing Works Bookstore Cafe (126 Crosby St), 7 p.m.
May 14, New York: Lambda finalists Christopher Bram, Keith Boykin, Michael G. Long, Patrick Donnelly, Stephen S. Mills, Tom Cardamone, A. Rey Pamatmat, Eileen Myles, Ellis Avery, Barry Brennessel, Kelli Dunham, Donna Ostrowsky, Red Durkin and Cynthia Carr will be reading at Bluestockings Books (172 Allen St.), 7 p.m.
May 18, Scranton, Pennsylvania: Poet Andrea Gibson will be at the Vintage Center (326 Spruce Street), 7:00 p.m. Call 570.589.0271 for details.
May 22, Chicago: Lambda finalists Tracy Baim, Anne Laughlin, Marty McConnell, Lania Knight, E.M. Kokie, Ramon Rivera-Servera and Chris Paynter will be reading at the Gerber/Hart Library Archives (6500 North Clark St.), 7 p.m.
September 1: Natural Selection, a companion novel to Malinda Lo's Adaptation, will be released.
Know of a queer event with literary merit? Send it to us!
What We've Been Reading:
Riese: I have not finished any books these past two weeks but I started Zami: A New Spelling Of My Name by Audre Lorde. I'm only like 30 pages in though, so STAY TUNED. I'm also halfway through Transgender History, by Susan Stryker, which is really really really interesting.
Carolyn: This week I'm reading The Interestings, by Meg Wolitzer, a bildungsroman about a group of friends that moves back and forth through time and place and which I started out dipping in and out of and which I'm now really enjoying, possibly not least because there's so much of it. I'm also reading The Devil in The White City by Erik Larson, which is narrative non-fiction about a serial killer at the Chicago World's Fair that is brilliantly executed and deeply creepy and which I highly recommend.