Sweet baby Jesus' sweet baby cheeks, Bomb Girls is back! Did you make it through the hiatus? Were you able to find an outlet for your tears and your feelings and your strong investment in fictional 1940s lesbians? I had to take up a hobby in order to deal with all the pent-up emotion I wasn't sobbing out once a week, so I'm now a skilled taxidermist! Feel free to shoot me an email the next time you need your pussy stuffed!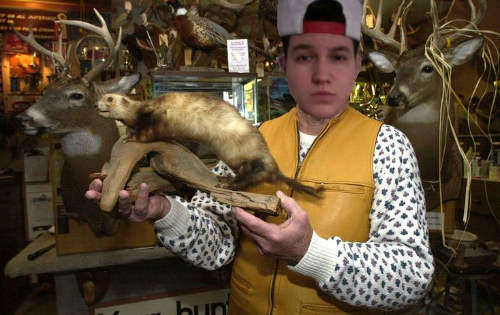 This episode had everything: enough human tears to power the Canadian equivalent of the Hoover Dam, your (okay maybe second) fave lesbians shackin' up, Marco once again taking first place in Son, You Gotta Stop With These Workplace Romances, and Vera saving the entire operation for the one zillionth billionth time. When is this girl gonna get a raise/general life break?
In the first scene of the show that has ever taken place in the good ol' United States of America, Gladys & Witham Clan are in Massachusetts for James' funeral. I'm a little disappointed that this scene didn't involve McDonalds, a bald eagle, redneck tourists, or any of the other things I have come to expect with non-American portrayals of Americans. James' mom is super bitchy and definitely blames Gladys for her son's death. Shockingly, Gladys is not 100% on board with this accusation.
The moral of this story is that Gladys' sadness makes baby angels cry and I literally cannot even watch her shed tears because I don't understand how her face is actually that perfect.
Lorna's sons are stormin' Europe and Lorna really wants a telephone. Like, she really wants a telephone. Probably because she has some important calls waiting.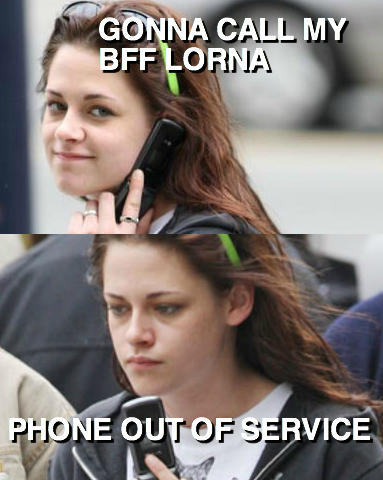 Our favorite lesbians are back, and they're gardening because that's not gay at all. Community gardens, an investment in fairly sourced food, and vegetarian phases are definitely not some favorite pasttimes of the lesbian community. Betty is showing Kate how to gently and yet forcefully pluck the ripe fruit of the tomato vine. This is a thing I do with my platonic friends all the time – I show them how to slowly grasp at round objects handing in front of them, and then tell them to give those objects a gentle but playful squeeze.
Boobs. I am talking about boobs.
Kate ditches the gardening biz to go eat pancakes with Ivan. Betty tries not to roll her eyes too hard, and starts thinking about getting her "uteruses before duderuses" tattoo removed.
Betty: I thought you said we finish what we started here.

Kate: I'll pull my share. Later.
Oh, ladies. We're not really talking about vegetables, are we? We're talking about the remaining tension between you two and the relationship that never was but may yet be, aren't we?
Slide on over to Ye Olde Factory Floor, where Carol is slidin' on down to ground level to slide on up to Kate and Betty. Turns out Gladys has gone Full Emo and Carol thinks that maybe her Token Lesbian Friends can pull her out of this mess. Betty's Face of Skepticism is just on full blast today.
Up on the factory roof, Marco and Vera are feasting on Italian food. Marco, I've said it once, and I'm gonna say it again: You need to start meeting women outside of your workplace who are not in compromising positions of authority. Then again, I'm sure if we broke into Marco's laptop (since his password is probably RIPBABYCANNOLI) we would find lots of Women in Compromising Positions of Authority Porn. Marco tells Vera that they are putting erection-killing chemicals in the food so that the employees will stop boning each other. Which, honestly, has actually been a problem at the factory, lez be real. Anyway, I am Team Vera/Whatever Vera Wants so go get it, honey. They are cute and eat cutely together.
A telephone guy is putting the telephones in at the factory, and Lorna decides she is going to bribe her way into acquiring a telephone. Oh, Lorna, you wonderful set of grey morals, you.
Vera is, as usual, 100% on top of factory shit and has noticed a discrepancy in numbers that means someone is stealing chemicals from the factory! Aikens ignores her because he thinks she's on her period or something, and he is not the best at listening to women or acknowledging women or seeing women as people beyond sexual objects. Vera has very little tolerance for this kind of bullshit.
Aikens takes this issue downstairs to the boys so they can have a boy talk about boy feelings. Kidding! Boys don't have feelings. Aikens tells Leon, Marco, and Buster that someone is stealing chemicals and Leon and Marco form a mystery solving gang called "Actual Minority and Political Minority Crime Busters."
Kate and Betty are bantering about the uses of excess vegetables when surprise! There's a lesbian here to see Betty. And not just any lesbian, but Theresa, the lesbian that Betty was canoodling with last episode. Let the record show that Kate looks at Theresa as if trying to turn her to a pile of lesbian dust with her eyes. With her eyes.
Betty and Kate are supposed to be going to see Gladys but Betty is like bitch please, I am gettin' me some. She gives Kate a considerably "fresh" response.
Betty: Kate, you go, I'll catch up.

Kate: Betty, you promised.

Betty: It's just like you and the garden, Kate. I'll pull my share later.
Yeah, we still ain't talkin' about vegetables, ladies.
Over at Chez Witham, Gladys is told to turn down her Elliott Smith record and come downstairs to have tea with her friends. She wipes the excess black eyeliner from her eyes and straightens her Bright Eyes shirt, "Needle in the Hay" whining in the distance. In all seriousness, James has been dead, what? A week? Is she not allowed to mourn for at least a week, guys?
Carol is trying to keep things forcibly fun and upbeat like a middle school dance, but Gladys is too busy mouthing the lyrics to Brand New's "The Boy Who Blocked His Own Shot". Mrs. Witham's attitude about the whole thing is pretty clear.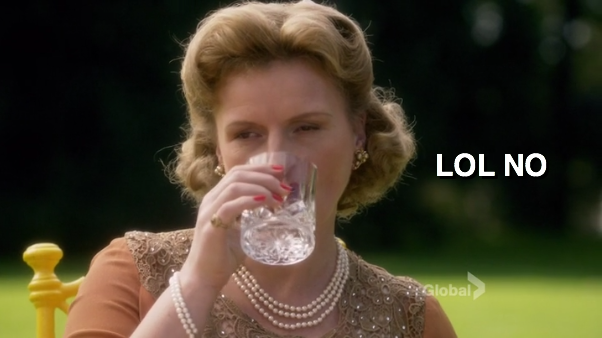 That American soldier guy is there to get James' car. Gladys is not down with this plan. Also she hasn't cleaned out the backseat and it's full of empty Starbucks cups from all the times she gets in her Uggs and starts craving a frappuchino to Instagram.
One of Marco's old friends is in the mafia because Italians! He stops by so Marco's mom can give him the largest most phallic vegetable ever, and so Marco can confront him about the missing chemicals. Wise Guy says it has nothing to do with him, and look at his miniature tie!
Lorna finally gets that telephone. Unfortunately, or fortunately, the telephone guy doesn't get any nookie for it.
Betty is entertaining Theresa in her room and staving off sexy times by claiming neighbors and thin walls. Oh girl do I ever feel you there. I miss a lot of things about college, but listening to the gentle hum of my neighbor's vibrators and the weird things they called each other during climax are things I do not miss at all. Theresa wins her over with strawberries because I guess we're going there with the lesbian fruit metaphors this episode?
In da club, Vera and Kate have dragged Gladys out for a drink, because hey, if you can't get happy through emotional support and distraction, why not alcohol? Kate basically tells Gladys to get a fake boyfriend and become an alcoholic because it sure has done wonders for her issues, while Vera is direct and tells Gladys shit happens and she'll get over it.
Ivan bugs Kate about her brothers and doesn't really get that there's a reason she doesn't talk about her family. Well, if you can date a lesbian for as long as he did, I'm not terribly surprised he's missing out on other strong cues.
Wise Guy shows up at da club and does some disrespectful stuff. Marco snaps at Vera and she is not happy about it because she's a fucking queen and deserves respect. Also maaaaaybe she has a little crush on Marco, we shall see.
Betty shows up at work the next day and blatantly checks all of her coworkers out. Her dyke swag is truly amazing.
Buzz around the water cooler is that there are soldiers coming to work at the factory now. And yet again, we are bombarded by surprise lesbians! Because guess who brought her U-Haul?
Betty looks exactly like I did when I was in college and kept walking into the first day of class only to find I had slept with half the class.
Vera gets a call from Robyn. Robyn says she needs to call her girlfriend because it's time they had the talk. I'm kidding, it's actually a mysterious voice that tells her the chemical stealer person is going to be arriving by truck at 2 pm. Oh, okay.
Lorna gets a call from Robyn, too! JK LOL it's Bob because their son Stanley is missing in action. Betty comes across her being super upset and gives her a bro hug, which is what you do when you sidehug your buddy in a non-homo way. It's actually really adorable how loyal and protective Betty is and I'm just really touched on a million levels, guys.
So, who is driving that 2 pm truck? It's Marco. He's like come on, guys, spaghetti! But they arrest him. Vera is super torn because maybe she has a lady boner for him. Maybe.
Lorna is super stressed and the continually ringing phone is making her a little edgy. Her neighbor Ellie is ringin' the phone off the hook and Lorna has had enough.
Ivan made airplanes for Kate's brothers. Dude, what about don't push the subject do you not understand? But again, dude dated a lesbian and then dated lesbian's sexually confused friend who is clearly in love with lesbian so okay, we get it. Not the brightest bulb in the crayon box. Ivan says that her brothers should definitely come visit. Kate is like he he he he he he he he…no.
Betty and Theresa are eating together and discussing when they will adopt a cat together. Theresa has already driven the U-Haul around back behind the boarding house and has spent the day unloading her Birkenstocks, so she'd like to hear a timeframe. Betty is a little overwhelmed but totally down for this "making hay" thing. Oh, 1940s slang for sex acts! You're precious!
Gladys asks Lorna if she can come back to work. Lorna doesn't think she's ready, but she gives in. It's touching. I don't have funny things to say about this because I am genuinely invested in Gladys' happiness and the intense character growth she has been going through this season.
Lorna gets a call from Stanley, who is alive and well. She and Bob cry. I also cried. I hope you cried. We had a lot of pent-up tears to deal with, okay? We deserved a good cry.
Vera and Gladys decide to form a crime-busting team of their own, and solve the Mystery of the Missing TNT. Whodunit? Buster dun it! They hold up his car with pure womanpower until he is caught and arrested. And he would have got away with it, too, if it wasn't for those meddling kids and their lesbian friends!
Vera goes to Marco to apologize for getting him accidentally arrested and explains that Buster dun it. Marco thanks her by putting his mouth on her mouth. And boom goes the dynamite.
Some other things happen: Bob says he is going to go move in with his brother for a while and work on a farm? I don't even know what you're doing anymore, Bob. Marco and Wise Guy hang out and bond Italian-style aka they non-sexually kiss and talk about how it's hard out here for an Italian. But most importantly, Vera gets a promotion!!!
The ladies gather to plant a tree in James' honor and also do an impromptu Iwo Jima flag raising tribute? It's touching, but it's also this fantastic metaphor for how much these ladies accomplish together. Womanpower, guys. This show is all about womanpower, and don't you ever forget it.