In the pilot episode of The Bold Type — which is anchored by a celebration of 60 years of "Scarlet" magazine — Jacqueline Carlyle toasts her employees. She says, in part:
"I want to make sure you understand what I expect of you. I expect you to have adventures. I expect you to fall in love, to get your hearts broken. I expect you to have sex with the wrong people… to have sex with the right people, to make mistakes and make amends, take a leap and make a splash. And I expect you to unleash holy hell on anybody who tries to hold you back, because you don't just work for 'Scarlet.' You are 'Scarlet.'"
The toast goes beyond setting expectations for Jane, Kat and Sutton — the former interns turned best friends and employees at Scarlet — it also lets the audience know what they could expect from The Bold Type. The show would give these characters adventures. We'd get to see them fall in love and get their hearts broken. We would see them take tremendous leaps and make splashes. Last season, the show made good on its promise: allowing Kat and Sutton to both have sex with the wrong people. Only, with Kat, that wrong person is also the person who tried to hold her back — Kat lost her job, her apartment and her 401(k), in part because of Eva — but instead of unleashing holy hell on her, the writers opted to have them fall into a romance.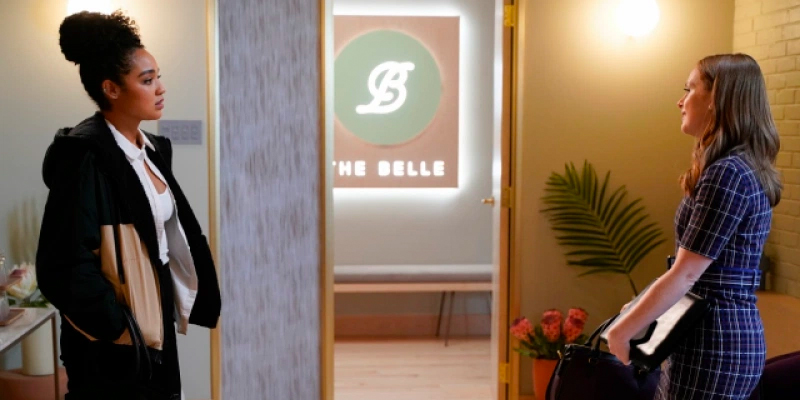 "The decision to have Kat enter into a relationship with a privileged conservative woman felt confusing and out of character," Aisha Dee admitted in a statement last summer. "Despite my personal feelings about the choice, I tried my best to tell the story with honesty, even though the Kat I know and love would never make these choices."
Last week, The Bold Type's season five premiere sought to make amends for the mistake of putting Kat and Eva together. To the show's credit, it tackled the issue head-on, refusing to allow Kat's last minute text from season four be the last word on their relationship. For a while, though, it doesn't look like that because Kat desperately wants to avoid a confrontation.
The season opened with an homage to The Hangover: all three girls waking, after a night of drinking, trying to piece back together their adventures from the previous night. Kat gets three texts from Eva, confused about Kat's apparent about-face and asking to talk. Kat's not ready to talk to anyone about what happened with Eva — not with Jane, not with Sutton and certainly not with Eva herself — so, instead she tosses her phone aside and opts to get ready for work.
But if Kat's looking to avoid Eva, going to the social club where she's a member probably isn't the best idea. Of course, Eva chooses this day to hold a meeting at the Belle and, after it concludes, she starts to make her way to the bar. Kat thinks fast and uses a call to "corporate" (AKA Sutton) as a ruse to escape to the supply closet. Sutton quickly susses out that Kat's trying to avoid someone she used to hook up with and wonders if it's a member of the Belle. Kat finally confesses: she slept with Eva and now she doesn't want to see her. Sutton is shocked but before she can get any additional information out of her, Kat ghosts Sutton, too.
Later, the girls show up at the Belle, ready to hear all the details and to offer advice. Jane and Sutton push Kat to reconsider just ghosting Eva. Instead, Jane urges her to give Eva an explanation for what changed between them so that they both can have closure. Kat takes their advice: sort of. She invites Eva to the Belle for a talk and tries to offer an explanation for her about-face. Emphasis on the word tries because the garbled mess that comes out of Kat's mouth leaves Eva with more questions than answers.
"I still don't understand what happened, but I'm guessing that you don't either," Eva admits, after listening to Kat repeat "I'm not looking for anything" for what seems like the hundredth time.
Kat gets another shot at closure when she runs into Eva at the Scarlet retreat. Eva's there, as a Stafford board member and to lead a session on public speaking, and Kat's there to babysit a drunk Sutton. Since their last attempt at a breakup, Kat's had an epiphany, spurned by Eva's latest column, railing against universal healthcare. So this time, when Eva presses for answers about what's changed between them, Kat has an answer.
"I would love to live in a world where I don't have to fight for everything all the time. You know, I would love to just chill out and sleep with whoever I want to sleep with and not worry what it says about me or what I stand for," Kat admits. Eva pushes back: the Kat she knows does what she wants. As Kat continues, it becomes crystal clear that Eva doesn't really know Kat at all.
Kat: After we slept together, I… I really.. I didn't like myself. And it's not just that we see the world differently, it's the things you believe in, the things that you work to protect, like, those things hurt people like me. And as much as I tried to convince myself that maybe it doesn't matter, it actually matters a lot.
Eva: I'm not gonna stand here and start defending all my beliefs.
Kat: I'm not asking you to, I'm really not. I'm just letting you know that I can't defend your beliefs either. I just can't. And I want to be proud of who I'm sleeping with.
Aisha Dee does some of her best work of the series here, delivering the truth with heartbreaking clarity. The words echo Dee's writing from last summer when she wrote, "it's was heartbreaking to watch Kat's story turn into a redemption story for… someone whose politics are actively harmful to her communities."
Kat's last line — "I want to be proud of who I'm sleeping with" — hits particularly hard. There's no coming back from this: Eva and Kat are officially done.
But, after watching the episode, I still felt unsettled and I couldn't understand why. From the moment this storyline began, I bemoaned its toxicity and now it was done… they were over. Kat could spend the rest of The Bold Type's final season finding fulfillment, both professionally and personally. I had gotten what I wanted so why did I still feel so unsettled? Much like Kat in this episode, it took reading something to spark an epiphany: an interview with The Bold Type's showrunner, Wendy Straker Hauser.
"We just sort of came to a good place where we would be authentic and not villainize certain characters, but also have interesting conversations and create a resolution to that storyline that felt real and true to Aisha and also to Kat's character," Hauser told TV Line.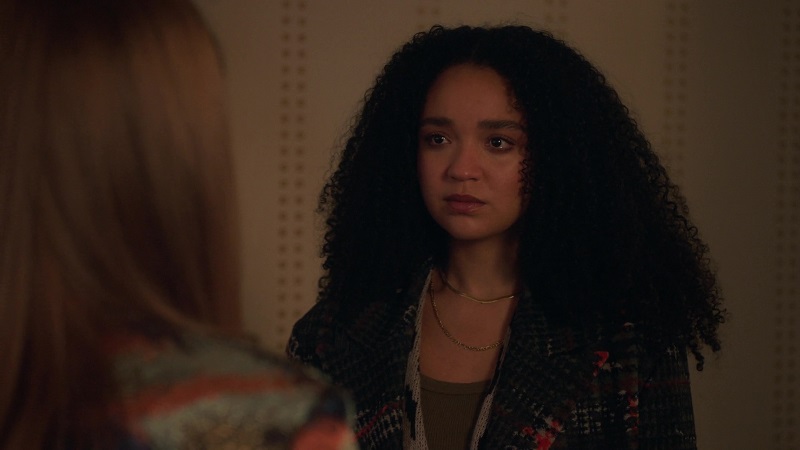 I re-watched the episode with Hauser's words in mind the source of my discontent became clearer. "Trust Falls" doesn't just seek to avoid villainizing Eva Rhodes; it tries to make her more likable by having her save a drunk Sutton from stumbling into a meeting with Jacqueline and the board. In Eva's interactions with Kat, the episode goes out of its way to ensure that the audience's sympathies are with Eva — both when Kat's hiding in the Belle's supply closet and when Kat offers a lackluster explanation for their break-up. But it's that parting conversation that makes the show's intention clear: Kat is standing there, telling Eva that her beliefs are causing her actual harm — with Aisha Dee's eyes brimming with tears — and the camera waits for Eva, as if her reaction is the one that matters most.
It's not clear that Hauser, Sascha Rothchild and Andrew Steier, the writers credited for "Trust Falls," internalized any of what Aisha Dee said or the outcry from the fans. They seem to have understood that it was a problem — enough to do a last minute edit of the season four finale — but, save that conversation at the retreat, "Trust Falls" is every bit as problematic as the episodes that preceded it. The writers don't want to make Eva the villain because they don't want to be the villain. (Sidenote: the decision to give the first episode after a widely covered public lambasting of the lack of diversity in The Bold Type's writers' room to three white writers is, as the girls say, a choice!)
Let's be clear: Eva is a villain. A person who would deny Jane Sloan healthcare because of the BRCA mutation gene she inherited is a pre-existing condition is a villain. A person whose politics would strip Sutton of her right to choose, were she to get pregnant from her dalliance with Billy, is the villain. A person who's politics support a travel ban to keep Adena El-Amin out of the country is a villain. A person whose politics would deny Oliver Grayson the right to adopt another child or keep Chloe Blair from participating in sports as a woman is a villain. No matter how much Hauser wishes we could all just get along, there are things — fundamental things — on which we cannot agree to disagree; justice does not allow it.
But even if you concede the point on Eva's villainy, it begs the question: why do we care anyway? Why does this show, in its final abbreviated season, devote so much time to offering redemption and sympathy for this character that we've know for all of seven episodes? Aisha Dee has breathed life into Kat Edison for 47 episodes, endearing her to audiences even when the writing didn't warrant it: why isn't she the priority? Kat is one of the show's three protagonists; it's her evolution that should be driving the storyline. It's Kat's tears that matter in that final scene; the fact that The Bold Type's writers still don't seem to grasp that is disconcerting, to say the least.
Admittedly, I hesitated on writing this: The Bold Type's remaining five episodes have been written, shot and are completed or in some state of post-production. The show is ostensibly over. But, one day Wendy Straker Hauser, Sascha Rothchild and Andrew Steier might find themselves in another writers' room, challenged with writing another character of color, another queer character or another queer character of color… and they should know they failed with this attempt. For the next Kat Edison, for the next Aisha Dee… or for the girls at home who look up to them… these writers must do better.
---
The first episode of The Bold Type's final season aired last week, Wednesday. The season picks up tonight at 10PM on Freeform and new episodes are available the next day on Hulu and on the Freeform app.