We start with Black Lightning doing his nightly patrol in the streets of Freeland. He stops two cops who were going to kill a young black man who's strung out on Green Light. He uses his electric powers to restrain the guy instead and then tells the cops to call for an ambulance to help with his drug use. Oh and while they are at it, maybe next time think before jumping to lethal force over an intoxicated street brawl. If only police officers in our version of the world could learn similar precautions, am I right?
While Jefferson is off being Black Lightning, Tobias decides to pay Gambi a visit. It seems Tobias and Gambi also made a deal nine years ago, Tobias was supposed to leave town after his final battle with Black Lightning. Clearly, he didn't. Tobias thought he killed Black Lightning, and clearly he didn't. Now, Tobias wants to know who Black Lightning really is.
Gambi lets it slip that Tobias and his sister have some kind of serum in their system that means they don't age, or at least will age incredibly slowly. Tobias lets it slip that Gambi works for the ASA. If you are a lover of deep lore DC Comics, that maybe made your ears perk up. I'm still trying to learn as much Black Lightning mythos as I can for you guys! Unfortunately, I'm still behind and this one almost stumped me. Basically the ASA stands for the American Security Agency, and they sound a bit like the DC equivalent of Marvel's Agents of S.H.I.E.L.D., a national team of secret super-agents who work for the government and sometimes have dubious motives. How all of this relates directly to Gambi yet, I have no idea. But I think it's tied to how both Tobias and Jefferson know him, and how he's paying for all of his next level, high tech toys on a tailor's salary.
Same night, but in a different household, Anissa is googling "enhanced abilities and super strength" like the nerd I love her to be.
She stumbles on a YouTube-style video which connects the government coverup of people with enhanced powers and human experimentation to the history of the very real Tuskegee Experiments, otherwise known as "The Tuskegee Study of Untreated Syphilis in the Negro Male," where nearly 400 black men in rural Alabama between 1932- 1972 were left untreated with syphilis while being lied to they were being given free federal healthcare, and the ongoing Flint Water Crisis, where beginning in April 2014 the state of Michigan left their largely black and poor residents of Flint exposed to lead poisoning in their drinking water due to government malfeasance. Anissa's video goes on to tell us that on March 30, 1987 nine kids in Freeland all disappeared after displaying enhanced abilities from taking a government issued vaccine. I would bet my last dollar that one of those kids was our very own Jefferson Pierce. If I was a more risky woman I'd bet my last two that Tobias Whale is another product of the same experiment, even if administered in an earlier time period.
Rooting the superhero mythology of this show within black medical and environmental trauma is such a smart take. If we know for a fact that agencies of the state who deemed black bodies expendable have committed what are, frankly speaking, unbelievable torture onto them, why shouldn't we believe that there would be government coverups about black people who can shake lightning or stomp thunder?
Black people have survived centuries of brutal, unthinkable, unspeakable violence against our communities and our bodies. Surviving in spite of that history, well it already sounds a bit like myth or a superhero origin story. Combining black trauma with the supernatural is one of the core tenets of the cultural and literary canon of Afrofuturism, where science-fiction tropes are used to frame and interrogate blackness and the black diaspora. You might hear the word get bandied about in the next few weeks; it has become very trendy again with the onset of Black Panther. I'm glad that Black Lightning is firmly planting itself with that literary canon early on, because it's going to give us a much richer, deeper worldview to play with together.
Whew, that's heavy stuff! Luckily we have Jennifer to bust into Anissa's room and lighten our load. She's just one big hilarious ball of sass and trouble, cracking jokes that Anissa really just wants to be left alone to watch porn and maybe bought her black latex jumpsuit for Grace's cosplay party a few episodes ago because she's ready to try BDSM. Oh and she's borrowing Grace's grey motorcycle jacket because she's going rollerskating with Keisha. No, she can't be bothered to shut the door on her way out, but she promises that she loves you Anissa. Ok! Thanks, Byeeeeeee!
Keisha and Jennifer are out and being cute as they wanna be when a group of girls from a rival track team, lead by Lana No-Last-Name, start harassing Jennifer. Apparently Lana No-Last-Name dated Kahlil before Jennifer did, and she still has hurt feelings. She goes as far as to call Kahlil "a cripple" and I'll be honest with you — that was so far over the line, that was the moment I knew she deserved whatever she had coming to her.
Jennifer tries to wave the insults off, telling Lana to get some lotion for her ashy knees, and walk away. Then one of the girls pushes Jennifer and in the time it takes Keisha to do a lap around the rink, Jennifer has taken both of them on, breaking Lana's wrist and ripping Anissa's jacket in the process.
What Jennifer couldn't have known is that Lana's the child of two lesbian moms. What we all know is that lesbian moms are ferocious about protecting their young — cats, children, my personal collection of vintage Nike high tops, it doesn't matter. So the nonchalant lesbian moms visit the Pierce house the next morning to nonchalantly inform Jefferson that they would like to murder his daughter, as long as that pleases him. Jefferson was about ready to pick a fight, but Lynn turned on all her Claire Huxtable patented charm and instead all the adults have a little tea party waiting for Jennifer to come home.
Lynn grounds her, mostly for lying. Jefferson pretends to go along, but also when his wife's back is turned he gives Jennifer the impressed whisper of "TWO Girls!?!?" It's the kind of father double-speak that we are used to seeing between dads and their sons, so it was a nice turn around to see it with Jefferson and Jennifer. He raised both his girls. They know how to protect themselves.
Anissa's research leads her to the editor of the Freeland Gazette, David Poe, otherwise known as Huggy Bear from Starsky & Hutch, except now an old man. Editor Huggy Bear was going to run a series of articles exposing the government cover up. He cancelled the series before they went to print, and the lead reporter of the piece, Alvin Pierce, was murdered one week later. Alvin Pierce, of course, is Anissa's grandfather. We already know that Jefferson blames Tobias for his death. He once told Gambi that Tobias stuffed Alvin's articles down his throat until he could no longer breathe.
Tobias has his own father problems. He's still haunted by the memories of his abusive childhood, where his father physically harmed him and verbally belittled him for being albino. With the help of his sister, Tori, he goes back their childhood home to find their elderly father, and break his back in two. I am constantly surprised by how dark the violence gets for Black Lightning's top villains. The image of Tobias literally "hugging" his father to death is going to stay with me all week.
Anissa tracks down Editor Huggy Bear to ask him about the article series that her grandfather was murdered for, but he isn't interested in sharing. Anissa persistent as ever, never gives up, and ends up getting all of the boxes of her grandfather's research. Like Jefferson said, there's a lot of her grandfather in this girl. She wants to do right. We are only at the beginning.
This leads us to my all time favorite two scenes in the episode, maybe my favorite comedic scenes in Black Lightning so far. Anissa needs a superhero costume. At first she tries on the same black catsuit from her night dancing with Grace, but after a few punches and kicks, the suit comes apart at the seems.
Anissa loves herself, so rather than feel discouraged that she can break through fabric, she merely quips, "All this ass!!" Yesssssss sis!
And with that, we are off shopping. At first the gay store clerk asks if she's shopping for her boyfriend, but Anissa quickly corrects him that boys are never her thing. He quirks an eyebrow, recognizing family, and together they get to werk. Outfit after outfit. Pastels and latex. Wigs on wigs on wigs. It's like watching when Andy get transformed into Cinderella by Stanley Tucci during my favorite Devil Wears Prada sequence, except a thousand times more badass.
Suited up, superhero Anissa struts full of glory into her first mission. She's going to explore the storage facility mentioned in her grandfather's notes. She breathes deep and rips off the lock to his unit, and then music stops.
She closes her eyes tight, telling herself "Okay — listen — you wanna be a superhero? You can't be afraid of dead rats."
Listen here Anissa, I am here to tell you, yes you can. If being able to get around multiple dead rats is a requirement for the job, I guess I am out of the running starting right now.
But Anissa is emotionally stronger than I am, she powers through and finds a vial containing a white substance that I think is our next clue!
Also, her first edition superhero suit? It's an amazing throwback to the OG Thunder costume from The Outsiders comics! I adore how purposeful the costuming department is being right now. It's campy and colorful and everything about it makes me shine from the inside out with joy!
Another fun thing that happens is that Black Lightning zaps a racist old white man wearing a red cap that I think was supposed to remind us of Making America Great (Again). The man told him that he could "shoot him dead and be called a hero for it." Someone should have told him, in life's game of Rock-Paper-Scissors, lightning always beats a bullet.
If Gambi is the Alfred to Jefferson's Batman, this week Jefferson recruited Inspector Henderson to be his Commissioner Gordon. He talks to Henderson from the bushes late at night, and gives him a personal burner phone. He calls it his "Black Signal." You get it??? BLACK Signal, like Bat Signal. I died.
Unfortunately, Black Lightning's new supped up suit (I mean, he can fly now!) is giving him unexpected terrible migraines, draining his powers, and causing him to intermittently pass out. Lynn begs him to stop wearing it, and at first Jefferson agrees. However, after realizing that Tobias Whale might still be alive, he instead makes the reckless decision to go after Joey Toledo, one of Tobias' top aides.
Jefferson confronts Joey, but his suit breaks down and zaps him of all his powers. He can't beat the guy up, he can't even save himself. He's left, alone and broken, in the back of some parking lot. And I don't have any sympathy for him. He was being stubborn and stupid and should have listened to the women in his life. This is what he gets.
Unlike all of you wonderful humans reading this! You are my favorite people. It's Valentine's Day and I hope you have some beautiful, love filled plans this evening. And, hey — if your plans are just to read my article and have some chocolate, even better.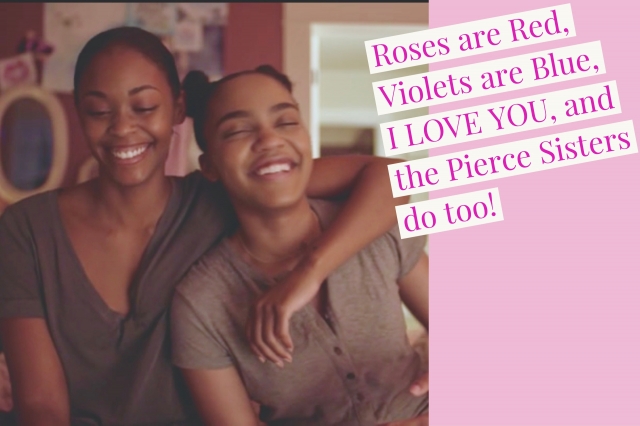 Go see Black Panther this weekend. You are the best. Love You!