After all of those lesbians turned out to be skeevy skeevy sons of privileged assbutts, I started lamenting to myself: where are all the straight white dudes who are not trying to deny me my rights, insult my community, ban rainbows, etc.?
I mean, I know there are some really great ones out there, but sometimes it's hard to find them. Luckily this whole mess reminded me that I KNOW OF SOME!
In the  parish town of Holbeton, England, there exist a lot of straight white boys. For such a small town, a disproportionate number of these boys have serious musical tendencies. I know this because I dated one of them.
One of these chaps, New Jersey born, UK artist Cosmo Jarvis, made a song he titled "Gay Pirates" (although youtube will only finish typing it for you if you leave out the gay) *cough cough* part of the problem *cough*: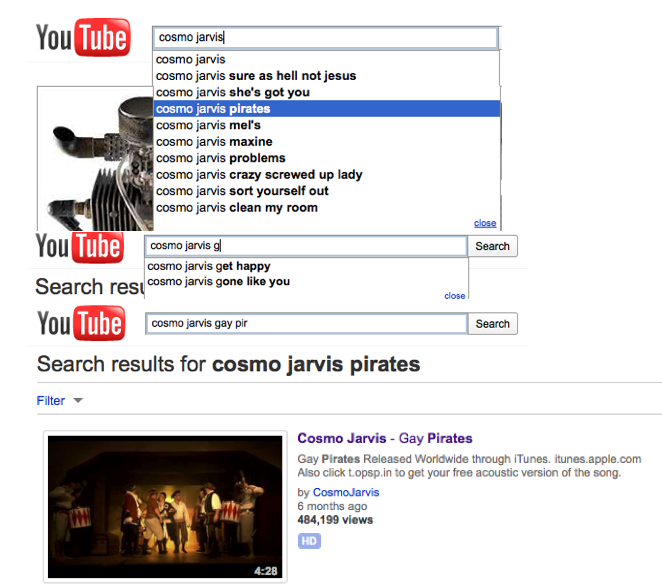 THE SONG IS CALLED GAY PIRATES, YOUTUBE. GAY GAY GAY.
Anyway–the song is an upbeat but sad shanty about two pirate lads in love, stuck on a ship that doesn't understand them. A seriously catchy hit, Cosmo, his band, their friends, parents, friends' parents, and basically the whole town of Holbeton got together to produce this music video in their community theater:
When I talked to my ex-boyfriend about the song's creation, he said that his friends wanted to make a really catchy song with a gay theme so that they could send this message: "gay straight whatever it's all cool let's go get a drink."  From what I gathered about where he's from, going out to pubs is actually a really big thing, so to hear that they all go out together to get pissed and sing songs (and this song in particular as a local favorite)  is just kind of heartwarming and more on the right track than, uh, other attempts from…um..allies?
Also maybe it's just me but I'm about ready for "We deserve much better than we've had" to be the new "It get's better"; because while the latter is a strong possibility, the former is a cold hard fact. Sing on, boys.