It's time for another installment of Facts That Support Common Sense. This time around, when movies have more than just a bunch of hoinky doink dudes running around, more people like it! They'll even pay to go see it! In a theater! Of 2013's top 50 domestic films, the group of movies that passed the Bechdel test performed significantly better than those that did not. 1.56 billion dollars better. Now if I was someone that was in charge of things like making movies, I would pay attention even if it was $156 more. But 1.56 billion dollars? Do you know what that looks like? It looks like this:
$1,560,000,000.00
$1,560,000,000.00
$1,560,000,000.00
That looks like a lot of money because it is. It's a lot of money people aren't making because they won't even let two women say, "Hey, do you have a feeling you want to talk about?" "No, but I wanna talk about this sandwich I ate yesterday. The bread was stale." A lot of these headlines are about movies with strong female characters making more money but that's not true. That's not what this test is about. It's not about whether they are strong or feminist or independent or whatever hot button word you want to throw in front of 'woman' to make it appeal to people that care about this sort of thing. It's not about whether they have their own storyline or feelings or sense of purpose. It's just about them talking about something other than a dude to another woman. The bar is that low. And still over and over movies don't clear it. At this point it's like people pick the bar up off the ground so they can walk under it. You could cover the bar in shit and people would still be like, "Well if this what it takes for women not to be people!" Or at least that's how it seems to me but I'm black so no one cares what I think anyway.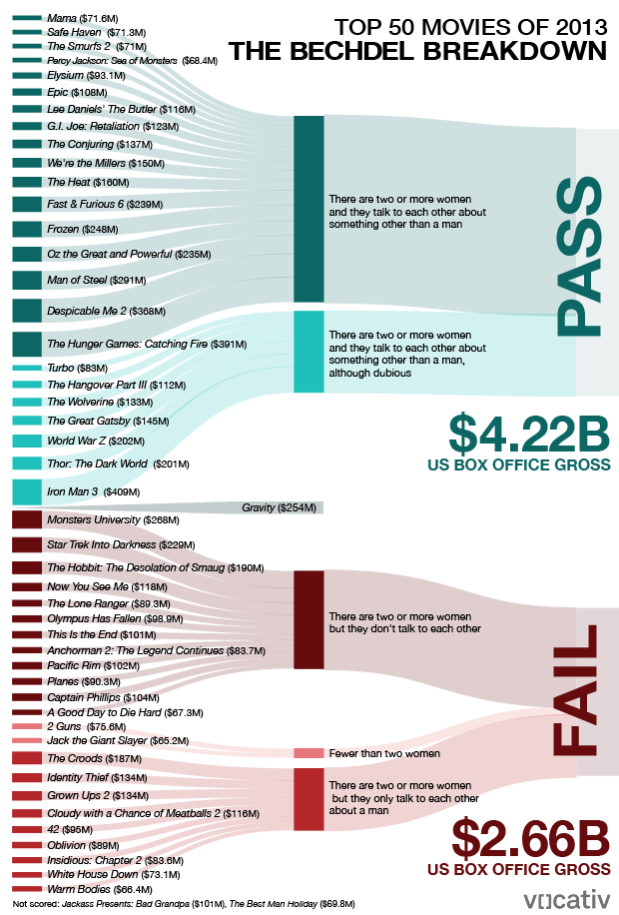 Jennifer Lee was the only female director in the bunch and she co-directed Frozen. So of the top 50 films, none were straight up directed by a woman, but that's neither here nor there. Oh, no it's definitely here. That's my bad. Please pay attention to that fact.
I guess this is where I'm supposed to end on a positive note or whatever. I could find some obscure but hopeful fact. Maybe even assert that this will definitely make a difference to someone even if it's solely because money talks more than women do. But sacrificing money and quality just to maintain the patriarchy happens all the time in media/life/the world so ya know what? We'll just say see you next time on Facts That Support Common Sense. I'm Brittani Nichols. You stay classy, Autostraddle.
Aww shit that movie doesn't pass the test, I shouldn't quote that one huh.