Hello loves!  Today I have compiled for you a collection of new acts I'm excited about, as well as news on bands we already know and love.  Most of it is designed to make you DANCE.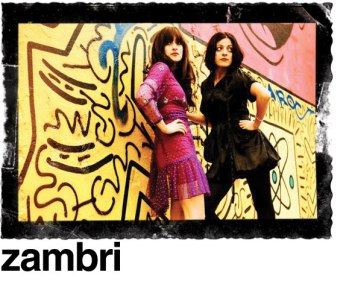 For fans of: The Blow, Uh Huh Her, feelings, keyboards, leggings, dancing, hair flips:
Zambri are a New York City pop band fronted by adorable sisters Christi Jo and Jessica Z.  I've been obsessed with their debut EP Bang for Changes ever since I stumbled into their gig at Public Assembly in Williamsburg a few weeks ago.  I could describe their sound (textured synths, grungey guitars, bouncy harmonies), or you could just watch this very colourful video for their catchiest song, "Easier."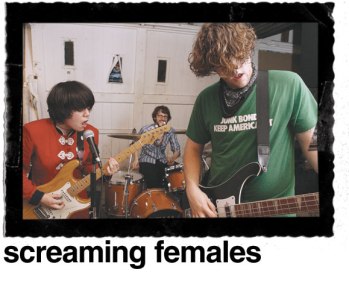 For fans of: Heartless Bastards, whiskey, dinosaurs apparently:
To answer your obvious question, Screaming Females do in fact boast a screaming female: a tiny, guitar-wielding powerhouse named Marissa.   Currently, the NJ-based trio are opening for Jack White and Alison Mosshart's new band the Dead Weather – and they've been winning over the Dead Weather fans with Marissa's throaty howl and monster riffs.  Perhaps this is to be expected, as they list "undersea creatures" as one of their influences on MySpace and are tagged "dinosaur" on Last.fm.  Check out this video for "Buried in the Nude," and beware of FACE-MELTING.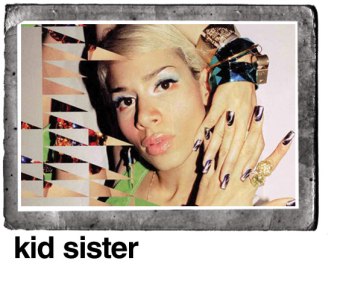 For fans of: bright colours, Flosstradamus, sass, getting drunk and dancing to Kanye:
I have been waiting for the Kid Sister album FOREVER, and it is finally [nearly] upon us!  The album (previously titled "Dream Date" but now called "Ultraviolet") will drop on Oct 6th, something like ten thousand years after it was initially expected.  Lead single "Right Hand Hi" is a perfect example of Kid Sister's irresistible electro-tinged hip-hop, and as I mentioned when I made this track my Team Pick a little while back, it belongs on every Autostraddle mix tape forever.  I will stream it for you here, because I love you:

You may download "Right Hand Hi" over at Nicky Digital.


For fans of: Le Tigre, Peaches, !!!, cowbell, mustaches:
I went through this weird period in 2007 where no matter what show I went to, I'd find JD Samson from Le Tigre standing right next to me, just chillin' with her mustache.  It was weird.  You know how you always want to say hi cos the person is so familiar to you, but they have no idea who you are so it'd be totally awkward?  Yeah.  Anyway, I love Le Tigre and MEN sound completely awesome so far.  They describe themselves as a "band and art/performance collective that focuses on the energy of live performance and radical potential of dance music."  They have a 4-track EP available digitally here, or you can download "Off Our Backs" for free at RCRD LBL.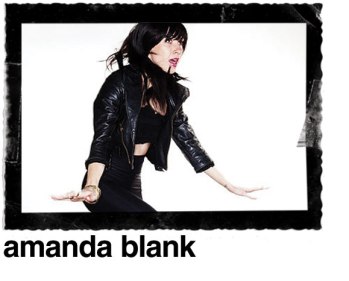 For fans of: Kid Sister, M.I.A., Santigold, party time in general:
I keep seeing pictures from random festivals and being like, "Who is that adorable girl in that hot outfit?" and then hearing amazing dance songs and being like, "Who is that awesomely fun rapper?!"  The answer to both of these questions is: Amanda Blank, the hottest thing to come out of Philadelphia since Intern Hot Laura.  Her debut record drops in early August and was produced by members of Spank Rock, Diplo, and Dave Sitek – and it'll feature cameos from Santigold and Lykke Li, among others.  Right now, Amanda's opening up a bunch of dates with the Yeah Yeah Yeahs, and if Karen O approves it, you know it's good.  Download "Make It Take It" from Spinner.com or "Might Like You Better at RCRD LBL.


Short and Sweet:
– Autostraddle BFFs and Alternative Lifestyle Haircut enthusiasts Girl in a Coma have a precious new video for their single "Static Mind," off their latest record Trio BC. They love all the decades almost as much as we love them.
+
– The Raveonettes are getting ready to come back with a new record ("In and Out of Control"), which they tell Kim from Spinner will be the perfect light album (to complement last year's "Lust Lust Lust," the perfect dark album).  They'll be touring the US starting mid-October, probs being goodlooking and Danish and making a lot of fuzzy noise.
+
– Muse have a new song called "The United States of Eurasia."  Everybody says it sounds like Queen.  Everybody is right.
+
– OK, it's definitely possible that Little Boots borrowed a teeeeensy bit of style from Lady Gaga for her kaleidoscope-influenced new video for "Remedy," but the song is undeniably catchy and GOD, she's just so cute I could squish her little face.  She'll be hitting a few major US cities in September.  I'm going so I can stare at her Tenori-On.
+
– Karen O (who is perfect) did the soundtrack for Where The Wild Things Are, which is going to be amazing.  Pitchfork thinks maybe this is some of Karen O's awesome music in the background of this Where The Wild Things Are preview.
+
– Uh, I guess Perez Hilton (that champion of gay rights) signed this French artist called Sliimy to his WMG imprint label and it was a big deal Twitter trending topic and I'm supposed to be excited because of this cover of "Womanizer."  I liked this song better when Lily Allen covered it, and I liked this kind of Britney Spears cover better when Sia did it.  I'm bored already. The end.
+
– Know who's always good though? Basement effin' Jaxx.  Here's their new single, "Feelings Gone" – streaming over at Stereogum.  I sort of know I like new Basement Jaxx songs before I hear them.. They make everything look easy.
+
– Last but not least, Imogen Heap is coming out with a hugely-hyped new record called "Ellipse" on August 24, and she's just posted a video for her gorgeous, moody new single "Canvas."
Next week I will be reporting to you from the road – I'm stowing away in an RV for a few days and taking in a few shows with my friends in theSTART and Normandie.  If you're around at any of the following, please stop by and say hi – and check out the bands, both of whom are incredible:
8/2 – Middle East Upstairs – Boston, MA
8/3 – Mercury Lounge – New York, NY
8/4 – Record Collector Store – Bordentown, NJ
8/5 – Brighton Bar – Long Branch, NJ
8/6 – The M Room – Philadelphia, PA
8/7 – Red & Black – Washington, DC