I woke up this past Saturday morning to the sounds of my girlfriend, a current Barnard College senior, shouting excitedly on the phone with her Dominican relatives. Between her high-pitched screams and nonstop jumping, I could hear her speaking to her mother,
"¡Oye! El presidente Obama va hablar en mi graduación!!"
I'm pretty terrible at Spanish, but I knew what she was saying: President Obama will be giving the commencement speech at Barnard College's upcoming graduation ceremony.
My first thought, after wondering how I could convince my girlfriend to give me her last available graduation ticket (instead of giving it to her Abuela), was: Oprah made this happen. Followed by: Columbia is going to be pissed.
Let me explain.
We all know that Oprah is queen of the universe and that she got Obama elected and that she cures blind people with just the touch of her hand (duh). A couple of weeks ago, this deity woman came to Barnard to tape a special feminism episode for her show, "Oprah's Next Chapter." She brought Gloria Steinem to interview, set up her camera crew in Barnard Hall and taped the show in front of an audience of about 40 Barnard students. By the end of this magical morning (I was there, I made eye contact with her, I shared my feelings about lady gay stuff, my life has been changed forever) both Gloria and Oprah were in tears—happy tears because they had been so inspired by us Barnard women.
Here's where Obama fits in. In my mind, Oprah and the Obamas have a dinner date every Sunday night to discuss how wonderful they all are. During one of these dinners, Oprah entertained the Obama family with tales of her inspirational visit to Barnard College. She also mentioned that she decided not to give Barnard's commencement speech this year because she is waiting to give it next year, the year that that nice gay girl who was wearing the salmon-color shirt (ME!) is going to graduate. She then of course suggested to Barry (that's what she calls him) that he should give the commencement speech for the Barnard class of 2012. Because Oprah is his spiritual advisor, the President picked up his phone and called Barnard to tell us the good news.
Ok, so maybe that whole conversation didn't happen (I mean I think it did, but whatever) but Obama is coming to speak at Barnard in May and I couldn't be more excited. However, our friends across the pond/street at Columbia University are decidedly less excited, as reported by The New York Times:
Ivy League schools usually cloak their jealousies in politesse, but President Obama's decision to give the commencement speech at Barnard, and not Columbia, his alma mater across the street, has unleashed online exchanges as nasty as any hair-pulling, eye-gouging schoolyard brawl.
Yikes. Okay then! Let's get into it.
+
Columbia Tensions
The relationship between Barnard College and Columbia University is a confusing one. Barnard is an independent women's college with its own president and board of trustees but it is still technically under the umbrella of Columbia and is considered an undergraduate college of the University. Because of this, Barnard is often subject to a lot of criticism and mean-spirited jokes that come from the Columbia side of Broadway.
+
Common Criticisms and Jokes Include:
+ Barnard is the backdoor of Columbia: because Barnard students get a degree that comes from Barnard College of Columbia University but went through a different admissions process.
+ Girls who go to Barnard just couldn't get into Columbia: maybe this is true for some but I know a number of girls who were accepted to both schools and ultimately chose to attend Barnard.
+ Barnard girls are sluts: Ugh. People suck.
+ Barnard girls are lesbians: Many still take this as an insult, which is in itself incredibly insulting. Also, there is already so much drama between the like 50-100 lady loving ladies at this school that I'm pretty sure the school would self-destruct if we were all lesbians.
In a nutshell, Barnard girls are unintelligent lesbian sluts who are out to steal all of the men at Columbia. So that makes sense.
I wholeheartedly believe that most Columbia students do not take part in these jokes and criticisms but unfortunately those who have negative opinions are often the most vocal.
So when I heard that President Obama would be speaking at Barnard College and not his Alma Mater across the street, I knew that outrage would ensue. Within minutes after receiving an email from Barnard that announced the Obama news, I found that the Facebook statuses of my peers were ranging anywhere from "OMG OBAMAAAA!" (a Barnard College senior) to "This is ridiculous and unfair" (a Columbia College student). I knew, however, that the anonymous comments on Columbia's various campus blogs would be far more vile and insulting than what I found on Facebook.
There are over 750 (and counting) mainly anonymous comments on the article that Columbia's own bwog.com wrote—an article that merely announces the news that Obama would be speaking at Barnard. Many of the comments are full of scathing words about Barnard, Obama, Columbia, Women, and anything else that a stressed out college student could think to complain about.
+
Some Fun Samples of Lovely Comments: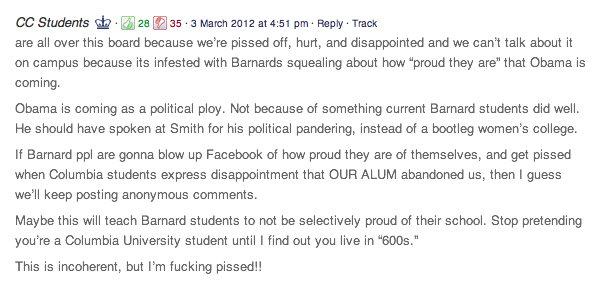 Though I know that most of these negative comments were written by bored Columbia freshmen who had nothing better to do on a Saturday afternoon, they still suck to read. I am tired of constantly feeling like I need to prove my intelligence to Columbia.
I have spent so much time in the past couple of days sticking up for Barnard and for Obama that I haven't been able to think about the other issues surrounding this news. Like, why is a man speaking at a women's college graduation? Why isn't Michelle the chosen Obama speaker? What does it mean when a women's college bumps a female speaker for a male speaker? (Barnard had originally chosen Jill Abramson, the executive editor of The New York Times, to give the commencement speech). Granted, I think that the answer to all of these questions is quite simple: If the President of the United States offers to give the commencement speech of your college, you say yes.
The Barnard/Columbia/Obama "controversy" seems to be rooted in nothing deeper than jealousy. I hope it blows over soon so that I can focus my time an energy on a much more important matter—figuring out how to steal an extra graduation ticket from someone's grandmother.