Welcome to Weekenders, a travel column where we talk about fun queer-friendly weekend trips for gal pals and girlfriends and everything in between! Weekenders isn't about visiting big cities, it's about that small town two hours from a big city or that city you didn't know was a cool city.
So, I met a girl a few days after moving back to the Bay Area, and we did the standard lesbian thing and decided to go away for the weekend after dating each other for like five days. When we returned, the first question her best friend asked upon our return was, "So did you break up, or are you engaged?" Neither, actually! I guess we got lucky?
It was a really wonderful, beautiful trip. Honestly it was one of the best "dates" I've ever been on! I don't necessarily recommend going away for the weekend with your brand new lover, but is that going to stop any of you? Of course not.
Jamestown, CA and Big Trees State Park
Driving Distance: 2-3 hours from SF Bay Area.
Trip Length: 2 days, 1 night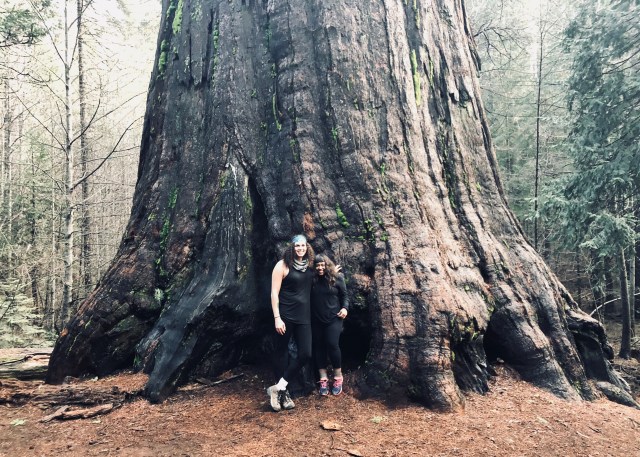 Before the trip, I was concerned about spending so much time in a small town, as both of us are women of color and I'm trans. Luckily, nothing even seeming to approach homo- or transphobia happened. It ended up being absolutely magical.
Did you know that only three hours away from the San Francisco Bay Area, you can visit some of the largest, oldest living organisms in the world? As you can see, my over-six-foot self is dwarfed by the Agassiz tree, a Giant Sequoia which is 30 feet in diameter and over 200 feet tall, and probably about 2,000 years old. These incredible living organisms have been alive since Jesus was(?) around! Standing under and touching a 2,000 year old being is a transcendent experience. You have to do it at least once in your life. Add it to your bucket list.
There are also really adorable, quaint little towns nearby: Jamestown, CA and Murphys, CA are Gold Rush-era towns, preserved to look like it's still the 19th century. They are cute as fuck.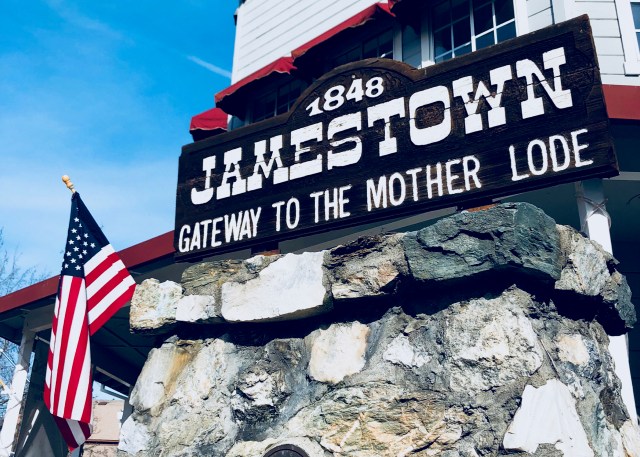 Jamestown is two hours or so from the Bay Area, and is full of antique shops, Gold Rush-themed tourist traps, and cozy restaurants. If you are an antique hunter lesbian or a thrift store lesbian, this will be your new favorite getaway. Especially if you are all of those AND a baked goods lesbian, because there's a tourist shop that has literally over 1,000 different cookie cutters(!). I didn't count, but… there were a LOT of them.
Jamestown was quiet and welcoming. I wasn't misgendered once, we felt completely safe with small displays of public affection, and I didn't see any of the conservative propaganda that you sometimes expect when you get a few hours outside of a major metro area (even in California — trust me!). In fact, I got a very middle/later-age lesbian vibe. We saw quite a few groups of 50-60-ish year old white-haired white women, often in groups of two, and more than once I got a knowing glance or smile from one of them. I don't have very good gaydar but it really seemed like a great place for older, artsy/thrifty queer women to go and relax. Note that we didn't see any other people of color, at all, unless they were white-passing. That being said, we both felt totally safe and comfortable throughout the trip.
Jamestown is proud that it has been used in a number of Western movies, and also has "one of only two remaining, fully operational original shortline roundhouse complexes in the country," which is cool if you are a train enthusiast lesbian, I think? There were a bunch of charming hotels and bed and breakfasts in town, which I'm sure would be great to stay at as well. One of them is rumored to be haunted! If you're a ghost chasing lesbian, that's your preferred place to stay. Also, Jamestown is in Calaveras County, which if you like jumping frogs or are a classic literature lesbian will be a fun treat.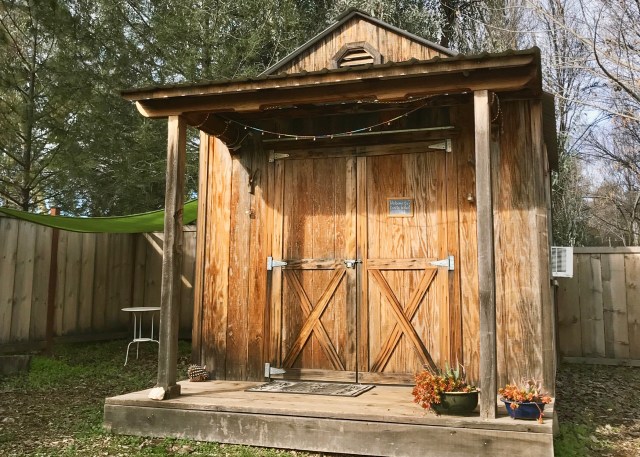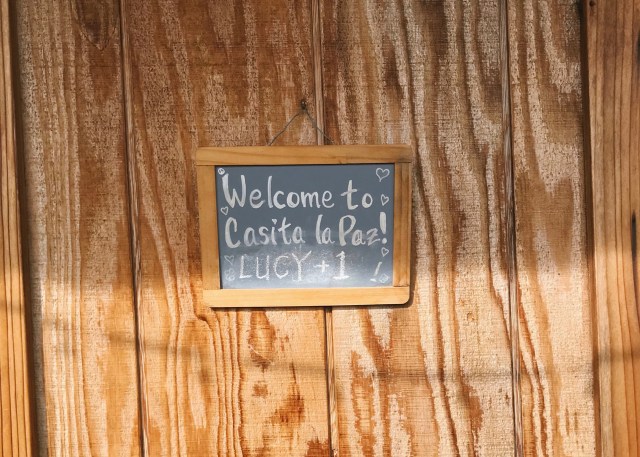 Our AirBnB was charming and affordable. It was on an organic farm run by white neo-hippies, who were so excited to meet us and have us on their property that it was almost unnerving. That being said, the hosts were extremely respectful and basically left us alone the entire time until we went into the main house to ask for breakfast and hiking recommendations.
The farm had chickens and there were horses and cows nearby, and two big round fat cats that lounged around to add to the cuteness factor. Our little barn/cabin was so cozy and comfortable; it had a space heater for cold months and AC for warm, and tea, and some little books about nature and Yosemite and nearby hiking trails. The bed was only full size but it was comfortable enough for sleeping, and sturdy enough for nighttime activities. Plus, because we were isolated from the host's house we didn't have to worry about making noise!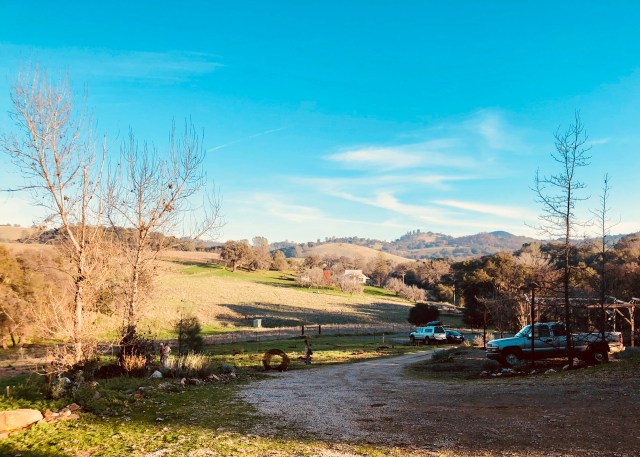 We ate in Jamestown Saturday night, at the Service Station, one of a few little eateries that dot Main Street. It featured pretty standard American food: burgers, wraps, salads. The veggie wrap I had was nothing special, but it wasn't bad either! After heading back to the farm we sat on the porch of our cabin/barn/shack and looked out at the millions of stars that were visible at night because of the lack of light pollution. It was enchanting.
On Sunday, we stopped in Murphys, CA on the way to Big Trees State Park, and had breakfast at Grounds, which is perfect if you really love to eat because they give you so much food. My omelette was massive, and their signature potato pancakes — basically circular hash browns — were delicious.
From Jamestown to Murphys is about 30-40 minutes, and then it's another 20-30 minutes to arrive at the park. According to our AirBnB host, Murphys is also great if you're a wine tasting lesbian; we aren't so we didn't experience this and can't vouch for it. It's also a Gold Rush town that's almost as adorable as Jamestown, so it's definitely worth spending some time in.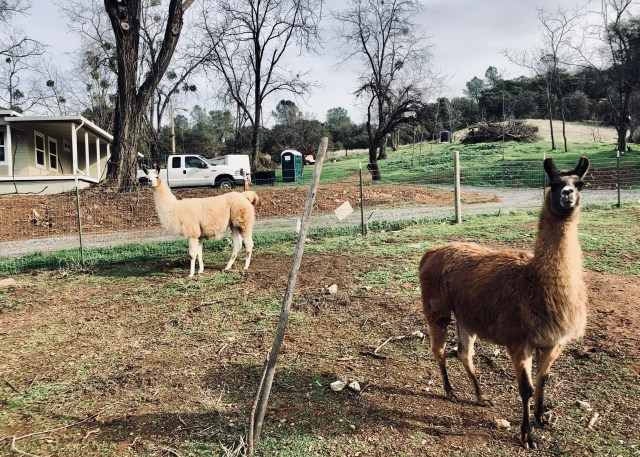 We also saw these llamas on the way to the park, whose names are Ginger and Cheech (honestly, we asked) and look in this photo like they are about to drop a fire mixtape. They were friendly and let us pet them on the snout, and I want a llama now.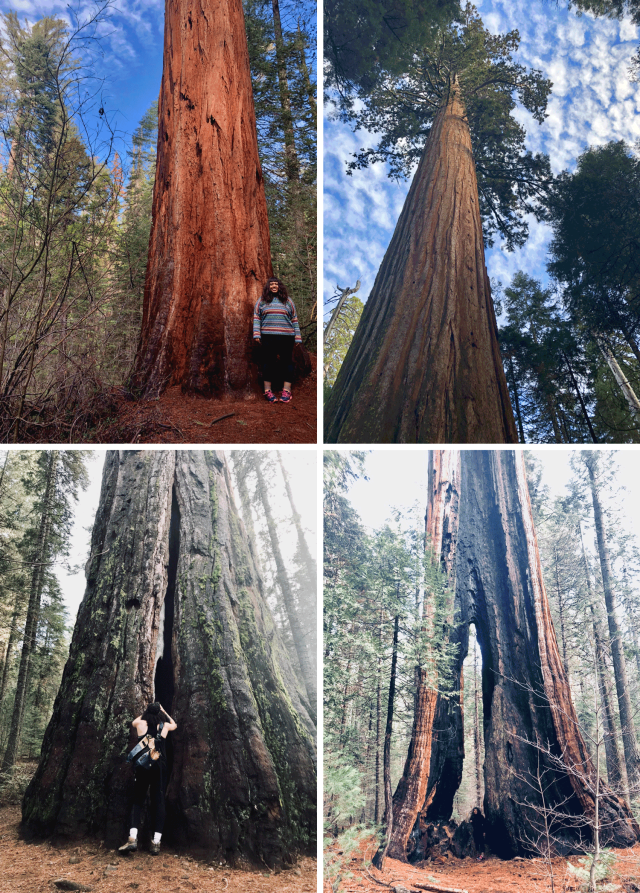 The trees are much bigger than you can possibly imagine if you've never seen them in person before. There are two standard hike options in the park — one that's mostly flat and is about 2-3 miles long (the North Grove) and one that's longer, steeper, and is about 5-6 miles long (the South Grove). The South Grove is usually closed during the winter, so we thought we wouldn't be able to hike it — but because of unseasonably warm weather (go California!) it was open!
The South Grove hike was very long but it was well worth it. Although there were a few families and other hikers on the trail, it was mostly empty, and it wasn't too steep at any point, even for someone who just had surgery 6 weeks before and hadn't really exercised since then, and as such was way out of shape (me).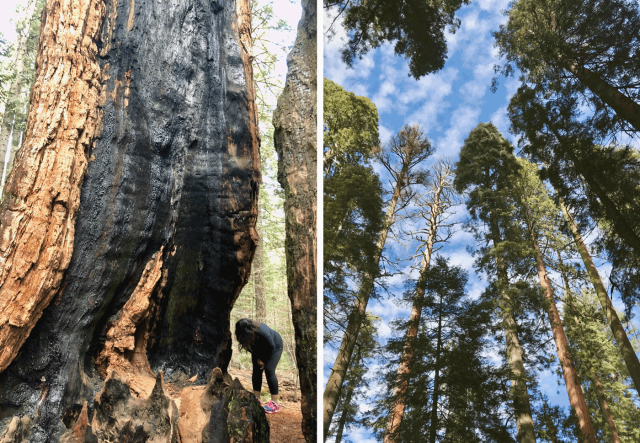 Overall, the trip was incredible. Good food, cute thrifting, beautiful scenery, a romantic, secluded place to sleep, and no homo/transphobia in sight. If we had a three-day weekend, we would have stayed longer — there was so much more to do, including Moaning Caverns (I've taken students on a field trip there before, it's amazing), exploring both groves of the park, and maybe hanging out with our hosts and enjoying the huge fire pit on their property at night while taking in the stars. If you've lived in SF/Berkeley/Oakland for a while and haven't ventured out this way, it is WORTH IT. Find a friend or lover with a car and make this your next weekend journey!
Check Out: