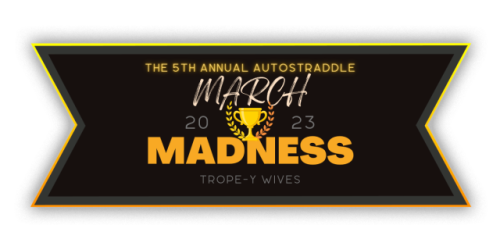 Well, it's safe to say…in the battle of March Madness excitement, this year's basketball tournaments have me beat. For just the third time in history, a #16 team took down a #1 seed in the opening round. The huge upset left absolutely no perfect brackets among the 20 million brackets entered in ESPN's Men's Tournament Challenge. The results on the women's side are just slightly better: Mississippi State's upset of Creighton, Princeton's one point win over NC State (I'm still not over it), Georgia's strong showing against Florida State have left a lot of people's brackets in shambles. According to ESPN, less than one tenth of one percent of brackets submitted in their Women's Tournament Challenge remain perfect (0.09%, roughly).
Our version of March Madness hasn't reached that level of excitement quite yet. Through our first two rounds of voting, we've got about 9% of the participants in our challenge with a perfect bracket. But I think with the Opposites Attract region, our level of excitement is about to rachet up a few notches…these first round match-ups are tough!
Most of the voting in the Enemies to Lovers region went as expected. I am, admittedly, surprised Stupid Wife's disappointing showing: fans of that series have been rabid in sharing their love for the show and so to see the go out, handily, in the first round feels like a huge upset. Perennial March Madness powerhouse, Avalance, will go onto the next round but I'm surprised how strong April and Sterling performed against them. The Legends are certainly going to need a better showing if they hope to upset Villanelle and Eve in the next round.
But let's move onto the Opposites Attract region!
---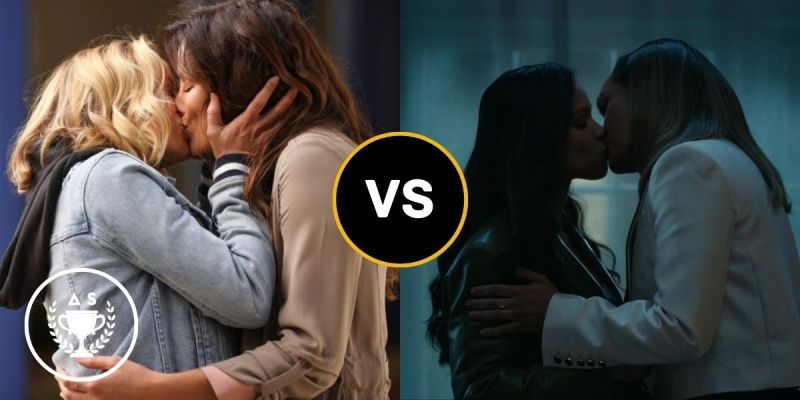 #1. Maya and Carina – Station 19
When Maya meets Carina for the first time socially at Joe's bar, she's become her station's pariah: alienated from the rest of the crew for prioritizing her ambition over her friendship with Andy — who was next in line for the captaincy — and secret relationship with Jack. It's a lesson she learned early on: watching her father, at three years old, react with scorn to her cousin losing a race. She never wanted that scorn directed at her so she kept running and kept winning…even when it hurt her, even when it hurt the people she cared about, she just kept running.
But Carina asks her to stop running, to stay in one place — next to her lover, her girlfriend, her wife — and allow herself to be loved. For years, Maya's father had trained her to always look forward but Carina asks her to do something else: "No eyes forward. Eyes only on me," she says as she calms Maya through a panic attack. Because that's the lesson that Carina took from her childhood: to love people even when they can't fully return it, to not leave when things get hard.
#16. Quinn and Isabela, Harlem
When Quinn first meets Isabela, she's not at all what Quinn's looking for. She came expecting a family dinner with her parents so she could ask them for money to support her struggling business. Instead, Quinn finds herself at a political fundraiser, being introduced to the candidate, Isabela Benítez-Santiago (think AOC but gay and hotter), by her disapproving mother, as a potential mentor. Quinn bristles at the notion — though, I suspect Quinn would chafe at anyone who her mother embraced so readily — but Isabela quickly ingratiates herself to Quinn…and suddenly, the person she never expected becomes the person that Quinn can't forget.
They couldn't be more different: Isabela, the girl who came from nothing to become an organizer and advocate who's now running for Congress, Quinn, the daughter of privilege, who — much to her mother's chagrin — is an aspiring designer struggling to keep her boutique afloat. Isabela, laid back and effortlessly cool (even when she's doing something completely uncool like bowling alone); Quinn, high-strung and frenetic (especially when it comes to relationships). Isabella, gay; Quinn, straight…at least until Isabela comes along and turns her world upside down.
---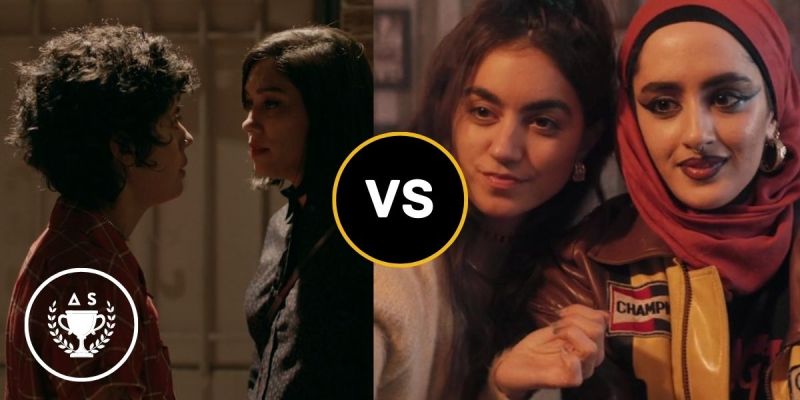 #2. Emma and Nico – Vida
"Come have no plan with me," Nico proposes to in the Vida series finale. "Some of the best things that happened to me were the direct result of having no plan."
A while ago, Emma Hernandez would've greeted the idea with pure scorn. She prized order and doing everything exactly as it was meant to be done. She came to Boyle Heights with a firm schedule in mind: bury her mother, resolve all the outstanding financial issues and get back to her life in Chicago (or, to be more precise, her career in Chicago). That version of Emma Hernandez? The one that prized "perfection and power?" She wouldn't even have indulged Nico's nomadic fantasies.
But the version of Emma that greets Nico's proposal is a different one than we met when she returned to the neighborhood. She's been changed by this space, by resurrecting her mother's bar, by her familial relationships with Lyn and Eddy…and she's been changed, forever, by Nico's love. She no longer needs to schedule every single moment, all she needs is for those moments to be spent with the person she loves.
From my 2021 review of the show:
Seconds before Ayesha spots Zarina, she's outside mocking her — ignoring Momtaz's pleas to behave — but when she sees her, she's left slack-jawed. It doesn't even matter that, in that first meeting, Zarina turns out to be every bit the caricature that Ayesha imagined. Suddenly, she's every bit as romance obsessed as Amina, with Chavela Vargas' "Paloma Negra" soundtracking her daydream. Her quick wit gives way to stammering. Gone is Ayesha's confidence. Gone is her swagger. All that's left is a girl with a crush.

Aside from some heartfelt teasing about her newfound softness, Ayesha's feelings for are a non-issue within her Lady Parts' bubble. But when Zarina questions Ayesha about how it feels to be a queer Muslim woman for the article she's writing about the band, Ayesha clams up and asks Zarina not to go there. Sensing a story, Zarina pushes: first urging Ayesha to be a role model for queer kids, then reminding her that the essence of punk is not caring what people think. But this time — and for what, I imagine, is the first time — Ayesha doesn't give in and Zarina allows it.
---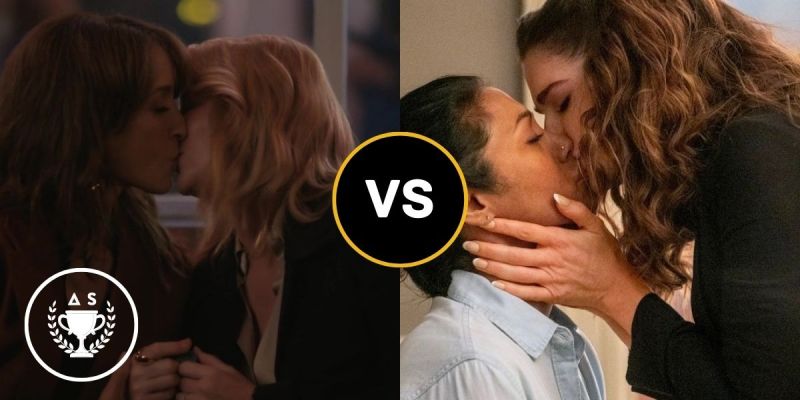 At the start of Generation Q's third season, Tina confesses what we've always known to be true: she's in love with Bette and has been for her entire life. But that admission doesn't lead to an immediate reunion because sometimes love isn't enough. Sometimes the person you love needs to learn how to love you back in the way that you deserve…to be, as Tina calls it, "fucking better at it."
And to her great credit, Bette tries. She tries to get better at it…to become worthy of being Tina's partner. As they're locked in a walk-in freezer just before their wedding, Bette barely reacts. She explains, "I have worked really hard to quiet those parts of me so I wouldn't hurt you and I am afraid that if I let them out, then I won't be able to shove them back inside."
But Bette being better doesn't mean she has to change the things about herself that Tina always loved. Tina affirms that she loves those parts of Bette — she loves all the parts — and makes Bette promise to always be their whole self, a hundred percent of the time.
Immediately after Leyla kisses Lauren for the first time, Lauren rushes out of her apartment. It looks, at first, like gay panic — like she's just reacting to being kissed by a woman for the first time — but it's not that at all. The kiss just felt normal and real and Lauren Bloom isn't used to either of those things.
Her childhood wasn't normal, with her absentee father and alcoholic mother. Especially after her dad died, Lauren gave her all to protecting them — her younger sister from her mother, her mother from herself — but eventually, she had to protect herself. She left for college, far away from home, and has carried the guilt of that choice ever since. The presure to make amends for that drove her to her own addiction. By the time she meets Leyla, Lauren isn't sure that she believes in love anymore or that if it exists, that she deserves it.
But Leyla has enough hope and optimism for both of them…and she believes so fervently — in herself, in them — that eventually she makes Lauren a believer too.
---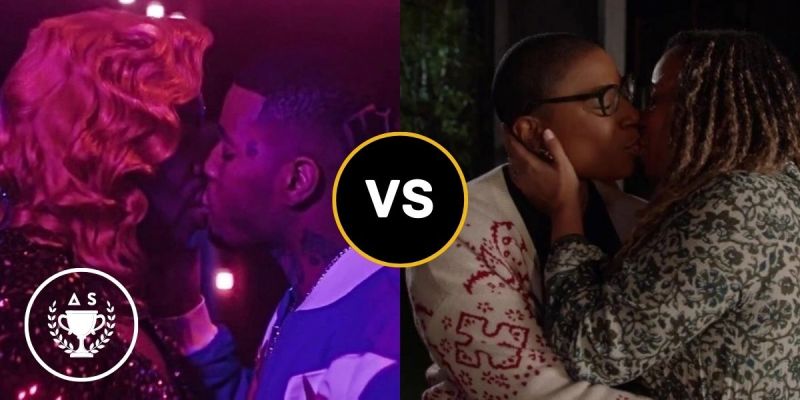 #4. Uncle Clifford and Lil' Murda – P-Valley
It's Murda Night at the Pynk and Uncle Clifford calls her headline performers to the stage: "Chucalissa's new trap prince and the pole princess…Lil' Murda and Miss Mississippi!" The crowd eats up his performance — singing along with his lyrics and Mississippi dances on the pole — and Murda starts to imagine a career outside of Chucalissa. But when a record executive shows up and promises everything he needs to level up his career, it comes with a healthy dose of homophobia. Murda stays quiet in the face of it, despite his relationship with Clifford, because being pushed further back into the closet is the price of the trap prince's crown.
In the quiet moments with Cliff, Murda had been so sure…so sure he wanted more than random hook-ups…but Clifford knew. She always knew: they weren't meant for the outside. Clifford's always known who she is — even carrying the burden that comes with letting her light shine so brightly — but Murda can't reconcile his own identity. As long as he wants to wear the crown, he may never be ready.
#13. Karen and Hen – 9-1-1
Karen and Hen's first date is a set-up: Hen's best friend — who, as it turns out is also Karen's neighbor — sets them up. They don't hit it off right away: Karen is intense and a little snooty and, though amused, Hen is unimpressed. They couldn't be more different: Hen, a former pharmaceutical saleswoman turned firefighter/parademic and Karen, a literal rocket scientist. At one point, Hen asks if she ever wanted to be an astronaut and Karen laments they don't let people like us go to space." For Karen, that's reason enough to redirect her passion but when they didn't let black, gay, women be firefighters, Henrietta Wilson still found a way.
"That woman is not even my type," Hen bemoans to Howie following the date.
"Hen, your type is losers," Howie says, restraining himself from noting that her last girlfriend is a drug addict serving a prison sentence. "You need to make a change."
A few days later, Hen announces that she doesn't think things between them will work. She's not looking for anything serious and Karen seems like the serious type. Karen quips back, "well, I don't have to be serious" and there's where the story of their love truly begins.
---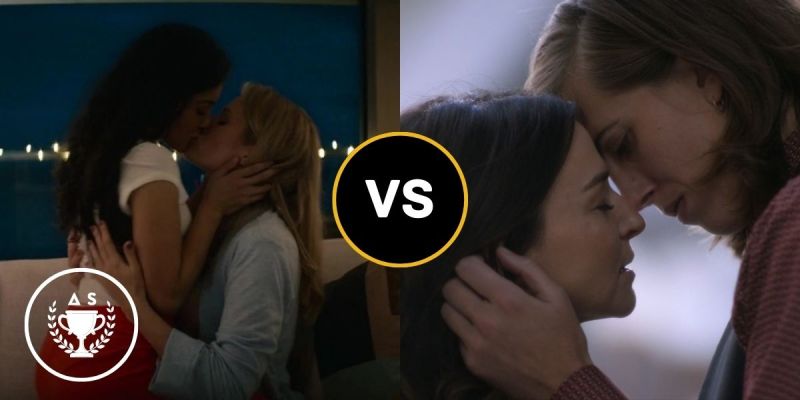 When we're introduced to Lucy and Kate, there's already a bit of history there. History that neither of them seem eager to revisit initially. Kate is, above all else, committed to her work and suggests that she and Lucy keep their relationship strictly professional. While Lucy acquiesces Kate's decision, she does so begrudgingly and reminds Kate at every opportunity what she's missing. Kate's weakened by Lucy's persistence: "I'm given orders," she reminder herself. "Orders that come before relationships and love and feelings."
But when Lucy reminds Kate of that she's more than her ambitions — she's truly a great and genuine person — Kate gives in and finally stops resisting. Being together doesn't flatten the pair's great many differences — Kate's penchant for following the rules and Lucy's penchant for creating her own path (with one bag!) or Kate's love of surfing and Lucy's aquaphobia — Lucy and Kate just find acceptance, love, and support in each other.
For months, Amelia Shephard, Kai Bartley and Meredith Grey have been preparing for this moment: a landmark brain surgery in their effort to cure Parkinson's disease. The gallery's packed with curious doctors and the entire hospital is watching — and learning — as the surgery is streamed. Everyone's eager to watch history to be made. But just as Amelia prepares to load the micro inject, a call comes in: she's being paged to another operating room to treat Owen Hunt — her ex-husband — for a cranial bleed. And much to Kai's dismay, even as she stands on the precipice of history, Amelia considers walking away.
"All day long, I've been racking my brain trying to figure out who in their right mind would have left that surgery the way you were prepared to," Kai admits later. "And then it dawned on me: you are someone who loves her people so hard and so much that the second they're in trouble, everything else just…falls away."
They've never met anyone like Amelia and they certainly weren't like Amelia…but they're intrigued by the possibility that they're becoming one of Amelia's people.
---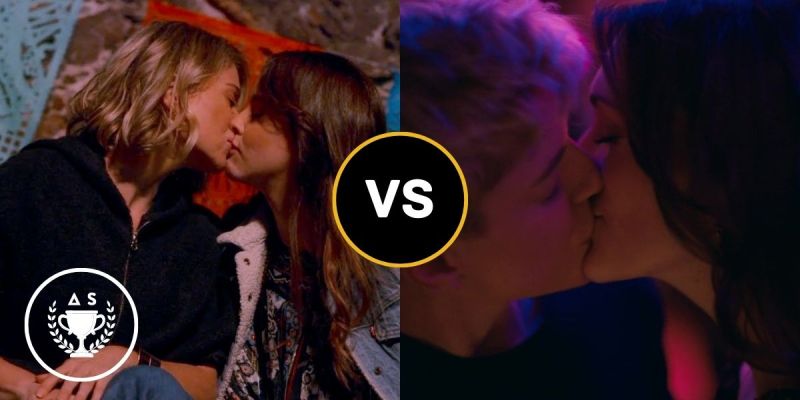 #6. Ana and Mariana – Madre sólo hay dos
Ana and Mariana were strangers until the two arrive at the same hospital, are forced to share the same room, and give birth to daughters on the same day. But those similiarities belie a host of differences — Mariana, the young single mother, struggling to launch her career, and Ana, the ambitious, married businesswoman with two teenage kids plus a baby (and a maid) at home — and they immediately start to antagonize each other. After giving birth, they return to their regular lives only to find out, four months later, that their children had been switched at birth. To ease the girls' transition to their actual mothers, Ana invites Mariana to move in with her family.
Eventually, tensions between the mothers eases and the pair grow close. It's Ana who says "I love you" and who kisses Mariana first…but she's high and grappling with a potential cancer diagnosis so it's hard to accept it as truth. When Mariana says it, though, she means it, and Ana reacts to the admission by casting her out of the house. Mariana apologizes and things seemingly return to normal but, for Ana, it's like a light has been turned on…even though she doesn't realize it right away. A possibility she never considered — that she could love a woman — now drives her decision-making: her jealousy over Mariana's new beau and her scheme to divorce her husband.
It takes a while for Ana to give voice to her own feelings and hers to align with Mariana's at the same time and space but it's a joy to watch them try to get there.
#11. Mae and George – Feel Good
Here's Drew in her review of Feel Good's first season:
After this opening sequence that has us ready to root for Mae, George, their delightful flirting, and their whirlwind romance, the cracks begin to form. Mae's energy is eager and aggressive in a way that quickly loses its appeal. We realize that George still hasn't introduced Mae to her friends. We meet Mae's parents over FaceTime and her mom – a remarkable and hilarious performance from Lisa Kudrow – is clearly one of those people who hates themselves so much you know they hate you too. And then we learn that Mae is a recovering drug addict – and, more importantly, George learns this too.

Throughout the show's six episodes, Mae fights to move on from her addiction, confront her familial hurt, and be the person she thinks George wants. Meanwhile, George is working to overcome her own shame, accept her queerness, and communicate her needs to herself and Mae. Hardly a moment passes that isn't filled with their relationship's impending doom. Both characters are just too lost in themselves to be there for each other.
---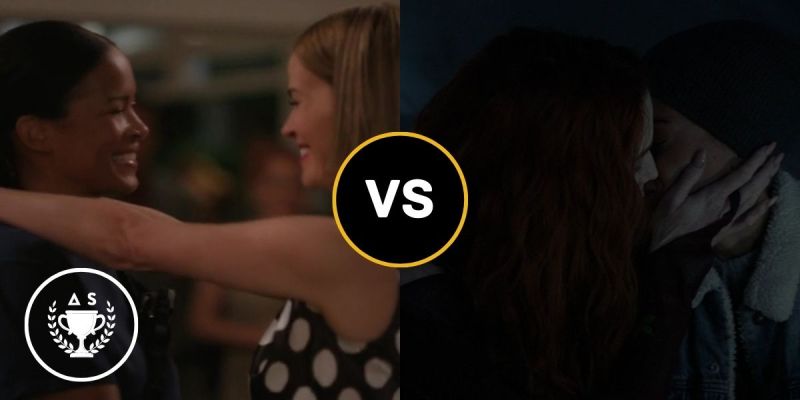 There was some debate among the TV team about including Alice and Tasha in this region. Surely, their characters were the embodiment of the "Opposites Attract" trope on the OG show — differences that reverberate when Tasha shows up to save Piddles 2 — but did the ending to Generation Q third season — which, among other things, has Tasha and Alice sharing a dance together — constitute an official reunion for the pair? Admittedly, I wasn't convinced it did…but ultimately, two things swayed me: first (and foremost), my love for Tasha which has started from the moment Papi introduced us and has persisted across generations. But also, it's what Dana said: "the one is still out there for [Alice]" and they know Dana, in a way.
Tasha unwittingly echoes Dana when she's called to save Bette and Tina in the season finale, "You were in love with Dana. You talked about her so much, felt like I knew her. In a way."
Alice face flashes with recognition with Tasha's admission. It's evidence, from the great beyond, that Tasha is the one for her and, ultimately it's hard to imagine Alice allowing herself to miss true love again.
#10. Renee and Pam – Batwoman
Here's how Alice explains it to Luke and Mary in a pitch-perfect scene from Batwoman:
So…they met, fell madly in love — kissy, kissy, kissy — then Pam fell victim to some evil scientist's experiment. Obviously Pam's metamorphosis into "little shop of horrors" got in the way of sexy time, which was a big problem for Renee as she was a GCPD detective. Crisis of the heart. Boring, boring, boring. Ultimately, Renee called Batman, who convinced her to lure the love of her life into his trap…and he buried her deep underground away from water and sunlight to shrivel up and not die.
---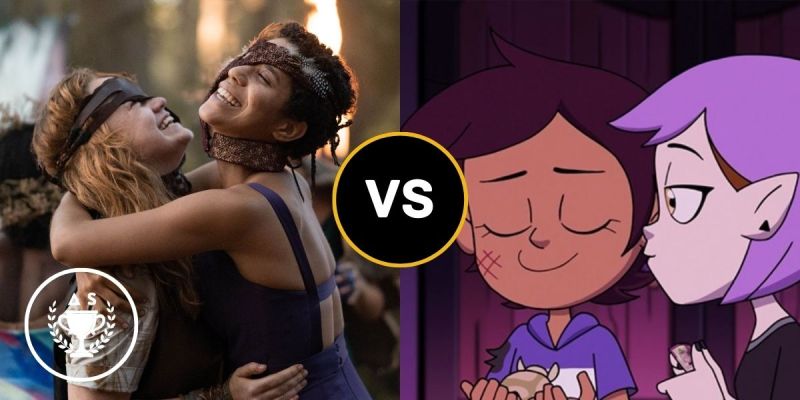 Long before we're introduced to Taissa, the aspiring state senator, we see her ambition and the Type A personality that will fuel her run. As a teenager, the Yellowjackets midfielder — the perfect position for a player that values control and can contribute on both ends of the pitch — is already determined to do anything to win. Anything including icing out of a player that she thinks isn't pulling their weight. When the team won't support her idea, Taissa takes matters into her own hands, slide-tackling the player during a scrimmage, leaving her with a compound fracture.
Van balances Taissa's intensity with their own goofiness. When tensions boil over between Taissa and the team following the scrimmage injury, it's Van that diffuses the anger with her sense of humor. She keeps their relationship a secret, at Taissa's request, but when Van needs the affirmation…that she is still loved despite her scars, they share a kiss at Doomcoming.
Heather's reasoning behind why Luz and Amity were one of her favorite couples of last year:
These two magical weirdos! So timid and awkward with each other at first, all blushing and brushing fingertips and missteps! And now they're girlfriends, first girlfriends, and all the giddy wonder that goes along with that. They even kissed. ON THE DISNEY CHANNEL. But it's not all dancing in the rain; Luz and Amity are also tag-teaming to save the Boiling Isles, their families, and their relationship in The Owl House's final season. They struggle sometimes, of course. Luz is used to barreling forth full steam ahead to solve her problems without consulting anyone! Amity is used to being dismissed by her mother and sometimes the rest of her family too! They're insecure a little bit. They worry they're not being THE BEST GIRLFRIEND IN THE WORLD sometimes. But dang, they work it out better than most adults I know! Amity and Luz are so sweet and so soft and so silly. I will love them fully long after they save the world and ride off into the sunset.
---
You have 48 hours to cast your ballot in the Opposites Attract Region. This year, you can vote four times over the voting period (or to be more precise once, every 12 hours). We'll return next week with one final first round of voting in the Friends to Lovers region.