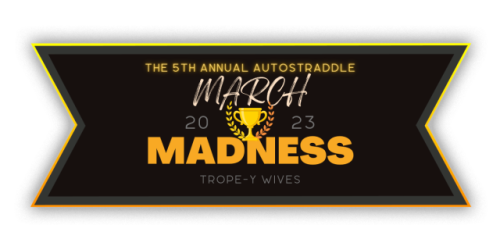 For the past four years, I've had this idea in my head about creating a March Madness devoted to our favorite tropes. And every year, for the past four years, I'll sit down and try to make it work. Tropes feel ubiquitous in queer fandom but when it comes to television, there aren't many shortcuts for matching tropes with couples…so you just have to watch the shows. But it's not enough to just find a trope; to make March Madness work, you have to find 17 couples to fit that trope. It's a lot of work and so, for the past four years, I'll doubt whether I can pull it off and just pivot to something else.
This year, though, it's happening.
*Insert Michael Scott gif here*
We're doing it.
Autostraddle March Madness, Trope-y Wives edition, is here!
Autostraddle March Madness is back for its fifth year and, just like the Division I NCAA tournaments, we've expanded our field to include 68 couples. Those ships are broken down into four regions:
Forbidden Fruit – These are couples that, for some reason — be it the regressive laws of the time period or the rules of nature or prior commitments or whatever — should not be together…but we still cheer for them anyway. Well, some of them.
Enemies to Lovers – A classic, right? For some of them, "enemies to lovers" fits…they were really genuine enemies…but for most, it's like, "anatogonist to lovers." Still an all-time fave, no matter what you call it.
Opposites Attract – Two remarkably different people brought together by a shared passion.
Friends to Lovers – Sometimes you wake up and you realize that the friendship that you've coveted for so many years was meant to be something more.
As the NCAA tournaments will next week, we kicked off this year's Madness with our First Four match-ups to determine the last four couple to qualify for the first round. We gave the responsibility for determining the outcomes of those match-ups exclusively to our A+ members. For the last 48 hours, they've been deciding which couples escape their play-in games and make it into the Field of 64. Here's what they decided:
We had our closest match-up of the First Four in the Forbidden Fruit region. Much to my surprise, our A+ preferred Jackie and Leslie's ill-conceived relationship on Hightown to Miranda cheating with Che on And Just Like That. Maybe our A+ readers don't like Che…which, I mean, I get it…or maybe they really want Starz to announce when we'll finally see the third season of Hightown (seriously, WTF, Starz?!).
Over in the Enemies to Lovers region, it was an easy choice between two similar storylines, as April and Sterling of Teenage Bounty Hunters easily defeated Candace and Lilly from Astrid & Lilly Save the World. They don't get to move on here but I hope Candace and Lilly's adorable enemies to lovers ship sails for a long time in fanfic.
In the Opposites Attract region, our A+ readers gave an easy victory to Harlem's Quinn and Isabela. I wasn't surprised by this outcome at all given that Quinn's a main character on Harlem while Fabiola's just a supporting character on Never Have I Ever. It's been quite the year for Juani Feliz…first she gets to make out with Grace Byers on Harlem, she's probably going to make out with Niecy Nash on The Rookie: Feds and she picks up a win in Autostraddle March Madness. Victories abound!
And lastly, despite the lobbying from some of my Autostraddle colleagues in the comments section, Jamie and Dani from The Haunting of Bly Manor scored an easy victory over Sabi and Olympia from Sort Of in the Friends to Lovers region. Does that mean our A+ Readers are all #TeamWolf or — *gulps nervously* — #TeamBessie? Or maybe it's just the moonflower monologue from Bly Manor? That gets me every time.
So now our bracket is set but before we get to the voting part, it's time for our annual bracket challenge.
If you're new here, the bracket challenge is a predictions contest. You look at our match-ups and decide who will advance before any additional votes have been cast. How do you know which couples to pick? That's completely up to you. Pick your faves. Pick whatever couples you've seen trending on social media or whose clips keep showing up on your FYP. Head over to YouTube and track down clips of the couples you've never heard of. There's no method to the madness.
Just remember to get your picks in ASAP. The bracket challenge will close on Monday, March 13, just before voting in the first region begins. With each round of new voting, I'll update readers on who's leading in the bracket challenge.