Happy Monday, my beauties! Its me, Robin, your resident photoblogger, here to enchant you with a delightful gaze into some iconic imagery of our lesbionic history.


See;when I was in college I did this photo project on relationships — I wanted to spend a couple of hours with several different couples, gay and straight, and photograph them interacting with each other (eating dinner, watching TV, kissing in bed, etc.) with two major intentions: the first was to observe the relationship between the couple both in reality and as it was perceived by others viewing the images. The second was that I was exploring my own sexuality at the time and I wanted to explore the relationships around me. I wanted to feel the genuine connection between two women in love and, more importantly, how I'd react to it. I also wanted to gauge the reactions of others. Maybe it was a little creepy, but it gave me a lot of insight into the meaning and importance of visually representing gay life.
Although my college professor voted "Heterosexuals Have No Fun" for the project's title, I chose "Form and Function." And as I got into it, I felt my emotional interaction with and reaction to these couples become as important to me as my relationship to the images themselves — the couple in front of the lens. On the surface it was a simple project about relationships but it became a way or me to explore and come to peace with my own thoughts and feelings.
The best photographs are powerful visual tools that provide an opportunity for introspection and interaction with the world, and that project really brought it home for me. And while it's always been difficult to find lesbian imagery in mainstream media, there have been many instances when a lez-centric image has successfuly auto-straddled the line between queer culture and pop culture.
So I've gathered up some of the Most Influential and Iconic Lesbian Photographs of All Time; photographs that have played a major role in bringing queer women visibility. Some are lesbian-themed, some are taken by actual lady-gays, and some have just helped contribute to the GQBLT movement as a whole. While each has a unique intent & purpose and they've all been executed very differently, they've all done something powerful for our community.


I went to college from 1999-2003 and every frat boy and gay girl I knew had that one poster. It's called "The Kiss" and although there are probably 500 other photographs with the same name, you know which one I mean. Seems cheesy to bring a Posters.com Top Sellers into this list, but this photo resonates: it's the only lesbian imagery I ever saw in a boy's room that wasn't of plastic porn stars.
There's something beautiful in this image's simplicity though I'm not really a fan of her other "lesbians in bed" shots. A bit too contrived & glossy for me.

Mario Tama – (Getty Images, for The New York Times)
60 years after Alfred Eisenstaedt's iconic Times Square war-time kiss photo, this 2005 picture is important to the GLBT community for its inclusion of Tim Tompkins and his boyfriend Nathan kissing. They also make their own statement as gay "sailors" against that silly outdated Don't Ask, Don't Tell.
Tomkins sent e-mails to several gay groups asking them to come to the annual reenactment and has since organized a yearly Times Square New Year's party. It makes you wonder … are these fellows actual sailors, or did they just pick up their hats from a West Village Halloween store?

Paying homage to the Annie Leboiwitz photo of John Lennon and Yoko Ono, Diva Magazine, Europe leading lesbian rag, had to release a more subdued version of their initial shot after being censored the first time.  Meanwhile Maxim can peddle soft porn-ish images of people like Megan Fox, but we can't show skin in a lesbionic context.

Lara Porzak – Ellen and Portia's wedding
I'm a wedding photographer so, of course, I have to point out the most iconic lesbo wedding photograph. This one goes out to Portia de Rossi and Ellen Degeneres (who rocked Zac Posen designed outfits at their wedding… sorry LL Bean Weddings.com). This one graced the cover of People magazine and will forever symbolize the first victory over Prop 8 and the first time a loving lesbian couple was brought warmly into the homes of Americans everywhere. Quietly and with beauty, the images of this wedding probably did more to advance the cause than any other singular event.
Herb Ritts – Vanity Fair cover (KD Lang)
Herb Ritts is one of the most influential fashion photographers of all time.  He's shot countless covers for Vogue and Vanity Fair and his books and exhibitions have been widely published and praised.  In 1993 Ritts photographed model Cindy Crawford with lesbian folk singer, K.D. Lang, for Vanity Fair.  In the 1990's Lang was one of the most well-known (read: only) out women in music.  This cover fell in line with Lang's gender-bending persona and even 15 years later, this cover is daring in its departure from mainstream gender roles. Though the titillating cover inspired a lot of right-wing backlash, it was the third biggest-selling issue in Vanity Fair's history and is now considered "an internationally recognized symbol of the phenomenon of lesbian chic."

Its hard to choose an image of Catherine Opie's that doesn't make an important statement about gender and sexuality.  She once described her style as a "kind of twisted social documentary" to the Los Angeles Times. At first glance, these photos wouldn't be out of place at a formal portrait studio — there's no crazy shadow or edgy lighting like one might expect from an artist specializing in queer culture — and often S&M concepts as well.
Her photos are lit to perfection with beautiful and rich color/tonality with a hint of that old-fashioned traditional feel. I love that juxaposition.  A whiz at controversial themes, Opie also captures amazingly honest self-portraits that let her audience in on her own feelings and questions on gender and sexuality.
You might also recognize her work from the opening credits of The L Word: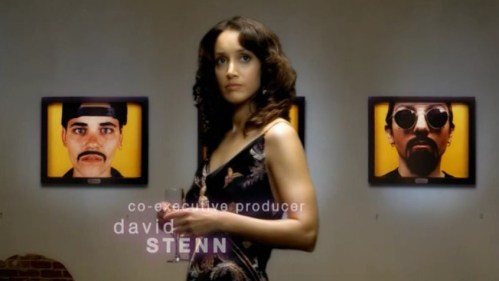 Cass Bird : JD's Lesbian Utopia
Cass Bird got together with Le Tigre's JD Samson to make the JD's Lesbian Utopia calendar.  The pair visited lesbian RV camps all over the country and photographed gender bending subjects and concepts. (Apprently there are a lot of RV Camps for Lezzies by the way.. I did not know this) Cass has said that JD became a symbol of freedom and self-definition while shooting this project. Bird is an incredibly successful photographer whose snapshot-style photos of family systems, friends and celebrities always exude a personal feel.

Tee is a famous lesbian photographer who photographed her own life.  This emotional essay describes why she photographed her partnerships and how her late partner's battle with cancer — and eventually her own — affected her work. The first chapter of this essay is "Make Relationships Visisble." This is what Tee was all about.  She understood that visibility alone is a statement in and of itself.

Here are some, not all, of the lesbian photogs you should know! And yes, there are a LOT more out there, especially working today.  Some of these ladies need some help on their websites.
JEB (Joan E. Biren)
Cathy Cade
Annie Leibovitz (Does the great Annie Leiblovitz not have an actual website? Hmm)
Judy Francesconi
Deborah Bright (Does this creepy thing where she photoshops herself into old movie stills. yikes.)
A fun directory of some more obscure artists
There are so many more so here are some books for all you nerds out there who like to research this stuff!
Stolen Glances: Lesbians Take Photographs
Lesbian Art in America: A Contemporary History
Nothing But The Girl: The Blatant Lesbian Image
That's all for now.  Stay tuned for some exciting interviews and shoots with some important ladies in the coming weeks!
Hugs!
Pages: 1 2See entire article on one page