Guess what! It's Intern Daphne (@daphne_duck)'s birthday!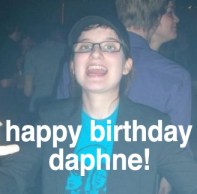 Also, it's International Mix Tape Day! Or … it was, so now we've made an executive decision that this week is actually International Mix Tape Week. You can listen to THE FUTURE IS BRIGHT, a mix featuring the most optimistic songs chosen by the team & the army and then you can DIY your face! I mean! Your CD! It's our very first How-To!

Speaking of the future, we sent a lady into the world of men to tell us about the Worldwide Developer's Conference in Carlytron's latest Nerd Alert. Also! Girl-on-Gallery – Hot Boyish Girls do Androgyny.

DAMN THE MAN! SAVE THE GAYS: Meet New York City's first gay-married couple! "Two gay men, one of them dressed as a woman, sort of duped the city into granting a marriage license and performing an official ceremony for them, despite the fact that they both have male first names." This takes "genderf*ck to a whole new level. So brilliant, why didn't we think of this.(@gawker)
ART: This is completely brilliant –  Artist Dina Goldstein: "These works place Fairy Tale characters in modern day scenarios. In all of the images the Princess is placed in an environment that articulates her conflict. The '…happily ever after' is replaced with a realistic outcome and addresses current issues." (@jpg magazine)

LOHAN! Lindsay Lohan's next movie, "Labor Pains," is going straight to ABC Family. Despite popular belief, this has nothing to do with LiLo's dimming star but rather is directly related to the plot sounding absolutely insipid and an insult to women and human beings everywhere. It'll fit right in with The Secret Life of American Teenagers! (@cinemablend)
GAY! Newsflash! There isn't enough good gay representation on the teevee! Yup, that's right. Speaking of poor representation of gays on the teevee, our own Daniela Sea comments:  "We live in such a TV-centered culture. If we're not represented [on the screen], it will be much harder to offset the influences of 90% of the population." (@the advocate)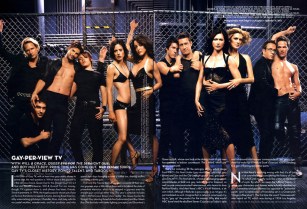 GAY! Aubrey O'Day either was, wasn't a diva at the No on h8 shoot. (@usweekly)
GAY! Dustin Lance Black Responds: "Three year-old photos of Milk writer Dustin Lance Black engaged in what appears to be unsafe sex popped up on the internet Friday – but they wont stand in the way of the Oscar winner's work in support of gay rights." (@the advocate)
RANDOM! Brad Delson's speech at UCLA's graduation rocks way harder than Linkin Park.
GAGA! Includes gigantic photos, some videos, etc – Lady GaGa News. (@ohnotheydidn't)
POP! Five Girl Group Fashion Disasters — Stef is gonna be upset about The Spice Girls being up in this piece. (@jezebel)
POP! Kelly Clarkson is apparently in LESBIAN HELL, because rumors about her secret girlfriend have gotten out of hand and detracted potential beards. (@the sun)

↑ Why the GOP is Failing to Win Over the Mighty Middle: "The Republicans have out-and-out bigots peppered in leadership who find safe harbor in the party, and every once in a while these numbskull racists get the wild hair and cut loose when they think no one is watching." (@pam's house blend)
↔  The battle over same-sex marriage added a serious note to the West Hollywood celebration of the 40th anniversary of the Stonewall riots in Greenwich Village that launched the modern gay rights movement. (@la times)
↑ Michigan Lawmaker Seeks to Recognize Gay Marriage (@chicago tribune)
↓ "Remember When Barack Obama Made Promises to us?" (@queerty)
↑ Des Moines Pride draws 15,000, Silicon Valley hosts a music festival on Family Pride Day — and well —
HEY HEY CONTEST GIVEAWAY! Send us your pride photos or our gallery!!We'll be putting it up soon and whoever has the best pride photo will win a special Autostraddle Prize Pack. TBA!
↑ John Berry explains the White House's basic strategy on gay rights – "it's beyond terrific if Obama truly plans on making these steps — but communicating this strategy to us has been a long time coming." (@queerty)

Auto-Straddler of the Day:
No on h8er of the Day: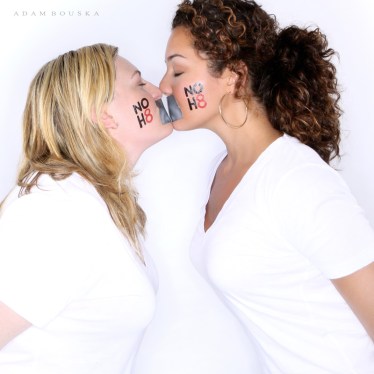 from Intern Emily:
If anyone is into photography or polaroids, this is a really cool site. Check out the daily archive for shots of the day. Some of the polaroids are kinda creepy.
+

from Crystal:
Ruby Rose has signed up to be the music reporter for a new tv show called The 7pm Project, which delivers the daily news to a live audience by comedians.
I guess it's pretty exciting for Ruby Rose fans because it's on free-to-air television, not cable, so everyone in Australia can see it. 'Cause really, who can afford cable TV? Not me.
from Alex:
Here's a video look/tour from BBCNews around Banksy's biggest exhibition yet installed (in top secrecy) at the Bristol Museum. It's absolutely incredible. He's my favorite contemporary artist. Banksy's work is as visually stunning as it is ironic, and he always makes a statement with his creations. Totally check this (and him) out.