Hi! It's me, Laneia! I keep falling asleep while I'm typing! Isn't that funny! Ok! International Mix Tape Day was June 10th, so I/we have declared this, the
second

third week of June, International Mix Tape Week. Days are lame! Weeks are where it's at. So! Happy IMTW, Autostraddlers! Damn you are lookin' fine this week! Gurrrl!
Remember mix tapes?
Recording songs from the radio on Saturday mornings? Having to hold down the rewind button? Those were the days! Tapes spawned the time-honored tradition of creating the perfect mix. And what better way to show someone your true feelings than by making a special mix for them?

[sidenote: I once made a mix cd for a girl that I was in love with, only I didn't know I was in love with her. It consisted of several amazing tracks, I'm sure, but the only two I can remember right now are "She's So High Above Me" by Tal Bachman and "Kiss Me" by Sixpence None the Richer. I drop hints like bombs. BOOM!]
Which is why the ladies of Autostraddle, both Team and Intern Army, have created a mix just for you! The Future Is Bright! Download your copy from iTunes! Yipee! 100% of 5% of the profits will go to benefit Autostraddle.com's Rodeo Disco Party iTunes!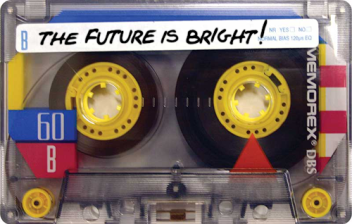 1. Duran Duran – Reach Up For the Sunrise
Intern Jess says: This song is pure, unabashed hope & love. It always gets me running faster at the gym and I can literally feel my heart expanding. "Only change will bring you out of the darkness/In this moment everything is born again." Also, it was featured in an episode of Queer as Folk and anything that reminds me of Brian Kinney is a good thing.
2. Passion Pit – Better Things
Carly says: TOTALLY UPLIFTING AND FUN!!
=

3. Modest Mouse – Float On
Intern Emily says: This song makes me feel like everything is going to be okay despite all the shit that life can sometimes hand you at the worst moments. Modest Mouse usually writes some depressing stuff, but this is one of their more hopeful tunes.
4. P!nk – So What
Intern Nicole says: Okay I my pick is completely based on me picking the first song that came on my ipod when I put the random play on and just hoped it wasn't completely embarrassing or depressing. There it is.
=
5. Queen + David Bowie – Under Pressure
Intern Heidi says: Every time I hear this song it gives me goosebumps. I feel like by the end of the song there is a lot of hope going on. I mean come on-"…Why can we give love, give love, give love?"
=

6. Diana Ross – I'm Coming Out
Brooke says: Everything about this song is upbeat and happy. And it's about the future being bright! And well… you know, she's coming out, makes her want to shout.
= 

7. Athlete – Half Light
Intern Asher says: Although I was tempted to go w/ The cast of Glee's performance of "Don't Stop Believin" for obvious reasons of awesome, I will choose a less expected addition to this mixtape. A lovely little song called "Half Light" all about not being able to wait to see that special someone again. "So when I see you next, we'll make the most of it" – oh yeah we will.
8. Christian Falk/Robyn – Dream On
Robin says: I love this song. There is also a special place in my gay little heart for Robyn and her alternative lifestyle haircut. This song makes me want to do naked cartwheels or something. Its got a great beat and the lyrics, although vague, are comforting and reassuring. Or maybe its just Robyn.
9. Coldplay – Life in Technicolor ii
Intern Laura says: I was never crazy about Coldplay, but i think their most recent album is pop brilliance. You know that feeling? The "now my feet won't touch the ground" one? It's one of my favorites.
= 

10. No More Kings – Someday
Intern Vashti says: This song makes me feel all kinds of happy and wonderful and full of rainbows and smiles. It references sock puppets, MC Hammer, The Beastie Boys, and Star Wars [which is simply amazing] to encourage listeners to take risks to find themselves/see how far they can go in life. Take a stand! Raise your hands! The band will play!

11. The Ditty Bops- Angel With An Attitude
Intern Elizabeth says: It is impossible to listen to these (married!) ladies and not want to tap your toes and sing along. Their funky folk-jazz-swing-punk style makes you feel happy even when you aren't quite sure that the words are as upbeat as the tune. This song is a good mix of hope and reality- spoonful of sugar and all that.
12. Incubus – Drive
Crystal says: I play this song whenever I have doubts or insecurities about where life is headed and what's going to happen next. It has such an empowering message about overcoming fear and taking back control of your life and your future. "Whatever tomorrow brings, I'll be there with open arms and open eyes…"

13. Pulp – Love Is Blind
Stef says: It's awfully dark, but the lyrics do mention a bright shining future (with its legs open wide). This song is huge and enormously catchy, and I felt like we needed a la-la-la-la-la chorus on this mix tape somewhere.
=

14. Stars – What I'm Trying to Say
Intern Katrina says: Stars is the kind of band that I'll listen to on a rainy day when I'm looking for my mood to match the weather. That being said, "What I'm Trying to Say" is the upbeat exception in their otherwise pleasantly gloomy repertoire. Also it's one of my favorite songs. Ever. Its multi-layered beat with building synth riffs and carpe diem fuck-'em-all lyrics combine to form a three-and-a-half minute no-fail tour de force.

15. Eels – Fresh Feeling
Intern Lola says: This is one of my favorite songs ever. It's fantastically upbeat, both musically and lyrically. The strings and chimes are magical, and when E sings "my heart is reeling" over the swelling music, I can't help but feel the same. When you play this song, you let go of whatever might be wrong, and you enter a new moment. A bright, blissful, three-and-a-half-minute moment.

16.Jeff Buckley – New Year's Prayer
Intern JK says: When I first heard this song years ago, I wasn't sure whether to smile or cry (from relief), so I did both. Buckley's voice alone is enough to make one take notice of the beauty that surrounds them, but the music and the lyrics for this song transcend time and space, and take you into another world. "Feel no shame for what you are / Feel it as a water fall / Fall in light"

17. The Presets – If I Know You
Carly says: This deals with the end of a relationship — realizing how things went wrong, taking something from that and moving on. There will always be breakup songs but this one is particularly fantastic.

18. Missy Higgins – Steer
Intern Daphne says: I've known and loved Missy Higgins and her music for a long time now. This song  is relatively new, but also powerful, as we're used to from her. One feeling, one realisation can change your world.
19. Passion Pit – Moth's Wings
Laneia says: This song feels so epic! Especially towards the end — it's like a tornado of bursting feelings! This song wants me to run, hard and headlong, into something. Something bright!
=

20. Bill Withers – Lean on Me
Intern X says: It'd be redundant to tell you guys that as a GLBT community we are fighting constantly. We're at war for civil rights, societal respect, and decent television programming. This song is a great anthem for our future, because when we lean on each other we're stronger. Peace, love and Motown.
21. The Killers – Read my Mind
Riese says: It just makes me want to shake my head back and forth and bounce around in the car and smile a lot and feel super young and ready to turn this thing around!
= 

22. The Rapture – Whoo! Alright-Yeah… Uh Huh
Alex says: Will you just look at the name of this song? It's a fantastic little diddy about dancing… and for me, the future is only bright if it includes a lot of dancing. Thank you.
=
No mix is complete without cover art, you ninny! Intern Asherrrrrrrr was kind enough to whip up an effin sweet graphic for your darling little jewel case.  View and download the PDF here! Check back Monday for a special DIY project that I created just for you and your future. Or the future of your music. Or something! It's awesome fun! You're gonna love it!
Mad props to Superstar Intern JK for picking up my dropped ball and making an awesome 3 point shot from mid-court with .2 seconds left on the clock! G-dammit she's ON FIYA! Yeah! Go TEAM! Go INTERN ARMY! Huzzah!