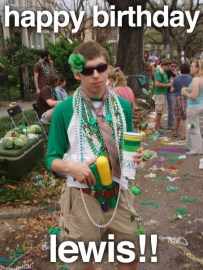 CONTEST: Guess what day it is? Okay, I'll tell you, it's BLOOMSDAY! It's also Lewis Bernard's Birthday. Who is Lewis? Riese's brother. How old is he? We're 95% sure he's turning 25. Does he like other people? Kinda. Does he want me to email him on his birthday? Not necessarily, but I want you to! You could win a prize! I'm easy to please, really, if just like five of you did this, that would be fan-fricking-tastic and he would think I was popular.
1. Send an email to "Lewnard@gmail.com," with a BCC or CC to autostraddle@gmail.com. The title of the email must be "Happy Birthday Lewnard."
2. Tell him happy birthday and the crazier the better!
Two (2) birthday emailers will win a copy of the compilation THE FUTURE IS BRIGHT CD with a DIY Hand-Made CD cover by Laneia! One winner will be chosen by a drawing at random, the other will be chosen by Lewis himself for Exceptional Creativity, Wit, Multi-Media Presentation or Overall Glory. AND a free raffle ticket for our incredible raffle, which you'll find out more about very soon.

Some basic info on this man Lewis: this is his blog, where he writes and publishes complaint letters to companies that mess up. He lives in New Orleans, got a degree in mechanical engineering and likes chocolate ice cream and long road trips with Riese & Tinkerbell.
Then read this: Robin auto-focuses on the most iconic lesbian photos ever! KD Lang & Cyndi Crawford on Vanity Fair, Cass Bird, that poster everyone had up in their dorms and much much more!

POWER LESBIANS: This is actually gonna be worse than this opening sentence suggests: "Oh, just another Friday night in San Francisco … wearing the cashmere "it" scarf at the start of summer, pairing wine with sopressata sausage,and debating being set up with one of the city's new power lesbians." (@bettyconfidential)
GAY: The intersection of gay activism and medicinal marijuana. (@pamshouseblend)

GAY: The happy couple's marriage certificate has been snatched right out of their adorable hands. Damn You, America! That being said and speaking of snatches, one of them is planning on transitioning to female soon, at which point they'll re-marry, again illuminating the idiocy of how our unequal rights are executed & legislated. (@nymag)
VIDEO: The View, consistently offering the most irreverently typical gay-debates on television, asks: "Should Parents Ask Kids If They're Gay?"

GAY: Let's just complain about stuff all the time, you in? Do Pride parades fuel negative stereotypes and do more harm than good for the community? The annual marches ultimately accomplish two things: They entertain those of us gay and straight who already wholeheartedly support the cause of equal rights for the LGBT community, and they feed into the rotten stereotypes of bigots, the same people who fear gay Boy Scout leaders and consider same-sex marriage "deviant." (@theroot)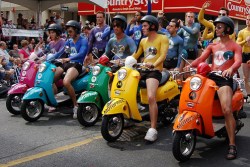 L WORD: AfterEllen interviews Marlee Matlin (Jodi from The L Word)
LADY GAGA: If Autostraddle was the Earth Mother, she would give birth to Adam Lambert working with Lady Gaga's producer. (@eonline)
ROSIE: Queerty asks What the Hell has Rosie O'Donnell Been Doing? CBS News profiles Rosie's remarkable giving back efforts — all the more remarkable given her own tumultuous childhood.
WOMYN & LITERATURE: "Women Can't Write About Sex," Says Female Sex Writer: "Women only like salads and hand-holding, so they obviously can't write about primitive, manly desires for food and sex." (@jezebel)
SMARTIE GAY: A Gay and a lesbian walk into a gay's home … Ariel Levy Interviews Simon Doonan in "At Home with Simon Doonan." (@new yorker)
MUSIC: As was so kindly pointed out to us by dedicated listener colby33, Autostraddle's Music Editor Stef makes a special appearance in Sick of Sarah's latest video! At about 3:10!

↓ Shocker. Bush State Department Ignored Iraqi Gay Murders (@gaycitynews)
↑ D.C. officials block marriage referendum: The D.C. Board of Elections and Ethics Monday denied a petition seeking a voter referendum to overturn a city law recognizing same-sex marriages from other jurisdictions, saying such a referendum would violate the city's Human Rights Act. (@washington blade)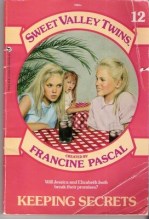 ↔ A letter to Obama from Joe Solmonese in response to DOMA brief: Human Rights Campaign head Joe Solmonese has written a lengthy letter to the president decrying last week's DOJ brief opposing the repeal of DOMA. (@hrcbackstory)
↓ ACLU: Hospital discriminated against gay couple: "I kept asking for Teresa, and they told me I was in a no-visitor zone," said Orbin, a student who lives in Suisun City. "All kinds of other people had visitors, so I told the attendant that didn't make any sense. She said, 'Well, those people are different.'" (@san jose mercury news)
↓ Two Lesbians Assaulted in Brooklyn – Grey said several officers called her a "bitch-ass dyke" and subdued her with nightsticks though she did not put up a fight." (@nyblade)
↓ New Miss California: also against gay marriage. (@advocate)
↓ "DADT" isn't just bad for gay people, it's bad for the military, too. (@queerty)
↓ Rachel Maddow Takes on the Obama Administration's brief defending the Defense of Marriage Act. How much do we love this woman, let us count the ways. Interesting interview with Howard Dean that he agrees that this is so out of line with Obama's campaign platform that it is staggering.

From Jess:
Bizarre, yet weirdly fascinating photoshop contest flips celebs faces upside down
+

Riese:
I don't care that this is a tie-in with the a car company. Hybrid cars are supposed to be good anyhow right? Anyway, if getting your own facebook unique page wasn't enough for you, now Gawker's offering you a Gawker Media Hybrid, I did one AND I LOVE IT.
Auto-Straddler of the Day: