This week on The Real World: Ex-Plosion, Ari wore a lot of bikinis.
We start off the episode where we left off the last one: Ashley's visiting Ari. Only instead of cuddling in bed, they're looking bangable in a hot tub while discussing their relationship with one another. So gay.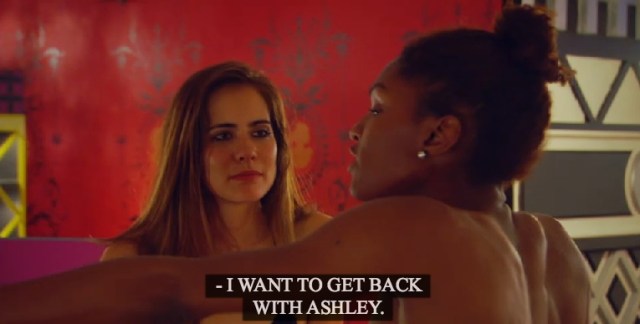 Since the (other) exes are set to arrive in like, ten minutes, the MTV editing crew is working hard to create some dramatic foreshadowing. First up is Ari's idea to take the house to an erotic dinner in order to "relieve the sexual tension." It works – on her and on all the other housemates.
Later on, Ashley hits the road. (But not before one last bump 'n grind.)
Will they ever meet again? Not for 48 hours, bitchezzzzz.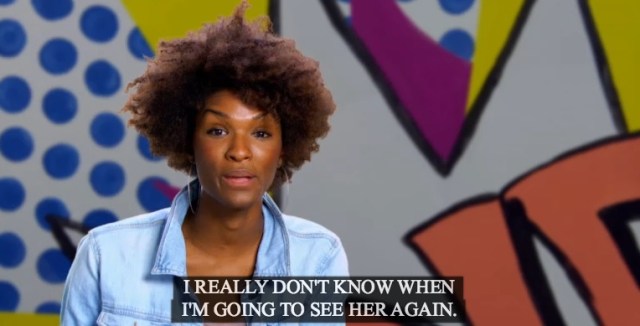 Later on, Jay fucks everything up by messing around with other girls despite a relatively preserved sort-of relationship back home. People vaguely care, but are mostly too busy doing it amongst themselves to give input.
As Cory innocently chills in his sex bed with Jenny, Ari uses her horror filmmaker credentials to pull a sweet prank on Mr. Friends With Benefits. Turns out Cory didn't enjoy The Grunge like I did, which was by laughing my ass off.
FYI, the prank works. Splendidly.
Afterward, the producer calls the house and tells the cast they're going ON A TWO DAY VACATION (SO THEIR EXES CAN MOVE IN), WOO! Jenny continues wondering when Hurricane Ashley will get her shit, since she apparently never did.
Nobody understands what's about to happen.
While the housemates soak up the sun on a boat in a body of water far, far away, their new housemates move in.
Turns out, by the way, that the exes each think they're the only new housemate until they discover otherwise.
To reiterate: NOBODY UNDERSTANDS WHAT'S ABOUT TO HAPPEN.
Until it does.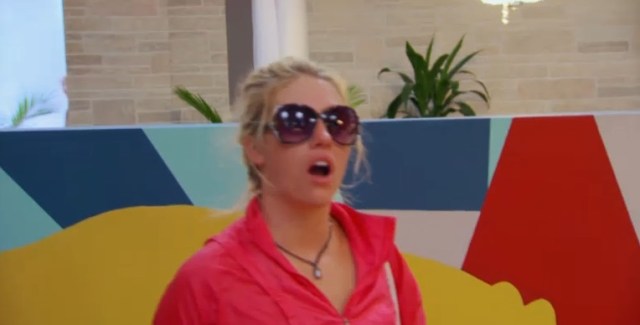 Here's the questions you had for Ari "In A Swimsuit" Fitz.
On Chicks
twitter.com/AGirlT0RImember/status/428734087185334272
Hurt, annoyed… I have very little respect for people who can't come forward and say, "you know what I fucked up." It's a pride and ego thing I can't get with. Compare that to Tom's response when Jamie questioned him about the email.
I live and love freely because I don't have time for lying, hiding secrets. Plus – and Ashley will tell you this – it's hard for me to lie anyway.
https://twitter.com/LetitiaGaspard/status/428732339712032768
Ash and I have been off and on for three years.
https://twitter.com/OutAbroad/status/428730430552944641
I get hit on by straight women all the time, especially when they learn I'm gay. Didn't have any crushes in the house at all, really.
On Film
What kind of camera do you shoot video with? #AutoAri @itsarifitz

— Delaney Allyn (@delaneyallyn) January 30, 2014
I shoot on a Canon T3i for personal stuff, but typically the DPs I work with have kickass equipment from RED Cameras, Blackmagics and all kinds of toys.
NOTE: This question was deleted after Ari answered it! But the gist was, "Who are your fave filmmakers and when the hell are you entering the festival circuit?" I left it in because she loved answering it!
Specifically short filmmakers. Hmm.. well some of the coolest shorts I've seen recently are La Cruz by Alberto Evangelio and Piano Man by Andrew Wilding.
Festivals, yes. Actually I need to be more aggressive about entering The Anniversary. Plan on entering my next film in a few horror/thriller festivals, as well. Do ya think I got a chance?
.@itsarifitz If u could make a horror real world xxx movie, gimme the cast and plot (what plot?) pts. #autoari #onmymind #thelostseason

— PettyVille (@kaiboi25) January 30, 2014
Horror film, Real World style (ignoring the XXX for now because that would take me at least two hours worth of daydreaming)… LEGGO: James Franco, Kesh, Rebel Wilson, Childish Gambino, Bryan Cranston, a young Dennis Rodman and Charleyne Yi…
Hmm… so let's see, how about a Truman Show-style horror comedy following seven strangers as they are forced to kill each other or have their loved ones killed in the house next door… except they learn everything isn't as it seems and in entertainment, everyone dies.
What? Too close to home?
#autoari @itsarifitz is it weird for your current that you're getting so much (deserved) buzz from a movie that you made with your ex?

— Sasha (@Sashaw101) January 30, 2014
Great question. I think my current doesn't have a big issue with my ex.
On Ari F*cking Fitz
How do you tame your hair, just wondering? #AUTOARI

— Jasmine☁⚡☯ (@jasmine__aac) January 30, 2014
I need an entire section on hair, because she needs some work on the show. Every night I braid her in about 4 cornrows and take her out in the morning.
https://twitter.com/evelina_plewa/status/428728453815611392
Actually planned on moving to Berlin and was preparing to do just that before getting on the show. It's still time for me to get out of the country and get inspired.
First off I want to say you have an amazing personality! And where do you get your patience from? @itsarifitz #AutoAri

— Daniele Myers 🤪 (@danielelynn3811) January 30, 2014
First, thank you love!! Re: patience… I have no freakin' idea. I just think it's easy for me to be relaxed because I'm so focused on the things I'm doing. Like Alexander McQueen, I'm too focused on my own illusions to really watch anyone else. That said, there are two things you don't mess with when it comes to me, as I state here.
RT @TaraAllender @itsarifitz how does it feel to be able to be so open on tv about your sexuality? #AutoAri

— ARROWS formerly Ari Fitz (@itsarifitz) January 30, 2014
Feels just like regular life. I surprise a lot of people when I tell them about my gender preference. I think me being comfortable with it and happy with who I am others are naturally comfortable with it, too.
@itsarifitz if you had one wish what would it be? #AutoAri

— Ash Ketchum (@MatthewLogan05) January 30, 2014
Multiple wishes.
No but just one wish would probably be to support my friends and family as a film director and media entrepreneur.
https://twitter.com/neila_domingo/status/428924287572258816
Family didn't react well. I've always been the goodie-two shoes. First to finish college, full-ride scholarship to Berkeley, etc etc… My identity made them see my differently for a few months. Once I introduced them to my first girlfriend, they relaxed and realized nothing had changed. I was still geeky Ari.
On The Explosion
@itsarifitz @autostraddle Is @jennycdelich loud in the showers ?

— Nilson (@AlsoKnownAsNice) January 30, 2014
Welll… they were. The smacking was borderline obnoxious. Lol!
@itsarifitz what was the best part about being on the real world? #AutoAri

— Jessica Marie (@jessii_marie) January 30, 2014
I'm living it right now. Getting to watch alongside you guys and introduce all of you to me, my work, my bomb ass friends.
#autoari who was your fav roommate to hang out with during filming?

— hals 🤠 (@haleygarcia70) January 30, 2014
Prob Jamie. She was hella chill and we got along well. Jenny is just crazy, which made for an entertaining time at all times. Oh and of course, my best friend… my ex, Ashley.
@itsarifitz how fun was that lake? It looked so fun! #autoari

— deje ✨ (@SpeakEasyBitch) January 30, 2014
It was dope! My first time on jet skis, too!
Was that your first ever erotic dinner? Or have you done it before? #autoari

— Joja (@Joja_14) January 30, 2014
First time and lawdddd… so want to go back! But with just one date. No roomies allowed.
https://twitter.com/OutAbroad/status/428728212139433984
I say Tom and I in Amsterdam, because yeah… that'd be dangerous and hilarious. Or Jamie and I in Seoul, Korean food #FTW. Lastly Jenny and I in Brazil, for the beautiful women.
https://twitter.com/HeisAidanD/status/428730245043486720
We chose to. Subway offered us a lot of free sandwiches, so it was a no brainer when we were hungover and broke.
@itsarifitz the place you guys went for dinner is it open to the public #autoari ?

— Marie (@_nicetyMarie) January 30, 2014
Not quite! It's actually a retired chef's house who allowed us to join him.
@itsarifitz do you still hang out with anyone after the show was over #autoari

— hals 🤠 (@haleygarcia70) January 30, 2014
Close with almost everyone. Hard not to, we went through hell and back with each other.
DId @itsarifitz put some love potion in that dinner?! #realworldexplosion

— MTV Shows (@MTVShows) January 30, 2014
C'mon now, you know I had a plan from the moment I walked in the house. There's a reason I was born on Valentine's Day.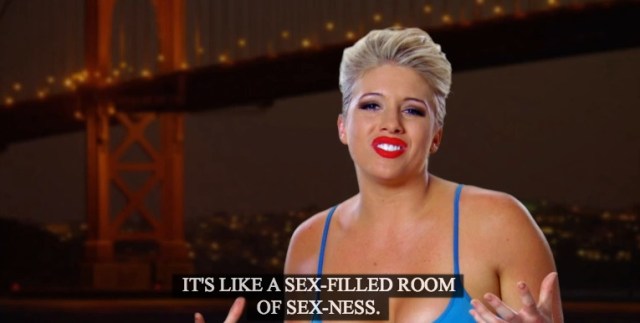 @itsarifitz you aren't allowed a camera in the house, are you? Are you gonna make a film with your roommates? #autoari Cory might scream…

— ohhaaaaiiiii (@oopspoopsies) January 30, 2014
I brought my camera because I was working on my second film while living in the house, normally personal cameras like that aren't allowed. Plus, why not take the opportunity to hear Cory scream like an eleven-year old Belieber.
On the Exes
@itsarifitz on a scale from 1 to 10 how crazy was it when u saw all the exes ?

— ✨JU$T!N✨ (@KRAYJAY_) January 30, 2014
10. Seriously, no one saw that coming.
Lol What were your exactly thoughts when you saw all of the ex's #AutoAri

— quese (@Rih_IsLIFE) January 30, 2014
I didn't know who they were at first then Ashley came running up to me, so I just thought everyone was there to visit… After I realized they were there for good, two words: NOT HAPPY.
How did you and Ashley meet? #AutoAri

— quese (@Rih_IsLIFE) January 30, 2014
Met on Craiglist… Not like that. I was buying her concert tickets for the Childish Gambino show.
#AutoAri Is @missashc the ONE??

— ItsStaci (@ItsStaci) January 30, 2014
If she's not… she's the prototype.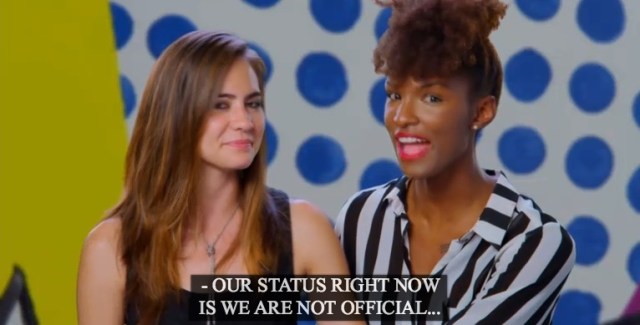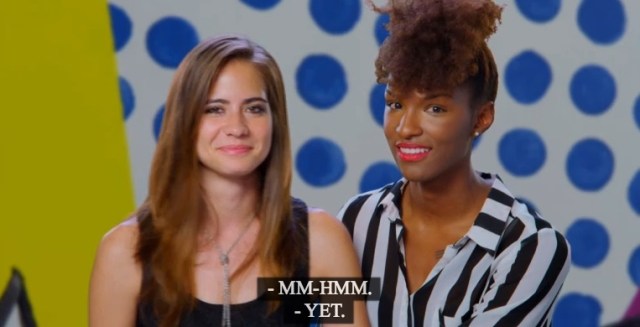 Our Winner
Every week, Ari will pick her fave question out of the bunch and we will reward them with lavish prizes. This week's winner, @kaiboi25, will be getting "You Do You" stickers!
Get Into It!
Each week, you can tune in to new episodes of The Real World and tweet your questions for Ari Fitz, raging queer, using the hashtag #AutoAri. ( We can only guarantee that tweets sent during the initial screenings of each episode will be included (10PM EST/PST and 9PM CST) in each week's roundup.) Whether you're curious about her films, what she's eating in the fifth scene, the music that hot tub montage was set to, or how she gets her hair to look damn good, feel free to dig in and pop a question. Within 48 hours of the episode, Ari will answer every single one here on Autostraddle.
In the meantime, you can follow Ari and Autostraddle on Twitter. (And me!)