One day, I didn't know Auli'i Cravalho's name, and the next day I very much did. At age 16, she made her acting debut as the titular role in Moana, followed by a charm-heavy rotation of talk show appearances and even an Oscars performance. It felt like the world collectively fell in love with this young, delightful, talented gal. And of course, when she came out as bi last year, I was thrilled. Who doesn't want a Disney princess on the team?
Now, six years after Moana, with the same sparkling personality and voice like an animated princess —  but a much bigger TikTok and Instagram following — Auli'i returns to charm the heck out of us all in the new Hulu film Crush, which releases on Friday.
Auli'i plays AJ, a skateboarding, beanie-wearing, seemingly surly loner type who also co-captains the track team with her more outgoing and popular twin sister, Gabby. Paige (played by Rowan Blanchard) tries out for the track team to impress Gabby, who she's had a crush on since the fifth grade, but things get interesting when she finds herself close to both sisters. AJ's distance from the world could make her seem like a loner stock character from any old high school movie, but paired with the depth of AJ's character by Crush writers Casey Rackham and Kirsten King, Cravalho's bright smile and easy rapport with Blanchard make AJ stand out, even in a film full of lovable and bubbly characters.
When Auli'i Cravalho smiled, both in Crush and on our Zoom, I smiled! It's impossible not to. We talked about the film, true queer representation, and the TikTok coming out heard 'round the world.
---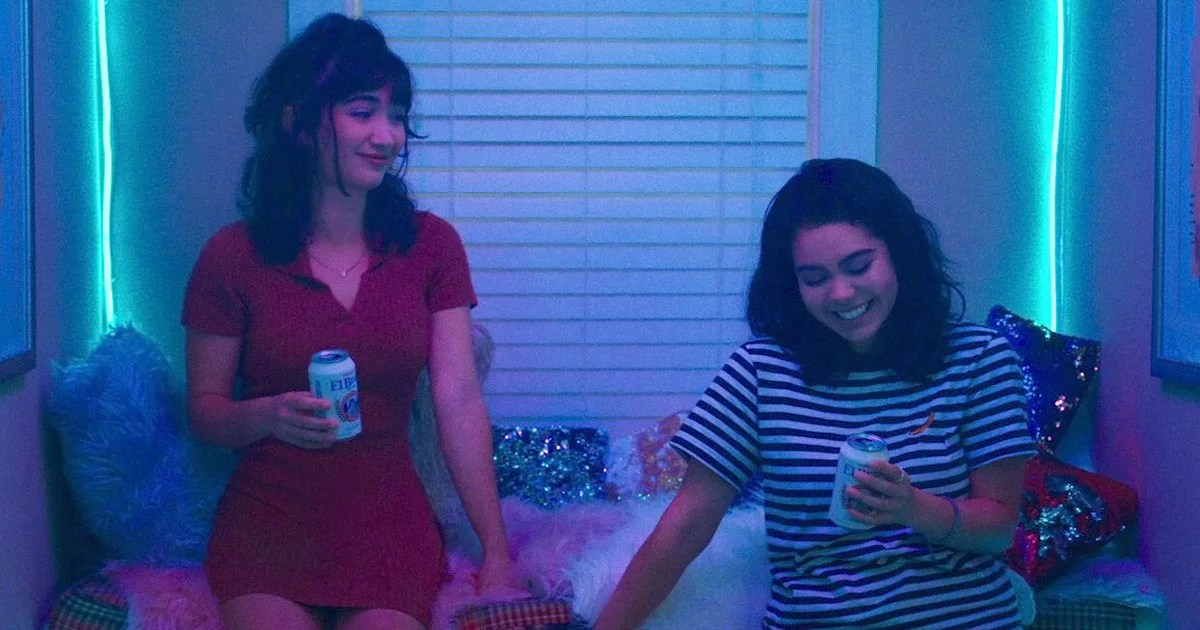 Analyssa: I'm really excited talk to you about Crush, which I loved, had so much fun. And something I loved is that the movie had such a normalized take on both queerness and also non-whiteness. There's background characters that are queer and it's not commented on, there's casual Spanish throughout, there's obviously a diverse cast. How did that environment translate into the experience of being on set and making the movie?
Auli'i: It was really freeing, to be honest. I loved working on this film. And what you didn't see is, in front of the screen of course are actors, many of us are queer and are out proudly, but our writers, Casey Rackham and Kirsten King, they are also queer. And our director, Sammi Cohen? Also queer.
So I think, truly — when we talk about representation, we often think of what we see in front of the screen for sure — their impact, these three women, of making sure that casting cast people of color and making sure that the script that they created was vibrant. And they were able to do that because they lived it, you know? So it's like the difference between writing for something and writing an experience, and I think that's what people will take away from the film and what maybe you felt was like "Oh! It's like normal life! What a concept! Wow, this is just so well done."
Analyssa: Right, it's not what the story is about, it's just the story of people living their lives.
Auli'i: Yeah, it was really refreshing.
Analyssa: I'm sure, yeah. And how does it feels to be a part of a generation of stars working with Disney, the company, who are out while working with the company? I'm a little older than you, and the Disney people that I grew up with — Demi, Miley, Raven, Hayley Kiyoko even — all sort of came out after the bulk of their work with Disney.
Auli'i: That's a really good point. I actually hadn't thought of that. But I do recognize that Gen Z in particular is definitely spearheading and pushing for more representation in media. To be honest, I grew up without TV. I was an only child who read a lot of books so I was just talking to myself and putting on one-woman shows, and that's how I got into acting. But I'm very proud of who I am, as a young woman of color, as a young Hawaiian as well, because we don't have very many Hawaiians in the industry. And also to be queer on top of that, you know, it's… it means more to others, I realize, than sometimes it means to me, because this is just who I am. But the community online, like my Instagram comments and TikTok, like… the gays are SO HAPPY! And THE GAYS ARE SO SUPPORTIVE! And I really appreciate it, and it makes my heart swell because that is the impact that I'm leaving. And to be 21 and to be feeling that… there's no greater feeling, to be honest.
Analyssa: It's been so cool, for me — I'm 28 so a little bit older, like I said — and even just the TikTok sort of… normalization of talking about queerness and about being a woman of color. I'm Mexican, and I just think even five years ago it was a much harder conversation, so it's so cool to watch young stars be like "this is who I amwp_postsand putting out music about it or being in these movies, and it's an exciting conversation to be having.
That's what I love about Crush so much, is that it doesn't center on coming out. To have characters that are simply queer, like this is our life. But to also know that, you know, the day after you come out, you're still living. You know what I mean?
Auli'i: Absolutely, and that's what I love about Crush so much, is that it doesn't center on coming out. To have characters that are simply queer, like this is our life. But to also know that, you know, the day after you come out, you're still living. You know what I mean? Coming out, important, if it is important to you. But otherwise, coming out… For me, specifically, it happened on TikTok, I did lip sync to Eminem and like, the world blew up. But I knew that I was bi —
Analyssa: Oh, I saw the video!
Auli'i: [makes a silly, sheepish face]
[Both laugh.]
Analyssa: Oh, we've all seen the video.
Auli'i: And like, I didn't expect that! Because I came out to myself when I simply had the conversation of "[sigh] I love girls. They smell good and they're soft. And I know how to talk to them.wp_postsYou know, like that was my coming out. Because you come out to yourself first. Always. And so I hope people realize that, like, our film is vibrant because it doesn't center around sexuality.
Analyssa: Right, it centers on someone's lived experience. I loved that conversation between you and Paige [Rowan Blanchard's character] in the hotel room, where it is like, "we've touched on when Gaby came out and when I came out, but it's not the whole story." That's just one thing that we're talking about. We're also talking about AJ's relationship with her sister and her relationship with her parents. It's a whole tapestry of like, a life, which is really cool.
Auli'i: Yes, exactly. That's my favorite scene, actually. I love it so much because it's just us talking and getting to know one another. And the relationship that we have with our sister or with our parents, and how they might've also reacted, more than just to coming out — but reacting to me telling them who I am in the truest sense of the word, like that is getting to know someone.
And I think that that's something that queer people experience, absolutely, but they don't see. And that's what makes all the difference, that's what makes it important, that's what makes it like, heartfelt. And that's why it was my favorite scene, because to be laying down next to a pretty girl in moonlight and talking about our feelings, like…it's just movie magic.
Analyssa: And like you said, that's a real experience that people have, all the time. You know? I watched that and I was like, I've been in that bed, I've had that conversation.
Auli'i: Exactly.
Analyssa: And that's just so lovely to see and feel. One other aspect of how much queerness is baked into this film that stood out to me was how much of the music is by queer artists and about queer experiences and relationships —
Auli'i: [gets visibly excited, doing that pointer finger "exactlywp_postsgesture] YES!
Analyssa: And you know, there's references throughout, like girl in red and Phoebe Bridgers, et cetera, et cetera. You know, you know what's up.
Auli'i: I do.
Analyssa: What is your go to queer crush song or queer heartbreak song?
Auli'i: [eyes widen, jaw drops, a pause] Oh shoot. Oh that's such a good question. Well, to talk on St. Panther, who did so much of our music for this film, absolutely in love with her music. And… huh. That's such a good question. I love girl in red, but to — oh my god, to think of a specific song? I couldn't do it. I really couldn't. Suddenly no songs are in my brain, you know when that happens?
Analyssa: Mhm. [laughs]
Auli'i: Like, [hits a pose] say gay. Like [hitting poses] I'm gay. I listen to queer artists all the time but I can't think of a single one right now and I'm sorry that makes me a bad gayyyy!
Analyssa: Does not at all, I knew that was gonna put you on the spot. I did theater in college, and I had a friend who was auditioning for a show. After she finished with her audition song, the director goes "Can you just sing a pop song for me?"
Auli'i: [makes a face like "omg, no!"]
Analyssa: And she was like "[long pause] yeah, totally… [another very long pause]wp_postsand he was like, "why don't you take a second and like, leave the room and come back.wp_postsLike, she could not. She was like "I couldn't name one pop song,wp_postswhich is so crazy because like you just said, we're listening to pop songs constantly —
Auli'i: I swear to god —
Analyssa: We're listening to queer artists all the time.
AULI'I: I swear to god! I swear to god —
Analyssa: [laughs]
Auli'i: I'm like, "I'm better than thiswp_postsbut in this moment, I'm not.
[Both laugh.]
Analyssa: You got girl in red, you name checked your music, like you're good. Don't worry, don't worry, we got you.
Auli'i: I'm gonna get cancelled, thanks a lot!
Analyssa: This'll be the thing that does it! No, I think you're good.
Auli'i: Okay, appreciate it.
---
Crush premieres on Hulu this Friday. I also interviewed Auli'i's co-star, Rowan Blanchard, about the movie.