No musicians are coming out this week (at least, not on the cover of a magazine), so in lieu of Lady Sovereign or Chely Wright revealing their homosexuality to us, you'll just have to settle for some awesome new music from the likes of Mark Ronson, Ratatat, and Kele from Bloc Party as well as some news from Janelle Monae and other faves. On to the fix!
MARK RONSON'S NEW VIDEO
Last week, Stereogum premiered a video for "Circuit Breaker," a new track from Mark Ronson's upcoming September release, Record Collection. "Circuit Breaker" features 8-bit animation a la The Legend of Zelda and accompanies equally 8-bit sound. No word on what to expect for the rest of the album, but we do know it will feature all original tunes with guest appearances by Santigold, Scissor Sisters, MNDR, Q-Tip, Rose Eleanor Dougall, Spank Rock, and Miike Snow.
+
JANELLE MONAE
Our favorite new rising star, Janelle Monae talks to New York Magazine about what influenced her new album 'The ArchAndroid'. Hint: they include Metropolis, The Matrix, and Disney films. It's pretty awesome.
KELE FROM BLOC PARTY
Bloc Party frontman Kele has been hard at work on material for his solo career, and he's just posted two new songs on his blog. "Rise" and "Walk Tall" are reminiscent of the Bloc Party we know and love, sprinkled with some full-out dance breaks. The Boxer, Kele's debut album as a solo artist, comes out June 21. Listen to two songs from Kele below.
+
+
SNOW PATROL, R.E.M., B&S SUPERGROUP
Gary Lightbody, Snow Patrol frontman, has formed a supergroup called Tired Pony with members of R.E.M. and Belle & Sebastian. The group will release The Place We Ran From, a country concept album, in July. For the record, Tired Pony lined up guest appearances by She & Him's Zooey Deschanel and M. Ward and Editors' Tom Smith.
RATATAT'S NEW SINGLE
Electronic duo Ratatat has released a video for "Party With Children," the first single off LP4 coming out June 4. Ratatat fans, rest assured. Ratatat returns from a string of remix gigs with that classic Ratatat sound of effects-laden guitars and funky percussion. And the video features a parakeet doing parakeet things, like sitting and cleaning itself, so watch it below.
+
KYLIE MINOGUE'S "ALL THE LOVERS"
Kylie Minogue has premiered "All The Lovers," her first single from Aphrodite due out June 6. Now, I liked "Can't You Get You Out Of My Head" just like the next human being, but I'm not digging this one. Agree or disagree? Let us know in the comments.
RIHANNA'S NEW VIDEO:
We've got a preview for you from Rihanna's new video "Rockstar." It's like 20 seconds long.
ROLLING STONE'S RE-RELEASE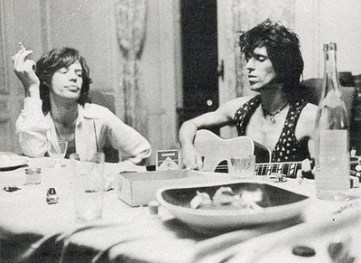 The Rolling Stones re-released Exile On Main St., their tenth studio album from 1972, this past week. The release featured 10 previously unreleased songs and was an excuse for the world to revisit a great album. Revisit some musician's favorites from Exile On Main St. at NPR, and listen to my favorite: "Sweet Black Angel."
RIP RONNIE JAMES DIO
Ronnie James Dio, one of classic metal's greatest vocalists, died this past Sunday from stomach cancer. Dio sang with the bands Rainbow, Black Sabbath, and of course, Dio. He was 67. Read Ronnie James Dio's obituary at The New York Times.
TWILIGHT 'ECLIPSE' SOUNDTRACK
I hate to admit it, but the lineup for Twlight's Eclipse soundtrack looks downright fantastic. It includes Metric, Fanfarlo, Florence & The Machine, The Black Keys, and so many more! Check out the full lineup for Twilight's Eclipse soundtrack at Entertainment Weekly.