25 YEARS OF "WALKING ON SUNSHINE":
25 years ago this week, Katrina and The Waves debuted the classic pop song "Walking On Sunshine." EMI has cruelly disabled embedding for this wonderful song, but do yourselves a favor and listen to "Walking On Sunshine" on YouTube. I put it on when anything good happens to me (that's at least 2-3 times per year, zing!) and let the smiles overtake me. When you're done listening to Katrina and The Waves on repeat, you can also read a little history of "Walking On Sunshine" at NPR.
SUMMER TOURS
U2 and Christina Aguilera have postponed their upcoming summer tours, according to The Awl. Bono had back surgery which is a good reason to cancel, but I'm confused about Aquilera's postponement until 2011 because she "needed more time to rehearse".
In better news, Adam Lambert is going on tour with his former Idol peer from Season 8 Allison Iraheta (she's really awesome/good) and here are the dates!
Adam Lambert "Glam Nation" Tour Dates
June 4: Wilkes-Barre, Pa. (The FM Kirby Center for the Performing Arts)
June 5: Sayreville, N.J. (Starland Ballroom)
June 8: Toledo, Ohio (Omni)
June 10: Council Bluffs, Ia. (Harrah's Ballroom)
June 11: Manhomen, Minn. (Mystic Lake Casino Hotel)
June 14: Columbus, Ohio (LC Pavillion)
June 15: Milwaukee, Wis. (Riverside Theater)
June 17: Hammond, Ind. (The Venue at Horseshoe Casino)
June 18: Royal Oak, Mich. (Royal Oak Theater)
June 19: West Toronto, Ontario (Molson Amphitheatre)
June 22: New York, N.Y. (Nokia Theatre)
June 24: Mashantucket, Conn. (MGM Grand Theater at Foxwoods)
June 26: Atlantic City, N.J. (Borgata Spa & Resort – Event Center)
July 15: Kansas City, Mo. (Midland Theatre)
July 27: Costa Mesa, Calif. (OC Fair – Pacific Amphitheatre)
July 28: Costa Mesa, Calif. (OC Fair – Pacific Amphitheatre)
Aug. 13: Bethlehem, Pa. (Musikfest)
Sept. 18: St. Petersburg, Fla. (Tropicana Field)
RATATAT'S LP4:
If you liked last week's video for Ratatat's "Party With Children," you'll want to check out their upcoming album, LP4. It comes out on June 8, but you can listen to it now in its entirety at NPR Music.
MUST-SEE TV
NY Magazine says you should watch tonight's episode of Inside the Actors Studio which will feature Sean "P. Diddywp_postsCombs because could be "the most self-congratulatory hour of television we've ever seen that does not involve James Cameron at an awards show". See a clip from the episode.
HOW TO BE A ROCK STAR
Rihanna makes a pretty hot version of Slash in her new music video for 'Rockstar 101'. Also Travis Barker makes a cameo, of course.
NEW VID FROM THAO NGUYEN AND QUINN FROM GLEE:
This past week, Oxfam premiered a new video for "Body" by Thao with the Get Down Stay Down. It's directed by her friend Dianna Agron aka Quinn from Glee. The first three minutes include the two discussing how their collaboration came to be and of course, how to help Oxfam combat poverty caused by climate change, but the music video eventually follows. Thao is currently on tour with out musician Mirah. Check out their tour dates and listen to Thao's music at Thao's official MySpace.
+
WOMEN IN MUSIC:
Helienne Lindvall of the Guardian UK posted an interesting article about why there are so few women producers and sound engineers in music on the Guardian's Music Blog. A few weeks ago, she also posted an article about the gender gap in music. Food for thought for anyone thinking there's no progress to be made.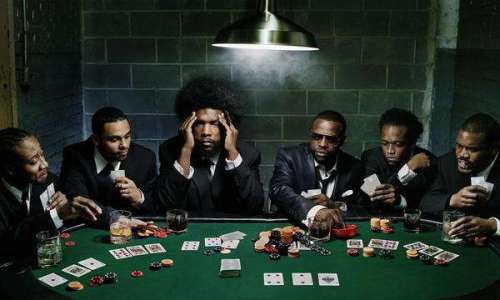 NEW TRACK FROM THE ROOTS:
Pitchfork debuted a new track from The Roots featuring supergroup Monsters of Folk (Bright Eyes' Conor Oberst, My Morning Jacket's Jim James, M. Ward, and Mike Mogis). The song, called "Dear God 2.0," is a cover of Monsters of Folk "Dear God." The Roots' new album, How I Got Over, comes out June 22 and will feature collaborations with Joanna Newsom, members of Dirty Projectors, John Legend, and more. Listen to The Roots' "Dear God 2.0" at Pitchfork.
FULL BONNAROO SCHEDULE UNVEILED:
The full Bonnaroo schedule has been posted. Matt from You Ain't No Picasso points out some puzzling conflicts: The Black Keys vs. The Flaming Lips and The Avett Brothers vs. Mumford and Sons. Any Autostraddlers heading to Tennessee this year? Let us know who you're seeing! See the full Bonnaroo schedule at the Bonnaroo website.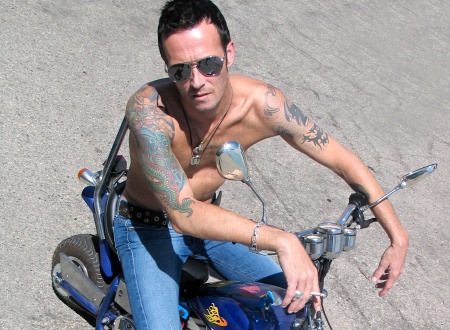 NEW ALBUM FROM STONE TEMPLE PILOTS:
Stone Temple Pilots fans should be excited. Their self-titled album, nine years in the making, is finally set to be released tomorrow, May 26.  If you can't wait, you can hear the entire Stone Temple Pilots album in advance at Billboard.com.
THE MUSIC OF LOST:
LOST geeks, if you're wondering how the fantastic scores take shape, there's a great video from 2007 of composer Michael Giacchino explaining his process. It's surreal to hear the creepy sounds apart from LOST scenes. Watch the video below: