FYI, Autostraddle may collect a small share of sales from some of the links on this page.
Summer is the perfect time of year to wear as little clothing as possible, don't you think? If you've been eyeing the vintage Marky Mark-inspired underthings that are everywhere right now, boi, do I have some treats for you.
Sports Bras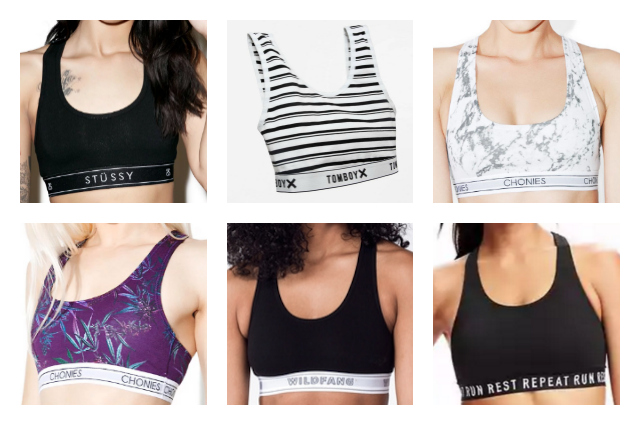 1. Stussy Cross-Back Bral 2. TomboyX Striped Bra 3. Chonies Marbled Bra 4. Chonies Purple Haze Bra 5. Wildfang Cross-Back Bra 6. Old Navy Running Bra
These bras are soft, comfy, and super babely on their own or peeking out the side of a tank top. If you see a lady wearing one of these and your mind doesn't go immediately to getting stoned and wrestling sexily together, I really don't know what to tell you.
Boxers and Shorts

1. Play Out Graffiti Briefs 2. Wildfang Basic Briefs 3. Chonies Camo Brief 4. TomboyX 4.5″ Trunks 5. Play Out Wired Briefs 6. TomboyX 2.5″ Shorts
Whether you prefer flaunting all the bikini line you've got or a slightly longer leg, these undies are peak Aaliyah-style hotness. Sigh.
Embellished Bras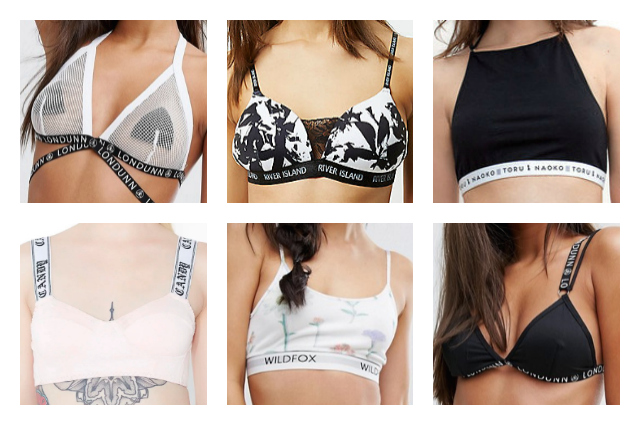 1. Missguided Mesh Bra 2. River Island Floral Bra 3. Toru and Naoko High Neck Bra 4. Sugar Thrillz Blush Bra 5. Wildfox Floral Bralette 6. Missguided Triangle Bra
Feeling more femme? Try pretty/sporty styles that wrap around your waist, or have a more vintage feel. This ain't your grandma's bullet bra (though TBH, I'm sure hers were great too).
Panties

1. Missguided Mesh Panties 2. Torrid Pink Cheekies 3. River Island Floral Thong 4. Calvin Klein Basic Thong 5. Missguided High Side Mesh Panties 6. Torrid Black Cheekies
Mesh, and thongs, and lace, oh my! Oooh… oooh… oh my.
Sets and One Pieces

1. Topshop Sporty Set 2. Boohoo Cutie Set 3. River Island Onesie 4. Torrid Lace Set
Finally, if separates don't satiate you, you can double your pleasure and your fun with a super foxy one piece or set.
Alright, I'm going to take a cold shower now. Happy shopping!