My YouTube binges on aspiring Georgia-based musicians have had mixed results. I'll occasionally find a wonderful cover of "Rebel Yell" by a sensitive guy masquerading as a lesbian. Mostly, I stumble over original country song after original country song performed by men yearning to be the next Luke Bryan. But sometimes, I run across a talented young thing like Rachael Ward and my faith in Southern folk music is immediately restored.
Ward is a singer-songwriter from Monroe, Georgia. She has hair like Lissie and a wardrobe rivaling Idgie Threadgoode's. Most importantly, she has more husk in her voice than a stalk of corn.
Admittedly, Ward isn't an easy listen if you have a low tolerance for melancholy. Her cover of Rihanna's "We Found Love" and original song "Spades" will have you reaching for tissues and the nearest kitten to cuddle.
Given her scratchy, occasional yowling vocals, I was immediately tempted to compare Ward to That One Sister Duo. But unlike Tegan and Sara, Ward's tender harmonies are all on her own, crafted by layering her vocals over themselves. She's her own twin.
I had the opportunity to talk to Ward about this process:
It's a new development. I used to think I couldn't sing, harmonize or even play worth a shit. Now, I think I have the ability to release my own energies to help others. You don't always have to be the best just honest about how you do it. Harmonies, vocal layers…they are like every voice in that song trying to get out underneath.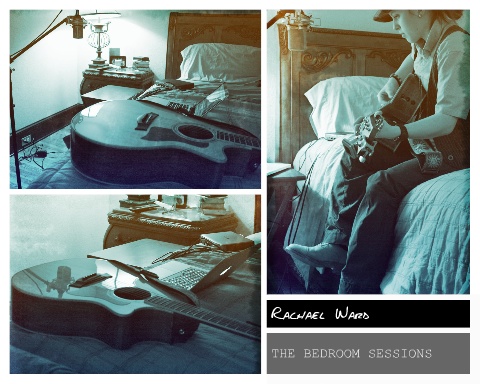 Ward's biggest project thus far has been The Bedroom Sessions, an extensive, ongoing series of original songs and covers that she hopes to eventually pare down into her first EP:
I get the best acoustics currently in my bedroom due to the nice lofty ceilings I have. Must of my recordings are made from my bedroom. There are currently two playlists in my iTunes right now. One labeled EP, The other, Bedroom Sessions. Bedroom Sessions is the stockpile of ideas and songs I consider worth to be on the EP. The EP playlist is where I file completed songs. To make this funny… the EP playlist has 35 songs in it. Is an EP 35 songs long? Nope. Ha. I have a lot of songs. It's all about picking the correct ones for the message I want to provide.
Ward's YouTube channel is an endless treasure trove of original tunes and varied cover songs, from Yeezy's "Heartless" to Ani DiFranco's "Grey."
If you live down South, your chances of seeing Ward live are pretty decent. She's played a variety venues in Alabama and Georgia, including Bishop Park in Athens (home of the B-52s and Azure Ray). To keep tabs on her wanderings, like her on Facebook and follow her on Tumblr.