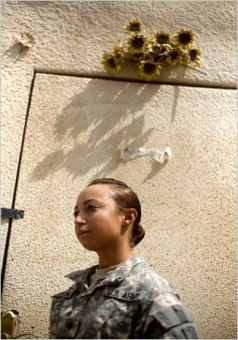 WOMYN AT WAR: The latest in The New York Times' "Women in Arms" series tackles the sexual harassment issue. As few as 10 percent of sexual harassment incidents are reported, and now that women & men are serving together in Iraq & Afghanistan, the numbers keep getting higher & higher. In Women at Arms – A Peril in War Zones – Sexual Abuse by Fellow GIs- we hear the cases of many women who found prosecution of their harassment nearly impossible and the consequences damaging.
In fact, a woman in the military is more likely to be raped by a fellow soldier than killed by enemy fire in Iraq and of 2,171 suspects of investigations that were completed during the fiscal year that ended in September 2008, only 317 faced a court-martial. (There's a video on page 2 which we can't embed that you should watch.) The article does briefly mention that 10 percent of sexual assaults are reported by men with male attackers. Interesting b/c perhaps many readers would assume male attackers are gay, but we suspect they often aren't. For starters, that's kinda a violation of DADT…
Per ushe, the comments are fascinating in and of themselves (and therefore are specifically referenced in the Metafilter blurb about this article)
Why are women serving on the front lines again? How does their presence help American war efforts? Seems to be more trouble than it's worth. (James, Brooklyn)
I'm fascinated that this article mentions that something like 10% of sexual assaults in the military are committed against males, and then goes right back to discussing the resources available to women, as if men are never victims, or aren't eligible for the resources … I know at least one man who was raped while on active duty (roofied at a party by his coworkers while stateside if it matters) and I think it was even more devastating to him than it is for most women. I can only imagine what it's like for the ones who can't muster the tremendous courage it takes to come forward. (Nancy, California)
Yes, I get it, women do not belong in combat; they are a distraction that will get men killed. When has this not been so? Will political correctness contradict basic biology? (Joseph, CA)
I'm a company commander and a West Point graduate. I can tell you unequivocally that neither I, nor any of my fellow commanders in my Battalion, tolerate sexual assault or sexual harrassment. (Tony, MO)
While American women may have a choice in that they may opt out of deployment abroad, or leave the army altogether, people in the countries under attack on whom these soldiers are unleashed, have no such option. (Karachi, S.R.H. Hashimi)
The enemy within… These are the results of decades of permissive society, where sex is slowly dominating all aspects of our social relationships. (Tommaso, Italy)
What do you think? The commenters seem to suggest over & over that men & women just can't serve together, it's a fact of life. We find that disheartening and think it underestimates men. Perhaps if we didn't perpetuate the idea that men cannot possibly resist abusing women, it would happen less often. Also while we're on the topic of the impact of female-male relationships in combat zones, this is a pretty interesting article about Lynndie England from last year.
HATERZ: The race to overturn Iowa's gay marriage begins. Opponents of same-sex marriage in Iowa say they plan to push hard in the 2010 legislative session for a vote on a constitutional amendment that would limit marriage to one man and one woman. (@advocate)
PROP 8: The Prop 8 Trial Will be Tweeted! "In his guidelines regarding rules for journalists covering the trial that begins on January 11, 2010, Walker advanced the cause of judicial transparency and brought the soon-to-start legal proceedings into the modern electronic age, at least as it pertains to laptops, texting and using Twitter." (@mpetrelis)
RAID: Why did police raid Georgia's national LGBT group's foundation? Georgia, the country next to Russia, not Georgia the state. The reasons for the raid are still unclear. (@queerty)
HEALTH CARE: States with expanded health care are fighting the new bill. States that have already broadly expanded health care coverage are pushing back against the Senate overhaul bill, arguing that it unfairly penalizes them in favor of states that have done little or nothing to extend benefits to the uninsured. With tax revenues down and budgets breaking, the states — including Arizona, California, New Jersey, New York and Wisconsin — say they cannot afford to essentially subsidize other states' expansion of health care. (@nytimes)
SAME-SEX BENEFITS: Same-Sex Benefits for Federal Employees Will Cost $99 million a Year. Is That A Lot? (No!) "How best to scare America away from equality? Not by pulling at their heartstrings or delivering moral debates, but by talking about things in dollars and sense." Also my hypocrisy meter will reach capacity and then totally explode if I am forced to reckon with the idea that the financial incentives of gay marriage haven't motivated these people to change their mind but benefits can be rejected for financial reasons. (@queerty)