Over the last few years, sex toy companies and stores have asked us to review their toys in exchange for, you know, their toys. Today three different Autostraddle writers review and compare their takes on Princette Puppypus, a vibrator from Cute Little Fuckers, a gender-inclusive toy company with a mission to make exploring sex, sexuality, and gender a lighthearted, affirming, and exciting experience for all human bodies. There's still time to check out Cute Little Fuckers' Kickstarter til October 31!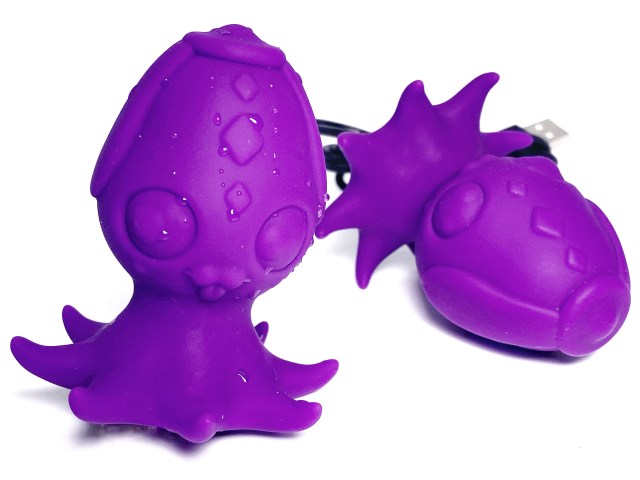 Reviewer 1: I love that this toy isn't pink. I keep all of my sex toys in a very butch tool box, but thanks to the unsettling amount of pink toys on the market, the inside of my tool box looks like a Victoria's Secret threw up on a forest of dildos. I appreciate that Princette Puppypus is an androgynous deep purple. I used the bullet vibrator on its own externally, then I popped the bullet inside Princette Puppypus and Princette went on a little expedition inside my butt.
Reviewer 2: I also like the purple! I actually hadn't realized this before but I have multiple purple sex toys and I think I've been drawn to them because the color feels fun but not too cutesy?
Reviewer 3: My first reaction was how cute the toy and its packaging are. It felt nice and I was appreciative that it came with its own rechargeable — rather than battery-operated — bullet!
Reviewer 1: I love that the silicone is slightly textured for a more intense sensation, but it took a while for me to enjoy the vibes. I prefer a butt plug with more of a taper to it for easy insertion, and Princette Puppypus is a little too bulbous for my comfort. I totally understand that a butt plug shaped like a hefty, non-binary octopus might feel more approachable to someone who is new to toys. Toys that look like people or animals don't really turn my crank (those popular "rabbit vibrators" terrify me), so I had to get past the fact that Princette Puppypus had a face before I could shove that face inside my butt. I appreciate that Princette Puppypus can be used in a variety of ways on all kinds of bodies. However, the toy is decidedly "cute," which doesn't align with how Very Serious and Butch I am.
Reviewer 2: I totally agree. And it's another reason I liked the deep purple because it hid some of the character detail. It's cute that the toy has a name and pronouns, but, personally, I don't want to be anthropomorphizing silicone before putting it inside me.
Speaking of new to toys, I would say while not totally new I'm definitely newer, and it's interesting to me that you also had a bit of trouble with its shape and size. I'd blamed that on my inexperience. But I'll also add that the tentacles allowed for an ease of use. So while it took some time to get it inside, it didn't feel challenging to hold or maneuver.
Reviewer 3: So, to be honest, I don't really like butt stuff. I have a butt vibrator that has a very tapered, easy "slope" I guess and I still struggle with it. So, I also felt like this was kinda wide? But I didn't get a chance to try it in that way. It's also so small, length-wise – I sometimes have trouble getting a hold on my other one, which is much longer, so I can't imagine trying to get this in and out of me.
My partner has a vagina and we used it on her. It was pretty small for that too, and it was tough to keep it inside of her. I kind of had to just hold it there the whole time. That being said, we had this inside her and her Hitachi on her clit and she REALLY liked it. Afterward, she said she wanted to buy an internal vibrator of her own – she doesn't have one! So we were pretty satisfied with it for internal vaginal use!
Reviewer 1: This is hands-down (way down… in my pants) one of the most powerful bullet vibrators I've ever used. The bullet is small and USB-rechargeable with multiple pulse settings (my favorite!), and I'll definitely be using it on its own and inside my harness when I break out the ol' strap-on.
Reviewer 2: This is the first time I've had an anal toy where the vibration was so effective. I've used other toys where I ended up turning it off and just moving the toy manually, but this vibrator was great. I started using it for an external prostate massage before inserting it into my butt.
Reviewer 3: OK, y'all are making me want to put this inside me, lol. My only gripe was that it was hard for me to figure out how to charge it, because it uses a non-standard charger, and I didn't get it right the first time! But I think that was user error.
Reviewer 2: I really like sex toys with multiple purposes. I think it encourages a freedom and exploration that can appeal to everyone and especially appeal to trans people. Part of me wishes it could be a non-binary sex toy without actually being non-binary, but again that's just a preference. I'm sure some people will feel more neutral about Princette Puppypus or be actively turned on by their personality!
Reviewer 1: I will definitely be using the bullet on its own and in a harness. I probably won't use the butt plug again.
Reviewer 2: I'll keep using it when I masturbate. Probably not regularly, but definitely enough to recommend it, especially if someone is more on board with the concept. The vibrator really is great and I like the feel of it and I think with time I can adjust to the size and shape.
Reviewer 3: I definitely have to try it for butt play, but that's not a regular part of my "routine" so I don't think I'll be using it a lot. Because of its small size I also don't think it'd be our primary internal vaginal toy either.
---
Update: Cute Little Fuckers reached out to us on August 25, 2020 to let us know that since this review was originally published, there have been some improvements to the prototype to make the toy a much more effective clitoral stimulator and general external stimulator in addition to being an excellent internal toy, including:
The surface finish has been updated, it is now a silky smooth texture
The colors have been deepened
The quality of silicone has been increased to even higher quality