In an incredible interview between our trans editor Mey and the legendary black trans elder Miss Major, they discussed the way that Gay Liberation statues of white, cis people memorialized outside of Stonewall white- and cis-wash a movement led by black and brown queer and trans people. "Let's get together a group of people to redo those god damn statues across from the original Stonewall. Let's have the building at least claim who the people were that were there, not these white people that they had on in the plaque in there," Miss Major told Mey. "Someone should smash those motherfuckers up and turn them into the white dust that they are and put a couple of statues of people of color and at least make one of them an overly obnoxious transgender woman 6'5′, three inch heels, blond/red hair, lashes, beads, feathers and put one of those fine white boys next to her, now that I can handle!"
In response, two anonymous activists revamped the statues so they would better reflect the individuals who put themselves on the line for the liberation of their communities at Stonewall and throughout the history of queer liberation movements. They painted the statues brown and dressed them in wigs and bright costumes. You can watch their video here.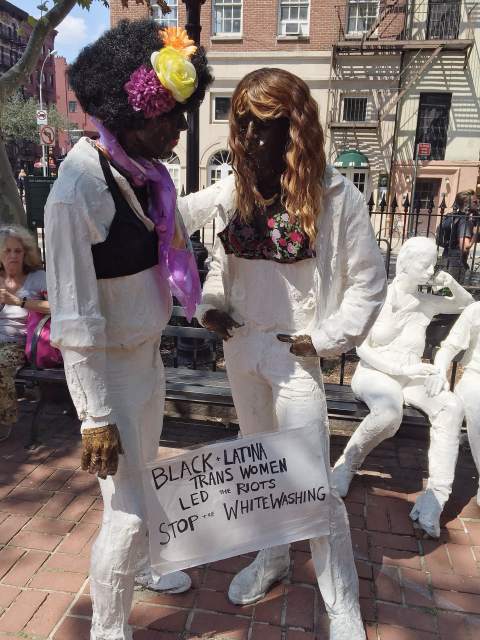 The activists are two queer and gender non-conforming women in their 20s, one white and one a Latina immigrant, living in Brooklyn. They saw Miss Major's comments as a call to action and decided to respond. We were able to interview them via email on condition of maintaining their anonymity.
Why did you decide to paint and dress the statues?

Those sculptures are supposedly there to commemorate the Stonewall riots, but there isn't a trace of the actual riots in them. They're a slap across the face to the Black and Latina trans women who got whacked with batons and shoved into police vans, and still had the guts to continue to lead the fight for LGBTQ liberation. I mean, the people who modeled for the sculptures weren't even at the riots! That's just a straight-up insult. It's also important to note that the Mildred Andrews Fund paid a (presumably) straight and cis white man $90,000 to depict gay people. It's no wonder that the sculptures are so impassive and tone-deaf.
We painted them because Marsha P. Johnson, Sylvia Rivera, Miss Major, Storme DeLarverie and all the other Black and Brown people who led the movement deserve credit for their courage and strength. What we did was rectification, not vandalism. Those statues are bronze (brown) underneath the layer of white paint — the symbolism behind that is infuriating. I know that some people are going to be angry, but I'm not concerned with preserving bullshit art. I'm angry about the whitewashing of LGBTQ history.
What does Stonewall mean to you?

Stonewall and Compton's Cafeteria Riot were breaking points. They were the moments when society's most disenfranchised decided that enough was enough, and fought back. They were about subversion, not assimilation. Before its de-politicization, pride was about survival. Now it's just a problem that obscures how bad things still are for LGBTQ people who aren't white, middle-class and cisgender.
Why is it important to you to center trans people and people of color in conversations about queer and trans liberation?

We've got to keep talking about the 16 trans women have been murdered this year, and Black Lives Matter, and police brutality, and immigration. And the respectability politics have got to stop! It's insane that gays booed Sylvia Rivera 42 years ago, and just did the same thing to Jennicet Gutiérrez a few months ago. Voices like hers are the ones that need to be amplified the most. It's not liberation if it's not intersectional.
Do you expect to face any negative consequences for this action?

We're hoping to stay totally anonymous. There was a camera crew at Christopher Park shooting a short documentary about the riots, and they got some footage of us, but agreed to blur out our faces. If, however, our names do surface, we're prepared to deal with the potential consequences. It's better if we get arrested than if it happens to a trans woman who'd then be grouped with men and put in harm's way.
Anything else you would like folks to know about the action?

To the people who'll end up repainting the sculptures: brown and black lacquer exists. Think about what it means to repaint the statues white, and then stop.
To Miss Major: This is for you. Thank you.
Update from Miss Major:
To whomever painted the #Stonewall statues in her honor, #MissMajor is "thrilled, delighted & enchanted!" http://t.co/rn6Zz1SYQh

— MAJOR! (@theMAJORdoc) August 19, 2015