It's been exactly one week since the Pretty Little Liars season 6A finale, and I feel like I have lived four TV lifetimes between then and now. It's exciting that the conversation is still going strong because general pop culture caring about trans representation on TV is a brand new thing, but it's still disheartening and scary too.
Other shows are drawing near the end of their summer seasons, too. Chasing Life and The Fosters finished up last night. Complications aired its finale last Thursday. We've got two more episodes of Defiance and Scream to go, though, and here's hoping Yewll and Audrey make it out alive.
Next week, I'll give you a run down of all the queer characters you can expect to see on your teevees this fall. Until then, here's what the end of summer looks like.
---
The Fosters
Mondays on ABC Family at 8:00 p.m.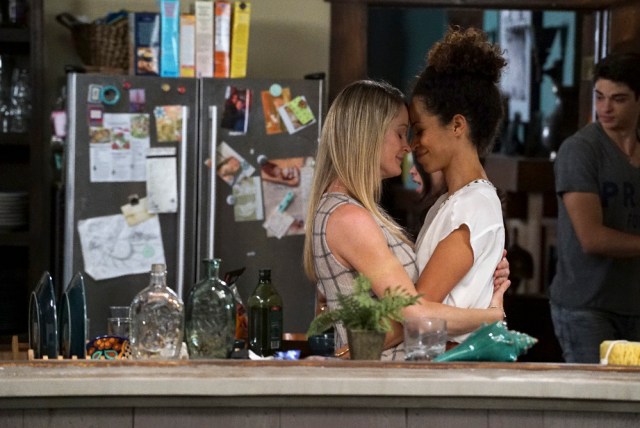 Stef and Lena are okay! I repeat: STEF AND LENA ARE OKAY! After a very, very tough summer season during which our favorite lesbian moms put each other through some unfair (but true to married life) shit, the truth about Monty kissing Lena finally came out. It happened because Stef's best friend started dating Monty and walked in on Monty being in love with Lena at a cabin in the woods where the couples agreed to go for a weekend getaway. Monty confessed that yes, any queer person with eyeballs and a functioning brain and heart would be helplessly in love with Lena Adams Foster, and so Stef's best friend told that to her and also the thing about the kiss.
Last night, Stef had a breast cancer scare! She didn't even tell Lena about it because she was mad at her and didn't want to need her and wanted to keep something from her the way Lena kept the Monty thing from Stef — but the truth came out at a backyard party, like it always does. It was an imaging glitch. Stef is okay. But the fact of the scare sent Lena barreling into Stef's arms, shivering and terrified. They forgave each other. They danced. They pressed their faces together and loved each other in their kitchen, while all their kids (including new Jesus) did their drama around them.
In other stories, Jude continued to prove he is ten times the man Brandon will ever be because he exercised self control and did the best thing for the person he loves, even though he broke his own heart in the process. After Connor's dad caught them making out and flipped out, Connor decided he wanted to go live with his mom in Los Angeles, and Jude gave him his blessing on account of THEY'RE IN REAL LOVE. They said so out loud with their mouths.
Plus also, you're not even going to believe what I'm about to tell you: Callie finally got adopted! #OfficiallyAFoster
---
Chasing Life
Mondays on ABC Family at 9:00 p.m.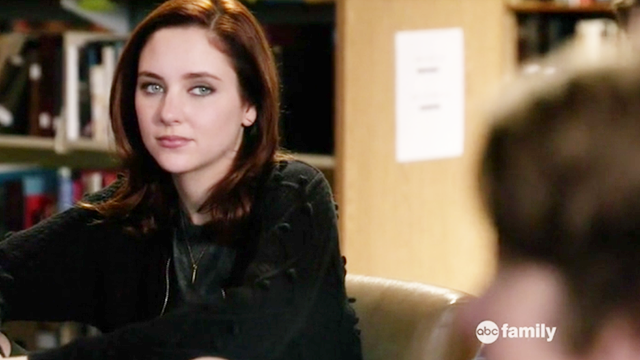 Chasing Life has blown me away with the way it has embraced Brenna's bisexuality. When she made out with Greer last season, I thought it was just the ABC Family way, and while I was happy being pandered to, as I always am, I didn't think it would amount to much. Well, ha ha ha! Joke's on me! Brenna and Greer fell in love and enjoyed a real, organic relationship with each other before Greer moved away. During the Christmas episode, Brenna came out as bi, actually said the word "bisexual" out loud on TV, and made absolutely no apologies for it. She has been into guys on screen and she has been into girls on screen.
Last night, Brenna joined the queer kids at her new school in their Lesbian & Gay Support Group, and it was not what she expected at all. There's a gay male couple, an asexual teen, a lesbian of color, and all of that seemed fantastic. Like Fosters fantastic. But then everyone started clowning on her for being bisexual.
Mariah: Wait, you're bi?
Brenna: [Nods]
Gay guy: Yeah, I did that too, but I see it now. That's sexy.
Mariah: You know, I could never date a bi girl. You've got to be pretty secure yourself to be with someone who's attracted to the entire population.
Brenna: Oh my god, Mariah, it's not like I'm into everyone I walk by.
Gay guy: Oh, babe, you don't get it. The bisexual thing is so tricky because if you can change your mind every day about who you're attracted to, it makes it sound like being gay is a choice.
Other gay guy: So is your guy type really feminine, or…?
Brenna: Okay, I'm not changing my mind. I'm just attracted to the person for who they are; not their gender.
Mariah: That's exactly what my ex said before leaving me for a dude.
Gay guy: My theory is that bi guys are always actually gay and bi girls are always actually straight.
Brenna: I'm not straight! I mean, the last two people I dated were girls, so.
Mariah: Maybe you're just gay.
What's excellent about this is that Brenna is the sympathetic character here (and always), and is so beloved by fans of the show, so these people throwing all this trite bigoted bullshit at her are presented as jerks. None of these stereotypes are played for laughs. It looks like Brenna is going to abandon the group altogether, and who could blame her? But she goes back and trades shade-for-shade, defending bisexuality in a way that's never been done on ABC Family and has only very, very rarely been done on TV in general.
Gay guy: I didn't think you were coming back.
Brenna: I didn't either, but I changed my mind! Just like I change my mind every day about who I'm attracted to! Hey, Mariah, I was wondering: What made you a lesbian?
Mariah: I was born this way.
Brenna: So when you're with a girl, who's the boy in the relationship?
Mariah: No one. There is no boy.
Brenna: [To the gay guys] But Andrew's the girl between the two of you, right?
Andrew: No! There's not a heteronormative dynamic in all relationships.
Brenna: Oh, there's not? That's just a stereotype?
They get it. And they're sorry. Brenna is right now and always.
Legit bisexual representation on a teenage TV show? What a time to be alive!
---
Scream
Tuesdays on MTV at 10:00 p.m.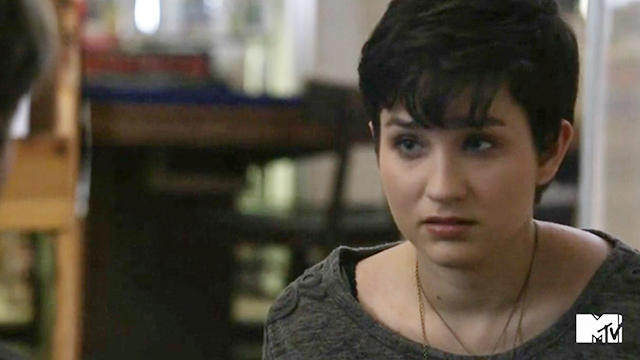 Welp, Audrey got one step closer to getting Emma to be in a Big Gay Relationship with her her due to the competition being eliminated. Emma's boyfriend, Will, got chopped in literal half after Emma found him in a field attached to a saw and went running for him and tripped a wire and watched as he was sawed in actual half. Emma herself was almost killed to death when she was investigating an abandoned bowling alley with her friends earlier in the episode, but she survived to accidentally maul her boyfriend. Audrey's alibi? She was taking a makeup test the whole entire time.
---
Complications
Thursdays on USA at 9:00 p.m.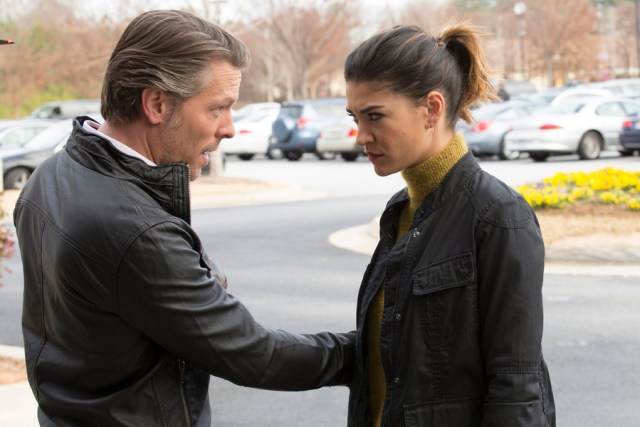 Complications exceeded my expectations so much, y'all. I know it's because White Collar promised that CIA Junior Agent Diana Barrigan would be who Gretchen actually is and didn't deliver, and so the bar was pretty low, but still! A lesbian character of color is the main hero of the show because of her hard-assness but also her compassion? Check. Her queerness is an important part of who she is, but it's not the main thing about her? Check. She makes it out alive despite the fact that everyone is getting shot all the time? Check. She actually threw herself on top of a guy this week to keep the a bad cop from shooting him and lived to tell the tale! I can't explain the finale to you if you didn't watch the show. Gretchen won, is all you really need to know.
---
Rookie Blue
Thursdays on ABC at 10:00 p.m.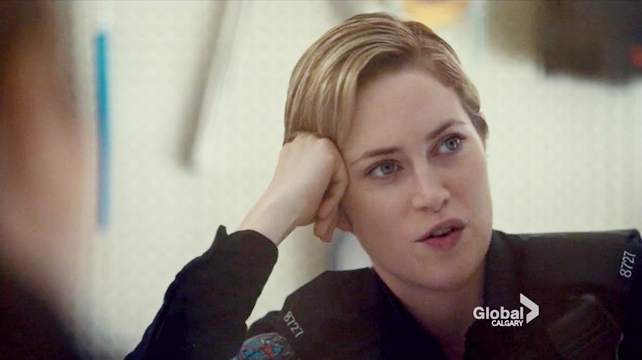 Gail busted a dirty cop named Santana on this week's Rookie Blue. It was pretty boring police procedural stuff. I wish she'd been making out with Santana Lopez instead. Just kidding! Those two would kill each other!
---
Defiance
Fridays on Syfy at 8:00 p.m.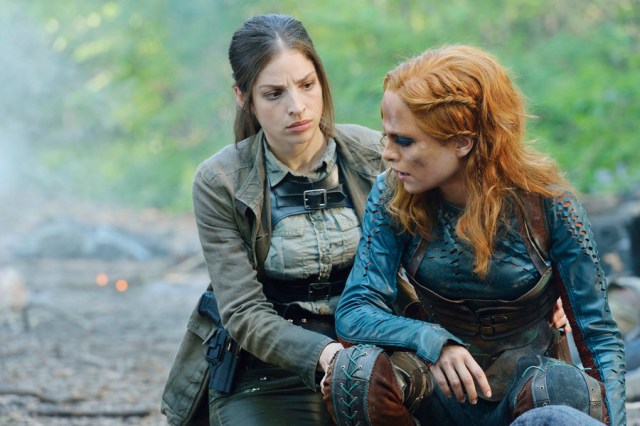 Sigh. This season of Defiance continues to disappoint me. It's not offensive. I mean, it's not offensive in terms of queer content. It's offensive to me, personally, because it's boring. This week, Doc Yewll helped Kindzi round up all the dudes in town and stick them in cages to prepare for the coming Omec invasion. This included Yewll's BFF, Datak Tarr, who, along with Stahma, have been wholly underused this summer, which is a large part of the reason this season kinda sucks. Also, Yewll helped Kindzi literally eat her dad to death. It wasn't as gross as Will getting chopped in half on Scream, but it was disgusting.
On the upside, Berlin returned from her brief hiatus in 90210, and thank the gods because I was starting to believe she and Irisa weren't in real true forever love. Now I remember that they totally are.
---
Hannibal
Saturdays on NBC at 10:00 p.m.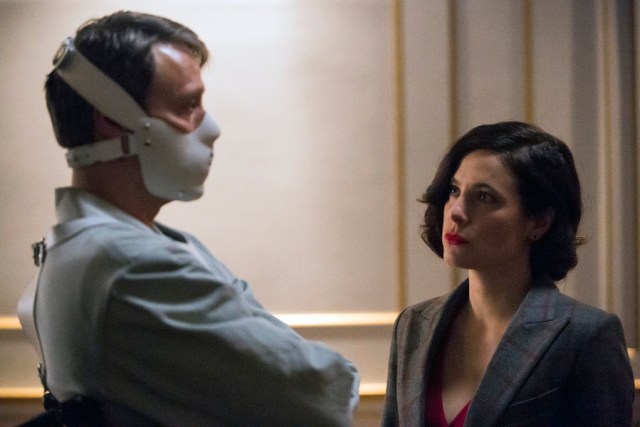 It looks like Alana has finally pushed Hannibal to the point of murdering her (but only because he pushed her first!). She threatened to take away all his nice shit if he didn't cooperate with her and the police, and this week she discovered that he'd been having long, leisurely phone conversations with a serial killer called the Red Dragon. She told him he was going to help them catch this fucker, or else. He chose: or else! And so Alana removed all his nice things like his smoking jacket and books and record player and also apparently his toilet. And then had him wrapped up to look like the movie. Good night, sweet princess!
---
I Am Cait
Sundays on E! at 8:00 p.m.
This week on I Am Cait, I was exposed to the fullness of the Kardashians for the first time. (This is the only Kardashian show I've ever watched.) It was kind of jarring.
Kim Kardashian shows up to talk to Caitlyn about how everyone in the family is pissed off at her for some things she said in her Vanity Fair interview, most notably Kris Jenner because of how Caitlyn said if Kris had been more supportive they'd still be together. Also Khloe is upset, I think, because Caitlyn said something disparaging about her husband? I don't know the family tree; it was hard for me to follow. Kim's suggestion for making up with Kris was to tweet an apology. Khloe's suggestion for Caitlyn feeling less isolated from her family — because, as Caitlyn repeatedly says, none of her children have come to visit her since she came out and began her transition — was group texting.
I'll tell you what really got to me, though: Number one) Kim dropped Caitlyn's birth name like NBD, all, "You still have some of [birth name] in you; I thought Caitlyn would be a little nicer." And when Caitlyn went to visit Chloe, she talked about all the stuff she's learning.
Caitlyn: So much of it is so scary. Homelessness, people on the street—
Khloe: Aw, that's not good.
Aw, that's not good?! It's a tiny bit more than "not good," Khloe Kardashian.
And then Khloe just wanted to talk about herself.
I'm not cut out for actual reality TV. I liked the parts of the episode where Caitlyn had dinner with Jen Richards, Kate Bornstein, and Candis Cayne and talked about how more mainstream portions of the queer community often prioritize the political and social needs of the trans community way way way behind the needs of rich white gay guys. It's an important conversation and particularly interesting as we consider how much trans erasure we're seeing in the new Stonewall movie.
---
Team TV coverage you may have missed
+ Pretty Little Liars Episode 610 Recap: I Feel A Lot Safer When I'm In Charge Of What Happens to Me
We finally learn who A is.
+ "Faking It" Returns August 31st: 10 Things To Expect From Season 2B
Everybody is still lying, just about different stuff. (Also: SPOILER ALERT)
+ Orange is The New Black Episode 310 Recap: There Is A Monster At The End Of This Book
In which things start falling apart.
---
I know I promised to fold Carmilla into this column, and I will start that next week!