A lot of people don't know anyone who is trans*, and as such may not have a complete understanding of transition and trans* issues in general. Our invisibility in mainstream, culture, in classrooms, in discussions of history, in scientific exploration of sex and gender, and even in campaigns for "LGBTwp_postsrights has left us isolated and othered. We are often deemed weird and abnormal by society simply because people don't know anything about us.
Education is critical! A y'all asking questions is sometimes the best way for us to educate! (Of course, as we previously discussed [Trans Etiquette 101], it is important to be aware of and understand what is appropriate.)
So we asked you to give us your questions and you did and now we're here to answer them! This is only Part One though because there were so many thoughtful questions.
We would like to genuinely thank all of you who sent in questions. Although they appear here as anonymous, we know it took some courage to send them in to us on ASS. And it's a gutsy thing to admit that you don't know something and/or you want to learn more. We hope that we have done your courage justice!
[Privilege disclaimer: Also, before we get into our answers, it is important that we acknowledge that we are speaking from our own very specific perspectives and do not represent the trans* community as a whole. We realize that we have it easier than many others with respect to our race, social class, ability to not be read as trans, et cetera et cetera..]

Q: Where does your post-transition name come from? In general, do trans* people pick a name they like or does it have meaning?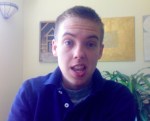 SEBASTIAN: I actually wrote a post on this after there were some hateful things said about some names that trans people at my college had chosen. It is a difficult thing to choose a name and most trans* people I know and have talked to have put a LOT of time and effort into it. My birth name began with an S and I wanted to maintain that so my initials didn't change. And of all the S names for men, it fit the most. At first I tried to find a name in my family's history, then one with Scottish or German roots (upon reflection I'm not sure why I didn't choose Scott… but that's just a random thought). Nothing really fit my personality and I really loved Sebastian and some friends suggested it and it just stuck. My middle name is Mitchell, which was what my parents would have named me had I been assigned male at birth.
Some trans people (particularly those who transition younger) have their parents pick out their name. I'd already been using Sebastian for a month before I even told my parents, but I think that is a really nice thing to do if your parents are on board.
+

ANNIKA: I chose Annika because it's what my parents would have called me had I been assigned female at birth. The name is Scandinavian- my mother was always really interested in our family's Swedish heritage. When I first came out to my parents I was hoping they would receive it as a gesture of goodwill, like "see! I've been your daughter all along!", but when they completely rejected me it turned into a statement of defiance and a reclamation of what was rightfully mine. I like the name Annika because it's unique- although nobody seems to be able to pronounce it! (Hint: it rhymes with electronica, or harmonica). My middle name is Penelope, which was selected as the winner of a naming contest among my friends.
Choosing a name is often an important rite of passage for many trans* people in solidifying their true identities, but I know a couple girls that have decided to embrace their traditionally masculine names as an act of reclamation. I also know others that have chosen completely atypical names like Sassafras as a way of rejecting any societal expectations of normality.
Q: Have you, even once, considered not transitioning?
SEBASTIAN: I made a point to consider all my routes before I decided on each step of transition. When I started to realize that my gender identity was not female, I played with the idea of drag – having an ambiguously gendered persona that I adopted when I went out, while continuing to live as female in my day-to-day life. I also considered changing simple aspects of my presentation (i.e. adopting a androgynous presentation through choice of hair cut and clothing) while continuing to live as a woman. When I realized I was male and really would be faking it if I continued to present at all as a woman, I thought I might be able to transition socially (change my name, pronouns, etc.) without transitioning medically (surgery and hormones). I took the approach that if you start with doubts you end with certainties, versus starting with certainties and ending with doubts (very psychotherapist's child of me).
When I realized I wasn't a woman, everything made so much sense. It's like everything clicked. I let myself explore that really honestly, but because it was so right (and because for the most part I had an environment that let me comfortably experiment without challenging my identity) I never once thought "maybe I'm not a guy; maybe I've got this all wrong.wp_postsAnd once I experimented with different routes of transition, I knew I needed to live outwardly as a guy in order to be comfortable with my inward identity.
I also should say that I didn't have too many obstacles or risks that would make me think "maybe this isn't worth it.wp_postsBut yes, I considered not transitioning.
ANNIKA: Welcome to the first 22 years of my life. I've known that my gender identity is female for as long as I can remember, but I used to think that I was powerless to act on it. I can't point to one specific incident that made me realize that this was something I had to suppress , but by the time I was in elementary school I had learned that I was "weirdwp_postsand that I should be ashamed of it. My family and peers reinforced the notion that feminine behavior in young boys would not be tolerated. The kids in my neighborhood used to play a game called "smear the queer", which was basically a version of tag in which the boy holding the ball was "queer", and the other kids would chase him down and physically hurt him until he was forced to let go of the ball. You can imagine what effect this had on poor little trans Annika.
In church I was taught that these feelings of being a girl were actually diabolic temptations that I had to resist if I wanted to be a good Christian. What's more, I was always one of the smallest kids in my class and already a target for bullying, and I certainly didn't want to make life harder for myself by transgressing gender norms. I was shy and desperately wanted to blend in, so I did everything I could to appear "normal". Growing up in this environment, I never thought that transitioning would be possible- not in a million years. I was further confused by the fact that I liked girls. When I first discovered the concept of "transgenderwp_postsas a young teenager, nearly every story I read online talked about having relationships with men. I tried really hard to picture it in my head, but I just wasn't attracted to boys. So I thought that maybe I wasn't trans after all. It wasn't until many years later that I discovered that trans girls could be lesbians too!
So to answer your question, yes, I considered not transitioning for a number of reasons. My ability to pass as a girl was never one of them. I dressed in private a few times in high school and knew that I would be successful, but I didn't think it could be possible unless I ran away from home and completely started a new life- something I just couldn't bring myself to do. It may seem counterintuitive, but I think that I purposefully placed myself in situations that would be hostile to queers (hence the reason why I joined a frat in college). It somehow made knowing that I would not be able to transition an easier pill to swallow. But I underestimated the power of my dysphoria, which only increased as I watched the androgyny of youth start to fade away. My attempts at suppression failed, as they often do, and here we are today!
Q: Is Hormone Replacement Therapy affecting your sex life?
SEBASTIAN: Transitioning affected my sex life more than testosterone itself did. Testosterone did increase my sex drive, as it does for most people, and in the beginning it was admittedly challenging to learn how to cope with and resist my near constant urges (I've mostly gotten used to it now and can essentially ignore the I need sexual release messages pumping through my brain). I had to have a conversation with my partner at the time because I had without being aware of it become more sexually aggressive and without thinking had expected her needs and desires to match mine. The biggest changes in my sex life though came as I grew more and more comfortable in my body. Sex became a much fuller experience for me after testosterone had lowered my voice and bulked me up, and particularly after top surgery.
ANNIKA: I agree with Sebastian; transitioning has had a much greater impact on my sex life than HRT has. While I still enjoyed being intimate with girls before coming out as trans, something was always missing- like I couldn't completely relax and just be in the moment. I felt pressure to perform a certain way that I thought was expected of guys. But obviously this wasn't true to my sexuality or gender identity, so I constantly had to rely on my imagination and picture myself as a girl in the situation. Talk about exhausting! Transitioning has completely removed all of these barriers that I had to overcome. Sex is so much more enjoyable now that it is affirming to my identity (although my girlfriend and I have never subscribed to rigid gender roles in bed). Since starting HRT, my sex drive has probably decreased a bit, but it's hard to tell whether that's due to the hormones themselves or the stresses of balancing my transition, a full-time job, and a girlfriend in her first year of law school.
Q: What is your opinion on whether gender is socially constructed or not? I've met/read the blogs of lots of feminists who essentially dismiss gender as an entirely artificial construct, but the very existence of trans* individuals seems to go against that and I'm pretty sure none of those bloggers were trans* themselves.
SEBASTIAN: Before I realized I was transgender, I was really opposed to any talk of gender differences. I believed that gender (and even biological sex – the significance we place on it anyway) was almost entirely socially constructed. I thought that designating between people based on biological sex characteristics was as absurd as designating between them based on hair color. (Reflection however suggests that this was one of the ways I dealt with my male gender identity – by believing that women and men were no different, I trivialized my female gender assignment and presentation so it caused me less distress.)
Here's what I think now, after some learning, and you know realizing that I was a man (and thus that being a man was somehow different than being a woman): There are differences between people of different genders – actual, documented/documentable differences. Some of these differences align with people's gender identity (which goes beyond just male and female) and some align with the way our bodies are sexed at birth (you know chromosomal and anatomical stuff). For example, there have been documented gender differences in the way humans' brains process certain things. Studies have shown that the brain activity of trans women matched the brain activity of cisgender women. Other things, like on-average physical differences have more to do with chromosomes and hormone levels.
And most importantly, the differences within gender groups are HUGE in like every area. Taking the average spacial processing abilities of women and the average special processing abilities of men and saying "this is how all men and women are differentwp_postsis actually absurd and totally scientifically inaccurate.
So no gender isn't complete bullshit – the way our society approaches it is. There is something in our brains that make us some gender and there are a few traits that come with that, and there are some things in our bodies that make us some sex, and there are a few traits that come with that. But it ain't black and white, it ain't binary, and it ain't as important as our society makes it out to be.
ANNIKA: Like you said, the fact that trans* people exist clearly demonstrates that gender is not purely a social construct. Despite being placed in either a male or female box since birth (just look at how segregated the newborns' section is at your local toy store to see what I mean), we have chosen to go against this socialization, because it runs counter to our fundamental sense of ourselves- our gender identities. Which, as Sebastian mentioned, are so much more diverse and complex than the binary system that dominates modern Western societies.
I read a really tragic story a couple months ago about a Canadian man named David, that I think best illustrates how gender identity is innate and internal. David was born as Bruce in the 1960s, and as an infant his penis was burned off in a circumcision accident. A psychologist convinced his parents to raise their child as a girl instead- because after all, he explained, gender was an artificial construct. So 17-month-old Bruce was castrated and became Brenda. His parents vowed to never tell their new daughter about what had happened. And for a while, Brenda seemed like a happy little girl, albeit a little tomboyish- until he reached puberty. As a teenager, Brenda was masculine and combative, and withdrew from his peers, who called him a cavewoman. His parents finally broke down and revealed the truth to him. Soon after, Brenda transitioned to male and became David, and went on to marry and have a family. But the psychological toll of the entire ordeal was too much for him to bear, and in 2004, David took his own life. Moral of this heartbreaking story: don't assume that gender is entirely socially constructed, because it isn't.


Page 2: Adam's Apples, height issues, how LGBT organizations can better include trans people and so much more! —>
Q: What can my LGBT organization do to better include trans people?
SEBASTIAN: Actually, there are some great resources about this!
•Where's the "Twp_postsin GSA? Making Your Club Trans-Inclusive
•And another from the GSA Network
In one of the questions about this, the asker said they have men's and women's events throughout the year and that while they specify that the events are for people who identify as male or female, it is possible that they are still alienating people. My suggestion to this would be if you and your organization believe that it is beneficial to have events like this (which hey it might be!) to name them something less binary like "Bois Nightwp_postsand "Grrrls Nightwp_postsand specify that they are intended for masculine-identified people or feminine-identified people. A trans* night might be nice as well, but not as a comparable thing to boys or grrrls night, because then it presents trans people as necessarily having an "otherwp_postsgender.
Q: I have a friend who is trans and still living as female (her assigned gender) and wants to be referred to with female pronouns while she is figuring things out. She's having a really rough time with it and I'm worried that it hurts her when I use female pronouns, even though it's what she's asked me to do.
SEBASTIAN: Ask your friend directly if she'd prefer you use gender neutral or male pronouns with her in private. Be honest with her that you want to refer to her exactly how she would prefer and that it doesn't matter to you if her preferences change or evolve in the future. When I first came out, I told people to use the pronouns that they felt comfortable with – I was really really worried about making others uncomfortable, about putting them out. My roommate stopped me and said, "listen – just tell me what you would actually prefer because that is what I want to use.wp_postsI needed someone to tell me that it was putting them out, basically.
ANNIKA: Good communication is the key here. Make it explicitly clear to her that you want to be as supportive as possible, and ask her to be honest about her needs, even if those change from day to day. Give her as much time as she needs to figure things out; this is no doubt very scary and confusing for her. When I first came out, I told my friends that pronouns weren't all that important to me (they are). Like Sebastian, I was worried about alienating my friends and making them uncomfortable- it was almost as if I didn't feel worthy of being called she/her for some reason. I felt like it would be asking too much. But I can't describe how wonderful it felt when people did use pronouns that affirmed my identity, and I soon realized that it was something that I couldn't live without. A few weeks after coming out, I told my friends to only use feminine pronouns, and by that point most of them had gotten over their initial shock and were more than willing to do so.
Q: During MTF (sorry if you don't like this term – I don't really know the correct terms) transition, what happens to a person's 'Adam's Apple' does it just become less prominent like a cis-female's due to the taking of estrogen? Or is there surgery involved?
ANNIKA: Two words: tracheal shave. The laryngeal prominence, or Adam's Apple, is the result of increased thyroid cartilage protruding from a person's voice box. It is a common secondary male sex characteristic, but not everyone who has gone through male puberty has one- and I am so thankful that I don't! Taking estrogen will not help with decreasing the size of an Adam's Apple and the only real option is surgery. It's actually one of the most common operations performed on trans* women, because a visible Adam's Apple will almost always ruin your chances of passing as female (although it should be noted that a small percentage of cisgender women have them as well).
As for the correct terms, I know that an increasing number of trans* people are abandoning MTF and FTM in favor of MAAB (male assigned at birth) and FAAB (female assigned at birth). MTF and FTM can be seen as reinforcing the binary system and don't account for those trans* people who don't identify as either male or female. For me and Sebastian and others that do, trans man and trans woman are perfectly acceptable. I'm certainly not offended if someone describes me as MTF, but it's not really accurate when you think about it. Yes, the gender marker on my driver's license will literally change from 'M' to 'F'- but I have never identified as male. I am and have always been a girl, even when my external appearance didn't show this.
Q: My boyfriend is shorter than me and feels less masculine because of it. Is there any way to show him that it's okay for men to be shorter than their partners?
SEBASTIAN: Oh man, I don't know if your boyfriend is trans or not, because you didn't specify, but it honestly doesn't matter, because this shit affects all guys. Height is associated with power, and in our society, men are supposed to have more power than their counterparts. That's the gist of it. Straight men are supposed to be bigger so they can be the big spoon, physically and metaphorically. They gotta protect their ladies you know – cause how are these ladies can do it themselves? And if you're short, you can't protect your lady, and if you can't protect your lady, then you are just failing at manhood, right?
God there are so many fallacies there. And I know that logically, but shit if I still (at a strong 5'6") feel immasculated with taller women. On OKCupid (yeah I've got one) I usually hang my head when I see that a girl I like is taller than 5'8". So logic, feminism, and fist-shaking can't necessarily solve our problems.
The best thing for me is to see men, trans and cisgender, who are shorter than average. And it's even more helpful to see straight couples in which the woman is the same height or taller than her male companion. There are a few blogs celebrating awesome dudes (mostly celebs) that are 5'7wp_postsand shorter, and I also kinda look for it around town. There is rarely a space in which I'm the shortest dude. And about once a week I spot a happy couple with a taller woman. Check out these blogs:
• Fuck Yeah Short Guys
• Fuckyeahshortmen
Q: What about lesbians dating trans men?!
SEBASTIAN: OKAY, I got so many questions about this (which makes sense – it's confusing and also I heard a lot of lesbians use this site or something). I think I'll write a whole post. I hope you all can hold on til then!
Q: I've heard that transition changes your sexual orientation. Did your transition mark any change in your attraction to girls or guys?
SEBASTIAN: This is such a silly rumor. Don't feel bad for hearing it or even believing it (if you did). It's like very widespread, even within trans communities. Transition, hormones, etc. don't directly affect whom you are attracted to. Sexual and romantic attraction are such silly things for human beings. There are so many nuances that go into our attractions and our sexual identities, and these factors evolve as we go through life, so our attractions and sexual orientations do, too. A lot of people find that relating to people sexually or romantically is very different in their "newwp_postsgender. I know trans men who were not attracted to men when they were living as women, but love being with men as men. I think it actually solidified my attraction to women. I loved being a man with women even more than I'd loved being a woman with women. So yes, sexuality shifts SOMETIMES with transition, but not because hormones throw up some sort of switch in your brain. And most of the time, our preferences stay pretty much the same.
ANNIKA: I've heard this a lot too, especially within trans girl circles. I've been told that estrogen might alter my sexuality, and after nearly four months of HRT, I'm still waiting for that moment where 'poof!' I'm suddenly attracted to guys. It hasn't happened yet, but if it does I'm not certain that it will be because of the hormones I'm taking. I think that part of the reason why I'm not attracted to men is rooted in my own repulsion of experiencing male puberty. Maybe after I'm more comfortable with my female body this will change. At this point, I'm not going to rule anything out.
Basically it comes down to this: gender identity and sexual orientation are two separate things, but they inform each other in complex ways that we can't fully comprehend. Both are spectrums- hardly anyone is 100% masculine or 100% feminine, or 100% gay or 100% straight. Most of us fall somewhere in the middle. And our identities are fluid to a certain extent, meaning that where we fall on these respective spectrums can change. There is a lot of societal pressure (both outside and within the mainstream gay communities) to place oneself in either of the binary categories of gender and sexuality and stay there. So I think that the reason why some trans* people exhibit a more flexible sexuality is because they have already made a conscious decision to transgress the binary. I think we'd all be a lot happier if we didn't limit ourselves to rigid identity categories. That's why I love the word queer- it's not nearly as restrictive!
Pages: 1 2See entire article on one page