On a scale of 1 to 10, how are you feeling about Obama this week? Here's the thing: he wants you to feel really good about him. I mean really, get ready for some rainbows. Here's the opening banner to the thing which the White House sent out via email and is apparently termed an "e-blast:"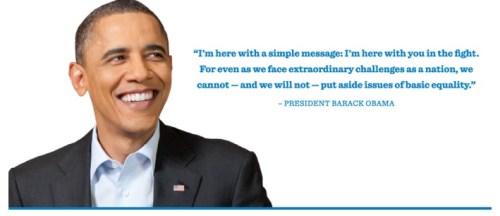 Well! Sure, Mr. President, that sounds great. I would like for us to be together in this fight too! Slightly misleadingly, however, this email is not precisely about fighting but about a dinner party situation called, puzzlingly, the "High Tea Party Express train to the Obama Gala." Which is a thing you pay to go to. Which is a thing that by paying to go to, you contribute fairly large sums of money to Obama's 2012 campaign.
The White House's party invitation also contained this:
(The color scheme is nice, no?)
And the "e-blast" also said this:
I used to get so fed up with people who said "We have made progress. Just look — they let us visit the White House!" or "Holy smokes, can you believe we get to be in this room?" That kind of measure of progress is ancient. It is important but it is a given, not a gift. A million smiles and handshakes do not equal progress.
That sounds kind of familiar, doesn't it? It kind of sounds exactly like a lot of the criticism Obama has received from the queer community over the past few years. It sends the message that he knows what our concerns are, and he knows how we've been feeling. He's saying that he may not be a perfect president as far as queer issues go, but he does know what's up. And he's not out of office yet.
The truth is, although some will surely disagree, that's a fairly impressive list of accomplishments. The ones not in bold are almost more worth noting – although they tend to be less sweeping and symbolic, they seem like they might be more meaningful in terms of the real issues. A National Resource Center for gay and lesbian elders. Ensuring that trans people can have accurate passports. An Institute of Medicine study on LGBT health. Clarified that the Family and Medical Leave Act includes LGBT families. Ended the ban on people with HIV/AIDS entering the country, and proposed more funding for HIV/AIDS prevention and education, as well as bullying and suicide prevention. Put millions of dollars of federal funds towards supporting homeless LGBT youth. That's not everything we could ask for, but it's far from nothing.
The email from the White House says that "In just two years he has done more than all Presidents combined in our history AND he has done something no other President has done: passed laws. Not talk, not platitudes, not nice intentions: laws." Those are strong words of praise. But they're also a warning: even if you don't think what President Obama has done is enough, it's a pretty sure bet that no other presidential candidate that is running against him will take up the torch if he's not re-elected. So, while we're asked to imagine what could be accomplished in the next six years, the flip side of the same question is left unspoken – what could we lose in the next six years? It's a complicated intersection of politics and the ideals behind it, the refusal to compromise that has made the queer activist movement so successful in the past and the necessity of compromise that permeates the arena of national politics. Right now, Obama is asking for your money – and while almost none of us have much to give, the question of our votes still remains.