Singer Amy Winehouse was found dead today in her home in London. Winehouse was 27 years old. Paramedics were called to her home around 4 pm but Winehouse was dead at the scene when they arrived.
About a month ago, Amy Winehouse kicked off what was supposed to be a 12-date European tour in Belgrade, Serbia. She showed up an hour late, fought with the band, tossed a shoe into the audience, stumbled around stage and slurred her words. Everybody booed and many walked out of the show. Prior to the tour Winehouse had completed a Rehab Assessment at the Priory Clinic in London, who had given her the go-ahead to continue treatment as an outpatient during her tour. But after the trainwreck of her first performance, the rest of the tour was called off. This was not the first time Winehouse has attempted to perform drunk or inspired boos from the crowd.
Amy Winehouse was without a doubt an incredibly talented musician whose career was repeatedly sidetracked by her mental health problems and troubles with drugs and alcohol.
Winehouse grew up in Southgate, a north London suburb. After her parents divorced when Winehouse was nine, she enrolled at the Susi Earnshaw Theatre School and studied there for four years before earning a scholarship to the prestigious Sylvia Young Theatre School in London. Winehouse was kicked out of Sylvia Young and a subsequent series of other schools.

Winehouse released her first album, Frank, in 2003, which performed well in the UK — but her 2006 follow-up, Back to Black, was a really big deal. At the 2008 Grammys, Winehouse won Best New Artist and her single "Rehab" picked up Record of the Year, Song of the Year and Best Female Pop Vocal Performance. The "Back to Black" album itself earned honors for Mark Ronson as Producer of the Year as well as snagging the Best Pop Vocal Album award.
These were troubled times, however — she reportedly wrote Back to Black during "a period of drinking, heavy drug use, violent mood swings and weight loss." Winehouse met her (now-ex) husband Blake Fielders-Civil in 2005 at a bar in Camden. He took credit in News of the World for introducing the young singer to crack and heroin. They married in May 2007. Winehouse carried out a number of relatively competent performances that summer, but in August 2007, Winehouse canceled a series of UK shows and was shortly thereafter hospitalized for an overdose of heroin, ecstasy, cocaine, ketamine and alcohol.
In November 2007 she canceled all her tour dates allegedly because she was unable to perform while her husband was incarcerated: "I can't give it my all onstage without my Blake. I'm so sorry but I don't want to do the shows half-heartedly; I love singing. My husband is everything to me and without him it's just not the same."
Rolling Stone reported at the time: "The cancelations come as a shock to fans eager to see Winehouse forget lyrics, weep uncontrollably and leave the stage prematurely."
She checked into rehab in early 2008 but the subsequent years were marked by intoxicated public appearances, legal troubles and cancelled performances. Winehouse and Fielder-Civil divorced in 2009.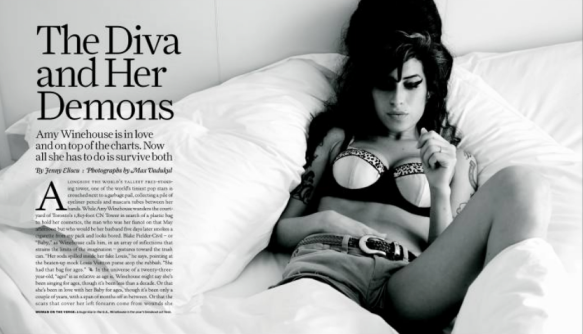 In her 2007 Rolling Stone Cover Story, writer Jenny Eliscu noted: "Winehouse says that she's always been the kind of girl who loves looking after the people close to her. But you don't need to spend much time around the singer to get the impression that she could really use some looking after herself."
Before checking into rehab this May, doctors reportedly warned Amy "to quit drinking or die."
[yframe url='https://www.youtube.com/watch?v=w1evzhSast8′]