Hey, y'all! I'm coming at you live from Los Angeles, meaning I'm happier than I've ever been.
Gay married in New Mexico
After an Albuquerque judge ruled that gay marriage was legal on Monday, counties around the state started issuing marriage licensees to same-sex couples. Hooray for the dozens of couples who got married yesterday!
You Don't Know Me
In the wake of the VMAs, rapper Le1f is speaking out about Macklemore's "Same Love." As a sap, it hurts my heart. As a queer, it's important.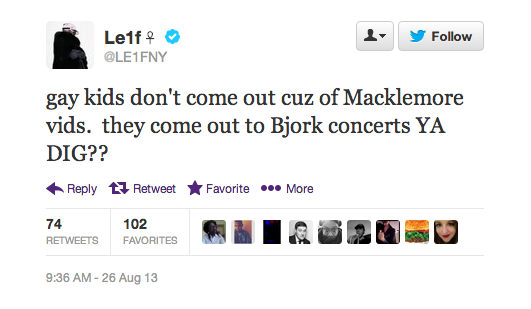 Southern Comfort
A 12-year-old trans* girl from Georgia will be able to use the girls' room. Why is this controversial again? Her name is Skylar and she is ADORABLE.
Bad Guys
+ Lawmakers in Texas can't seem to decide if anti-gay and -trans sentiments are actually discrimination or just part of a LARGER PLOT FOR DESTROYING 'TRADITIONAL VALUES.' In other news, it's 2013.
+ The Portland taxi driver who won't serve lesbians has lost his license. Jerk.
+ "Across the country, thousands of LGBT educators are forced to be closeted for fear of being harassed or otherwise discriminated against by coworkers, parents, and administrators, with the most dire consequence being the loss of their jobs. Their fate is usually in the hands of school board members, or, in private schools, administrative personnel, who generally have only the teacher's work history and a list of parental complaints to go by." The Advocate reports.
+ Russia still sucks: they're defending their anti-gay law to the IOC and trying to take anti-LGBT discrimination to a whole 'nutha level.
Russian lawmakers are currently considering a proposal to offer free "ex-gaywp_poststherapy to gay Russians to enable them to "return to normal life and become heterosexuals, as are 95 to 99 percent of our citizens,wp_postsaccording to Mikhail Degtyarev, the conservative politician behind the measure. According to Russian Today, Degtyarev is also developing a proposal to reintroduce a ban on gay blood and organ donors (a similar ban is in effect in the United States, though it has been denounced by the American Medical Association and other public health groups).
+ Zimbabwean President Robert Mugab used his inaugural speech (for his seventh election win thus far) to hate on homos. Spoiler alert: the word filthy is used twice in a row like when you really mean it.
+ In Cameroon, no gay bar is safe. Which is a damn shame.
+ Some churches take simple steps toward homophobia, like pre-emptively making it clear that they don't do gay marriage. Others just exile LGBT-supportive parents.
Geeks! In The Good Way.
9 of the 15 Google Science Fair finalists are girls! Because of reverse sexism probably, right. If that's not enough inspiration for you, check out the 28 women thinkers of the Internet Age whom Wired seems to have missed out on in general.
All That She Wants Is Another Baby
Meet the Israeli couple who refuses to do their surrogacy anywhere else – no matter who or what stands in their way.
You Should Give
+ Slut: A Documentary: from the
I've shared my diaries from when I was sexually bullied in middle school on The UnSlut Project website. Many women and girls have contributed their own stories. Now it's time to spread the word. "Slut: A Documentary Film" will demonstrate the extent of sexual bullying and slut shaming in our schools, media, and culture; and explore the steps we can all take to work toward change right here in the United States and Canada.
+ Black is Blue: A Black transman security guard struggles with his identity after meeting an ex-lover from his past.
You Should Go
+ Time to Werk Those Pecs again!
Werk Those Pecs is BACK AT IT AGAIN, and this time we're showing our love for everyone's favorite life of the party:

*Bryn Kelly.*

We're bringing our hottest lineup yet, so bring the ruckus & we'll take care of the rest. Dance, drink, and raise money for a top-shelf gal!

+ Thursday, August 29th
= 9:00 PM – 4:00 AM
= The Knitting Factory [Williamsburg]
+ The 5th annual DYKEADENCE, celebrated over Labor Day weekend in New Orleans, is a collaborative community effort to create and organize safe high-quality queer Southern Decadence events for women, trans people and people of color and their friends and allies. All are welcome to take part in the glittery, enthralling, sexy, titillating events going down! Here they are:
Wednesday, August 28th – 8 p.m. – Esoterotica – Dial D for Dirty at the Allways
Thursday August 29th – Marigny Bar Crawl Join us as we start off with a walking tour of the Marigny's finest bars. As the night progresses you will learn why it is called a bar crawl and not a bar walk.
Friday August 30th – 8 p.m. – The Yes Girls Vagina Show *actual name to be announced soon* at John Paul's Join The Yes Girls at John Paul's for their newest show, especially written for Dykeadence! – Queerlesque! – Two amazing shows planned, times TBA, both shows will be at the Allways!
Saturday August 31st – 8 p.m. – The Yes Girls Vagina Show at John Paul's – Grrl Spot presents Fleurt at Eiffel Society – time TBA
Sunday September 1st – 11 a.m. Pre-parade party at John Paul's – 2 p.m. Dykeadence walks in the Decadence Parade – Post-parade pool party at Country Club – 8 p.m. – The Yes Girls Vagina Show at John Paul's – 9 p.m. – God-des and She perform at Country Club