George Floyd was murdered on May 25, 2020, and we stand in unequivocal support of the protests and uprisings that have swept the US since that day, and against the unconscionable violence of the police and US state. We can't continue with business as usual, which includes celebrating Pride. This week, Autostraddle is suspending our regular schedule to focus on content related to this struggle, the fight against white supremacy and the fight for Black lives and Black futures. Instead, we're publishing and re-highlighting work by and for Black queer and trans folks speaking to their experiences living under white supremacy and the carceral state, and work calling white people to material action.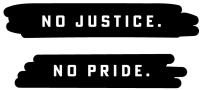 ---
Resources On How To Help
+ BLM's Helpful Links: includes resources on knowing your rights, places to donate, petitions to sign, cases to educate yourself about, lawyers helping protestors and so much more.
+ Black Trans Protestors Emergency Fund
+ 43 Bail Funds You Can Absolutely Support Right Now
+ Black Small Businesses To Support
+ Black Owned Businesses That Have Been Affected by the Protests That You Can Help
+ Homeless Black Trans Women Fund
+ Here's Where You Can Donate to Help Protests Against Police Brutality
+ Black-Owned Bookstores To Support also compiled in this spreadsheet.
+ Black Trans Women's Travel Fund: to pay for a Black trans woman's ride home
+ Ways to Help The Movement If You Cannot Be In The Streets
+ Trayvon Taught Me: Toolkit for Black and Non-Black POC Organizers and Activists
+ Protest Safety: How to Protest During the Coronavirus Pandemic
+ Black-Led LGBTQ Organizations
+ How to Support Los Angeles' Black-Owned Businesses
---
Reports and Articles:
+ Around the world we are seeing an unprecedented uprising against "the devaluation and dehumanization of Black life at the hands of the police." We are also seeing the government and its armed entities mobilizing against this uprising with brutality, violence and excessive force. This Vox magazine article addresses just some of the many instances from nationwide protests of police brutality, police instigating violence and using excessive force. The piece talks about videos that "show police seeming to treat protesters like an opposing army, rather than like citizens they're sworn to protect." Content warning that many of these images and videos (some of which are threaded in this Thread of Police Instigating Violence Against Protesters) may be triggering or otherwise devastating to watch.
+ In Pictures: Police violence at protests against brutality
+ A Thread of Cops Vandalizing Property and Their Own Cars
+ Cops in Richmond tear-gassing a peaceful protest
+ White people went to San Francisco Mayor London Breed's house to yell "Black Lives Matter" and taunt her with "firework torches." Breed is Black and said it reminded her of "how the KKK would show up to Black people's houses to burn their houses down."
+ In Washington DC, Man Who Sheltered 70 DC Protesters Says Police Tried to Pepper Spray Through His Windows
+ In Atlanta, protesters were trapped and attacked by police, who violently arrested people at random.
+ A black family tried to get the attention of the police to protect a neighborhood store in Van Nuys and were immediately handcuffed.
+ From Mother Jones: Even mayors refuse to denounce police violence at police violence protests
+ From The Washington Post: 'The terror of wearing both a press badge and black skin': Black journalists are carrying unique burdens
+ From LAist: What Happens After George Floyd? California Leaders Are Considering Reparations
+ Looting Is the American Way: "To consider riots violent, one must consider destruction of property violent. Buildings, cars, and merchandise can be replaced; Floyd's life cannot be given back to him."
+ Which Side Are You On: "People have had it. They are rising up. The police are terrorizing them in response. The people are right. The police are the enemy. That's it."
+ 'My son didn't hurt nobody': David McAtee, Louisville business owner, killed by authorities: Cops killing a Black man during protests against police brutality against Black people.
+ From Buzzfeed: There's One Big Reason Why Police Brutality Is So Common In The US. And That's The Police Unions.
+ The False Dichotomy of Protest Coverage So Far: "I've seen a lot of this dichotomy narrative between any potential acts of violence or property test being contrasted with people [protesting]. I think that that is a false dichotomy of what's actually happening. It doesn't speak to the righteousness of what's happening in this moment; the desperation, that trauma with the need for adequate policy solutions and really inspiring leadership."
+ George Floyd, Houston's Protests, and Living Without The Benefit of the Doubt: We still ring in the New Year, and we might be shot and killed for that. We still drive home from dinner with our partners, and we might be shot and killed for that. We still go out and about only to find ourselves misidentified, owing to an administrative error in an office somewhere, and we might be shot and killed for that.
+ On the Streets of Philadelphia, by Clare Fentress: Destruction is in the eye of the beholder. 
+ A conversation: Retired African American MLB players on race, baseball, America
+ From Mother Jones: What a World Without Cops Would Look Like
---
Resources For Reading and Education
+ MEMORY AND MODERNITY: A PEN OUT LOUD READING LIST
+ Free Yo Mind: Radical Black Books and Other Critical Stuff
+ Books by Black women authors released this week
+ A professor shared this syllabus on twitter as a good place to start with educating ourselves: Welcome to Introduction to Critical Race Theory for 2017!
---
Any comments by non-Black people sharing opinions or instructions on how Black people should be protesting will be deleted.