Hi, ramen noodles! Last night I came home, thought I lost my phone, enlisted three people to help me get it back, and then found it laying on my bed. Here's the stories we missed this week while I was too drunk.
Russia Won't Admit This Happened
+ A former member of the Italian Parliament who is also a trans woman was detained on her journey to the Sochi Olympics, but the Russian police have no record of it. Too bad there's already photos!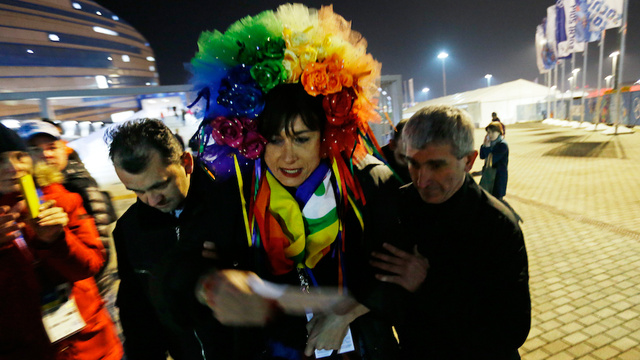 + No gay establishment is safe in Russia – except the gay establishments in Sochi, during the Olympics.
In early January, about a month before the Winter Olympics in Sochi began, Andrei Tanichev, the owner of the city's only gay nightclub, got a call from the local government summoning him to a meeting with the mayor. It did not sound promising. Just a few days earlier, a special security regime known as the "ring of steelwp_postshad put Sochi authorities on high alert for any Olympic disruptions. And although Tanichev is a businessman, not an activist, Russia's new law against homosexual "propagandawp_postsamong minors had thrust his cabaret into a legal gray zone. He went into the meeting prepared for the worst.

What he got was a supporting role in Russia's gay Potemkin village. While gay-rights activists in other parts of Russia have continued to face court appearances and fines even during the Olympic Games, the gay community in Sochi has been put under the state's protection, at least while the eyes of the world are watching. In his office that day in January, Mayor Anatoly Pakhomov, the Kremlin's plainspoken Olympic enforcer, welcomed his guest with a smile. "It was weird,wp_postssays Tanichev. "He was super nice, really pleasant."
Who Is The First Pick for Favorite First Lady?
Michelle Obama gave Hillary Clinton a run for her money this year in a new survey by the Siena College Institute on fave first ladies, but she ain't got nothin' on Eleanor Roosevelt.
NPR Totally Forgot About Us
If the Internet helps gay teens, how is it that NPR never mentioned everyone's favorite home away from home, Autostraddle, in their report about it? I'm disappointed, but I also really like talk radio, so I feel conflicted.
In the past 20 years, the Internet has significantly changed what it means to grow up as a gay kid in this country.

Before the Web, many gay young people grew up in what seemed to be isolation, particularly those in small towns. But with the advent of online chat rooms and Websites dedicated to gay culture, communities formed, and that demographic began finding new support.

That change can be seen in the experiences of two women who grew up in the same town, two decades apart.
Cool Sh*t
+ Chelsea Clinton thinks LGBT rights are the "unfinished business of the 21st century." Chelsea is welcome to finish my business at any time.
+ Feministing recently spotlighted the most intriguing, hypnotizing, informational infographic of all time.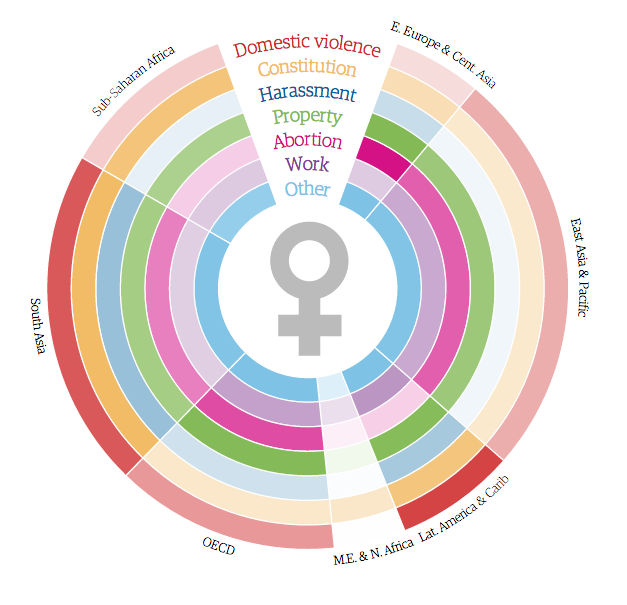 + The "Lean In Collection" of Getty stock images may not change the world, but it'll put a lot of tattooed girls with babies into it.
All Around The World, Gay People Want to Get Married and Be Total Normies
+ A new legal challenge could put South Korea on the LGBT Map of Marriage Equality. Whatever that is.
+ Meet the single juror who made your gay wedding in Vegas a more distinct possibility.
In 2011, attorneys for Abbott Laboratories dismissed a prospective juror prior to a blockbuster trial on account of his sexual orientation. Abbott's attorneys were convinced that the juror, an openly gay man, would be prejudiced against Abbott, which had been accused of inflating the price of an HIV drug. The company's legal opponents cried foul and litigated the dismissal. And now, thanks to that juror, Nevada just gave up on its same-sex marriage ban.
+ BUT WHY GO TO VEGAS WHEN YOU CAN GO TO LOUISIANA?
+ Carl DeMaio is your average gay republican running for office with a campaign ad that features his same-sex lover partner.
+ The state of Texas and all the people in it have been ordered to recognize trans* folks' identities when trying to exclude same-sex couples from the meaningless institution of marriage, and because of their own confusion they had their first gay wedding. TAKE THAT!
Ellen Page's New Lover
Julianne Moore is playing Ellen Page's lover in a new film, which is shaping up to be the gayest thing of all time. Also, Ellen Page.
Meshell Ndegeocello Rules
I've come up with a new term; I'm sexually functional with both genders, I just choose to be with this particular one. Who knows what the future holds?

It's such a weird concept to me that it's so important to how you judge my music or my character or anything about me. I'm never assuming what heterosexual people are doing.

When it comes to making music, you don't have to talk and [as musicians] you all have this one thing that you have the information to bring to life. That's real special to me. Everyone has their own interpretation.

[Making music] is the only time I feel gender-less or race-less. I just feel at ease because you have this one thing to concentrate on. It's hard to explain but it's a nice feeling.
You Should Go: First Annual Feminist Ball
It's hailed as "THE SEXIEST WOMEN'S HISTORY MONTH CELEBRATION IN HISTORY," and if you're lucky you live in or around New York City and can actually go.
Feminist Press and FP executive director Jennifer Baumgardner invite you to:

THE FIRST ANNUAL FEMINIST BALL:
a fundraiser

MARCH 20, 2014 Joe's Pub
6pm VIP hour with DJ set by Ana Matronic
7pm doors
Featuring Justin Bond, Brown Girls Burlesque, and more!
with emcee Michaela angela Davis

Tickets available now! $45 in advance/$55 at the door, $250 VIP includes premium seating and cocktail hour!
This Is Our Country
We shouldn't have to lose Stonewall – and it should be marked a historical landmark, as it rightly deserves to be.