I spent over an hour today day-dreaming on Zillow, which is a very on-the-nose reminder of this SNL sketch:
Congratulations on making it through the week! It's almost the weekend! You are almost there! Keep going!
---
Queer as in F*ck You
'It Helps Me Be Myself': Trans Kids on the Healthcare Republicans Want to Deny Them
Raquel Willis (!!) and Richie Shazam (!!) On Allowing Queer and Trans Folk To Imagine Their Futures (I'm genuinely obsessed with this)
As someone who was VERY MUCH NOT OUT in college, I think about this a lot. A Year at Home Has Forced Many LGBTQ College Students 'Back into the Closet'
A.E. Osworth with the editors of We Want It All: An Anthology of Radical Trans Poetics on "imagination, abundance, and what keep them up at night," Hot for Epistolary Poetry
Yesterday, President Biden Marked Equal Pay Day with an Event Featuring Soccer Star Megan Rapinoe. In addition to being my dreamboat, Rapinoe and the USWNT have been leading the charge for women athletes to be paid the same amount as men athletes. #EqualPayForEqualPlay
Thanks for coming by, @mPinoe. pic.twitter.com/vjqvrOTQBJ

— The White House (@WhiteHouse) March 25, 2021
Did I include the gif so everyone could see and appreciate how hot Rapinoe looks in a suit? Yes. Yes, I did.
---
Saw This, Thought of You
The Black Nerds Redefining the Culture. Always here to represent my peoples.
lol what? this is a thing? Mermaidcore Is Trending. But… What… Is… It?
Are You Really Missing Tumblr Porn Right Now? You're Not Alone
The Best Player in Women's College Basketball History at Every Jersey Number. From Heather: "There are more lesbians on this list than the annual OUT 100 list by a mile. Also, you can't really argue with Dawn Staley beating out Tamkia Catchings, but I kind of want to, even though I know I'd be wrong." (sports!)
Emmy-Winning Actor Jessica Walter of Arrested Development Fame Passed Away in Her Sleep Last Night. She Was 80 Years Old. And so, we celebrate: 13 of Jessica Walter's Most Iconic Moments as Lucille Bluth
After a life so full and well lived, I believe there's only one thing left to say…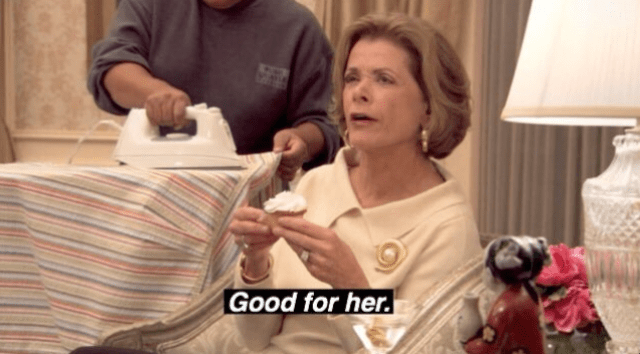 ---
Political Snacks