Hello, blueberries! Here's the stories we missed this week.
Fight For Your Right(s)
The Boy Scouts of America are so incapable of making one good decision that they've taken to asking alumni how they feel about potentially losing their "straight boys who fit our description well" – only policy of late.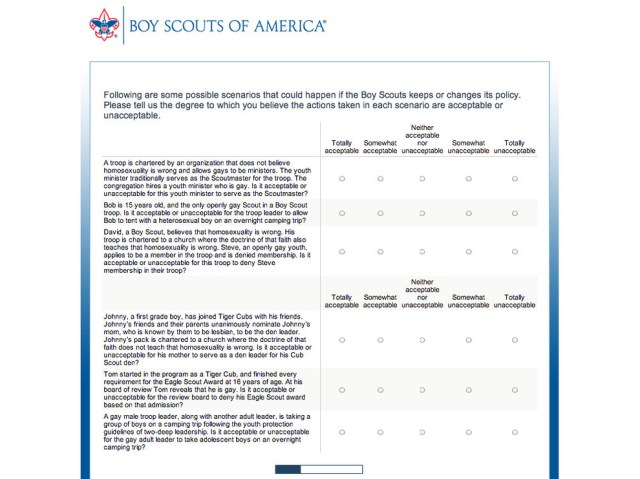 In Virginia, anal and oral sex are now finally legal (way to go, guys!). In Mississippi, Marcus McMillan's death may be the latest instance of the gay panic defense. Tennessee's Don't Say Gay Bill is getting even worse, and thankfully the SPLC has published a free LGBT-inclusive guide for schools trying not to suck.
ARE GAY REPUBLICANS MARXIST SPIES? Spoiler Alert: no.
In the Netherlands, a lesbian couple are in hiding now that their son's biological parents are looking for him.
According to NPR, the 9 year-old boy, Yunus, was a baby living in The Netherlands with his Turkey-born parents when child services removed him from their care. Two other children were also meant to be removed but the parents took them back to Turkey before child services could intervene.

Now, as Turkish politicians rally against the concept of same-sex parents raising Muslim children, Yunus' parents are calling for his return, a call that comes just as Turkish Prime Minister Recep Tayyip Erdogan prepares for an official trip to The Netherlands.

While hardliners back home want Erdogan to fight for Yunus' return, his government doesn't really want to get involved, particularly because Yunus' placement with the couple was an official child service's decision.
I Want the World To Know
Help a homo in need and contribute to the Huffington Post's new Lost Letters project:
We're asking you, our amazing community, to write your own letter of love and support to someone coming out, getting ready to, who's scared to, or is having a rough time. While we can't guarantee that they'll get the response they want, we can guarantee that we've got their back. Together, we can be the family many of us need but won't or didn't get.

Here's how your can submit your own letter or note:

1) You can tweet your lost letter to us at @huffpostgay. Be sure to use the hashtag:#lostletters

2) You can email your letter to us at gayvoices@huffingtonpost.com
Also, did you know people come out on the Internet now? In other news, it's 2013. And today's Required Reddit: an AMA with a lesbian Navy vet.
tss_Chip_Chipperson: As a lesbian in the Navy how often do you scream "Scissor Me Timbers"?
brom_ance: More often then my division likes to admit :P
Call for submissions: Naama Bade is doing a photo project featuring queers of Brooklyn! (Email: naama@naamabade.com.)
The project aims to photo document a large collection of Brooklyn based individuals presenting as non-binary gendered (FTandrogynous, FTneutral, FTa-gender, FTnon-gender, FTbi-gender, FTeffyou) and generally gender-queering female bodied persons in a thought provoking and visually arresting way. Even if you don't label yourself or haven't thoroughly thought through whether you fit in one of those categories (or don't care to) we'd still like you to participate if you have an inkling that you present as gender non-binary.

Our desire is to explore and bring further exposure to this slice of the thriving subculture that is Brooklyn gender-queering. The project is purposefully narrowed to exploring participants who are female assigned presenting as non-binary gendered for the sake of narrowing the thesis only. No heir-arching of sexes, genders, or presentations is meant to be read into the participants selected. The project will culminate in a photo book and gallery show, tentatively scheduled for August 2013.
Hollaback!'s App Gets Even Better
An even better, more badass future for Hollaback! – and for all of us – is in the cards:
Earlier this week, Hollaback! was propelled further into the spotlight, as they were selected as a grant winner from the Knight Prototype Fund.

Hollaback's grant money will be used towards building a geo-logging political app synced up to the New York City government, which will make it the first government in the world to receive street harassment reporting in real time. Ideally, the goal is to spread this technology to the 62 cities in 25 countries where Hollaback! movements already exist, and eventually, scale it globally. The app will fuse activism together with a legitimate, empowered response — all of which will take place in real time.
Live Through This: By Dese'Rae L. Stage
After nearly a decade of searching for ways I could help, I hit upon the idea for Live Through This in 2010: a series of portraits and stories of suicide attempt survivors, as told by those survivors.
I interview survivors about their experiences with suicide and then, moments after each interview, I make a portrait. Later, I publish that portrait with an excerpt of the survivor's story on the website so that it's easily accessible to anyone at any time. The hope is to level the playing field and humanize suicide by putting faces and names to what has historically been a largely anonymous group of people linked by a terrifying experience and shamed into silence. It asks the viewer to look into the eyes of these survivors, to see that these people could be anyone.
It seems to me that suicide attempt survivors are the key helping us learn how to talk about it, and I think one of the easiest ways to start that conversation is to give them the space to tell their stories. Survivors know what drives a person to edges of hopelessness, and they also know what, if anything, might have stopped them from trying to end their life. They'll be the first to debunk the myth that asking someone if they're thinking about suicide will put the idea into their heads. Many of them will likely tell you that, had someone asked them if they were suicidal, they might not have attempted at all.
I've photographed 13 suicide attempt survivors in New York City, and there are at least 200 more across the country, from all walks of life, who want to share their stories. In order to make that a reality, I launched a Kickstarter campaign. We've raised nearly $19,000 in three weeks and are now working toward a stretch goal that will allow me to bring filmmakers along for the ride. Pledges will be accepted until the campaign ends at 11 AM EST on 3/21. If you would like to share your story, email me at des@livethroughthis.org.
Gay Marriage Roundup
+ In 2001, 21 percent of Republicans supported gay marriage. Now, 26 percent do. Progress?
+ Overall, support for gay marriage is at an all-time high. 58 percent!
+ Look, a lesbian couple being depicted in an advertisement! I wonder if Microsoft thinks putting a bunch of flashy images on screen will convince people Outlook isn't terrible.
http://youtu.be/B3Dqn1m6Rok
+ President Obama doesn't just support gay marriage. He actually thinks it's a constitutional right, too!
I've gotta tell you that– in terms of practical politics, what I've seen is a healthy debate taking place state by state, and not every state has the exact same attitudes and cultural mores. And I– you know, my thinking was that this is traditionally a state issue and– that it will work itself out.

On the other hand– what I also believe is that the core principle that people don't get discriminated against– that's one of our core values. And it's in our constitution. It's in– the– you know, 14th Amendment and the Equal Protection Clause. And– from a legal perspective, the– the– the bottom line is, is that gays have historically been discriminated against.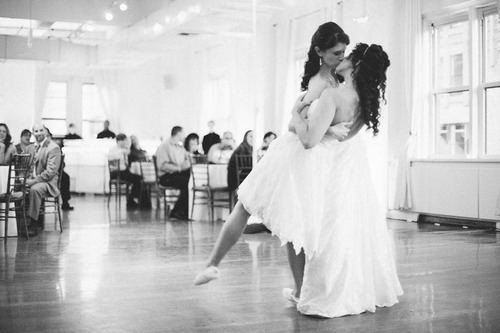 + Gay marriage needs 12 more votes to win in the Illinois house.
+ Gay men who get married live longer. Lesbians who get married don't.
+ Gay marriage survived a second reading in New Zealand!
No Longer Invisi(bi)le
QWOC media found 10 bisexual women of color to celebrate this month.
We grit our teeth during Black History month, when major media sources highlighted the same (albeit inspirational) black men, excluding women. But it seems we're not getting a break during women's history month either, which is currently being dominated by stories of white, straight women's push for gender equality. So, can LGBT-friendly media do better?

When it comes to highlighting LGBT heroes during both black history month and women's history month, it seems mainstream queer media goes to bat for for the (white) L,G, and even nowadays the T. But even lists that feature queer women of color, such as this great post from Femme on a Mission, only have a few bisexuals or worse, none at all.

Well here's what we all agree here at QWOC Media Wire: Ignoring bisexual women of color for women's history month isn't going to cut it.
Thank You Kelly
"Kisses Down Low." I think we all know what's going on here.
Events For Queermos
+ Vanessa wants you to WAM it:
Are you a lady journalist in or near New York City? If you just nodded vigorously then it's your lucky day slash lucky next few weeks, because WAM!NYC is putting on a bunch of events that we think you'll want to know about.

If you don't know about WAM! you're seriously missing out! WAM! stands for Women Action Media and it's an independent, non-profit organization working to build an inclusive movement for gender justice in the media. Each year WAM!NYC (there are several local chapters) hosts a Feminist Media Conference; Jamie attended last year and wrote about it for us, and now it's that time again — the fourth annual WAM!NYC Feminist Media Conference (WAM! It Yourself) conference is coming up on Saturday, March 23 at Hive 55 (55 Broad St. in Manhattan) and registration is wide open. Panels so far include "Diversity and Justice in Media Representation," "Lights, Camera, Talking Points: Media Training," and "Negotiating 101: Salary, Contracts and More." Panelists include Jina Moore, Deanna Zandt, Zerlina Maxwell, Jamia Wilson and others TBA. It sells out each year, and everyone who attends raves about it (really).
Next up, WAM! is hosting its total blow-out annual fundraiser, WAM!Prom 3, on April 5 at Littlefield in Brooklyn. This year's theme is '90s — grunge, hip hop, everything florescent and flannel and riot grrrl. There will be a costume contest with Babeland prizes and it's being touted as the NYC feminist event of the season!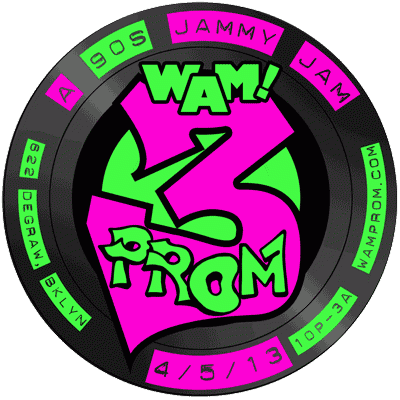 Finally, WAM! will host the illustrious and awe-inspiring Ann Friedman at the next WAMentoring session. If you're not fanning yourself with excitement over this news then I just don't know what to tell you. Ann Friedman once tweeted that she loves Autostraddle and the staff collectively died of happiness, so.
+ GLAAD, You Can Play, and Athlete Ally are coming together with the NFL for a meeting on LGBT issues in professional football this April.
+ Stonewall Democrats' Extremely Ginormous Rally for Gay Marriage: Sunday, March 24 @ 1, NYC
As Edie Windsor heads to the Supreme Court New Yorkers are uniting for Marriage to send a message to the Justices to repeal DOMA and Prop 8.

Join: Marriage Equality USA, GLAAD, Gay Men's Health Crisis, Jim Owles Liberal Democratic Club, Stonewall Democrats of New York City, Lesbian & Gay Democratic Club of Queens, Democratic Leadership for the 21st Century, Equality Beyond Gender, New York State Democrats, NYC for Action, Dignity New York, Chelsea/West Village for Change,The Bronx LGBTQ Center, Heritage Of Pride, Henrietta Hudson,The LGBT Community Center, Manhattan Young Democrats, LAMBDA Legal, Brooklyn Community Pride Center, Lambda Independent Democrats of Brooklyn, Greater NYC for change, Shelter of Peace, Congregation Beit Simchat Torah, Camp Highlight, Democracy for New York City, NYU Law Democrats, Democracy for America, Empire State Pride Agenda, The Queens Pride Center, The Anti-Violence Project, AM 1600 WWRL, Imperial Court of New York, Montclair State University LGBT Center, Middle Collegiate Church, JQY, The Global Gender and Sexuality Project at The New School and The Stonewall Inn as we march from Stonewall to Washington Square Park to Strike down DOMA and send a message to the Supreme Court that all marriages are equal!!
+ (Part of Light to Justice, which hits the Supreme Court on March 26 and 27)
Momentum is on our side – a bipartisan majority of Americans recognize that the ability to marry the person you love is a Constitutional right. But now is the time to stand up and show your support for marriage equality. Join us in Washington DC for a rally outside of the Supreme Court at 8:30am ET on March 26 and 27 – and our associatedInterfaith Service and Passover Seder on 26th. Wear red to show your support for marriage equality!
---
If you'd like to submit a tip for the AAA, send it to carmen [at] autostraddle [dot] com each week by 12 PM Tuesday EST. Tips for LGBTQ-related events, job postings, calls for submissions, and news from around the globe are encouraged.