This week I discovered a spread that tastes not like peanuts, or hazelnuts – but like cookies. THINGS ARE LOOKING UP. Here's the stories we missed this week while I was eating from the jar with a spoon in the middle of the night. No shame.
Love Stories
Is it possible to be against gay marriage without being a total, homophobic piece of shit? More importantly, who cares? Gays are pimpin' all over the world, dood!
It's May 1 and that means civil unions start in Denver, Colorado today! May the couples receive their proper toke-ns of affection. Meanwhile, in Rhode Island, the state Senate's Republicans unanimously support homosexual unions (hot!) and Senator Kevin Atkinson made things personal in Nevada when he came out during the successful legislative session to repeal the state's same-sex marriage ban.
The debate lasted over an hour, during whichone Senator came out for the first time. Sen. Kelvin Atkinson (D) announced, "I'm black. I'm gay… I know this is the first time many of you have heard me say that I am a black, gay male." Atkinson pointed out that his father's interracial marriage would have similarly been banned decades ago, suggesting to detractors, "If this hurts your marriage, then your marriage was in trouble in the first place."
I know, I know: but what about the gaybies?! Well, lucky them – when they grow up and grovel for money annually from the government to go to college, they'll have forms that affirm their familial structure!

The FAFSA currently uses the terms"mother/stepmother" and "father/stepfather" when requesting information about an applicant's parents. Applicants with same-sex parents then must either arbitrarily designate one parent as "mother" and the other as "father," or omit one parent from the form entirely. In other words, the current FAFSA puts these applicants in a lose-lose scenario forcing them to complete and submit an application that is inaccurate and not reflective of their family structure.

Today's proposal will help change that. For the 2014-2015 FAFSA, the Department will amend the terms "Mother/Stepmother" and "Father/Stepfather" to instead read "Parent 1" and "Parent 2." This change also means that for the first time the Department will collect same-sex parents' financial information in the same way that it does for different-sex parents. In addition to accurately reflecting LGBT families, these changes will capture the economic situation of these families so that students applying for aid can access financial aid based on their true financial need — without any bearing on their parents' sexual orientation.
Exploring Women('s Lives)
NPR is exploring women's lives in this crazy, ever-changing world of ours. (And kind of fucked up. Already.) If you're more interested in exploring your own life and becoming a cynical drunk, just play MISGO.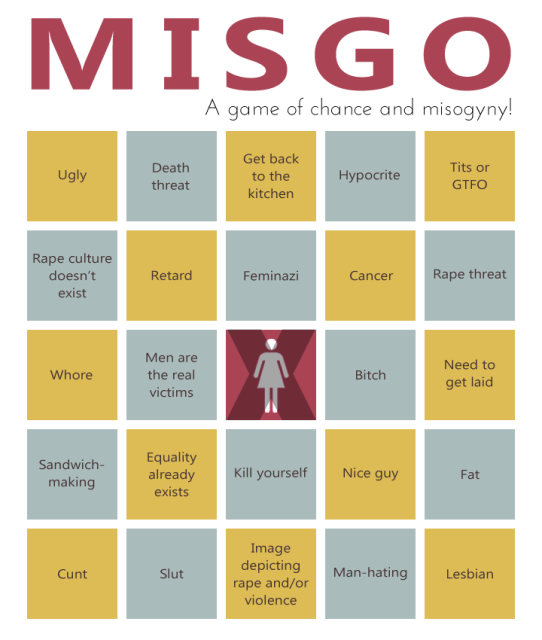 Following in the footsteps of Bingo variations like Rape Bingo: College Edition, I present to you MISGO — a game of chance and misogyny! Feel free to mark off each incident as you encounter them on a site like this, in an article about women, or in your favorite online gaming environment.

There are three different versions of the cards, all utilizing the same bank of words. This way, you can play by yourself or with up to two friends!

Remember to celebrate each win with an alcoholic beverage of your choice — it'll help numb the pain.
Tune In, Drop Out, Etc.
+ Vietnam gets a lil bit same-sexual:
Vietnam's first gay sitcom has become a YouTube sensation, racking up millions of views as support for legalising same-sex marriage strengthens within the communist government.

Homosexuality was once seen as a social evil in Vietnam and the success of "My Best Gay Friends", a low-budget series about three people sharing an apartment in southern Ho Chi Minh City, has taken even its creator by surprise.

"I thought it would only interest Vietnam's gay community — but we're hearing that parents, grandparents, whole families watch and love the shows and long for new episodes," Huynh Nguyen Dang Khoa, who also stars in the series, told AFP.
+ Tomorrow, The Film Society at Lincoln Center will take you back to a queer, more camcorder-filled time.
 Origins: The Beginnings of New Queer Cinema
In this return to the early days of a movement that became a cinematic milestone, author and cultural critic B. Ruby Rich, in conversation with Dennis Lim, surveys the field as it was then: a rebellious mix of short films and videos mixing male tragedy with lesbian comedy. Rarely seen films and videos will be screened, including Jean Carlomusto's hilarious L Is For The Way You Look, Isaac Julien's elegiacThis Is Not An AIDS Advertisement, and Sadie Benning'sJollies, along with a piece of history that's a surprise. Asked repeatedly for the key to what caused the New Queer Cinema to emerge in the late 1980s and early 1990s, Rich has an answer: AIDS, Reagan, Sony's invention of the camcorder, and cheap rent. Considering those times, Rich will sign and read from her new book New Queer Cinema: The Director's Cut (Duke University Press) and discuss the good old bad days of experimentation, creativity, and mortality.

May 2, 2013 at 7 PM: $13 General Public, $9 Student & Senior, $8 Members
The Whatever O'Clock News
In Vermont, employers are now required by law to cover medically necessary services for trans* folk. In Chile, gays and lesbians can now give blood.
Diane Brady of BusinessWeek thinks Wall Street is one of the best places to be gay. Overseas, Mariela Castro (yes, of those Castros) landed a Visa to come to Philadelphia and get her gayducation on. In the locker room, the NFL is committed to "protecting" its gay players. From what, I can only imagine.
In Nebraska, Charlie Rogers received seven days in jail, community service, and probation for faking a violent hate crime. In South Africa, two years have gone by since Noxolo Nogwaza died of a brutal hate crime and "corrective rape" and progress since has been sparse and unsubstantial.
Phresh Cutz Episode Whatever: Return of the Day-Drunk Haircut
Phresh Cutz is back and probably going to be better than ever! Come for dranks of the alcoholic variety, drinks of the non-alcoholic variety, vegan and non-vegan snacks, a clothing and book swap, and – duh – a dope cut. Cover is 5 bucks and the party goes all afternoon from 12 to 6 this Saturday at The Silent Barn in Brooklyn.