Hello everyone! This week we were able to bring you a lot of joy and a lot of news via the amazing website Autostraddle dot com, but we can't always write about everything happening everywhere and we have a guilt complex about it. So to make everyone feel better I am here with a swift recap of the stories we missed this week!
People You Don't Respect Doing Disrespectful Things
Saying stupid shit is actually part of the job description for every homophobe on the planet, but this week  Homophobic Groups Formed By Shitty People really took the cake with their bizarre theories. Take, for example, the claim by the Family Research Institute that Sally Ride died because of her lady loving, which a real "scientist" came up despite it sounding like really bad science! According to FRI's blog, "homosexuality can lead to an earlier demise," so watch out kids – 'cause only the good die young. Bryan Fischer from the American Family Association has similar fears about the dangers of gay people, and has decided that if gay and straight kids sit together at lunch time it's going to lead to mass homosexuality. Gee, that sounds impossible!
Of course, no vindictive and dismissive series of sentences about right-wing malice would be complete, however, without mention of Ann Coulter, professional Ice Queen, who uses the small remaining piece of her heart to spew hate pretty much every day. This is expected by now, but a controversial tweet on her account Monday really, seriously crossed the line, and GLAAD responded to make her feel like a fool:
Now, it can feel really terrible to hear about terrible people but to be honest it makes me feel even more terrible to think about how much harm terrible things cause. Take, for instance, the two trans* Gender Anarky members who are currently serving time in a men's prison but can't get the Warden to allow them a shared cell. The two members are now on a hunger strike until their demands are met – and you can join members in support by calling their Warden to see that it ends:
"this time we are striking indefinitely, until this matter is resolved and i am no longer on single-cell status and cat and i are celled up.  today [October 7th] is our third day without food, and we are only drinking two bottles of water a day.  after food, we are going to stop drinking any water.  they are monitoring our health daily, taking our vitals.  so far we have lost ten pounds each, as of today.  cat gets a lil woozy, but we are going thru with this…

…inform [prison officials] of our hunger strike, that it is for transgender housing, that my case worker is preventing me from celling up with cat, that initially the warden instructed her to do it, but she has been avoiding it because she is a feminist hater of trans inmates.  this is the only reason she is discriminating against us… she has lied to us, giving us different reasons for delays that conflict.  we know whats up.  this is straight up discrimination… they don't want to give us our transgender housing, where two girls can live together, while letting any two men live together who ask to.  and now they are also retaliating because of our hunger strike, trying to punish us by ignoring us now and our hunger strike for protesting in the first place.  so get at them like you need to…

this is a mental health prison, with special structured programs designed for inmates with long-term mental health therapy, and this problem with us is also aggravating our mental health status, making us decompensate, get depressed, suicidal, want to cut.  this is our last resort next to doing something desperate…"
This week my sympathies also go out to the two students at University of Texas at Austin who were outed to their parents – by Facebook. I don't get it, Mark Zuckerberg – did you not suck enough yet? And speaking of the young folk, the gay youth club in Anoka, Minnesota wasn't allowed to march in a Halloween parade this year. Boo. But not really in the scary way.
BREAKING UPDATES
Now, without further ado, I'd like to stop weighing you down with the weight of the world and instead bring you closer to closure with two very brief updates about things you might still care about:
1. Dr. McCaskill of Gallaudet has spoken out for the first time since her suspension as Chief Diversity Officer for the university about her decision to sign an anti-gay marriage petition last week.
2. Yekaterina Samutsevich of Pussy Riot has been freed, even though two of the band members remain jailed for hooliganism, AKA my career field.
Saving the Best for Last
And now, it is time for us all to heal. There was a lot of bad news up there and I need to restore your faith in humanity, I assume.
Let's start small – or I guess, no, fuck that, let's start massive, just like the huge undertaking of compiling the guide "Creating Inclusive Workplaces for LGBT Employees in India." Combined collaboratively by IBM, Google, and Goldman Sachs, among others, the document lays out best practices for employers in India to make work spaces safe spaces for LGBT humans. Good work!
The only thing better than other people talking positively about us, though, is when real live queers talk about their lives in their own words. So let's share stories! Can I start with this interesting and short essay for Salon by Constant Calliope that is about being a Christian lesbo? Kind of like Lesbian Jesus:
When I first realized I was gay and had my first crush, Adrienne, I was a little southern Baptist girl living in a small town insulated by the ideas of the church, handed down to me by the imposing hands of my foremothers and forefathers.  Adrienne came to hand me a revision, something that I had to cope with, something that changed my life forever, and something that I've forever grappled with.
SPOILER ALERT: Even if you don't like the essay, a bonus of giving it a read-over is that you'll see the phrase "godless heathens" used by a gay person!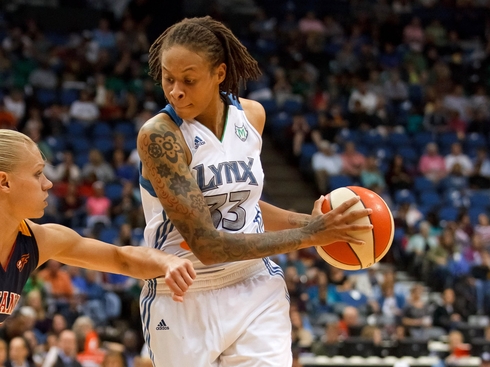 This week's most heartwarming reason for speaking out goes to Olympic gold medalist and WNBA player Seimon Augustus, an out lesbian who is now speaking out in support of gay marriage in Minnesota because she, well, quite frankly, wants to get married:
"I'm hoping that it passes 'cause then we're able to have a nice wedding here and actually be able to legally do it here instead of having to go a few hours away to Iowa or somewhere like that to have it done," Augustus said. "You want to be able to do it in a city that, for one, has embraced me and been like my second home and is her home — this is where she's from … to be able to share a special moment in Minnesota history."
I think I speak for us all when I say: go get 'em, tiger.