Welcome to Almost Famous, a weekly segment where we ask up-and-coming queer musicians some hard-hitting questions about music and life and maybe even convince them to show us photos of their pets. Get to know intimate details about your new favorite artist or band before they hit the Big Time and become too famous for us to interview for real.
Header by Rory Midhani

---
Tiny Tusks
Brooklyn, NY
Lauren, Sabrina and Natalie are the pop post punk trio, Tiny Tusks. All three are big fans of Autostraddle! Hailing from Brooklyn, NY, the band made its way to local venues this past August and has been keeping good company ever since, sharing bills with forgetters, Radical Dads, Mal Blum, GLTR PNCH, and Clinical Trials.  Tiny Tusks are poised to take their residence in the studio in early 2013 and hope to release a record shortly thereafter.
How would you describe your music?
Natalie: Our friend Cristy Road put it best: "Like the emo you loved in high school, except gay."
What instrument/s do you play?
Natalie: Guitar, been playing for a long, long time.
Lauren: I've only been playing drums in a band since February of this year, although the snare drum was my first instrument in seventh grade. Between then and now it's been guitar, but I'm much more at home on the throne.
Sabrina: I play the bass guitar and I've been playing it for two years and four months (of course I remember our anniversary!).
Which song would you most like Autostraddle readers to hear?
Sabrina: I would love for Autostraddle readers to hear "Sunchasers".
What inspires you to write?
Natalie: I'm inspired by all kinds of things, landscapes are big themes for me. However, it's mostly the people in my everyday life that tend to be the greatest influences for anything I write.
Sabrina: I find Motown really inspirational. I love a good bass groove.
What has been the most memorable moment of your music career to date?
Natalie: Closing a Sleater-Kinney show and opening for Gossip both in Tempe, AZ. Craig Finn (Hold Steady) borrowing my amp was kinda fun too.
What were the first and last records you bought?
Lauren: The first record I bought was probably No Doubt's Tragic Kingdom or Alanis Morissette's Jagged Little Pill. Definitely something around 1995. The last record I bought is Angel Olsen's Half Way Home. This album is so effin' beautiful and I would highly recommend listening to "Acrobat" right now.
If you could only listen to one album for the rest of your life, what would it be?
Lauren: A mix CD of my favorite songs. Maybe that's cheating. How about Songs: Ohia's The Lioness? It sounds like a desert landscape and is the perfect soundtrack for a cool summer night with a lady. Especially if that lady is into sad-sounding music.
What is your 'guilty pleasure' music?
Natalie: Lately it's been Taylor Swift – that "We Are Never Getting Back Together" song is wicked catchy.
Lauren: Top 40 and Goddess-y/pagan music.
Sabrina: I'm really into the music from Legend of Zelda video games, specifically Ocarina of Time. They bring me to tears.
What do you do outside of making music?
Sabrina: I'm a social worker.
Lauren: I've been working at Babeland for almost five years. I'm also studying herbal medicine and women's spirituality. I do a lot of other things too, but those occupy most of my time aside from music.
Do you have any pets?
Natalie: I do, a 9-yr old Lhasa named Violet.
Sabrina: I have a fierce little lady puppy named Patti Smith.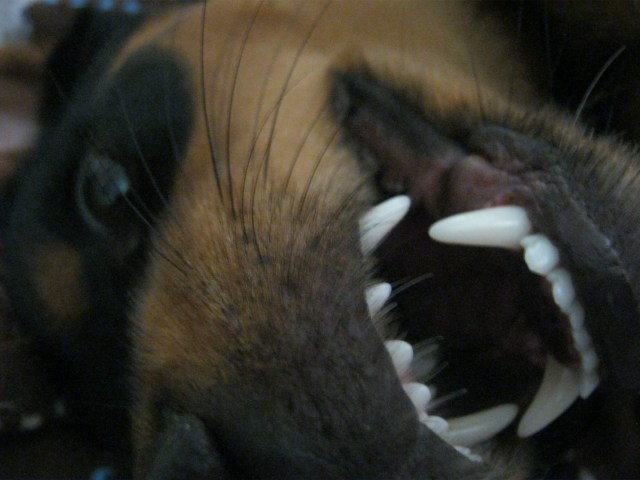 Tiny Tusks have two tracks available for free download on Bandcamp. You can also check out their tunes on Facebook.
If you are, or know of, a queer artist or band that should be featured in Almost Famous, drop me the details via crystal [at] autostraddle [dot] com. Please write 'Almost Famous' in the subject line!